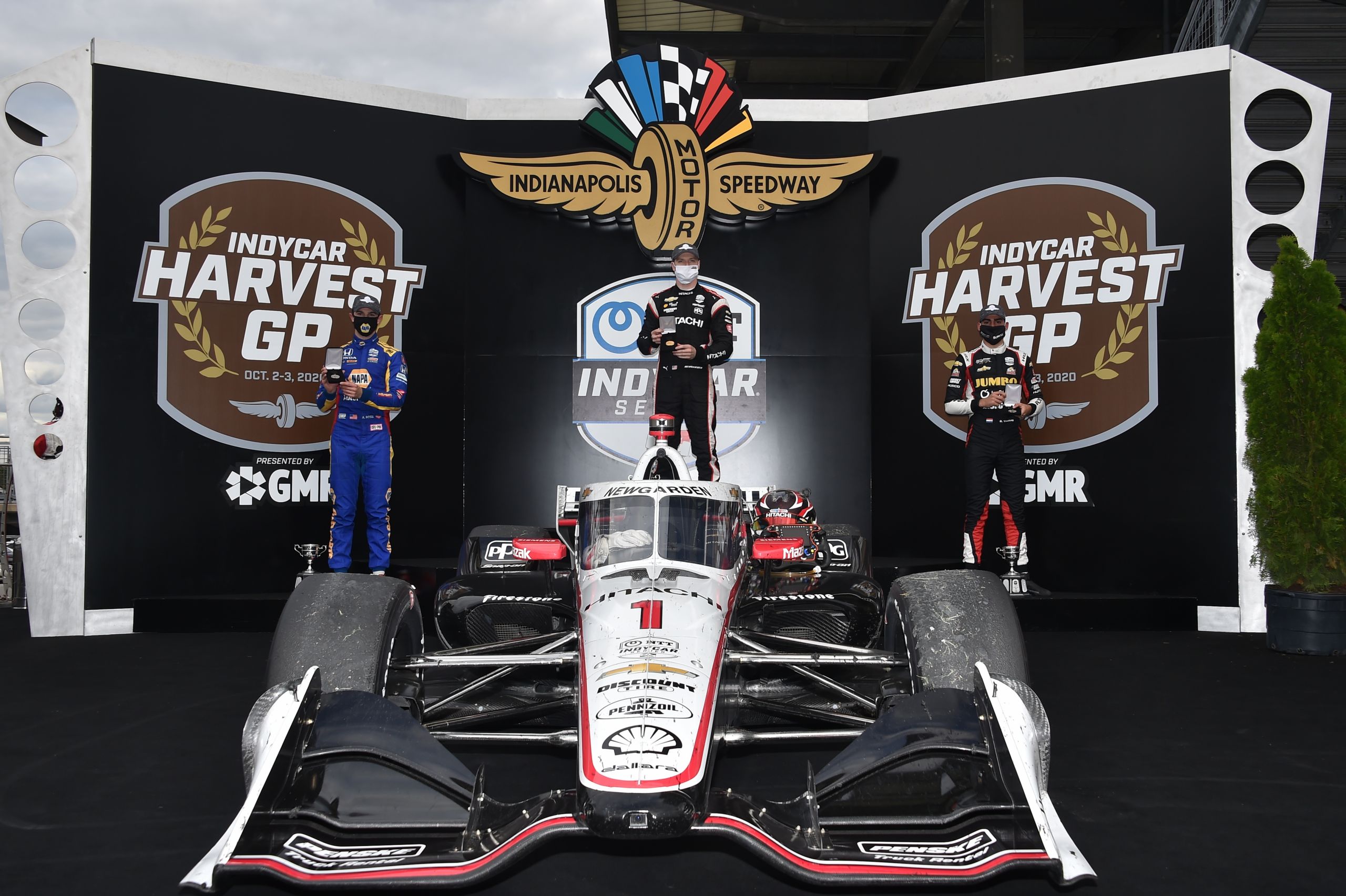 image courtesy of IndyCar & Chris Owens
Josef Newgarden landed a crushing blow to Scott Dixon's championship lead, gaining his 20th career IndyCar victory at the IMS, his 3rd this season. The New Zealander would eventually finish down in ninth after a late and costly mistake.
Dutchman Rinus VeeKay led from pole position from Colton Herta, and managed to pull a healthy gap on the rest of the field after starting on the faster sticker red tyres.
However, Herta started on the sticker blacks, going further on his first stint, looking to make up the time with the faster tyre on the second stint. This tactic proved to be successful, passing the Dutchman after the first pit stop with an audacious dummy move down the inside of turn 7.
Josef Newgarden also chose to start on the sticker blacks. Managing to go 10 laps longer than his rivals, he was able to come out ahead of Colton Herta after the pit stops into the lead of the race.
But came back fighting did Herta. Using up all his push to pash to catch Newgarden, diving to the inside of Turn 1 to take the race lead back from the two-time champion.
Following the second pit stop all of the top three chose to go onto the sticker reds, emerging with Herta in front, followed by Newgarden and VeeKay. Herta would unfortunately struggle with his rear tyres, prompting a lock up on lap 60, gifting the lead back to Newgarden before putting again.
Newgarden would follow, both opting for the sticker blacks. However, the two time champion was able to magnificently pull away from the rest of the field, enough to seal his first career win at the Indianapolis Motor Speedway.
This win cuts the championship gap to 40 points with 108 remaining over the next two races, one of which comes tomorrow with the second of the doubleheader weekend. What was seemingly an unassailable championship fight going into Mid-Ohio in September, now seems like a mouth-watering prospect as Newgarden chases his third and what would be his most incredible championship.
Colton Herta on the other hand, would fall under the pressure of a charging Felix Rosenqvist, who had dropped as low as 10th before fighting back to the podium. Although, an unsuccessful pass on Herta would drop him into the clutches of Alexander Rossi who would steamroll through both Rosenqvist and Herta for a second-place finish. Rossi was visibly irritated following the race due to a penalty brought on by exceeding track limits. It marks another string of penalties at the IMS for Rossi who is starting to make something of a habit of it at this circuit.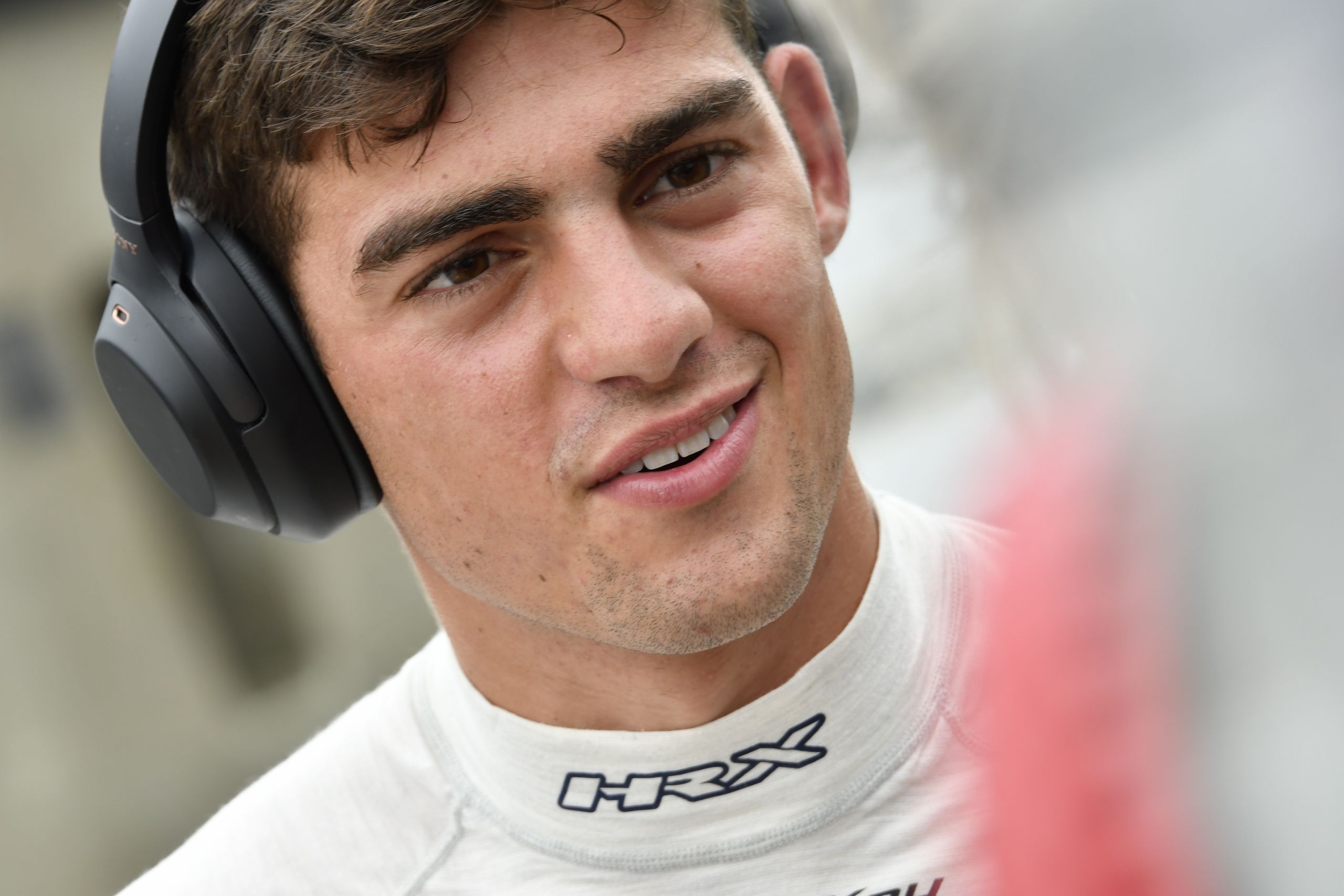 Image courtesy of IndyCar by Doug Matthews
Rinus VeeKay, who had done so well to put that Ed Carpenter Racing car on pole position, had to make up for lost ground during the pit stops, but saved the majority of his push to pass to overtake both Herta in fourth and Roseqnvist in fifth to take his first IndyCar podium in style.
Behind them, a titanic battle ensued with Will Power who suffered due to a stuck front-right wheel during his first pit stop as well as experiencing a huge slide going into turn 1 that could have easily ended his race. Behind him was Graham Rahal and Jack Harvey who were able to capitalise on a unusual late mistake from Scott Dixon who ran wide onto the grass, to finish in a disappointing ninth. Rounded out the top ten was Marcus Ericsson marking a solid day for Chip Ganassi who featured every car in the top ten.
The race ran without a caution period but Marco Andretti was forced to retire with a handful of laps remaining after the rear caught fire. Andretti was able to bring the car back to the pits for his pit crew to put it out.
RACE CLASSIFICATION
| | |
| --- | --- |
| 1 | Josef Newgarden |
| 2 | Alexander Rossi |
| 3 | Rinus VeeKay (R) |
| 4 | Colton Herta |
| 5 | Felix Rosenqvist |
| 6 | Will Power |
| 7 | Graham Rahal |
| 8 | Jack Harvey |
| 9 | Scott Dixon |
| 10 | Marcus Ericsson |
| 11 | Max Chilton |
| 12 | Conor Daly |
| 13 | Charlie Kimball |
| 14 | James Hinchcliffe |
| 15 | Santino Ferrucci |
| 16 | Simon Pagenaud |
| 17 | Alex Palou (R) |
| 18 | Takuma Sato |
| 19 | Ryan Hunter-Reay |
| 20 | Helio Castroneves |
| 21 | Sebastien Bourdais |
| 22 | Pato O'Ward |
| 23 | Sage Karam |
| 24 | Dalton Kellett (R) |
| 25 | Marco Andretti |