At long last the 2020 Bennetts British Superbike Championship got underway this afternoon (Saturday August 8th) at Donington Park. Here's how the action unfolded during round one of the #BSBRestart.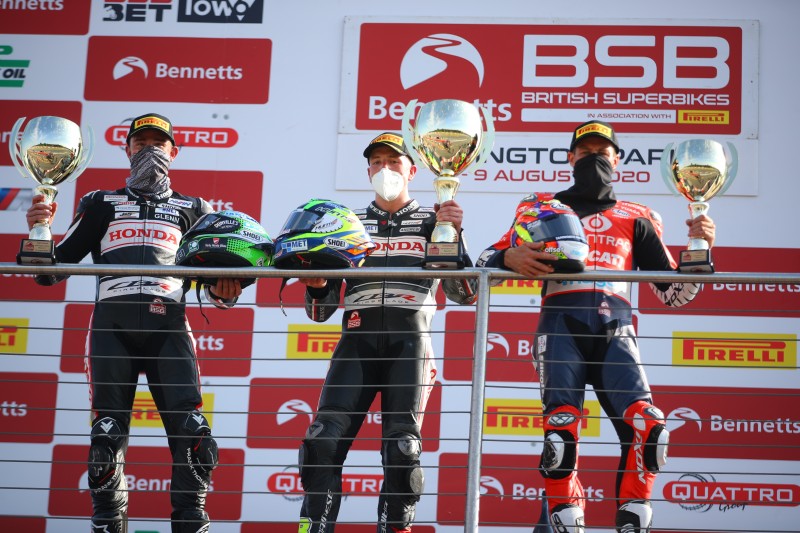 Honda Racing's Andrew Irwin claimed victory at the climax of a thrilling three-way battle alongside his brother/team-mate Glenn and VisionTrack Ducati's Josh Brookes.
Buildbase Suzuki's Kyle Ryde took the early initiative from his qualifying position of third and led during the early stages going from Hector Barberá, the Irwin brothers, Danny Buchan and the Ducati pair. Andrew Irwin went into second place during the second lap, out braving Barberá in a classy move at Roberts.
Buchan crashed out early on and was joined back in the garages by Synetiq BMW's Bradley Ray and then Barberá himself.
Andrew Irwin claimed the lead from Ryde in the sixth lap as the Suzuki rider found himself as the filling in an Irwin sandwich as Glenn took second position to fight for supremacy with his brother. Josh Brookes had been biding his time and made his move on lap eight before being reeled back in by Ryde. Unfortunately for the Buildbase Suzuki man, technical issues forced his withdrawal from the race allowing Brookes back into third.
It was Glenn Irwin who held the lead when Brookes eventually made his bid for first on lap sixteen, which was successful but only temporarily as the Irwin brothers made a brave attack on Brookes at Schwantz which powered the two Hondas into the top 2.
During a pulsating final lap, Andrew Irwin made his final and decisive move on his brother which saw him take the lead, a stern defensive approach followed which saw the younger Irwin brother take the first win of the delayed 2020 season by a tight margin of 0.119s with Brookes in third.
Brookes' Ducati team-mate Christian Iddon claimed fourth place ahead of Oxford Ducati's Tommy Bridewell. Luke Mossey aboard the Rich Energy OMG Racing BMW came home in sixth. Tarran Mackenzie finished in seventh, ahead of team-mate and pole sitter Jason O'Halloran, whose progress was hampered by the necessity for evasive action after Danny Buchan's accident. Ryan Vickers on the RAF Regular & Reserves Kawasaki and Lee Jackson on the Massingberd-Mundy Kawasaki rounded out the top 10.
Attention now shifts to races two and three which will take place tomorrow afternoon (Sunday August 9th).