In the build up to the race everyone is talking about Marc Marquez, and how gutted they are that he's not racing.  This is the first,  yes first race he's missed in his MotoGP career.
Fabio Quartararo did an interview before the race saying that in last weeks' free practice the bike didn't seem that good, but the progress through qualifying was outstanding. Fabio said last week that if Marc Marquez stays on track he would win the race and without Marquez in the race, it's not going to be as good.
On the grid Jack Miller says he is looking forward to the race but it's really hot at the track, probably as hot as Malaysia. Track temperature is 60 degrees and 40 degrees ambient temperature. The Ducati is looking good on the grid though.
Tyres are being talked about and the majority of the grid are going with hard front, soft rear with only Alex Rins going soft front and rear.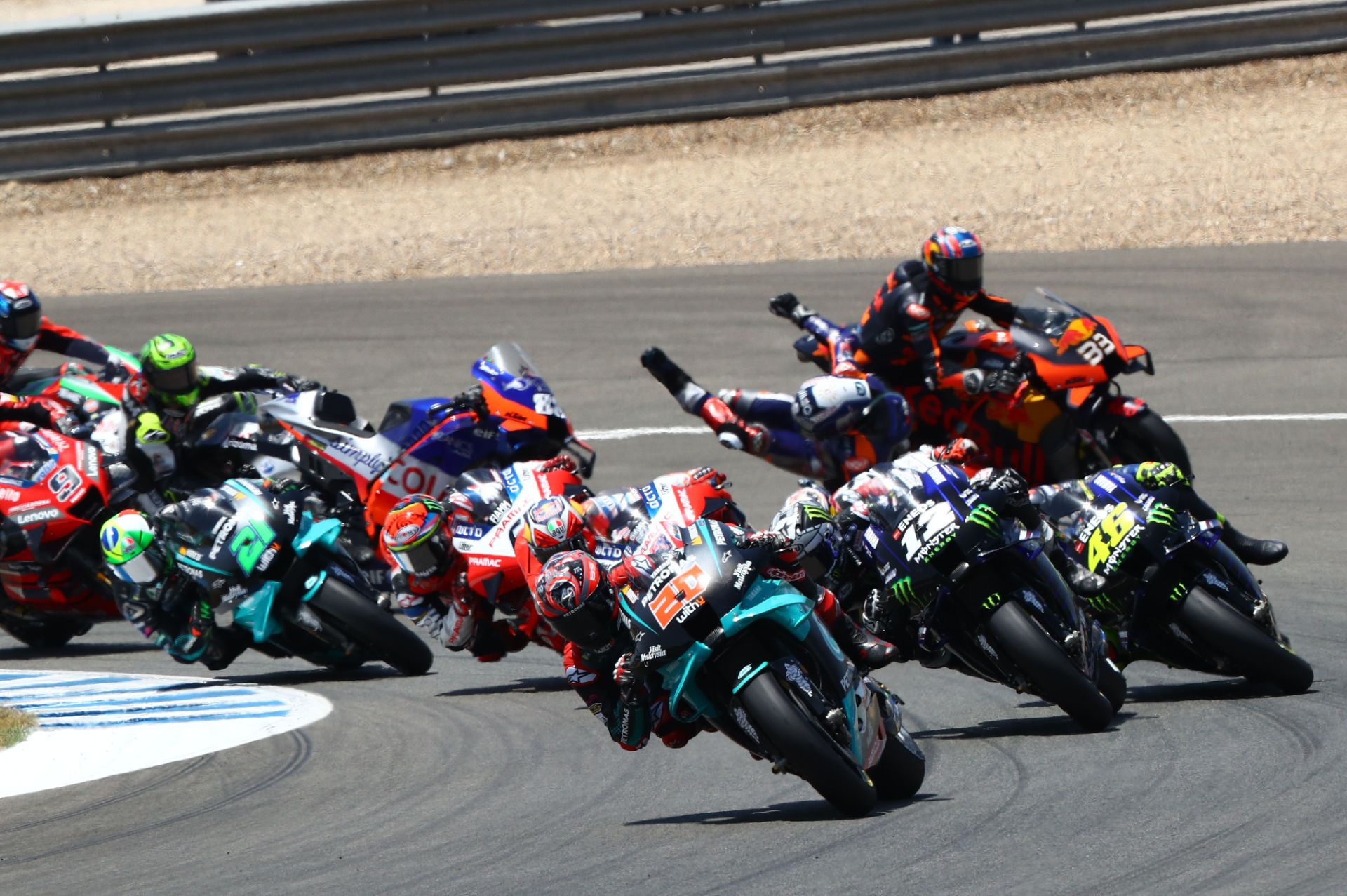 The excitement builds during the warm up lap and the grid forms ready for lights out, and we are off! 
Rossi had a good start but we had a skittle effect on the first corner, the riders involved were Oliviera, Smith and Binder. As a result of the crash, Oliviera is out of the race.
At the end of the first lap top 3 is as follows:
Fabio Quartararo : Yamaha
Valentino Rossi : Yamaha
Maverick Vinales : Yamaha
The riders are pushing the limits of these bikes, Rossi has been 0.6 secs behind the leader and you know Rossi , he's always getting ready to make a move.
Miller left his seat for a second as the bike twitches. Rossi was being pushed by Maverick, who's getting close to the Doctor.
Cal Crutchlow and Alex Rins are running last places which isn't hard to understand because of the injuries they are carrying.
Fabio Quartararo hasn't really been challenged for first place. The only thing that could stop him is his own bike, with the Yamaha's having issues in the heat.
Iker Lecuona came off with 19 laps to go, he was hoping to have kept the bike going but sadly, he couldn't.
Alex Rins is making this ride count as he's slowly coming up the grid,  he's now in 15th and in the points with 18 laps to go.
Alex Marquez is riding in 14th with 17 laps to go, Jack Miller has been under attack from a bunch of riders and sadly lost a couple of places. Unfortunately, he came off on turn 9 of lap 11 which was gutting as he's a great rider and looked promising in this race.
Rossi is now 6 seconds behind leader, Fabio Quartararo, and other then the tyres falling off, I don't think he will be caught.
Bagnaia has overtaken Rossi for second place,  let's see if he can catch the leader.
With 13 laps to go, the bikes look to be struggling with grip on the front end but pushing these bikes is what these riders do.
Brad Binder has just taken a spill as the bike kicked back going round a corner, the bike said I am not having any of this, and flipped the rider. It looked like a painful exit to the race.
Alex Marquez is building momentum on his bike but he's in the shadows of his brother's reputation.
The Yamaha's have been having problems all weekend and indeed Morbidelli's has just given up sounding like a bag of nails and has now retired from the race.
Crutchlow has entered the pit lane and has an issue but decided that with the amount of riders on the track to go back out as he can score points.
Seven laps remain and only 14 riders out on the track so everyone can get a point.
Rossi is still keeping Vinales at bay in 3rd place and the last 3 laps seem to be as good as the previous laps as everyone on track is battling for places. Maverick is now up Rossi's exhaust, they are that close!
Rossi is teasing Maverick but the Spaniard makes it stick and now the Doctor is chasing Vinales but he is pulling away.
LAST LAP
Everyone on track is pushing so hard, Maverick just had a little wobble but was okay; Fabio Quartararo wins for the second time this season followed by Maverick Vinales and Valentino Rossi.
It's an all Yamaha podium which seemed unlikely at the start of this race.
Featured Image courtesy of Yamaha racing