An excellent drive from Lewis Hamilton saw him take a dominant victory at the Styrian Grand Prix, while Ferrari scored no points after Charles Leclerc and Sebastian Vettel collided on the first lap.
Hamilton grabbed a superb pole position in a treacherous wet qualifying on Saturday and got off to a good start, getting clear of second-placed Max Verstappen, who battled hard in the first sector with the McLaren of Carlos Sainz.
Into Turn 3, Leclerc dived down the inside of multiple drivers in the midfield, but the space into the apex tightened up and Leclerc mounted his team mate's rear wing, having bounced up off the sausage kerb on the inside. Vettel retired from the race after losing his rear wing while Leclerc's race was ultimately ended by the subsequent excessive floor damage.
George Russell's great work in qualifying for Williams was undone when he ventured into the gravel following a battle with Haas' Kevin Magnussen.
Valtteri Bottas managed to get past Sainz in the opening stint of the Grand Prix, before Alex Albon followed suit with a routine move into Turn 4. Meanwhile, Lewis Hamilton's consistent lap times were seeing him slowly pull away from Verstappen.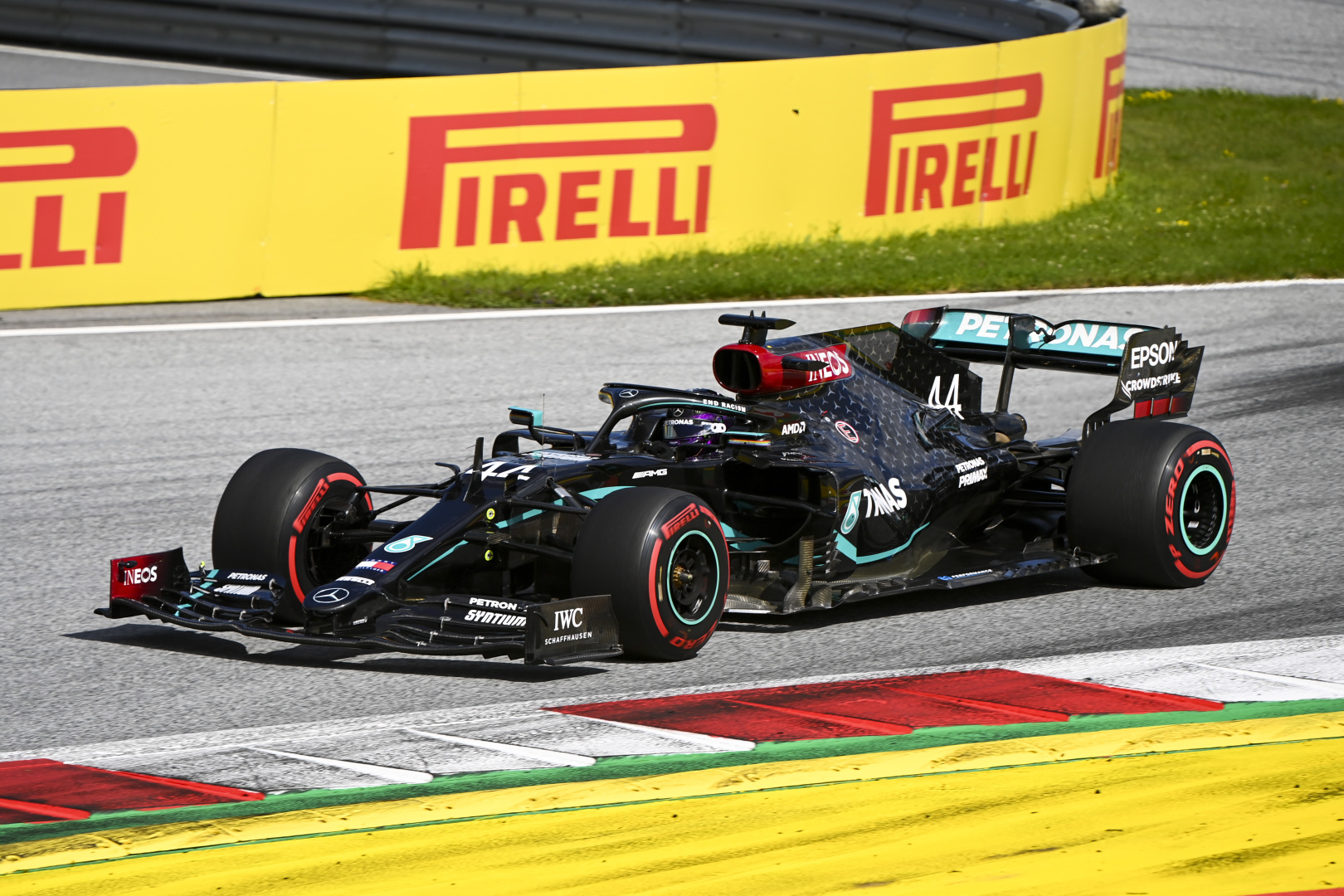 A slow stop for Sainz would then push him further down the midfield pack, compounding what had been a challenging start for McLaren, with Lando Norris battling away with the Racing Point of Sergio Perez.
The Renaults of Daniel Ricciardo and Esteban Ocon also battled hard in the opening exchanges, with Ocon eventually having to relinquish the position to his McLaren-bound team mate after a tense battle as they were chasing Ricciardo's future team-mate Carlos Sainz for fifth.
Ocon would then retire with a terminal issue, while Kimi Raikkonen and Kevin Magnussen gave us a couple of really good battles, with the Finn eventually coming out on top in the Alfa Romeo.
Lewis Hamilton and Max Verstappen pitted almost in tandem with each other, both re-joining in front of Verstappen's team mate Alex Albon, demoralisingly for the Thai-British driver.
Perez and Norris then went long in the first stint, along with Valtteri Bottas, all hoping their strategies would win them their respective battles. As Perez re-joined, he pulled off an absolutely exceptional move on Carlos Sainz round the outside of Turn 6, and set off in pursuit of his team mate Lance Stroll. After a close encounter with the Canadian, he squeezed past him and breezed past the Renault of Daniel Ricciardo, who continued to frustrate Stroll.
After an intense battle into Turn 4 with Verstappen, Bottas eventually got past a steely Verstappen, with the Dutchman scoring his first points of the season in third following an early non-finish last week.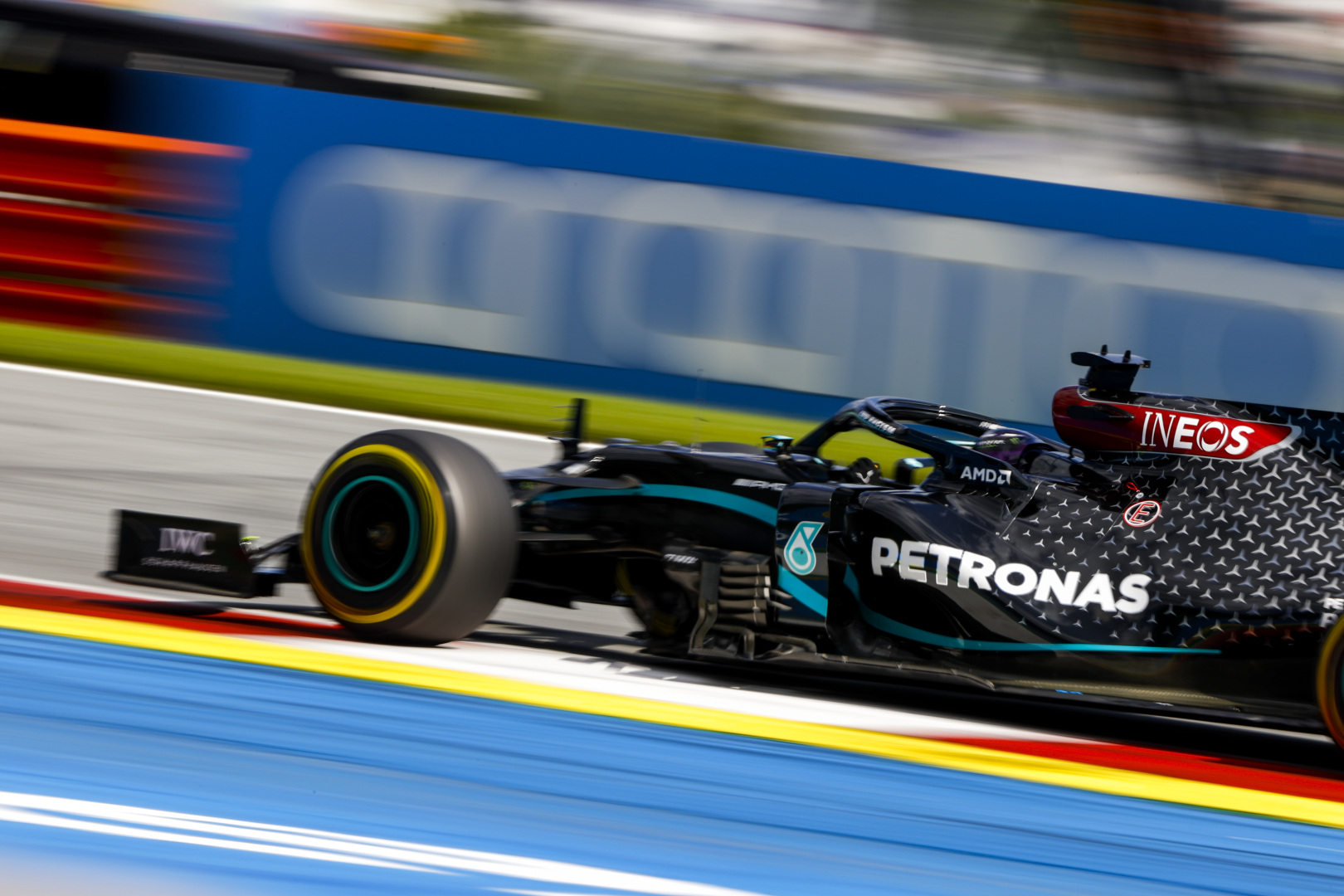 Perez, during all this, had caught up to Albon in the other Red Bull but very nearly recreated the incident between Hamilton and Albon last week, making contact with the Red Bull, but not spinning him. Unfortunately for Perez however, the contact cost him his front wing.
This would prove disastrous for the Mexican. Lando Norris had been allowed past his team mate Sainz and set the fastest lap of the race, and set after the squabbling Stroll and Ricciardo.
After Hamilton had crossed the line to claim an imperious win, a frustrated Stroll dived down the inside of Ricciardo and that sent both of them off the track, allowing the resurgent Norris, who started ninth, to pass them both into turn four, jinking between the Renault and the Racing Point.
Perez, meanwhile, was crawling to the chequered flag after his front wing had all but fallen off following his contact with Albon, and Norris brilliantly snuck past him into the final corner. It was then a photo-finish between Perez, Stroll and Ricciardo to the line. Perez just held onto seventh place, while Ricciardo had to settle for eighth behind Stroll having once been running in fifth.
After making another stop, Sainz smashed the fastest lap record set by Raikkonen in 2018 with a 1:05.6, and he would take the fastest lap point in ninth.
It was a resurgent Hamilton after a tough weekend at the Austrian Grand Prix last time out, but his 85th career win at the Styrian Grand Prix puts him right back into championship contention, and six wins behind the all-time 91 race win record set by Michael Schumacher.
[Featured image – LAT Images]