Valtteri Bottas has taken victory at a chaotic Austrian Grand Prix that saw just eleven cars reach the chequered flag, with Charles Leclerc in P2 and Lando Norris claiming his first ever podium in P3. Lewis Hamilton finished second on the road but dropped to fourth due to a five-second penalty he received for a collision with Alex Albon.
The race was sedate enough for the first ten laps. Bottas built up a 3.2-second gap to Verstappen, while Norris slipped back to P5 behind Albon and Hamilton. On lap 11, though, Verstappen lost power on the approach to Turn 3 and told his engineer that his car kept going into anti-stall. He limped back to the pits and retired on lap 13.
The next casualties were Daniel Ricciardo and Lance Stroll. Ricciardo pulled into his garage with a cooling issue while Stroll, who had been struggling with a lack of power for several laps, retired due to a sensor issue.
Bottas had built up a six-second gap to Hamilton by lap 17, but on lap 21 Hamilton set a new fastest lap and began to reel his team-mate in. Four laps later, the gap was down to 3.8 seconds.
Lap 26 saw the first safety car of the race, brought out due to Kevin Magnussen suffering a brake failure at Turn 3. A flurry of pitstops ensued with every driver opting for the hard tyres except for Perez, who went with the mediums.
When the safety car period ended, Vettel lunged down the inside of Carlos Sainz going into Turn 3. He misjudged the attempt and span, dropping down the order to P15. While the incident was noted, no investigation was deemed necessary by the stewards.
On lap 42, Bottas and Hamilton were warned about sensor issues that had been detected in the gearbox of both cars and were told to stay off the kerbs. This warning was repeated several times and the gap between the two widened as Hamilton eased off slightly. Despite this apparent issue, the duo were still over ten seconds ahead of third-placed Alex Albon.
Lap 51 saw the next retirements. George Russell ground to a halt from what had been a promising P12 and brought out the second safety car of the day. Romain Grosjean, meanwhile, ran off the track at the final corner and pulled into the pits with seemingly the same brake problem that curtailed team-mate Magnussen's race.
Red Bull chose to bring in Albon for a change to the soft tyres, losing P3 to Perez in the process, while both Mercedes stayed out on hard tyres that had already completed 25 laps by that point.
The Safety Car came in on lap 54 briefly, after which Albon re-took third place from Perez after Perez locked up going into Turn 3.
At that exact moment, however, the safety car was brought out again, this time because Kimi Raikkonen's front-left tyre had come clean off the chassis going into the final corner. It was initially unclear whether it was Albon or Perez who had been ahead at the moment the safety car came out, but it was decided a few laps later that Albon had been slightly ahead of Perez and thus the Red Bull driver slotted into P3.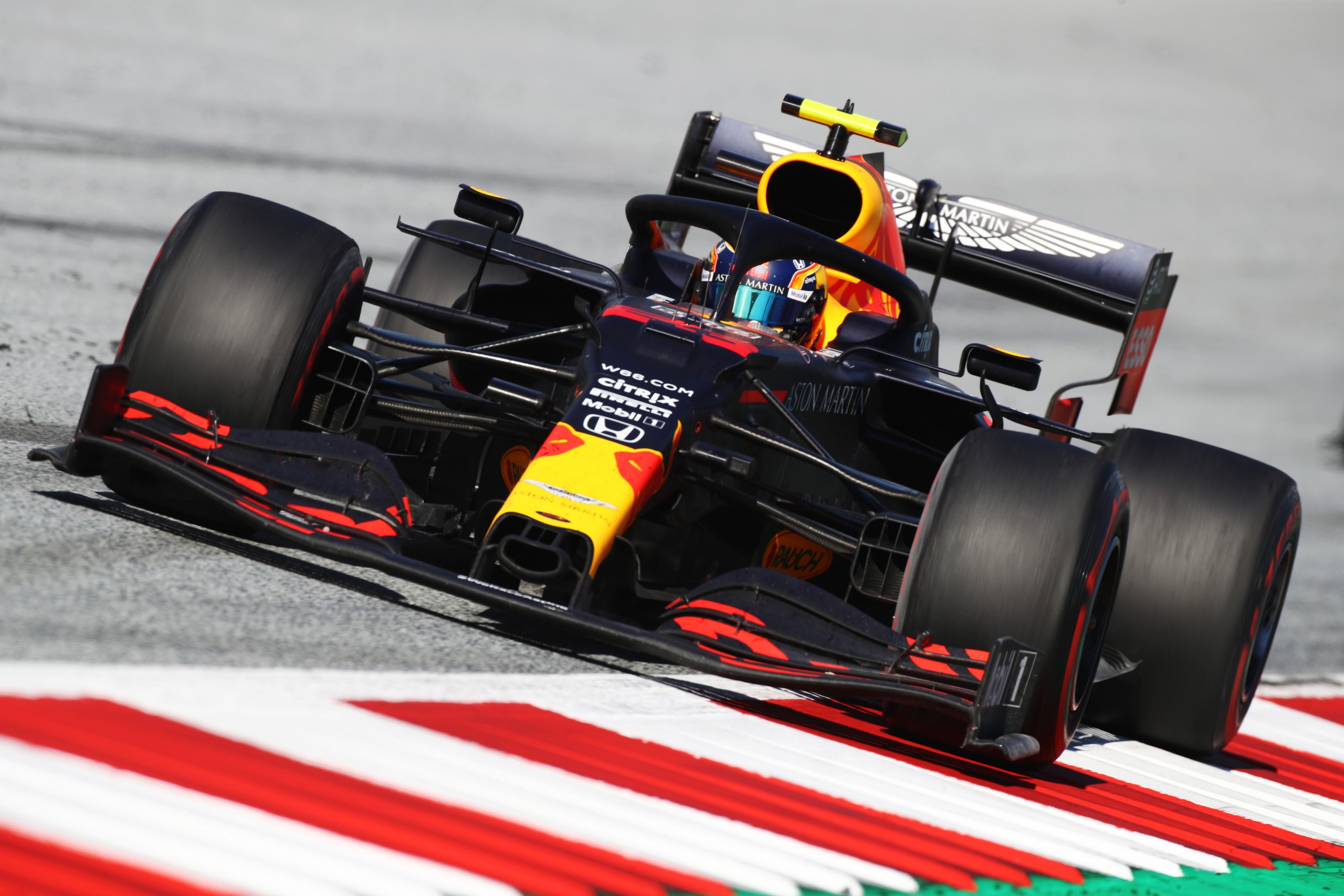 Lap 60 saw the safety car come back in and Albon set about chasing after Hamilton on his newer soft tyres. He saw an opportunity going into Turn 4 and went for it, only for the two to come to blows. Albon span and fell down the order to last place. The incident was duly noted and investigated, with Hamilton being given a five-second penalty.
Albon slowed a couple of laps later, saying over the radio that his engine was stopping. He wound up finishing P13, or last.
Between lap 64 and lap 66, Leclerc got past Norris and then Perez to find himself in P3 behind the Mercedes duo. It looked as if Perez was in with a shout of finishing on the podium due to Hamilton's penalty, only for his hopes to be dashed when he was awarded a five-second penalty of his own for speeding in the pitlane and then being overtaken by Norris.
Lap 70 saw the last retirement of the race when one of Daniil Kvyat's tyres disintegrated going into Turn 1. He managed to bring the car to a stop behind the barriers at a marshall post.
Bottas crossed the line to take the chequered flag at the end of lap 71 with Hamilton in P2, Leclerc in P3 and Norris in P4. Hamilton's penalty, though, dropped him to P4 and promoted Leclerc to second and Norris to the final podium position.
[Featured image – LAT Images]