With seven full tarmac stages today, the battle for the rally win and championship continued. The startlist looked like this – Ogier, Katsuta, Suninen, Evans, Latvala, Tänak, Meeke, Sordo, Neuville, Loeb.
We started with SS 7 – Savallà 1 (14,08 km) and straight away, Thierry who'd set the fastest time, moved into the lead, setting a time almost five seconds faster than overnight leader Loeb, who could only get the sixth best time. Meeke and Ogier were second and third in the stage with the result that the Toyota pilot now moved ahead of Dani and into third overall. Elfyn had the goal of getting ahead of Latvala, and was over two seconds quicker than the Finn.
The longer SS 8 – Querol 1 (21,26 km) saw the demise of Kris sadly, after hitting some Armco with the right-hand-side of his car. This put the Brit out for the day, and now we had a Hyundai 1-2-3 again, with everyone gaining a place. Latvala gapped Evans again, after going second fastest, and thus increased to thirteen or so seconds. Ogier was now in eighth place. Meaning he was in the points scoring positions.
Into SS 9 – El Montmell 1 (24,40 km) and there wasn't much to separate the top three of Tänak, Ogier and Sordo covered by just 1.7 seconds, and the gap between the Estonian and Spaniard reduced to a little under ten seconds.
After lunchtime service the rerun of SS 10 – Savallà 2 (14,08 km) saw Ott top the times again, as he and Martin found their rhythm, and now the gap to Dani was a little over seven seconds. How would the Hyundai pilot react in the next one? Meantime Thierry was pulling away at the front from his illustrious teammate, the gap now more than fifteen seconds. In the battle between Elfyn and Jari-Matti, the Finn was winning, with the gap now almost twenty seconds.
Next up, SS 11 – Querol 2 (21,26 km) and the top three, Tänak, Latvala and Neuville were separated by just six tenths of a second. Super close! The gap was coming down bit by bit between Dani and Ott, as the Estonian looked for another podium.
The last big stage of the day, SS 12 – El Montmell 2 (24,40 km) and we had a change in the podium positions, but not who you might have expected! Dani passed Loeb, as the Frenchman could only manage the eighth fastest time, almost eight seconds slower than Ott. Further down the gap between Elfyn and Latvala remained around twenty seconds, despite the Welshman being a little faster than Jari-Matti.
Now it was time for the final stage of the day, SS 13 – Salou (2,24 km) and Thierry set the best time from Dani and Ott, and the Estonian was now ahead of Loeb and in third place, and just a few seconds behind second place as well.
CLASSIFICATION DAY TWO
Neuville / Gilsoul (Hyundai i20 WRC) 2:25:15.8
Sordo / Del Barrio (Hyundai i20 WRC) +21.5
Tänak / Järveoja (Toyota Yaris WRC) +24.6
Loeb / Elena (Hyundai i20 WRC) +25.2
Latvala / Anttila (Toyota Yaris WRC) +46.8
Evans / Martin (Ford Fiesta WRC) +1:09.2
Suninen / Lehtinen (Ford Fiesta WRC) +1:24.5
Ogier / Ingrassia (Citroën C3 WRC) +4:09.9
Ostberg / Eriksen (Citroën C3 R5) +6:35.2 (1st RC2 & WRC2Pro)
Camilli / Veillas (Citroën C3 R5) +6:38.2 (2ndRC2 & 1st WRC2)
The Driver Quotes
Hyundai Motorsport
Thierry Neuville (1st)
"We have been fully motivated and confident with the car on these tarmac stages today. We had the perfect start to the day with two more stage wins and moving into the rally lead. From there, we were able to gradually increase our advantage stage by stage, adopting a clever approach to keep things smooth and clean. We took things a bit easier once we saw Kris (Meeke) have his issue this morning, especially in the big cuts to avoid punctures. Overall, we're in the position we want – and need – to be. Nothing's over until it's over so we will keep pushing with our sights set firmly on securing victory tomorrow, and a good team result for the manufacturers' championship."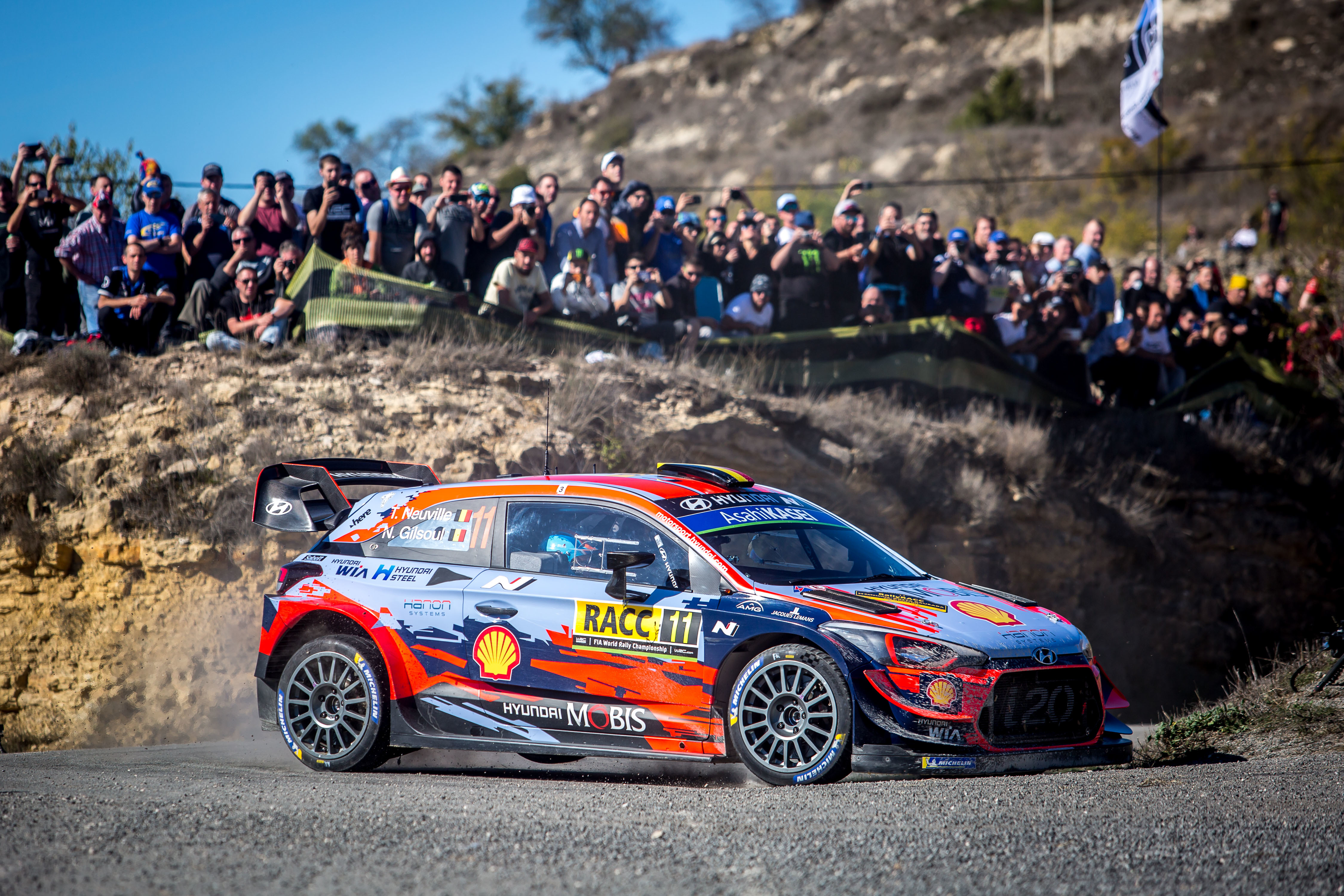 Dani Sordo (2nd)
"We have done our best to continue the 1-2-3 formation that we achieved yesterday but it's been a more challenging day. We have pushed as hard as we could, even if we've been missing some time here and there. It has also been important to stay cautious at times, particularly in the cuts, as it is so easy to run into trouble. Tänak has been driving well, as we expected, so our job today has been trying to defend our position. There's not a lot of time between three crews battling for second place, so tomorrow will be a critical day. We will keep fighting as hard as we can."
Seb Loeb (4th)
"We started this morning's loop almost like a completely new rally, swapping the gravel stages for tarmac. It doesn't matter what surface we have, the stages in Spain are great and the atmosphere is incredible. We have had to adopt some caution at times today to avoid making mistakes. The feeling with the car and the balance has been nice but for some reason the times just haven't been there. In the final stage, I stalled the engine which cost us some time and lost us third place. But overall, I don't think we could have done much more. We will check this evening to understand where we're losing out. Thierry has been going very fast and the team is still in a strong position overall, which is the positive we take into Sunday's stages."
Toyota Gazoo Racing WRT
Ott Tänak (3rd)
"I'm really happy with how today turned out. This morning, I was really struggling and I couldn't find any rhythm. The car was feeling good but I was a long way from being close to the limit. It was difficult to get used to the pressure of the situation. But I managed to reset for the afternoon and I could improve the rhythm. Tomorrow is another long day with some demanding stages, so there is still a big job to do."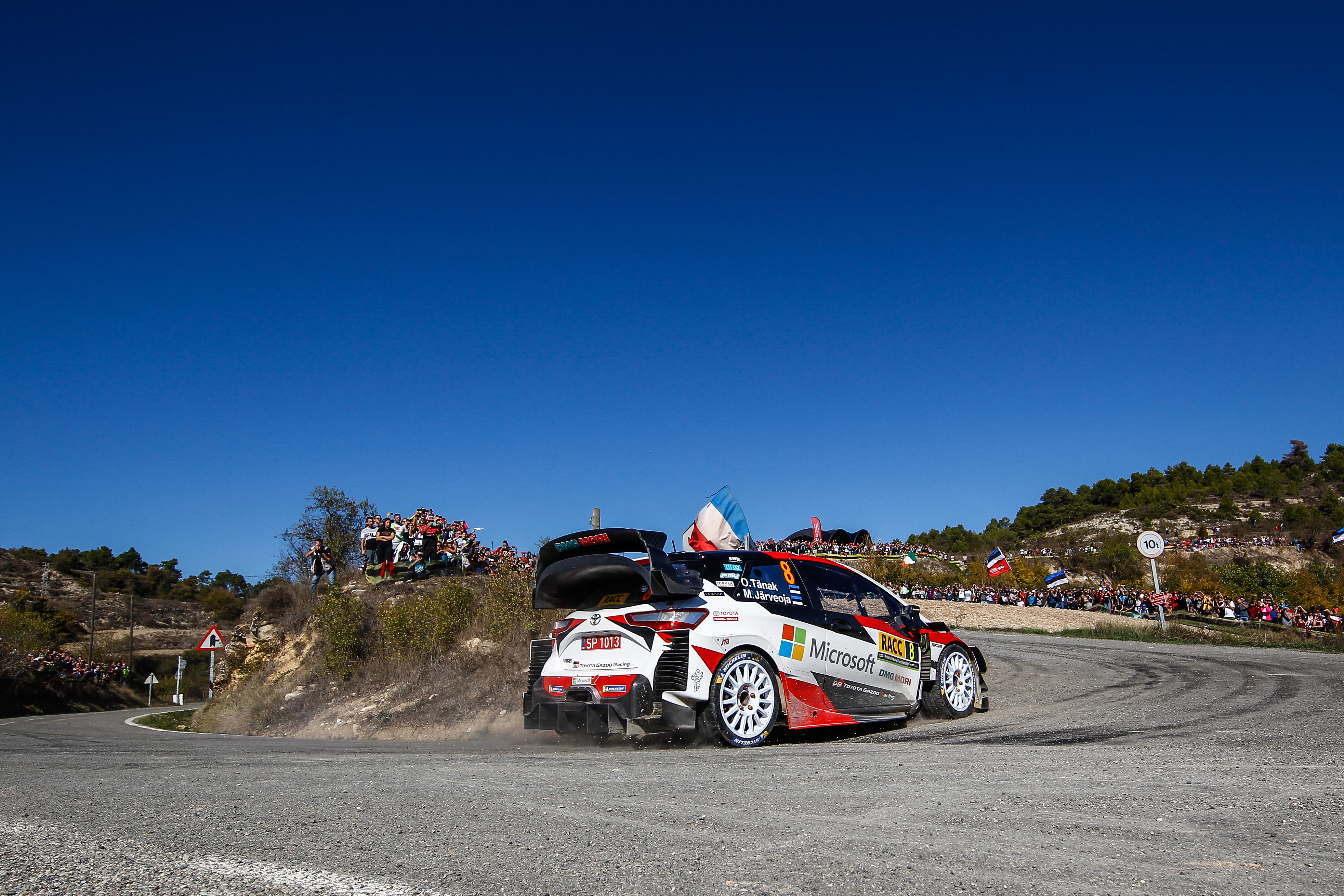 Jari-Matti Latvala (5th)
"Overall, I must say that today has been good. At first this morning, I struggled with the brakes a bit after the change from gravel, but in the second stage already I had a very good feeling with the car. The afternoon started pretty well too. On El Montmell I ran wide, hit something and damaged the steering arm so we lost a bit of time there. But otherwise, it has been a positive day. Tomorrow I'm going to try to keep the pressure on and see what happens, as we need as many points as we can get."
Kris Meeke (39th)
"When you transition from gravel to asphalt on this event, you're always wondering what the car is going to feel like. The rhythm was really nice this morning and the car felt incredible. Not far into the second stage, I went to brake for a fast left that tightened. I knew the corner very well, but immediately I locked the rear wheels and I didn't make the corner. I touched the barrier at the rear of the car and that was it. I'm really frustrated. I had to put it on the line today to try and get among our rivals for the manufacturers' championship. I think we could have had the speed to do it but unfortunately that small mistake cost us."
M-Sport WRT
Elfyn Evans (6th)
"We've been trying hard all day but just weren't able to find the pace as the day wore on. In terms of the balance of the car, the feeling was improving all the time but it just didn't seem to affect the times at the end of the stage. It was always two or three seconds here and there, and that's what makes the difference. Unfortunately, we just haven't had an answer to the guys at the front today."
Teemu Suninen (7th)
"I think it's been a pretty good day for us and I had a good feeling with the car in the afternoon. I was able to really focus on my driving and I think we set some good times. But no matter what we did, or how long the stage was, we were always three seconds behind Sébastien [Ogier]! I don't think that's a bad thing, but hopefully one day we will be three seconds ahead! We know where the level is, and we're not too far away so that it definitely a good thing."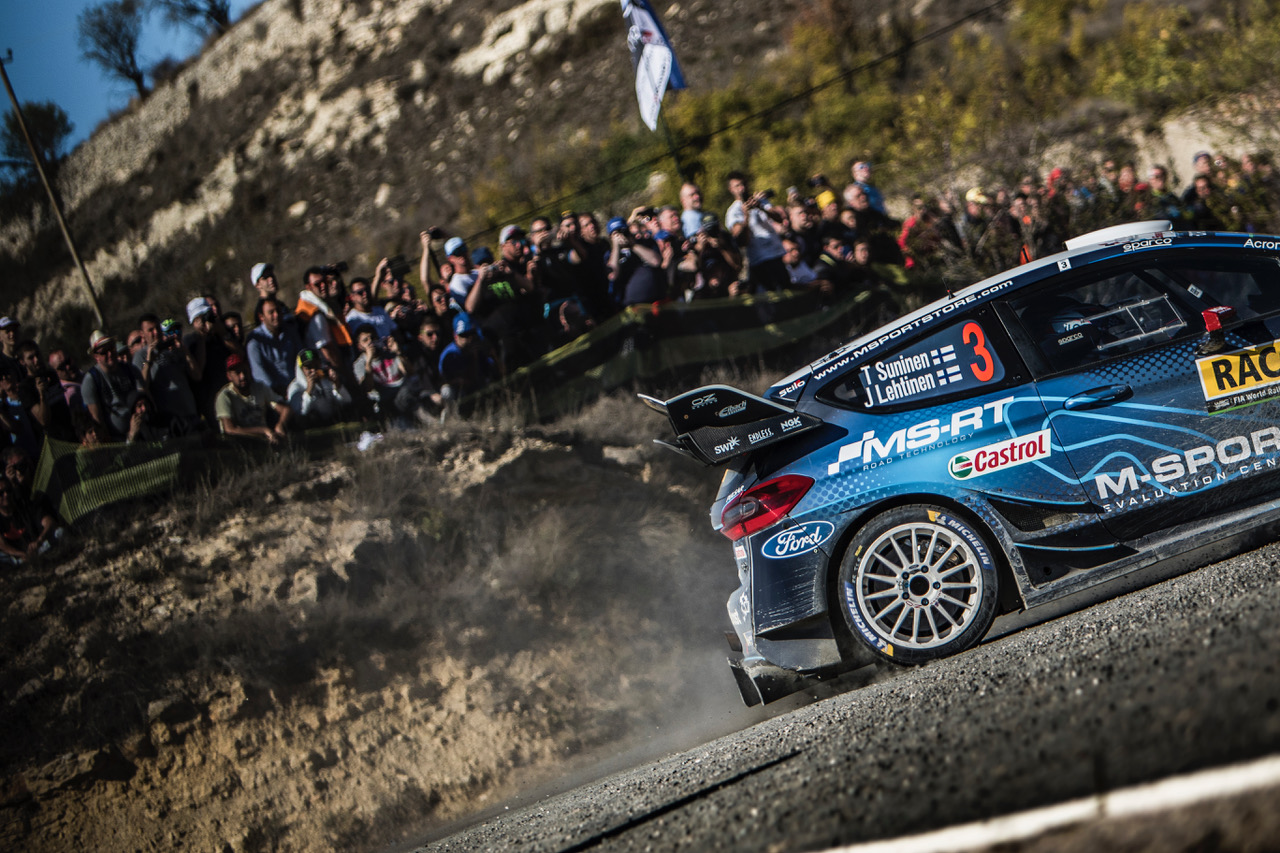 Citroën Total WRT
Sébastien Ogier (8th)
"Although it wasn't easy to find motivation today, I did my best to remain very focused and push hard.  We ended up setting some decent times. I'm pleased that my good feeling in testing has been confirmed here in the rally. The balance of the C3 WRC is better and I have more confidence in the front axle. We're not quite there, however, there's still a little something missing. We're going to keep working hard to find the last few tenths, which are always difficult to get."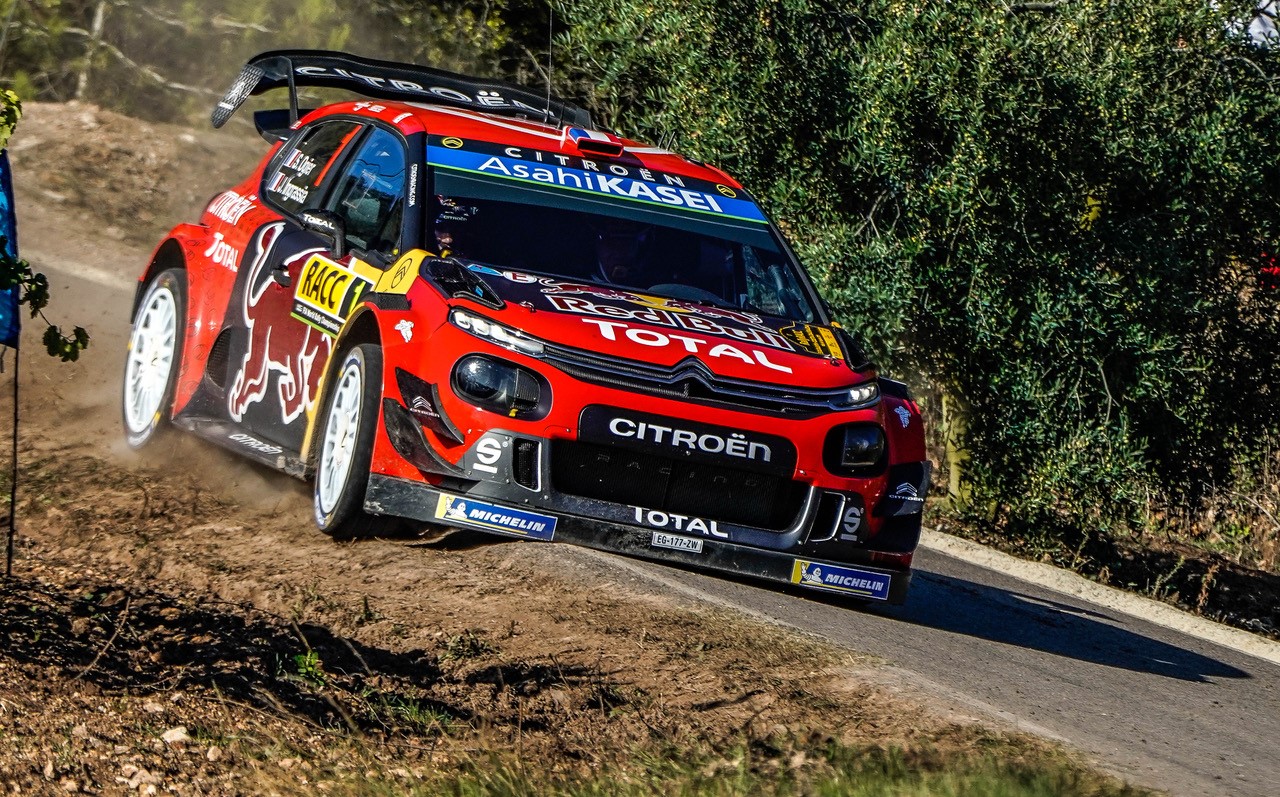 Summary
Well, what an interesting day. Thierry had done everything right, moving into the lead at the start of the day and then pulling away, and keeping his title hopes alive. It had also been a very good day for Ott, who'd moved up the leaderboard and into the podium positions and is now just a few seconds from second place. Who'd bet against him getting past Dani Sordo tomorrow?
It was a shame that Kris and Seb ended their challenge in the second stage of the day, as they were going really well, having passed Dani Sordo in the stage before. A small mistake, that had big consequences for his hopes.
It was a surprise to see Elfyn and Scott not setting quick times. They just couldn't set some quick times and drifted further back from the leading drivers, despite feeling that he was setting good times.
Sébastien and Julien drove well, setting good times and climbing the standings into eighth position. It's hard to see them gaining anymore places though, unless one of the crews ahead suffer a problem.
Thinking ahead to Sunday's stages, there is a total of 74km over four tests. Talking about the final stage, La Mussara, Miikka Anttila says "This is probably the one stage this weekend that none of the crews have much experience on. The first six kilometres were driven in 2016; the rest not for a long time in this direction. In the beginning, the road turns a lot, and once on top of the hill it's very fast and flat-out in places. Then it's back to a slower road down to the finish."
Perhaps, we'll know then if Ott Tänak will have won the crown.