It was good day for Hyundai, but not so good for Citroën, who suffered two separate technical failures on their cars.
With six stages all on gravel today, the start list looked like this – Tänak, Ogier, Neuville, Meeke, Evans, Latvala, Lappi, Suninen, Sordo, Loeb.
It was a good start by Seb Ogier, who won SS 1 – Gandesa 1 (7,00 km) from Dani Sordo and Thierry Neuville was right there as well. The short stage didn't affect Ott Tanak too much either, with the championship leader only losing 1.8 seconds to the reigning champion.
With the longer SS 2 – Horta-Bot 1 (19,00 km), it started to unravel for Ogier. He started to lose time very early in the and the problem got worse and worse. By the end, he and Julien had lost 44 seconds and had fallen to fifteenth position. Is this the moment when the championship slipped away from the Citroën pilot? Thierry moved into the lead after winning the stage, with his Spanish teammate just a few tenths behind. Kris now held third, as the top Toyota at this point. Elfyn suffered a part spin, losing a few seconds and falling behind his Finnish teammate, but not by a big margin. Meantime, Ott had made his way up to fourth place.
The next stage, SS 3 – La Fatarella – Vilalba 1 (38,85 km), a really long and proper stage. Seb Ogier lost even more time on this long stage, losing almost three minutes, and was now three and a half minutes from the lead. His fellow multiple world champion Seb Loeb won the stage and moved up to sixth place. Meantime, Dani Sordo took the lead with championship hopeful Thierry now falling to second place. Elfyn had a better stage, setting the fourth fastest time and moving up the leaderboard to into fourth place. The drivers to fall behind were Kris, who was just a few tenths behind the Welshman and in fifth, whilst Esapekka was now in seventh place. The gaps were really quite small though, with only twelve seconds covering first and seventh.
After lunchtime service, SS 4 – Gandesa 2 (7,00 km), and Dani was quick out of the blocks once more, winning the stage from Teemu. Loeb also went well, making it a one-three for Hyundai in the stage and moving him above Kris and Elfyn and into fourth place. Thierry put a good stage together and continued to hold second overall. Hyundai had found a good set up for their cars, and were going well indeed.
Into SS 5 – Horta-Bot 2 (19,00 km) and Loeb won from Sordo, whilst Latvala was starting to feel more comfortable, setting the same time as Dani. Loeb's pace moved him into third overall, with Ott now falling behind the former champion. Kris was also going well, passing Elfyn. Esapekka Lappi sadly dropped out of the standings with a technical problem. We now had a Hyundai one-two-three! Seb Ogier was well out of the running and despite his complete professionalism really struggling for motivation.
The final stage of the day then, and SS 6 – La Fatarella – Vilalba 2 (38,85 km) saw a massive push from Loeb, which gave him a superb stage victory, beating Kris and Thierry and was enough to give him and Daniel the rally lead, whilst Thierry and Dani completed a one-two-three for Hyundai. On the flip side, Elfyn had a terrible stage with an engine problem and he lost 38 seconds and fell to seventh. Not how he would have wanted to end the day, but at least he's still in the running for the points and we know how fast he is on tarmac.
Driver Quotes at the end of Day One
Hyundai Motorsport
Seb Loeb (1st)
"An incredible day for the team! It is a wonderful feeling to be leading this rally, even if at this early stage of the weekend. There was a bit of a tyre strategy in the morning, and I was only able to get the hard compounds working to their optimum performance at the end of the loop. The conditions were just too slippery and greasy in the opening stages. The afternoon was better and I had a good feeling throughout. In the final stage, the car was perfect and I was just flying. We gave it a push and it was good enough to secure a 1-2-3 for the team to end the first day. We now have two long days of tarmac ahead of us."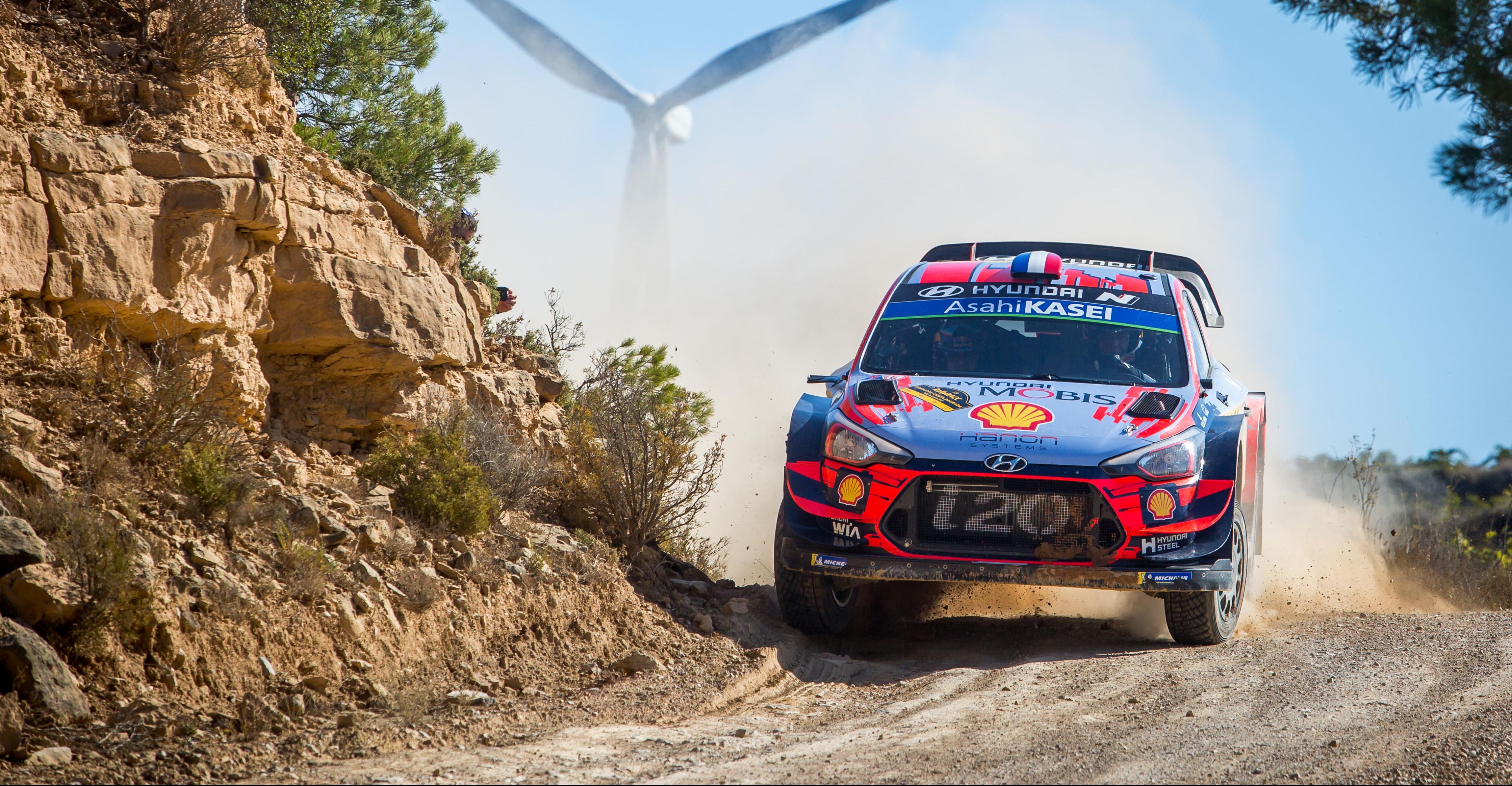 Thierry Neuville (2nd)
"We have had a great start to this rally and the car has been working very well. We had a positive opening loop this morning and continued in the same direction for the afternoon. There were some tricky sections at times but we stayed focused and tried to be efficient. The final stage was particularly tough with some visibility issues, a combination of the sun being low and some fog, so we had to remain concentrated. Aside from losing a second or two at the last hairpin, it was a strong end to an almost perfect day."
Dani Sordo (3rd)
"All in all, we have had a good day and things are looking good for the team on the standings with the top three positions. The car has been working very well, even with changeable grip levels. The only downsides were a puncture 5km before the end of the morning loop, which lost us some time, as well as a disappointing end to our afternoon. Some places were difficult to drive but there was nothing immediately wrong. I think we can still be happy with our performances today, as we now turn our attention the tarmac stages."
Toyota Gazoo Racing WRT
Kris Meeke (4th)
"This morning I struggled a bit with the setup and so I wasn't comfortable over the bumps, especially in the long stage, SS3. But everything came together in the afternoon. The car felt a lot different and I could trust it a lot more. I said beforehand that I needed to be within 10 seconds of the lead tonight and the gap is currently 13, so it's not bad, we're still there. My pace has been strong on asphalt this year and I know the Yaris WRC works really well, so I'm confident and looking forward to the rest of the rally."
Ott Tänak (5th)
"It was a really tough and demanding day today. When you're opening the road during the first loop, it's constantly slippery, but in a way it's still manageable. The conditions are always more difficult in the second loop and it can be really frustrating. I pushed as hard as I could and I couldn't do any more, so we need to be happy with that. Tomorrow is very much a new day and a very different day, and hopefully it can be a stronger day for us."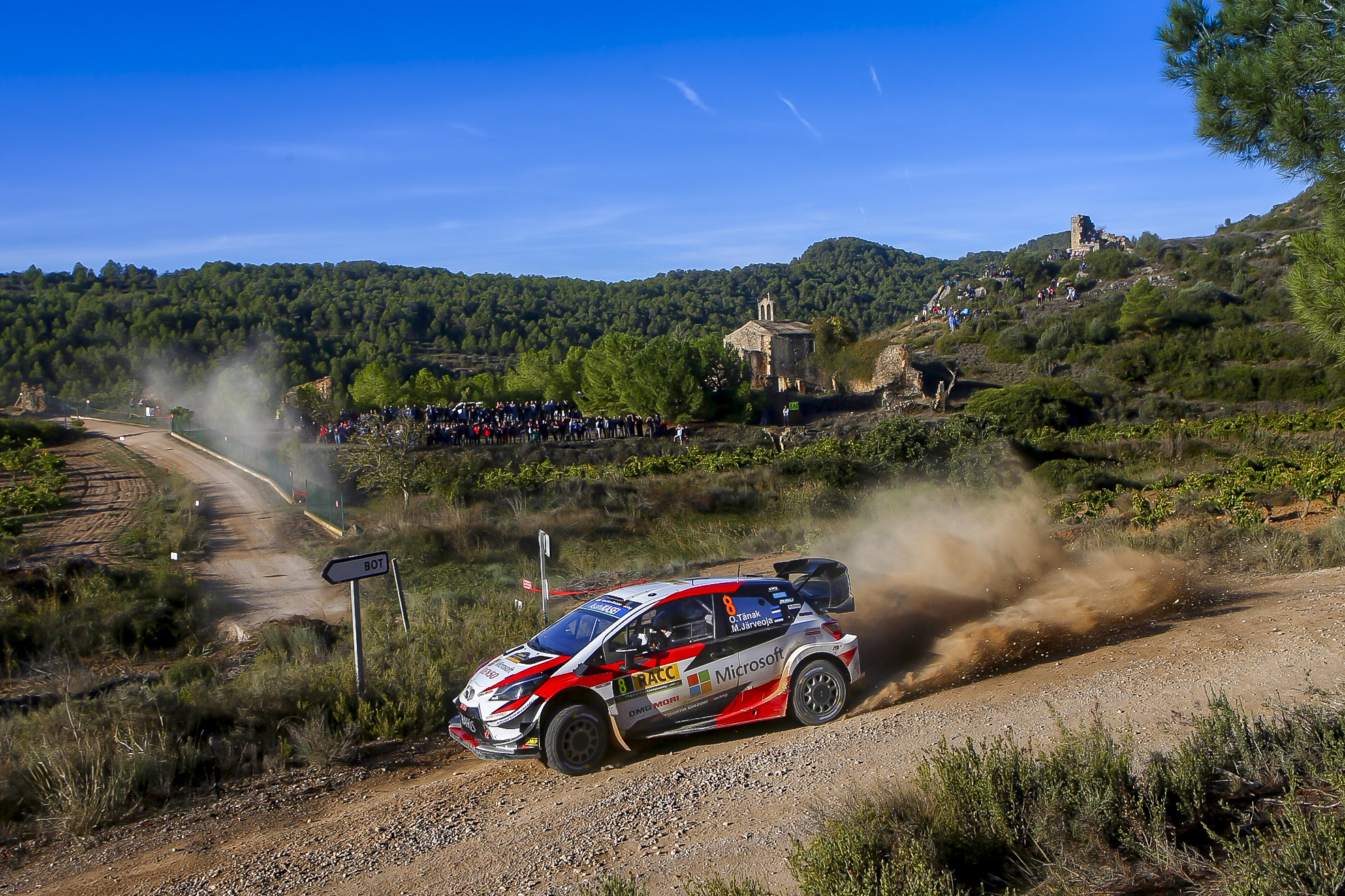 Jari-Matti Latvala (6th)
"This day on gravel was not as simple as last year. After the rain earlier in the week, the grip level was much lower, and it was more difficult this morning. Then in the afternoon, the grip was pretty consistent, but there were many ruts. I wasn't confident enough this morning, but we made some changes with the suspension in service, and I fought back in the afternoon. I feel a lot more relaxed and confident now and I'm looking forward to the next two days on asphalt."
M-Sport WRT
Elfyn Evans (7th)
"It was shaping up to be a pretty good fight, but it didn't go our way in the end. We had some speed at times, but then we had a pretty bad misfire on the last stage. We managed to change a few things on the road section and get it going again so it's just one of those things – and we'll need to make sure we're on it from the word go when the action moves to Tarmac tomorrow."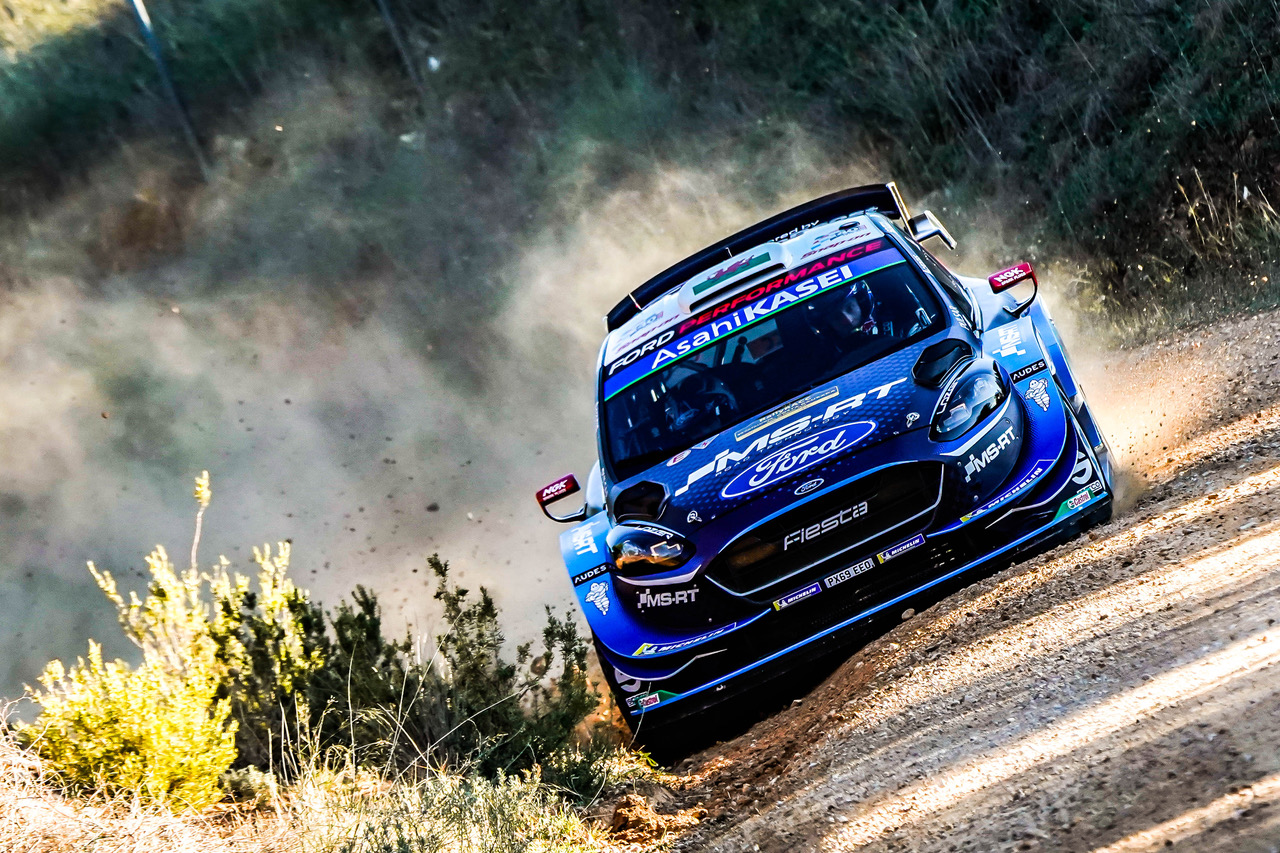 Teemu Suninen (8th)
"We found a good rhythm this afternoon and I had a really good feeling with the car. I tried to set some good times, and I was happy that we managed to do that. But I wasn't so good at managing the tyres on the long stage. On the first pass I pushed too hard, and on the second I didn't push enough. It's something I need to improve, but I know it's a learning curve so I will make some good notes and do some good homework."
Citroën Total WRT
Sébastien Ogier (17th)
"I lost the power steering pretty much at the start of SS2, then the gearshift paddles went and finally the central differential. It was so hard physically to drive the car without power steering, I ended up with blisters on my hands. Obviously, it's disappointing because the intention was there. We made the right call on tyres and the time on the opening stage confirmed the good feeling we had. Everyone in the team is disappointed this evening, but obviously we're professionals and our approach has always been to never give up and see where we are at the end of the rally."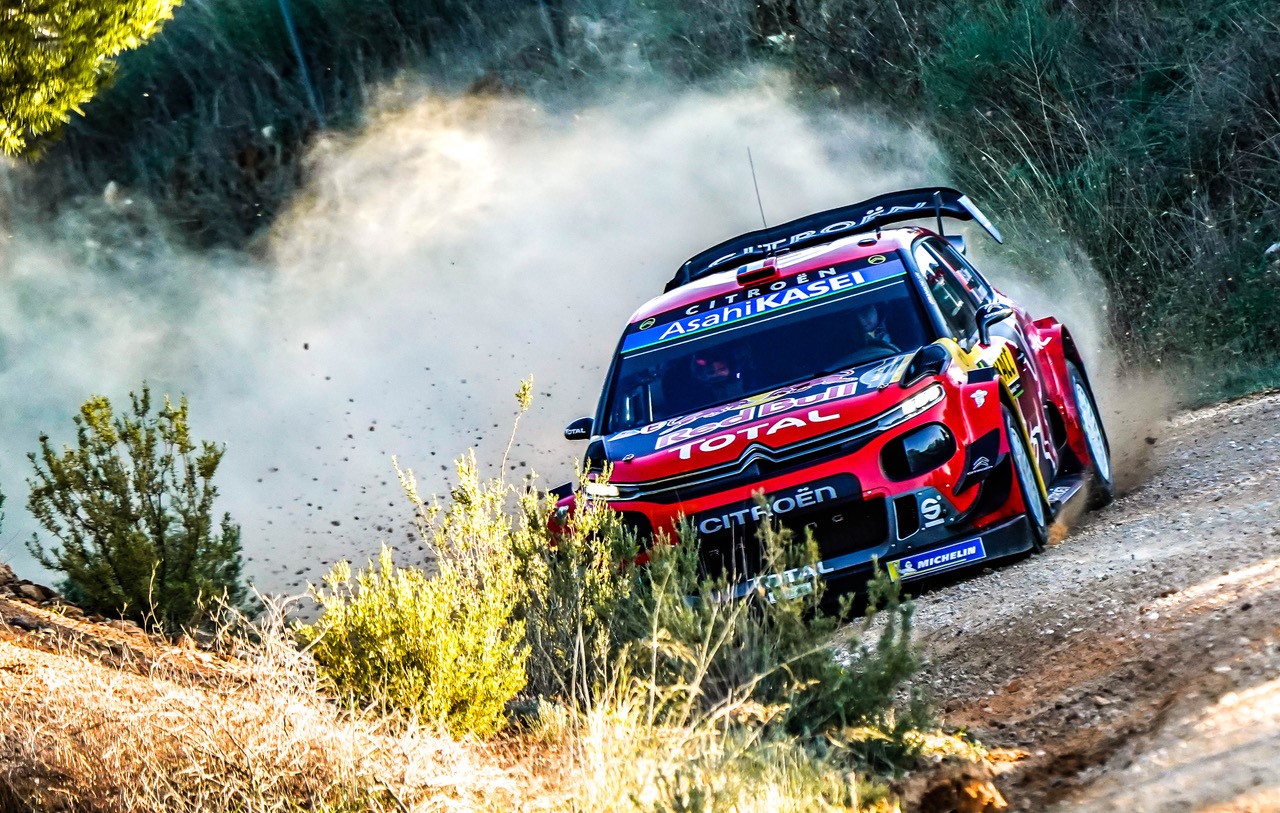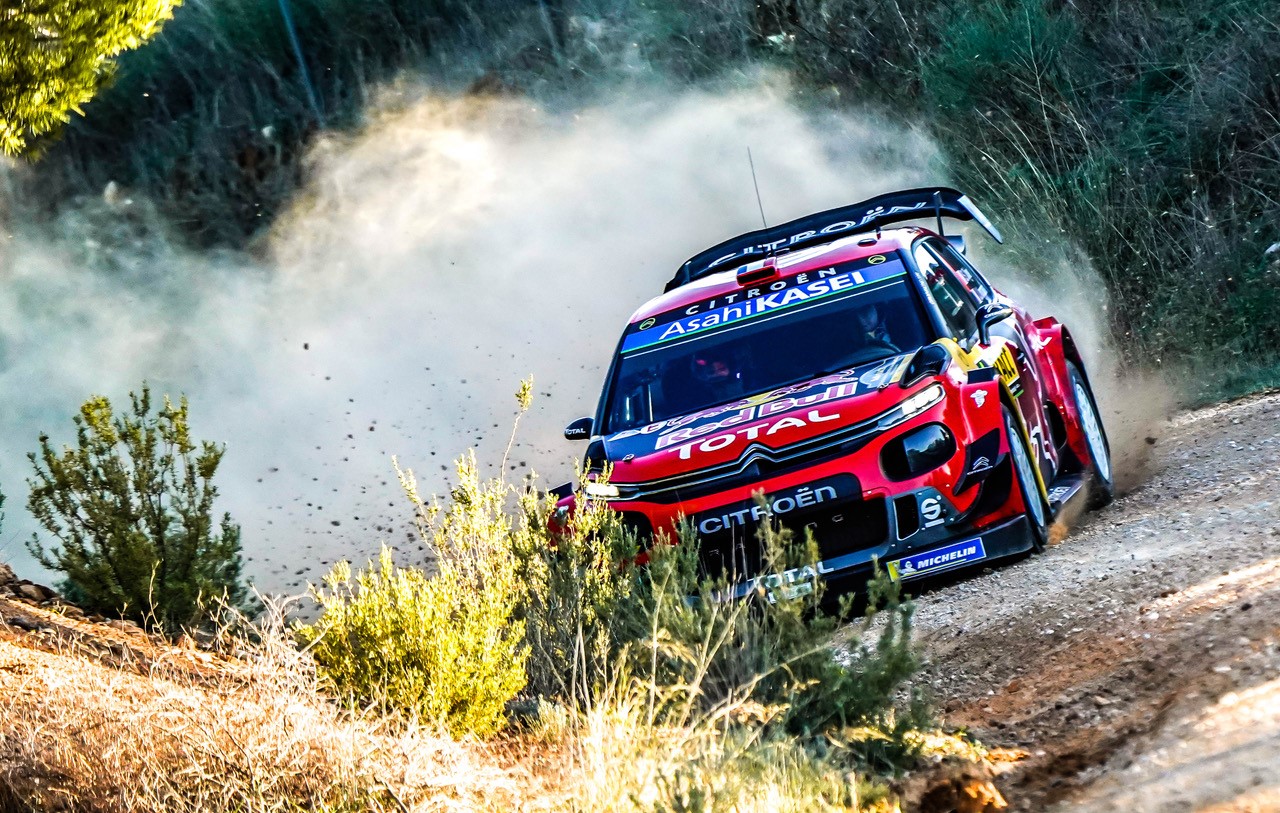 Esapekka Lappi (DNF)
"I'm disappointed that my rally has come to a premature end, especially as I had enjoyed a pretty solid and consistent day up to that point, in terms of pace. The gaps were small and we were up for the fight, because I felt comfortable in my C3 WRC. I will now look forward to Australia and finishing the season on a high with the best possible result."
STANDINGS AFTER DAY ONE
Loeb / Elena (Hyundai i20 WRC) 1:21:24.7
Neuville / Gilsoul (Hyundai i20 WRC) +1.7
Sordo / Del Barrio (Hyundai i20 WRC) +7.6
Meeke / Marshall (Toyota Yaris WRC) +13.0
Tänak / Järveoja (Toyota Yaris WRC) +21.7
Latvala / Anttila (Toyota Yaris WRC) +30.1
Evans / Martin (Ford Fiesta WRC) +44.0
Suninen / Lehtinen (Ford Fiesta WRC) +51.8
Katsuta / Barritt (Toyota Yaris WRC) +1:50.3
Ostberg / Eriksen (Citroën C3 R5) +2:59.8
Summary
Well, a very interesting first day on the gravel roads in Spain. It's certainly not the day that the Citroën team would have wanted, and now it is looking very likely that we will see our first Estonian world champion.
At the front, Hyundai's drivers are doing all they can to help Thierry take the fight to the final round, but with Ott Tänak sitting in fifth overall, he's in a good position to take the title.
Toyota had a reasonable day, with Kris, Ott and Jari-Matti all setting pretty good times, and will look to move up the order tomorrow.
At M-Sport they had their moments, but with the problems that Elfyn had in the longest stage this afternoon, they'll be wanting more from the weekend. Let's see what happens tomorrow.
Now, tomorrow sees the crews attack seven stages totaling 121km. We'll have a better idea if Ott Tänak is set for his first championship by the end of tomorrow.