Here is my recap of a timely victory for Sébastien Ogier with just three rounds of this year's championship left. He was joined by his young teammate Esapekka Lappi, whilst Norwegian Andreas Mikkelsen completed the podium.
Friday
With almost 160km over six stages, it would be a challenging day indeed. The start list looked like this – Tänak, Neuville, Ogier, Meeke, Mikkelsen, Latvala, Suninen, Sordo, Lappi, Tidemand.
Well at the end of SS 2 – Içmeler 1 (24,85 km), we had a new leader, with Jari-Matti now leading for Toyota, whilst Andreas and Esapekka were within five seconds of the veteran Finn. Meantime, Seb Ogier suffered a puncture at around 18km. Championship leader, Ott was doing okay, holding fifth overall.
Into SS 3 – Çetibeli 1 (38,15 km), and it all changed! Jari-Matti dropped out of the lead, falling to fifth, whilst Esapekka took the lead. Andreas was the young Finns closest challenger, with Seb now in third and Teemu in fourth.
Jari-Matti hit back in SS 4 – Ula 1 (16,57 km), winning the stage and jumping into third. Also moving up the leaderboard was Thierry, whose pace lifted him ahead of Kris. Meanwhile, Ott held sixth place, now 21 seconds from the lead.
Well, sadly Jari-Matti dropped back SS 5 – Içmeler 2 (24,85 km) and was now in tenth and fifty seconds from the lead. Kris won the stage from Thierry and Seb. Meanwhile Ott was now up to fifth overall. Teemu continued to knock on the door of the podium as well. Things were going well for the young Finn.
Thierry won SS 6 – Çetibeli 2 (38,15 km) from Esapekka and Seb and this was now the top three, with the Finn leading Seb and Thierry in third. Andreas dropped back after a painful stage for the Norwegian, but eve he didn't suffer as much as Ott who dropped one minute and 18 seconds, falling to seventh.
The final stage of the day, SS 7 – Ula 2 (16,57 km) was won by Dani, from Jari-Matti and Thierry. The Spaniard moved up into sixth place as well. Meantime, Esapekka and Seb held a one-two for Citroen at the end of day one.
STANDINGS AFTER DAY ONE
Lappi / Ferm (Citroën C3 WRC) 1:59:53.7
Ogier / Ingrassia (Citroën C3 WRC) +17.7
Neuville / Gilsoul (Hyundai i20 WRC) +18.4
Suninen / Lehtinen (Ford Fiesta WRC) +44.4
Mikkelsen / Jaeger (Hyundai i20 WRC) +1:04.1
Sordo / Del Barrio (Hyundai i20 WRC) +1:25.2
Meeke / Marshall (Toyota Yaris WRC) +1:32.1
Tänak / Järveoja (Toyota Yaris WRC) +1:37.4
Latvala / Anttila (Toyota Yaris WRC) +1:42.5
Tidemand / Floene (Ford Fiesta WRC) +3:45.4
Here's the driver thoughts!
Citroën Total WRT
Esapekka Lappi (1st)
"Obviously, it's been a good day for us! We didn't have any issues at all and I could do what I wanted in my C3 WRC. I think we adopted a smart approach and managed to find the right rhythm, trying to stay in the lines as much as possible. I'm not really a huge fan of slow, technical stages, so I'm pleased with my performance today. But there's still a long way to go. We'll just try to keep doing what we are doing and see how we get on."
Sébastien Ogier (2nd)
"It was a really tricky day and I'm pleased to finish it in this position. I lost the splitter on the front bumper on the opening stage of the afternoon and that probably affected the car's aerodynamics towards the end of the loop. Although conditions on tomorrow's leg are expected to be a little less rough than today, there will still be some very tricky sections that we'll need to get through without incident. I think we can expect it to be another big fight and you can count on us to be pushing hard!"
Hyundai Motorsport
Thierry Neuville (3rd)
"The morning loop was certainly not the way we wanted to start our rally, especially after our joint stage win with Andreas on Thursday evening. It was just not a competitive loop for us. The car was not working as we needed it and in the cleaning conditions, starting second on the road, we lacked grip and traction. We tried hard but needed a change of fortune for the afternoon. We had a great time through SS5 but it was in the tricky conditions of SS6 where we made up some important time. We actually had a puncture before the stage so had to swap onto the softer tyres. We didn't give it a thought, we pushed hard and the rain at the end helped us to set the fastest time to get us back in the game. This rally is far from over, but we head into Saturday in more positive spirits."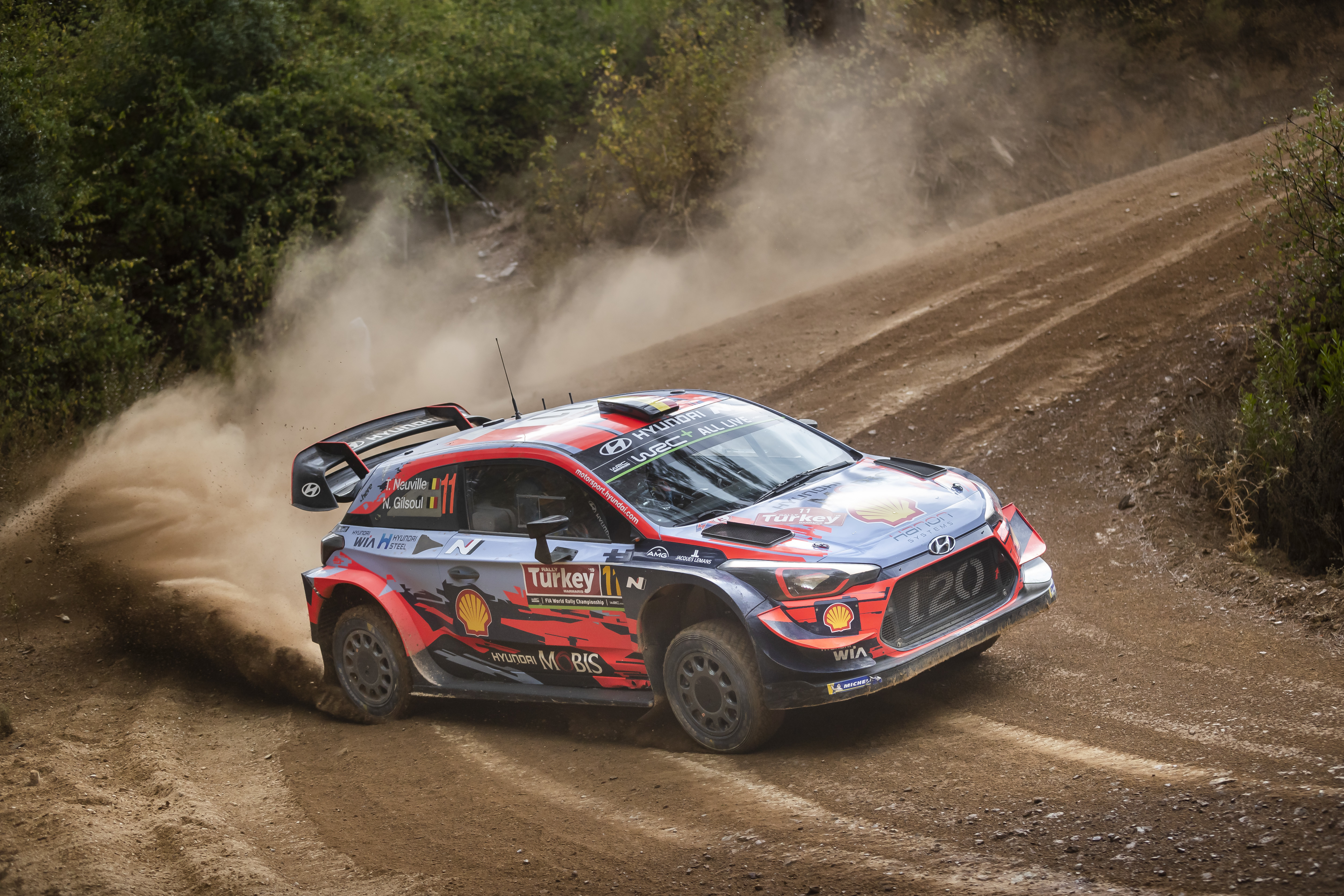 Andreas Mikkelsen (5th)
"A great start to the rally turned unfortunately into an afternoon of frustration and disappointment. We were pleased to take the super special win on Thursday, and we had a competitive opening loop, clean stages and an awesome car. We were really in the fight and feeling good. It is an extremely complex rally, and you need to know when to attack and when you need to back off and take it easy. It's so easy for something to happen. We struggled in the afternoon, especially in SS6. The conditions and tyre choice made the stage feel like ice, there was just no grip. The car was sliding and we lost a lot of time. We did our best with what we had."
Dani Sordo (6th)
"We managed to end the day with the sort of competitive form that we knew we were capable of showing this weekend. Unfortunately, the puncture we picked up in the first stage got our rally off to the wrong start. It's easy to get a puncture here but I didn't even realise anything had gone wrong. We decided to try and complete the stage rather than lose the time to change tyres and that was the right call. We lost a lot of time but it could have been worse. I'm not the sort of person to hope for others to have bad luck but this a long and unpredictable rally so anything can still happen."
M-Sport WRT
Teemu Suninen (4th)
"I think it's been a pretty good day for us and the car is working well. It's always difficult to find the right balance between being fast and being careful here, but I think we're doing okay. There are so many loose stones out there that you have to keep a margin to try and avoid the punctures.
"I don't want to set myself too high a target right now as I'm happy with the rhythm we have and think we have a good balance. But there is still a long way to go and of course anything can still happen."
Pontus Tidemand (10th)
"It was really tricky for everyone today, but good for me to get the experience. We had a puncture on the first stage, but apart from that it was a really clean run.
"The pace at the front was really high and for sure the top guys are pushing a lot, but we can already see in some sections that we are getting closer – which is what we need to focus on.
"We'll be first on the road tomorrow, but in a way that will be nice as it means we won't have to experience the big ruts that we had today – and I'm looking forward to that."
Toyota Gazoo Racing
Kris Meeke (7th)
"I had quite a decent loop this morning. The rhythm wasn't so good on the last stage of the loop, but otherwise it wasn't bad given my lack of experience here. When the rain came on the second stage of the afternoon, it was really difficult. We were saving two medium tyres for the last stage, when we expected the rain to be worst, and our hard tyres were really worn from the first stage, so when it rained heavily in the middle of the stage, it was like driving on ice. The other two stages were fine, we just lost a lot of time on this one stage. Our speed's been OK and we're still here: there's a long way to go and anything can happen."
Ott Tänak (8th)
"It was difficult to enjoy the conditions running first on the road, but I felt much better in the car this morning than I did here last year, so the improvements  that the team have made to the car have been good. We knew the afternoon would be demanding, as the stages are even rougher on the second pass, and the weather was making it extra tricky. Unfortunately, we had a puncture in the middle stage: it can be a bit of a lottery here and we were unlucky today. Certainly, it was not the day that we were hoping for, but there is still a long way to go so we just need to keep going and see what happens."
Jari-Matti Latvala (9th)
"It started well this morning. The time on SS2 was surprisingly good, as I didn't  push hard. Then I drove too carefully on the next one, but we were able to compensate a bit for that with a good time on SS4. The car was going well, although we knew the afternoon will be rougher. In SS5 we lost the rear bumper, it got very noisy in the car and I was struggling to concentrate on the pace-notes: I cut a right-hand corner and we had to drive the end of the stage with a flat tyre. We expected the rain to come more for the final stage than for SS6, and so we had the hard tyres on which was the wrong choice, and we lost a lot of time. But this is rallying, and sometimes these things don't work out. Now we need to look forward as a lot of things can still happen in this rally."
Saturday
Well, with 110km over six stages today, it would be a very interesting day. The start list looked like this – Tidemand, Latvala, Tänak, Meeke, Sordo, Mikkelsen, Suninen, Neuville, Ogier, Lappi.
It was a good start to the day for Seb, who won SS 8 – Yesilbelde 1 (33,00 km) by a huge almost 17 seconds over his younger teammate. Esapekka now had a one second lead over his world champion teammate. Just like last year, Thierry had a torrid start to his Saturday, losing almost four and a half minutes and dropping from third to ninth. Now Teemu Suninen was holding third place behind the two Citroen's.
Into SS 9 – Datça 1 (8,75 km) and Andreas took a good stage win and moved ahead of the M-Sport Fiesta piloted by Teemu. The big drama came from Ott and the Toyota team. The Estonian dropped out of the running, after suffering an electrical problem with his car.
Another stage win for Lappi in SS 10 – Kizlan 1 (13,30 km) going faster than Thierry and Andreas and Seb, who was now ten seconds behind his younger teammate. Further back, Jari-Matti and Kris were battling over sixth and seventh, with the Finn now ahead of his teammate.
Seb hit back in SS 11 – Yesilbelde 2 (33,00 km), winning the stage and reducing the gap to just 2.2 seconds, whilst Andreas was opening up the gap to Teemu in their battle for the final podium spot.
With Thierry, Dani and Teemu setting the top three best times in SS 12 – Datça 2 (8,75 km), Seb was fourth, but crucially seven seconds faster than his teammate, the Frenchman moved into the lead. Kris and Jari-Matti once again changed places in their battle over sixth and seventh after the Finn lost almost seven seconds.
Now, Esapekka won SS 13 – Kizlan 2 (13,30 km), reducing the gap to Seb to just two tenths of a second for the lead after the champion who was third fastest, but four and a half seconds slower. Jari-Matti got back in front of Kris after the Brit lost twenty seconds.
STANDINGS AFTER DAY TWO
Ogier / Ingrassia (Citroën C3 WRC) 3:20:12.0
Lappi / Ferm (Citroën C3 WRC) +0.2.
Mikkelsen / Jaeger (Hyundai i20 WRC) +1:17.1
Suninen / Lehtinen (Ford Fiesta WRC) +1:26.9
Sordo / Del Barrio (Hyundai i20 WRC) +2:24.7
Latvala / Anttila (Toyota Yaris WRC) +3:14.4
Meeke / Marshall (Toyota Yaris WRC) +3:29.5
Neuville / Gilsoul (Hyundai i20 WRC) +4:38.2
Tidemand / Floene (Ford Fiesta WRC) +6:55.8
The thoughts of the drivers after day two.
Citroën Total WRT
Sébastien Ogier (1st)
"It was a very good leg for us, with a decent pace and no technical issues whatsoever on our C3 WRC. It wasn't an easy day, however, but we made a bold call on tyre choice this morning and it paid off. This afternoon, we had to deal with incredibly hot and abrasive conditions for the tyres. I tried to be careful and not take too many risks to minimise any problems. Our goal now is to get to the finish line in this position and if we can add some points in the Power Stage then that would be a bonus."
Esapekka Lappi (2nd)
"It doesn't matter if we are leading or second this evening, the main thing is to bring home this result for the team. I'm very pleased with my own performance so far, despite my small mistake on SS12. We set some good times again today by adopting a sensible approach and with a C3 WRC that is clearly quick on this surface."
Hyundai Motorsport
Andreas Mikkelsen (3rd)
"We have had a good performance today and been properly on the pace, so there are plenty of positives to take away. I made just one small mistake in the opening loop, in SS8, due to the dust, but otherwise it's been a pretty faultless day. The car has been working incredibly well which has given us the confidence we needed. Tyre management has again played a key role, and I had high tyre wear by the end of the afternoon loop, but all in all we are in good shape heading into the final day."
Dani Sordo (5th)
"The objective for us today was to remain in front of our closest rivals in the manufacturers' championship, and we have managed to do this. It has been another tough day but we have made no mistakes. Our overall strategy was good and we made the most of our tyre choice to maximise our performance across the loop. We now have to focus on the final stages of this rally, knowing that anything can happen, and maintain our advantage."
Thierry Neuville (6th)
"There's no hiding from the disappointment we are facing from today. We have put so much effort into these fights so it's hard to take when it could have been easily avoided. It was a very simple thing, a slow right-hander and a tight left; I thought I saw the corner in the dust but it was a small ditch and we ended up on our side. We lost over four minutes of time getting the car back on its wheels. It is what it is, we just have to keep pushing and remain positive. We have seen many times that the situation can turn quickly when the title fight is so close."
M-Sport WRT
Teemu Suninen (4th)
"I struggled to get into the rhythm this morning, but this afternoon was really good and we found good pace on all of the stages. My tyres were in pretty good condition and I was pleased with that because it's something I've been working to improve. Unfortunately, we had some small damage on the car which meant we couldn't take full advantage on the last stages – mainly because the driver kept knocking bits of aero off!
"I came here to do my best, and even though fourth place would be nice I think we have to go out there and see what we can do tomorrow – just go flat out and see if we can make it onto the podium."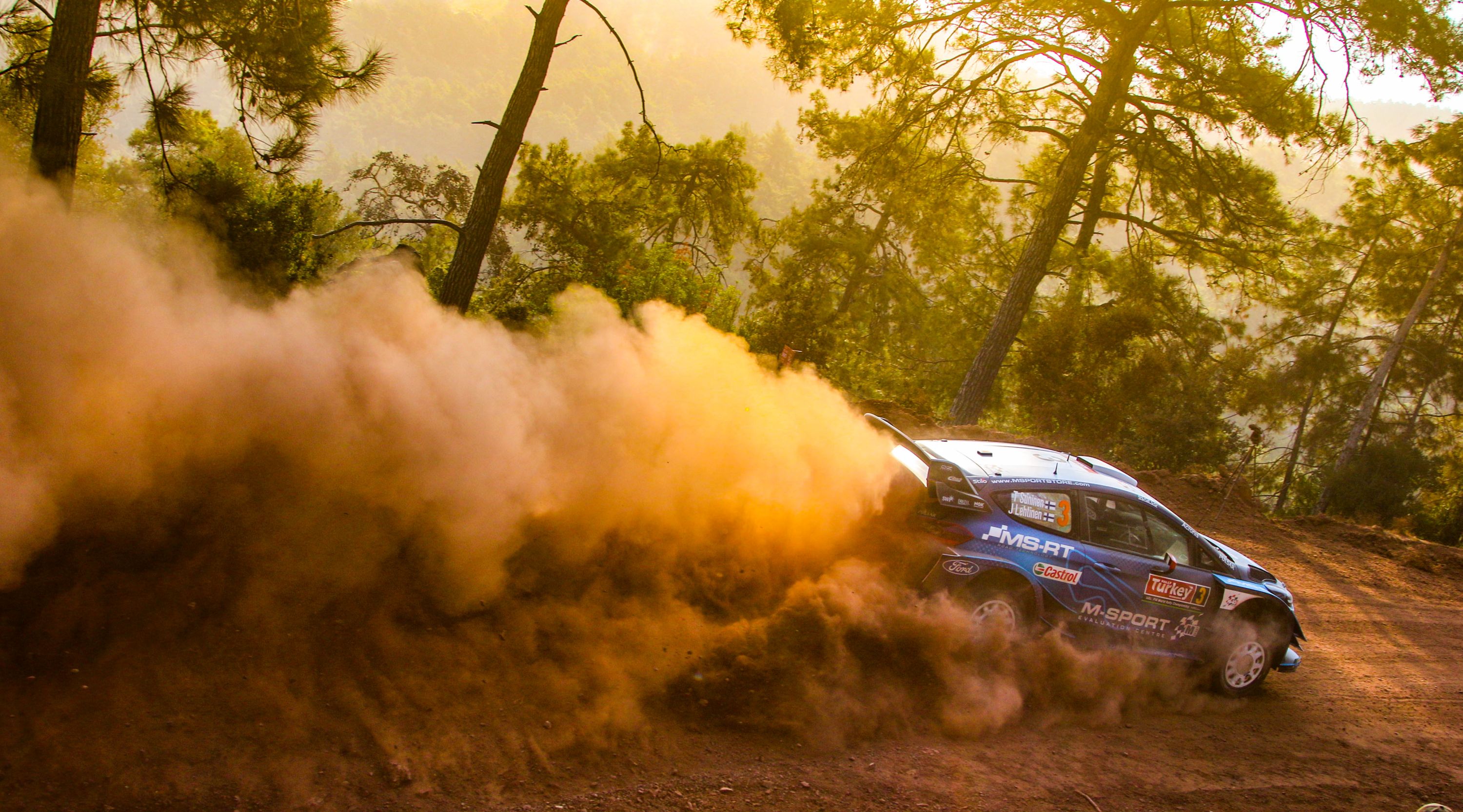 Pontus Tidemand (9th)
"I've really enjoyed the day and being first on the road meant that I could choose the line, but of course that also means that the times weren't going to be great. I had to clean a line for the cars behind, and even on the second pass I needed to push through the ruts to open the line. But it's good learning and in the last two stages I felt quite a good rhythm in the car – so let's see if we can build on that tomorrow."
Toyota Gazoo Racing WRT
Jari-Matti Latvala (6th)
"From the first stage this morning it was very slippery with a lot of loose gravel, running second on the road. It started to get better on the shorter stages, and the third one was really nice: a fast stage that suited me very well and the time was reasonably good. This afternoon, I tried to attack on the long stage to keep the pressure on, but I struggled after that because my tyres were so worn. Tomorrow our road position will be better and that will help us to see our real performance compared to the others. We'll also try something with the car to help the tyre wear and to learn for the future."
Kris Meeke (7th)
"It's been a tough day. There was a lot of road cleaning and that was a factor, but we also have some work to do to improve our pace on this type of surface. We tried our best but those behind us on the road just kept coming through faster than us. Tomorrow, we just need to bring it home and score the points for the manufacturers' championship. It's close between myself and Jari-Matti, but whether I'm in front or he's in front, it doesn't matter."
Ott Tänak (Retired/ Rally2)
"On the road section after the first stage this morning, the car wouldn't fire up ready for the next stage. We worked a lot and we tried to find the reason but it seems it was something internal – an ECU failure – so there was nothing we could do. Of course, it's frustrating, especially in a moment like this when we
are fighting for our first title. It definitely makes everything a lot harder, but that's the way it is. It's not going to come in an easy way, and we just need to accept that and fight on."
Sunday
Well, into Sunday and could the Citroen team wrap up a 1-2? With 38km over four stages to complete the rally the start list looked like this – Tänak, Tidemand, Neuville, Meeke, Latvala, Sordo, Suninen, Mikkelsen, Lappi, Ogier.
The first stage, SS 14 – Marmaris 1 (7,05 km) would be run later as the power stage, and Ott showed that his was ready to take some good points, winning the stage from Andreas who was going well still and Jari-Matti third.
Into SS 15 – Gökçe (11,32 km) and with Seb taking it easy and looking after his tyres for the final stage, Jari-Matti won it from Andreas, was pulling away from Teemu, and Dani. In fact, the two Citroen drivers set exactly the same time, going fifth fastest.
A good stage win for Andreas in SS 16 – Çiçekli (13,20 km), beating Jari-Matti by just three tenths of a second meant that barring disaster in the final stage he'd be picking up a well deserved podium. The Citroen's at the front were very much in control and taking it easy.
The final stage then, SS 17 – Marmaris 2 Power Stage (7,05 km) and Ott took maximum points after setting a time that both Seb and Thierry couldn't beat. The top five in the stage was rounded out by Jari-Matti and Teemu.
Well, what a victory for Citroën! Their first 1-2 since 2015 when Kris Meeke and Mads Ostberg stood on the first two steps of the Rally Argentina podium – Yes, it has really been that long!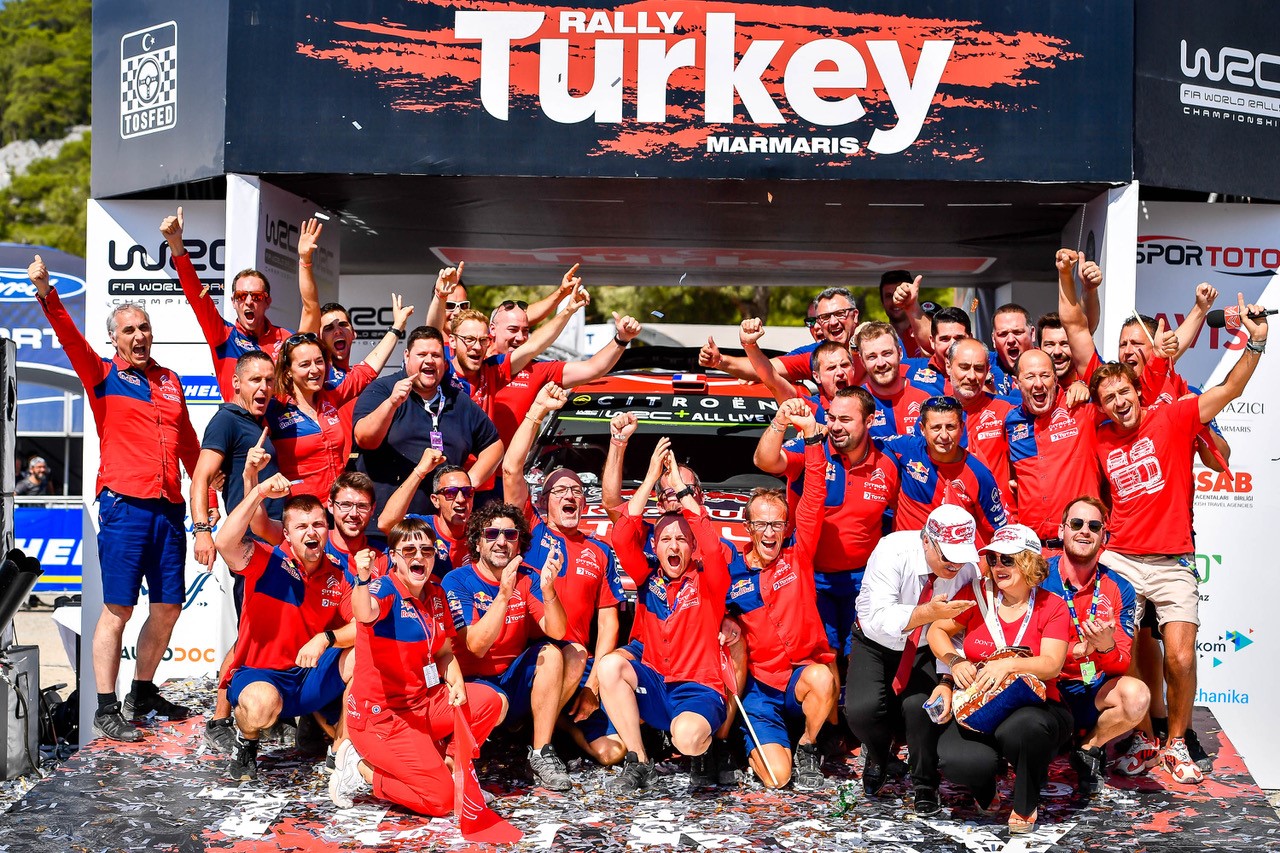 FINAL STANDINGS
Ogier / Ingrassia (Citroën C3 WRC) 3:50:12.1
Lappi / Ferm (Citroën C3 WRC) +34.7
Mikkelsen / Jaeger (Hyundai i20 WRC) +1:04.5
Suninen / Lehtinen (Ford Fiesta WRC) +1:35.1
Sordo / Del Barrio (Hyundai i20 WRC) +2:25.9
Latvala / Anttila (Toyota Yaris WRC) +2:59.1
Meeke / Marshall (Toyota Yaris WRC) +3:53.3
Neuville / Gilsoul (Hyundai i20 WRC) +5:34.8
Tidemand / Floene (Ford Fiesta WRC) +7:22.9
The thoughts then of the drivers.
Citroën Total WRT
Sébastien Ogier (1st)
"We really needed this win if we were to have a chance of getting back into contention in the championship so I'm really happy to bring it home for the team this weekend. We knew that anything could happen at a rally like this where it is really rough but we managed to keep out of trouble by adopting a smart approach. It's a good morale boost for everyone as we move into the end of the season! We all know that we have to keep working really hard. We'll savour this win and then get down to work again tomorrow."
Esapekka Lappi (2nd)
"It was a very demanding event, one which I didn't really enjoy last year so I'm obviously pleased with my performance this weekend. We managed to have two very good first legs, displaying the same kind of pace as Seb and Julien, which is no easy feat. Today, the challenge for us was to get the car over the line and help them as much as possible. Our C3 WRC was perfect this weekend. We had no issues whatsoever and that was one of the keys to us securing this great result."
Hyundai Motorsport
Andreas Mikkelsen (3rd)
"It has been a good rally for us and I am delighted to be back on the podium. We have concentrated on staying away from drama, keeping out of trouble and maintaining a good pace, all of which we have managed well. We were particularly strong on the first pass of each loop, but less so on the second runs, which is something we have to look at. Overall, though, we can be happy with this third place. We've taken a decent haul of points for the team, which is most important."
Dani Sordo (5th)
"Our target for today was to bring the car home and to secure our fifth place. With Andreas in third place, we have been able to take some important points for the manufacturers' championship, which is good news. Without our puncture on Friday morning, we would have been able to put up an even stronger fight but these roads in Turkey can be extremely rough, so to make it to the end of the weekend in fifth place is not so bad."
Thierry Neuville (8th)
"It has definitely been a disappointing and difficult weekend for us. In the dust on Saturday morning, my instincts told me to go too much to the right and we ended up in a ditch on our side. Four minutes of time loss later and we were in a very different rally. From there, our focus on was on scoring some points in the Power Stage. I gave it everything I could, and there was nothing more. That's how it is. We have three rounds of the season left, so let's move onto the next one and see what happens."
M-Sport WRT
Teemu Suninen (4th)
"This has been a good weekend for us. I think we had the right balance between showing good pace and driving well through the stages without any mistakes or problems. And I think we made a really big step forward from where we were last year – with the pace but also with managing the tyres so that was really good to see. A big thanks to the mechanics also because they had a lot of work to do on the car this weekend."
Pontus Tidemand (9th)
"This was my first gravel rally with the Fiesta WRC, and actually my first proper gravel rally this year, so I would say that it has been a good weekend for us. The car and the team were working really well and I would say like to say a big thanks to them and to everyone who has supported me so far this year.
"In the last two stages yesterday and also today I felt I had quite a good feeling with the car and was starting to understand a lot more. Okay there was a lot of cleaning and we had to open the road for much of the event, but we have the experience now and can work on looking where to improve for the next one."
Toyota Gazoo Racing WRT
Jari-Matti Latvala (6th)
"I tried to keep a good rhythm today and enjoy the driving, and the stages were nice today, much better conditions and not so rocky and rough. We came here expecting that we would have more performance than last year, but it seems that all the teams have made some steps forward. We also did some work but we were struggling in the hard, rocky conditions and were using our tyres too much. This is something we have to learn for the future, but I know that the next rally in Wales will suit us a lot better."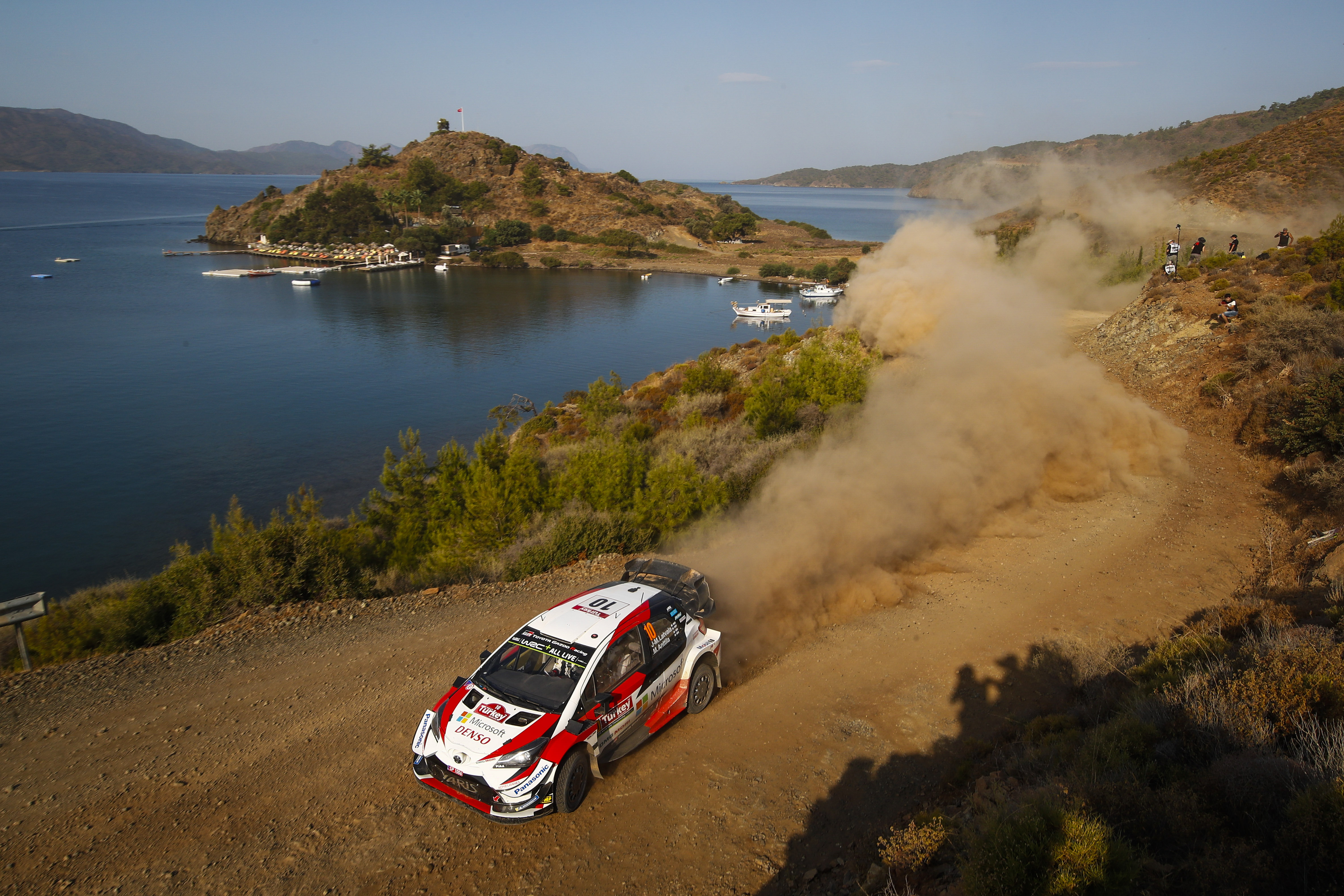 Kris Meeke (7th)
"Today was just about preserving our position and bringing home the points for the team. It's been a tough weekend, since the long stage on Friday afternoon when we lost a lot of time in the rain, which put us into a bad road position for Saturday. We've struggled for a bit of speed here and it was about damage limitation in the end. But we'll come back stronger in the last three rallies."
Ott Tänak (16th)
"We had nothing to lose today and we gave it everything, and we're happy that we were able to get these points from the Power Stage. I'm sure it gives an extra boost and motivation going forward. Of course, it is still disappointing what happened yesterday. We always want to fight back and fight back hard. I'm sure everyone in the team will keep pushing. There are now three rounds left so there is nothing else we can do, other than push to the maximum and do our best."
DRIVERS' WORLD CHAMPIONSHIP
Ott Tänak – 210 points
Sébastien Ogier – 193 points
Thierry Neuville – 180 points
Andreas Mikkelsen – 94 points
Kris Meeke – 86 points
Jari-Matti Latvala – 84 points
Teemu Suninen – 83 points
Esapekka Lappi – 80 points
Elfyn Evans – 78 points
Dani Sordo – 72 points
MANUFACTURERS' WORLD CHAMPIONSHIP
Hyundai WRT – 314 points
Toyota Gazoo Racing – 295 points
Citroën Total WRT – 259 points
M-Sport Ford WRT – 184 points
Summary
Well, this really is a strong result for Citroën, Seb and Esapekka. Closing the gap to Ott in the championship to seventeen points. Meanwhile, Andreas found some great form, gaining a well-deserved podium. Teemu Suninen also had a great event for M-Sport, setting some good times and scoring a brilliant fourth place. Thierry was thereabouts after at the end of Friday, but this event once again bit him hard on Saturday, when he was in a strong position. Whether he can challenge for the title now, is questionable, even if it is on mathematically. It wasn't such a great event for Toyota, but Ott and the team remain in strong positions in both championships, and they will do well in the remaining events.
The next event is Wales Rally GB in 15 days, on the weekend of the third to the sixth of October. Elfyn Evans is set return, and he will be out testing this week. Look out for my preview in the days before.