Toyota locked out the podium as Ott and Martin took another step towards this year's world championship. Here's the story of their third win in a row on the unique German roads.
It all started with a short stage on Thursday evening. SS 1 – St. Wendeler Land (5,20 km) saw Ott win and open a small lead over Dani and Seb, giving us three different cars in the top three.
Friday
With six stages totaling 101km, this day would be key in getting a good position for Saturday. The start list looked like this – Tänak, Ogier, Neuville, Mikkelsen, Suninen, Meeke, Lappi, Latvala, Sordo, Greensmith, Katsuta.
It was battle on for the lead immediately between Ott and Thierry, with the Belgian winning SS 2 – Stein und Wein 1 (19,44 km) and moving into the lead. Seb was third, but struggling with understeer. The other two Toyota's passed Dani, pushing the Spaniard down to sixth. M-Sport lost a crew, with Teemu dropping out after a problem with his car.
Into SS 3 – Mittelmosel 1 (22,00 km) and the swap between the title rivals happened again, with Ott moving back to the top and Thierry back into second. Ogier could only manage sixth fastest, after stalling his car in a junction. Dani Sordo gained one place, moving ahead of Jari-Matti into fifth place. Kris Meeke gained time on Seb, closing to within a second of the world champion.
It seemed that Ott was now hitting his stride, winning SS 4 – Wadern-Weiskirchen 1 (9,27 km) but Thierry wasn't giving up by any means, with just one and a half seconds separating them though. Further back, Seb's decent time meant that he gapped Kris, just as the Toyota driver was coming under pressure from Dani.
After service, the rerun of SS 5 – Stein und Wein 2 (19,44 km), saw Thierry half the gap between him and Ott, reducing the lead to just one and a half seconds. The changes that Seb had made in service had made his C3 WRC better to drive and as a result he maintained a good gap to Kris. There was a swap further down the field, with Andreas getting past Esapekka after the Finn spun.
Into SS 6 – Mittelmosel 2 (22,00 km) and Ott increased his lead over Thierry, but the action was happening further back after Dani passed Kris for fourth place. The remaining M-Sport car was bringing up the rear, with Gus now in ninth place, over a minute from the lead. The young brit was learning many things.
There was drama of all kinds in SS 7 – Wadern-Weiskirchen 2 (9,27 km), with Seb sliding off into a field, but was still able to set a time good enough for fifth fastest. The surprise came as Gus set the same time as the Frenchman some 4.2 seconds slower than Ott. The biggest drama was for Dani who lost a load of time, dropping to a minute and fifteen seconds behind Ott.
STANDINGS AFTER DAY ONE 
Tänak / Järveoja (Toyota Yaris WRC) 59:12.4
Neuville / Gilsoul (Hyundai i20 WRC) +2.8
Ogier / Ingrassia (Citroën C3 WRC) +22.1
Meeke / Marshall (Toyota Yaris WRC) +25.6
Latvala / Anttila (Toyota Yaris WRC) +27.8
Mikkelsen / Jaeger (Hyundai i20 WRC) +40.0
Lappi / Ferm (Citroën C3 WRC) +52.9
Greensmith / Edmondson (Ford Fiesta WRC) +1:05.5
Sordo / Del Barrio (Hyundai i20 WRC) +1:15.1
Let's hear from the drivers after day one.
Toyota Gazoo Racing WRT
Ott Tänak (1st)
"It has been a good day. Everything is very tight, just as we expected: Everyone was pushing hard and it's hard to make big differences. But it's nice to be in this kind of fight. This morning my rhythm was not perfect from the first corner, but I managed to improve with every kilometre and the driving was getting more clean and tidy. This afternoon I think we had a very clean loop: No crazy risks but still quite close to the limit and pushing quite hard. Tomorrow will be a tough day but we need to continue the same way as we were today and still give a big push."
Kris Meeke (4th)
"I've enjoyed my day. I'm happy to be three seconds from a podium position tonight. I had a decent morning, just a little overshoot here and there, and this afternoon was good in the vineyard stages. Unfortunately, on the last stage of the loop I seemed to be missing something and we lost a lot of time on both runs. There's a long way to go, today was just the starter. Tomorrow will be a big day, especially the afternoon and Panzerplatte, as it looked exceptionally rough on the recce. We just need to keep driving to our rhythm and see how it goes."
Jari-Matti Latvala (5th)
"Generally, I'm happy with my day. This morning the feeling was good but I needed to work more on the braking, as I was maybe braking too late sometimes and then struggling to get a good exit. The afternoon was good, we improved the car and it was turning better. I was really happy with the performance on the second time through the Mittelmosel stage. The confidence was growing and then on the last stage I was pushing too much. But I'm looking forward to tomorrow, we have some nice stages and Panzerplatte should be interesting in the opposite direction to the last 10 years."
Hyundai Motorsport
Thierry Neuville (2nd)
"We have had a great opening day. I have felt very comfortable in the car, especially during the afternoon loop. It has been difficult to keep up the fight with Ott but we've done the maximum we could without taking any unnecessary risks. I tried to be fast and clean in all stages, and we're not far off. We will have to see what more there is to come. Tomorrow will be a very challenging and long day with the mighty Panzerplatte. Anything can happen in this rally so it is important to keep calm and focused."
Andreas Mikkelsen (6th)
"It has been an OK day considering it is our first tarmac WRC event of the season. I wish we had been able to fight further up the field but we aren't too far off the guys in front, which gives us motivation. I have been struggling mainly with understeer at the entry of corners, so we have tried to adjust the car during the day to keep a higher entry speed. We're not quite there but we will keep working on it. This is just the start of what will be a long rally and I am sure we have more performance to come."
Dani Sordo (9th)
"What can I say? A hugely disappointing end to what had been a satisfactory performance up to that point. We showed at times that we had the speed to fight for the podium even if we struggled in some parts. The afternoon started out well, and we were on the verge of moving closer to the top-three, but in the final stage of the day we experienced a transmission problem that lost us a lot of time. All we can do is try to reclaim some time over the next two days but it's going to be an uphill battle from here."
Citroën Total WRT
Sébastien Ogier (3rd)
"Clearly, I'm not happy with first leg. We had quite a bit of understeer today.  I was driving over the limit but was still slower than our two rivals. Unfortunately, I also made some small mistakes which cost us time. There is still a very long way to go on this rally, with a very difficult leg ahead tomorrow. We'll keep giving it everything and try to find some solutions."
Esapekka Lappi (7th)
"It was a tough day, with understeer and a general lack of grip in the car. The afternoon wasn't much better for me. We're now going to try and understand what is causing our issues with the technical team."
M-Sport
Gus Greensmith (8th)
"It's been a really good day for us and the speed of this car on Tarmac is just awesome! The pace wasn't great in the morning but that was to be expected and the plan was always to build into it. That's what we did and we reduced the gap to the leaders by quite a big margin over the afternoon loop.
"To be just a few tenths of a kilometre off Ott [Tänak] on my first day in a world rally car on Tarmac is pretty good; but we've still got a lot to improve and that's what we'll work on tomorrow."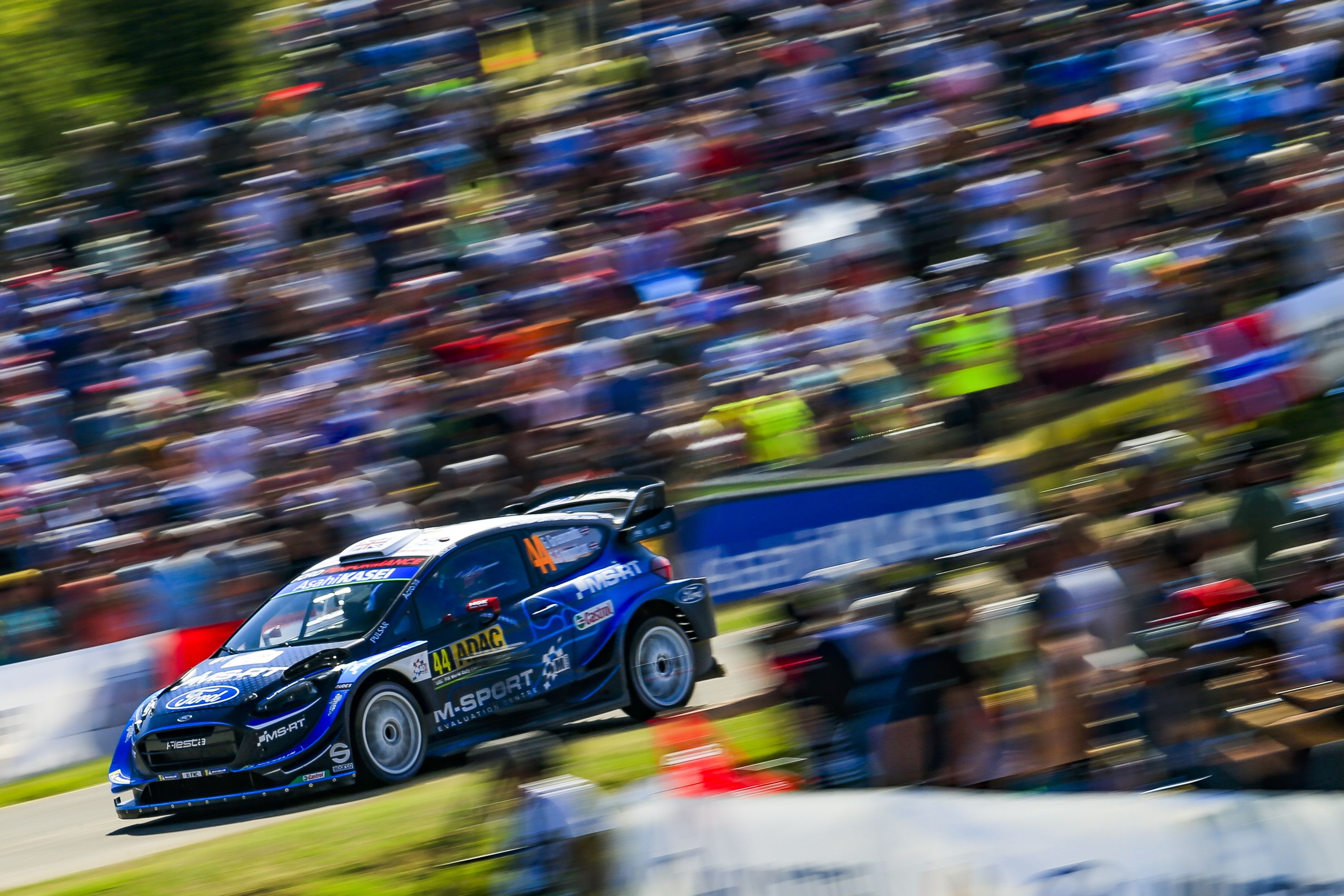 Teemu Suninen (DNF / Restart tomorrow)
"The first kilometres felt really good, but that's as far as we got – picking up an electrical issue and having to stop. We found the problem, but didn't have the parts to fix it in the stage and had to retire. The car is now fully repaired, and I'm looking forward to getting back out there and showing what we can do tomorrow."
Saturday
With eight stages on this day totaling 157km, Saturday would be the toughest day. The start list looked like this – Suninen, Katsuta, Sordo, Greensmith, Lappi, Mikkelsen, Meeke, Latvala, Ogier, Neuville, Tänak.
Dani Sordo's good start position, meant that he came out of the blocks really fast, winning SS 8 – Freisen 1 (14,78 km) and in fact the best time from the leading drivers was Thierry, who reduced the gap to Ott. The fight was on for the lead.
Into the shorter SS 9 – Römerstrasse 1 (12,28 km) and Ott struck back, flying through to go fastest by half a second from Esapekka, but a full 5.2 seconds faster than Thierry, the gap now 6.7 between the top two. Seb was fighting his car through this one, but doing enough to maintain third overall, ahead of Kris.
Thierry won SS 10 – Freisen 2 (14,78 km), but was only 2 tenths faster that Ott, meaning the gap remained at six and a half seconds. Kris narrowed the gap to Seb as well, but there was action further back, with Dani's great second fastest time, plus Esapekka sliding into a ditch meant that the Spaniard moved ahead of the Finn into seventh.
Thierry continued to put together some good times, winning SS 11 – Römerstrasse 2 (12,28 km) and reducing Ott's lead by 1.5 seconds. It was still nip and tuck between Seb and Kris in their battle over third place. Dani, meantime, was showing how he would have been near the top, closing the gap to his teammate Andreas.
The ebb and flow between Ott and Thierry continued with SS 12 – Arena Panzerplatte 1 (10,73 km), with the Estonian winning the stage from Thierry who was six tenths behind. Kris took a couple of seconds out of Seb, the gap now just 1.4 seconds between them.
Ott won SS 13 – Panzerplatte 1 (41,17 km), with Dani the closest challenger. In fact, it was a good stage for Toyota as both Kris and Jari-Matti moved past Seb into the podium places. Also, Thierry tumbled down the timesheets and was now behind Dani and Andreas.
It was another stage win for Toyota, except this time Jari-Matti set the best time in SS 14 – Arena Panzerplatte 2 (10,73 km). Ott's lead over his teammates was a very big 43 seconds. Seb stalled his car as well – Saturday was not going well for him.
It would get worse for the world champion in SS 15 – Panzerplatte 2 (41,17 km) when he got a puncture and lost a huge one and a half minutes, tumbling down to eighth place. Kris won the stage, continuing Toyota's domination. Dani was now up to fourth place, the highest placed Hyundai driver.
STANDINGS AFTER DAY TWO
Tänak / Järveoja (Toyota Yaris WRC) 2:27:21.9
Meeke / Marshall (Toyota Yaris WRC) +32.4
Latvala / Anttila (Toyota Yaris WRC) +41.8
Sordo / Del Barrio (Hyundai i20 WRC) +1:10.8
Neuville / Gilsoul (Hyundai i20 WRC) +1:35.2
Mikkelsen / Jaeger (Hyundai i20 WRC) +1:37.3
Lappi / Ferm (Citroën C3 WRC) +1:43.1
Ogier / Ingrassia (Citroën C3 WRC) +2:09.7
Greensmith / Edmondson (Ford Fiesta WRC) +6:02.6
Let's hear from the driver's after day two's action.
Toyota Gazoo Racing WRT
Ott Tänak (1st)
"This morning I was really trying to be close to the limit, but the main thing was to avoid the mistakes and to be clean. In the afternoon, the Baumholder stages were really tricky this year, especially on the second loop when we just had to manage our position. It was so rough, with so many rocks, it was a big challenge to avoid everything. But I tried my best and, in the end, we managed, but it was a lot of pressure. As a team we have good control of things now, so I believe we just need to work together tomorrow and bring this result home."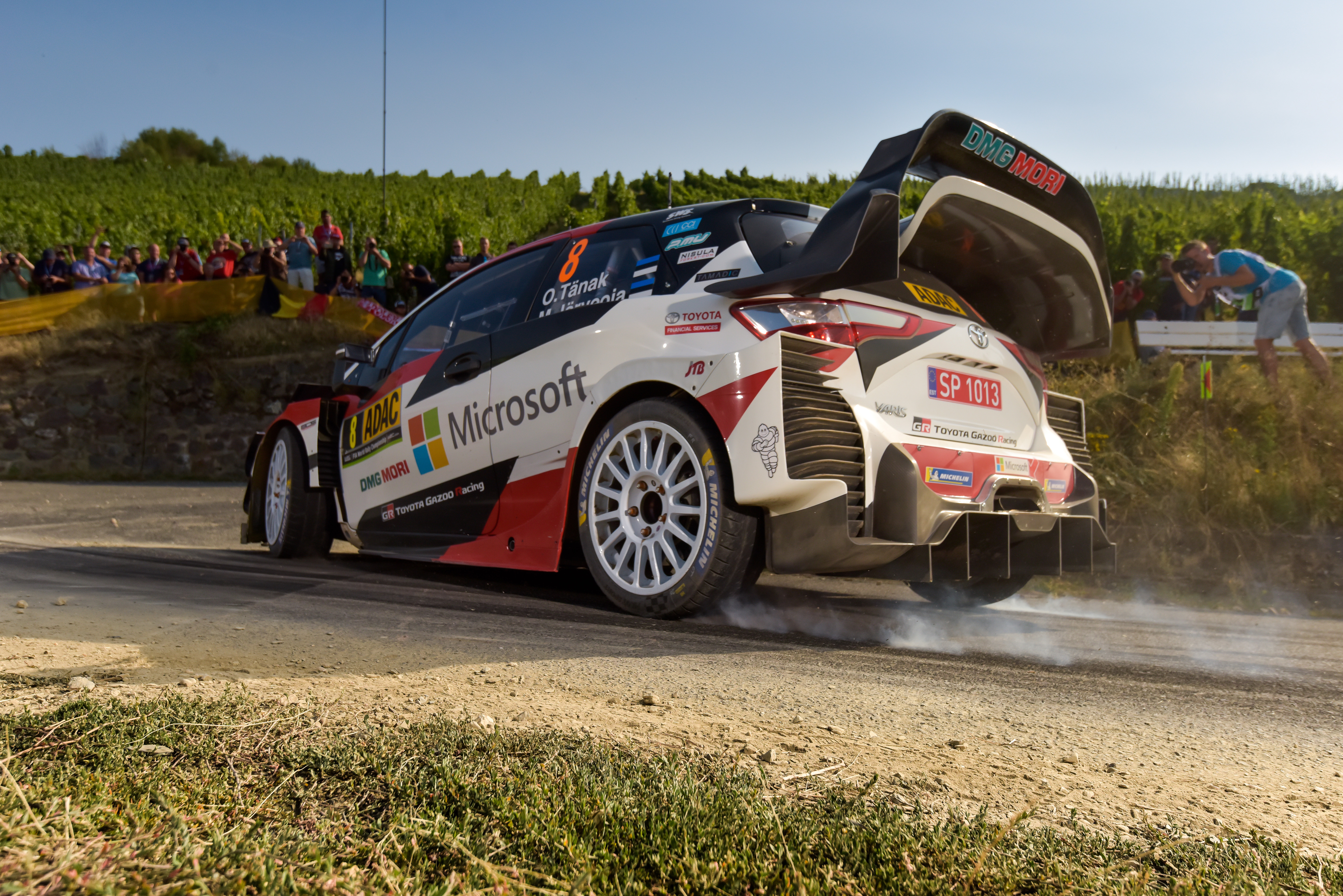 Kris Meeke (2nd)
"I was a bit apprehensive this morning because I didn't know those stages so well, so I was happy to be able to maintain the gap to third place at three seconds. Going to Panzerplatte I knew everything could change, and it was nice to have the pace there. The car felt fantastic this evening. We didn't change the setup at all for the second loop but the road just cleaned up a bit and I was able to trust the grip a bit more. We still have work to do tomorrow. It's sitting perfectly for the team but it's a relatively long loop for a Sunday so we have to be on our game to hold position."
Jari-Matti Latvala (3rd)
"It was a very good day overall. The morning was a bit frustrating as I was thinking too much about the braking, but we had a very good phone call from Tommi after the second stage. He said 'relax, take it easy, there is no panic, just drive and it will come' and eventually it happened. Step by step we were improving, my engineer Taavi was giving me tips to get a bit more grip in the car, and in the afternoon, I had a really good feeling. The most important thing now is to focus on securing the maximum points for the team."
Hyundai Motorsport
Dani Sordo (4th)
"We have had a pretty good day, making up a lot of positions and setting some competitive times. It was important for us to put up a strong fight and keep pushing. I have done my best on all stages and the car has been working well. We wanted to keep the pressure on because you never know what can happen in Germany. We now have to continue in this way on the final morning, to do all we can to support the team for the championship."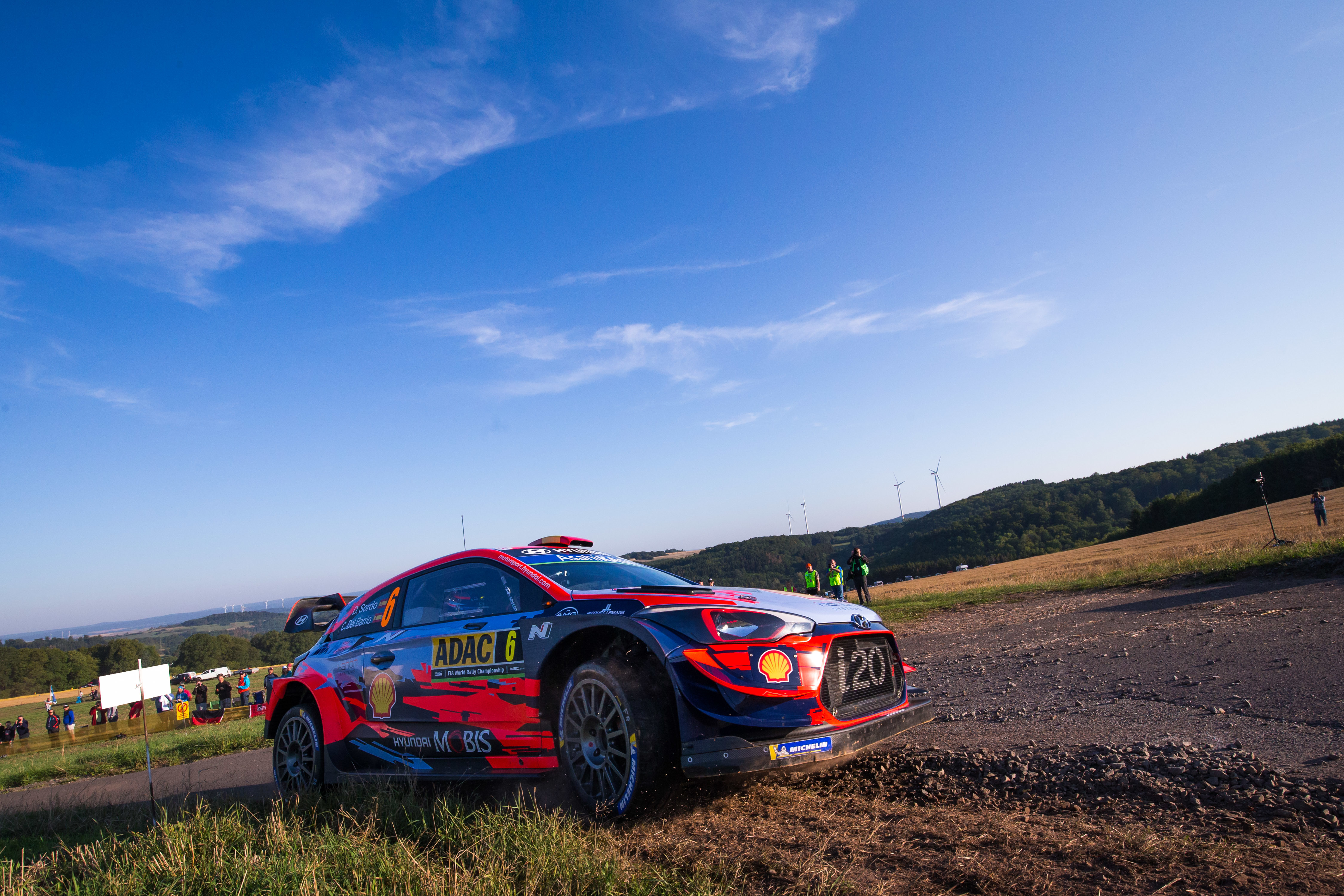 Thierry Neuville (5th)
"The rally is not yet over, and that is the most important thing for us to keep in mind. We have to remain motivated and keep our heads held high. We always know there is a risk of puncture in the Panzerplatte stages; it's a complete lottery and unfortunately this time our numbers did not come up. It's part of the game. We lost a lot of time – 1m24s – changing the left-rear tyre but before that drama we were just five seconds from the rally lead. Fortune changes quickly but we showed good performance today, including two more stage wins, so that's what we will take away from today. Anything can still happen."
Andreas Mikkelsen (6th)
"It has been another satisfactory day for us, although very tough with some long and exhausting stages. We have given it absolutely everything we could, even if the times were still not where we wanted them to be. In the morning loop, we went off a few times which really showed how much we were trying. It can always be better, but we were working hard to make up the time deficit. We made some changes to the car for the afternoon Baumholder stages in a bid to step things up a level. We're not quite there yet but I've spent valuable time today focusing on my driving style so let's see what tomorrow brings."
Citroën Total WRT
Esapekka Lappi (7th)
"It was a long and hard day, but we managed to improve the car on this surface, even though we had trouble with the grip on Panzerplatte. It was nevertheless better on the second loop. It's not enough just yet but we are going to keep moving in this direction."
Sébastien Ogier (8th)
"Obviously, it's been a frustrating day. We all knew that the Baumholder military base was something of a lottery and unfortunately, over the last couple of years, I haven't picked the winning numbers. It's even more of a shame because the car had improved and I was managing to get it to turn into the corners better."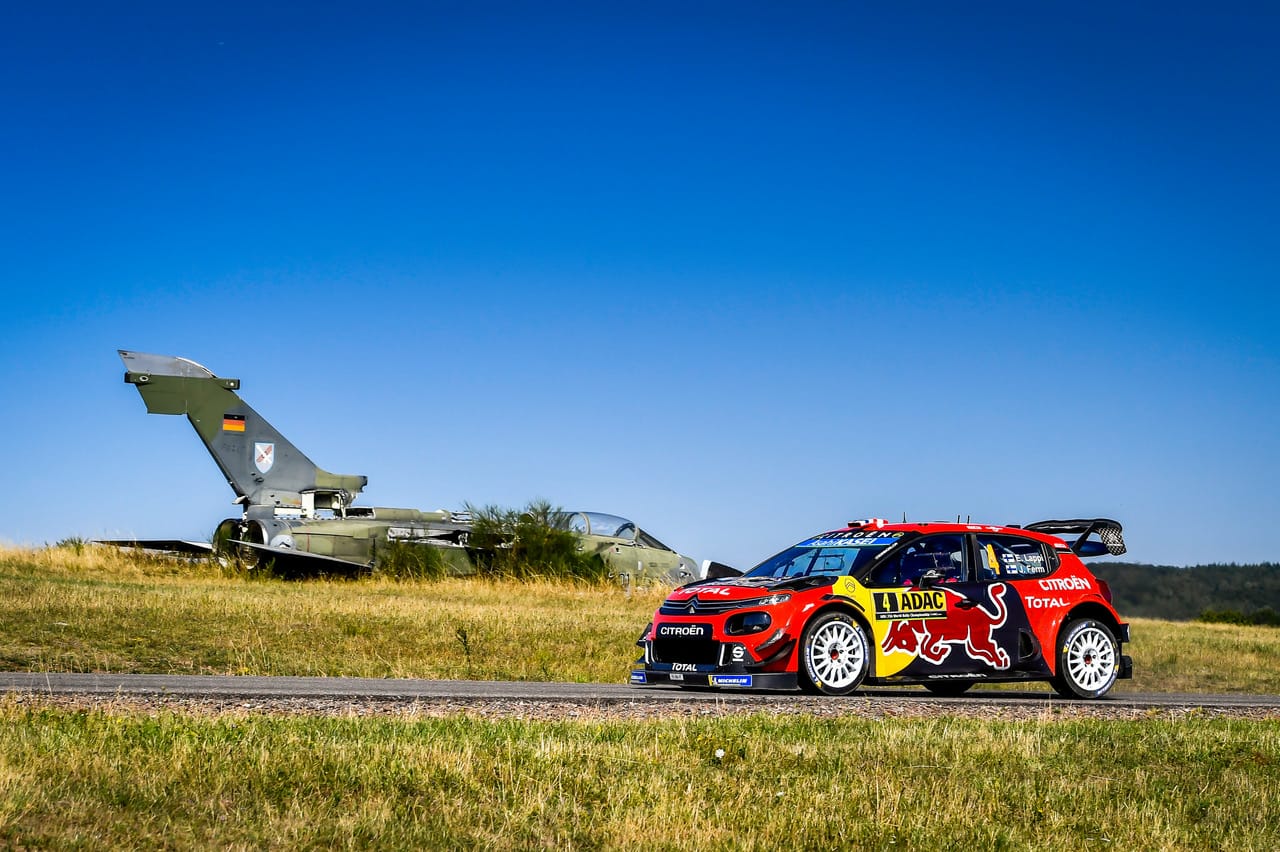 M-Sport
Gus Greensmith (9th)
"I'm here, which is the main thing! It was a long day and I didn't make it easy for myself with a mistake on the first stage. We damaged the steering but were able to make a repair on the road section and were back up to pace pretty quickly after that.
"But I wasn't able to carry that same pace into the Panzerplatte stages. We didn't have a test there and it was nothing like I remembered from the R5 – so it was a bit of a shock! The second pass was a lot better and we saw some good progress, but there's still a lot to learn."
Teemu Suninen (35th)
"We can be really happy with our performance today. We didn't have anything to gain so we were just driving for fun and wanted to show what we could do. The first pass of Panzerplatte was quite dusty, but other than that it was all good and the car was working really well. I enjoyed the driving a lot today, and now I'm looking forward to tomorrow – after a good night's sleep!"
Sunday
This would be a longer than usual final day with 79.5km over just four stages. The start list looked like this – Suninen, Katsuta, Greensmith, Ogier, Lappi, Mikkelsen, Neuville, Sordo, Latvala, Meeke, Tänak.
Thierry set the fastest time in SS 16 – Grafschaft 1 (28,06 km), with Dani and Kris second and third fastest. With the issues they'd experienced in the Citroen team, Seb just set about getting through the day, working to make it better. Esapekka in his C3 was finding some pace and passed Andreas who was in sixth place.
The first run of SS 17 – Dhrontal 1 (11,69 km), which would be run as the power stage, and the top three were Jari-Matti, Dani and Thierry. Further back, Andreas repassed Esapekka, moving back into sixth place.
Thierry won SS 18 – Grafschaft 2 (28,06 km), showing he and Nicolas certainly knew their way through this one, with Dani and Teemu second and third. Ott remained in the lead, with Kris and Jari-Matti still looking good to complete a podium lockout for the Toyota team. Esapekka retook sixth place from Andreas once again, as their battle continued!
Well, the final stage, SS 19 – Dhrontal 2 (11,69 km), was also won Thierry, giving him maximum points for the stage win, with Teemu, Jari-Matti, Kris and Seb rounding out the top five fastest times. The final stage saw Esapekka move further away from Andreas, a fine drive from the Finn to score good points for Citroen. Later though Esapekka took a penalty to drop behind Seb into eighth place, giving Andreas sixth place and letting the Citroen team leader some crucial championship points. Also moving aside for Thierry, was Dani, who also took a penalty and allowed the Belgian through into fourth.
FINAL STANDINGS
Tänak / Järveoja (Toyota Yaris WRC) 3:15:29.8
Meeke / Marshall (Toyota Yaris WRC) +20.8
Latvala / Anttila (Toyota Yaris WRC) +36.0
Neuville / Gilsoul (Hyundai i20 WRC) +58.5
Sordo / Del Barrio (Hyundai i20 WRC) +1:16.6
Mikkelsen / Jaeger (Hyundai i20 WRC) +1:46.2
Ogier / Ingrassia (Citroën C3 WRC) +1:56.3
Lappi / Ferm (Citroën C3 WRC) +2:02.2
Greensmith / Edmondson (Ford Fiesta WRC) +6:22.2
Let's hear from the drivers!
Toyota Gazoo Racing WRT
Ott Tänak (1st)
"It's an amazing result for the team, so I'm sure there will be big celebrations tonight, and also when we go to visit the team at TMG here in Germany tomorrow. We still have four more rounds to go and we need to stay focused and give our maximum. The championship is still tight, and we've seen this weekend that nothing is coming easy. We were not always the fastest but we were more consistent, and in the end, we managed to get the victory. The main job was done yesterday and today we just had to bring home the 1-2-3."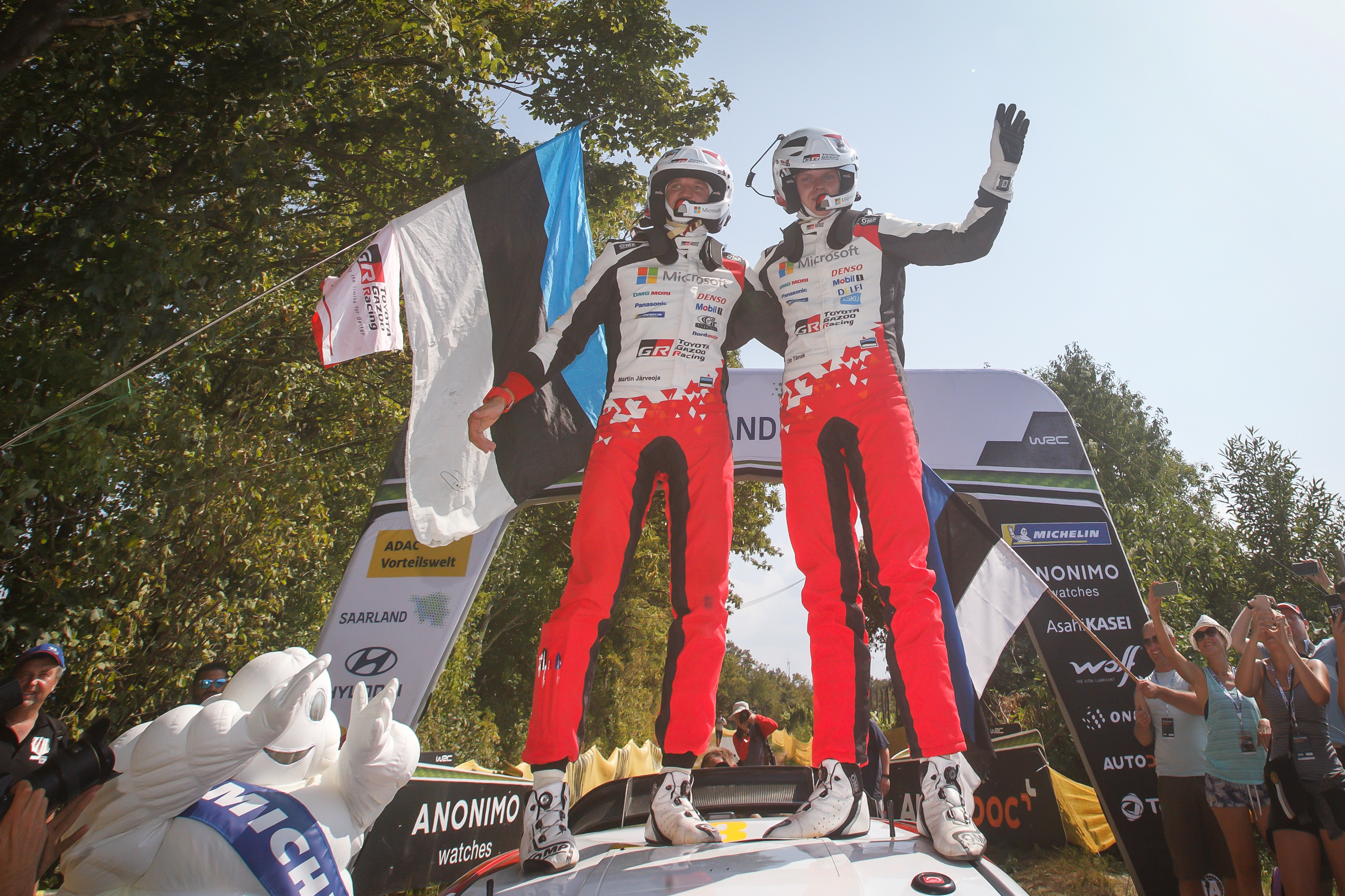 Kris Meeke (2nd)
"I'm delighted. I could have had four or five, maybe six podiums already this year, and through different issues and my own mistakes, we never got there. To be on the podium and to bring a big haul of points to Toyota with a perfect score, a 1-2-3, it's special to be part of this weekend. To take maximum points for the manufacturers' championship is really important. I felt good in the Yaris all weekend, it gave me great confidence, and I definitely was able to drive at a good speed and be comfortable."
Jari-Matti Latvala (3rd)
"If you finish 1-2-3, you cannot ask for more. This is the most perfect of perfect results. We had a really nice weekend without any problems, and the car worked perfectly. And even though there were some stages that did not go so well for me, I was able to bounce back on the next one. I was slightly too cautious on the first stage this morning, but I realised that I needed to give a bit more attack and after that it was fine. After Finland, it's a great feeling to be on the podium again."
Hyundai Motorsport
Thierry Neuville (4th)
"We have given absolutely everything possible this weekend. We have tried our hardest and I think we extracted the full performance from the car and ourselves. To be honest, we could have fought for the win this weekend but we were just unlucky with the puncture in Baumholder yesterday. It wasn't just us to suffer with misfortune; it is part of the game and we have to accept it, however hard it is to take. I am happy to have completed the rally today. I had a good feeling in the car so I could give it a push in the Power Stage to add important points for our championship."
Dani Sordo (5th)
"Unfortunately, our rally was affected by the mechanical issue that we had on Friday. We could do nothing about that, and the team is very disappointed, but we have to look at the positive aspects of this weekend. The most important thing is the improvements made to the car performance on tarmac; we are now competitive and this is thanks to the hard work of the team. We were able to set leading times, including all stages on the final morning, which should give us plenty of optimism for future rallies."
Andreas Mikkelsen (6th)
"For our first tarmac event of the season, it was never going to be an easy one but we have made progress. We have worked a lot on improving our feeling with the car, the driving style and adapting to the varied tarmac stages that we face here in Germany. We have taken some steps over the course of this weekend but it's still not perfect. On the Power Stage, we just took it at a comfortable pace, making no mistakes and just doing what we needed to keep Ogier behind us on the overall classification."
Citroën Total WRT
Sébastien Ogier (7th)
"Obviously, it was not the weekend we were hoping for, but I gave it everything. I was flat out a lot of the time, but it wasn't enough. The times just weren't there and the punctures certainly didn't help. We had hoped to buck the trend here, but unfortunately, our situation in the championship hasn't improved. I'm still going to keep fighting, like I have always done."
Esapekka Lappi (8th)
"It was a very difficult weekend for us. We had difficulty finding confidence in the car and the speed to fight with the leading crews. We managed to make some small steps during the weekend but it wasn't enough. We need more. I have faith in our ability to find the right solutions together for the future."
M-Sport
Gus Greensmith (9th)
"It's been an awesome weekend, and I was pleasantly surprised by how quickly we were able to get on the pace. We were never right at the front, but we were mixing it with the likes of Mikkelsen and Lappi. They have a lot more experience, so for our first time on Tarmac I'd say that was pretty good.
"The time was there, but we still need to improve the consistency – and once we do that it will make our lives a lot easier. It was a really positive weekend and the only real negative was clipping a tree on Saturday – but that did give me some practice at changing a steering arm!"
Teemu Suninen (Restarted/ 29th)
"It's not the result we wanted, but I'm still really pleased with our performance and my pace was even better than I had expected. My aim was to finish in the top-five, but actually it looks as though it could even have been enough to fight for the podium.
"The technical issue on Friday means we don't take any strong points away from this weekend, but I think our second fastest time on the Power Stage says a lot about our pace. I was really pleased with that and really enjoyed my driving – so that's a big positive for the future."
Summary
The continued pace from Toyota has really put the team in a strong place, with Ott and Martin making a strong case for their first world championship crown. Two wins in a row has put them in a strong place. Now, Kris and Jari-Matti really drove well to achieve second and third, with Kris and Seb taking their first podium together, plus his Finnish teammates getting their second podium in a row.
The Hyundai team were lucky to pick up those higher points paying places, after the punctures that caused Citroen problems. Dani in particular drove well after his problems early on Friday. Thierry benefitted from Dani, but did show some good pace in some stages. Andreas showed some good pace at times, but not really where you'd expect him to finish.
Citroen didn't really have the pace all weekend, and then Seb really suffered badly with his puncture on the long final stage at the end of Saturday. Esapekka had a good battle with and then at the end, moved over for his teammate.
At M-Sport, Teemu would have fought for the top places, but an electrical problem hobbled his car, and with it any hopes of a good result. Gus in the other car is still learning so much about how to drive these cars and driving these cars on tarmac will really give him a lot to learn.
DRIVERS' WORLD CHAMPIONSHIP
Ott Tänak – 205 points
Thierry Neuville – 172 points
Sébastien Ogier – 165 points
Kris Meeke – 80 points
Andreas Mikkelsen – 79 points
Elfyn Evans – 78 points
Jari-Matti Latvala – 74 points
Teemu Suninen – 70 points
Esapekka Lappi – 62 points
Dani Sordo – 62 points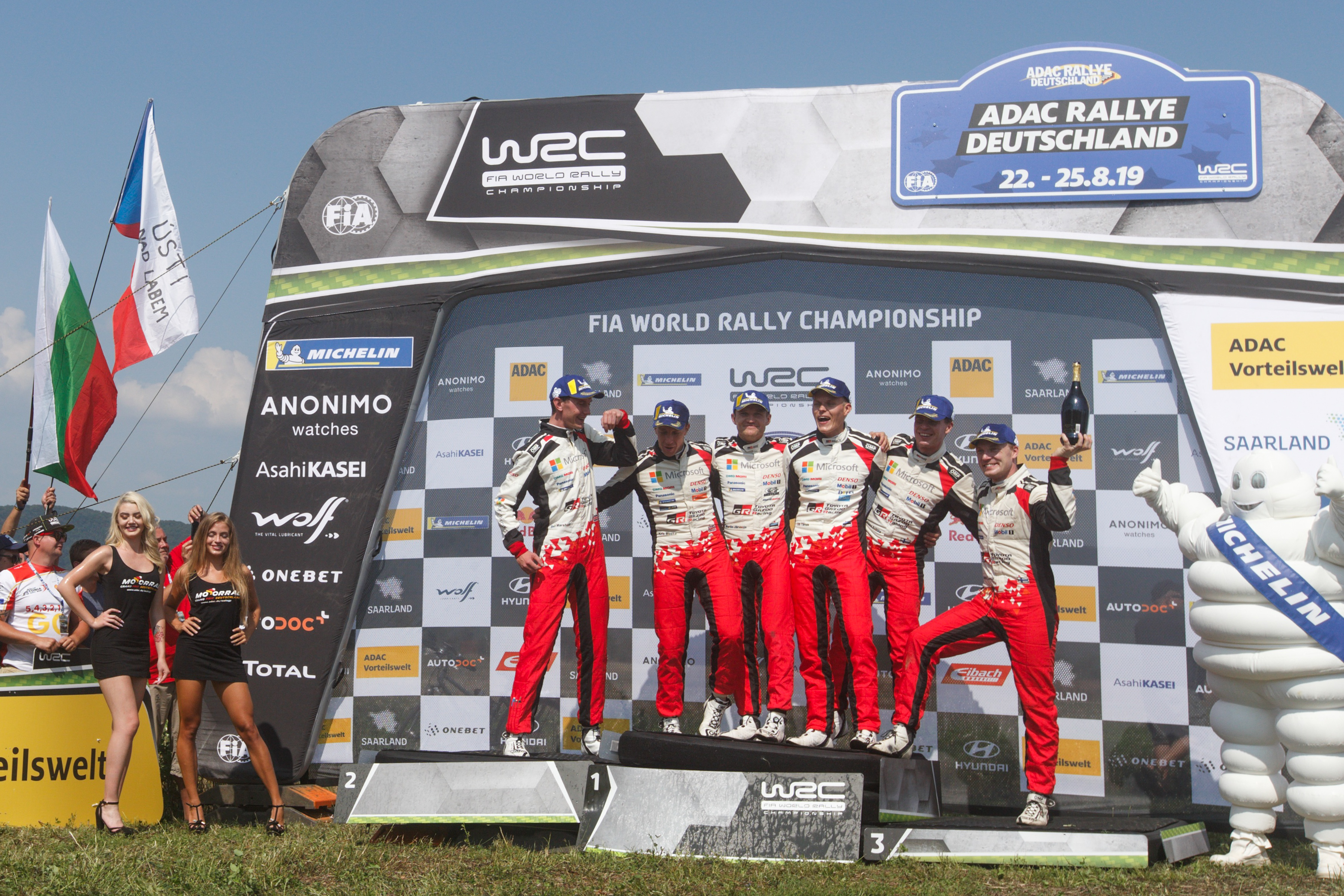 MANUFACTURERS' WORLD CHAMPIONSHIP
Hyundai WRT – 289 points
Toyota Gazoo Racing – 281 points
Citroën Total WRT – 216 points
M-Sport Ford WRT – 168 points
Next round is in Turkey, from the twelfth to the fifteenth of September.