This weekend the 2019 Moto3 World Championship heads to Silverstone for the British Grand Prix, round twelve of the season.
Having confirmed his Moto2 future for 2020 Aron Canet (Sterilgarda Max Racing Team) goes to Silverstone this weekend with the knowledge that he can focus entirely on the World Championship, the lead of which he lost to Lorenzo Dalla Porta (Leopard Racing) in Austria. Canet has a good history in Silverstone, having won in 2017. The Spaniard had a difficult race in Austria, finishing only tenth in the mixed conditions, but nonetheless is just one point behind his Italian rival.
That means Dalla Porta must still do everything to beat Canet this weekend. With over forty points back to third-placed Tony Arbolino (VNE Snipers) it is almost safe to assume that it will be either Canet or Dalla Porta who will be crowned Moto3 World Champion this year, so each will be strongly targeted by the other. However, in Moto3, it is never that simple.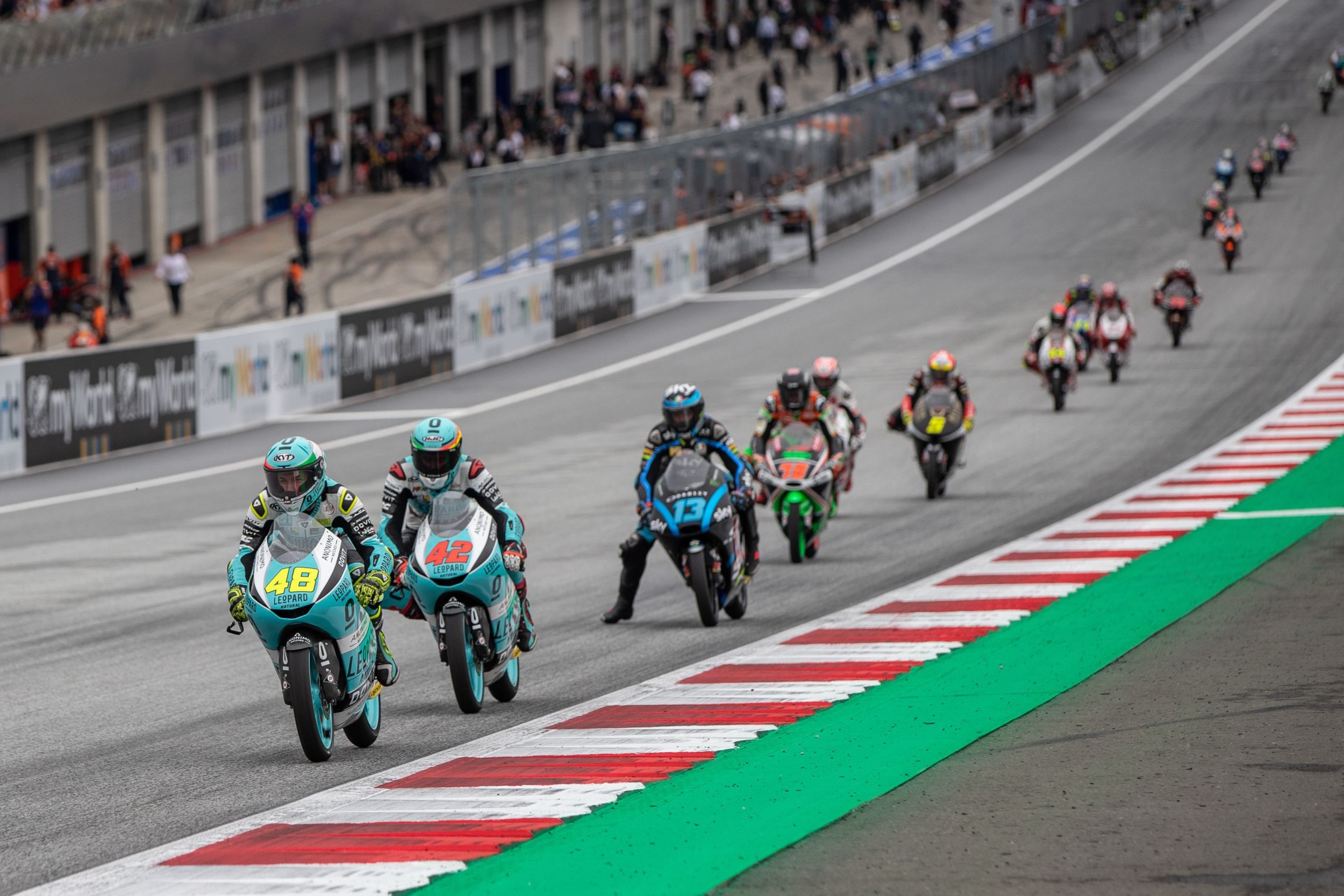 For example, Romano Fenati (VNE Snipers) returned to the top step in Austria, his first win since 2017. If the Italian continues to put in performances like that throughout the remainder of the season, he could prove problematic for both Canet and Dalla Porta. As well as Fenati, the likes of Arbolino – who is the only rider other than Canet to have won more than once this season – and Jaume Masia (Bester Capital Dubai) will likely enter the fray on many an occasion. Mathematically the championship look to be a two-horse race, but in Moto3 it is impossible to predict which way that will go.
Similarly, at a track like Silverstone, with four straights of reasonable length and at lot of fast corners, the racing will be worryingly unpredictable for the championship combatants. A track which is so fast it puts an increased emphasis on the rider's ability – the commitment of the pilot can make a lot of difference when there are several corners above 100mph stretched over a 130-second-plus lap time – but also on the slipstream, and the rider's ability to legally find one. The latter stages of the free practice sessions, as well as all fifteen minutes of both qualifying sessions will be particularly hectic, with riders desperately fighting over track position. Some might miss the flag, too concerned about who is in front of them, who is behind them and the respective distances. Additionally, there will be a lot of waiting – in pit lane and on the track – as riders look to hook onto someone immediately, and those with the hook in their back look to pull them out and throw them back. Simultaneously, there could be those riders who, like John McPhee (Petronas Sprinta Racing) and Celestino Vietti (SKY Racing Team VR46) two weeks ago, are content to lap alone, knowing they have the track and their mind to themselves. Finally, there will very possibly be a lot of grid penalties, like in Austria – there is also the potential for everyone to be well-behaved, but this is Moto3.