It has only been a few days since 21-year-old Jamie Chadwick claimed the first ever W Series title, but the notion of being champion is still very surreal for her.
Jamie started karting at 11 years old before competing in the Ginetta Junior Championship in 2013. She then moved into the British GT Championship in 2015 and won the GT4 class, before moving to single-seaters in 2017 racing in BRDC British Formula 3.
2019 has been an incredibly successful year for the young Brit who has won the MRF Challenge, the 24h Nurburgring race and now the W Series title. It seems that nothing can stop her.
After finishing fourth at Brands Hatch and securing enough points to win the championship title, we talked to Jamie about her W Series journey and how much she has achieved this season.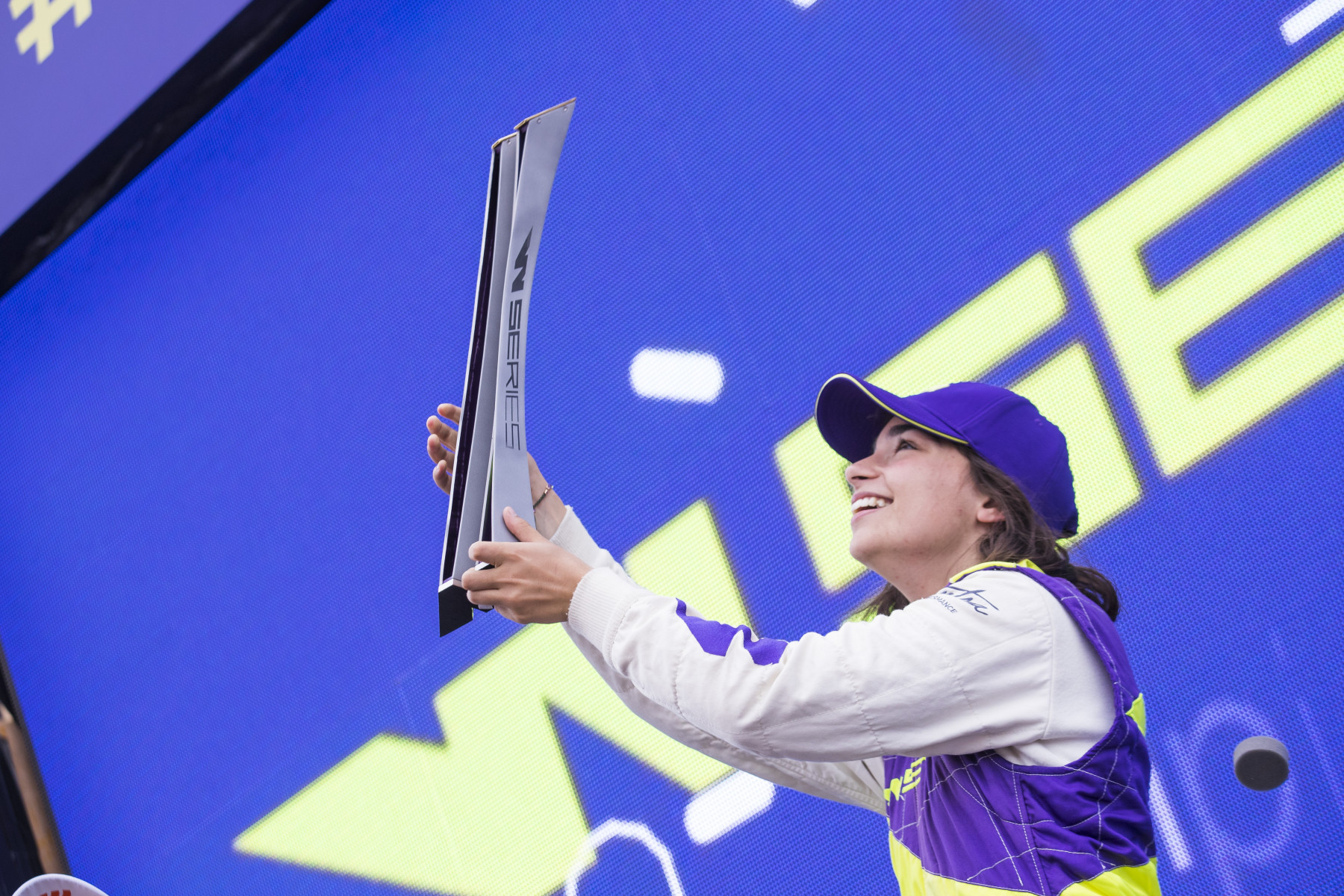 Kirsty Campbell: We've reached the finale in the first season of W Series. It's been thoroughly enjoyable watching you drive this year. How are you feeling about becoming champion?
Jamie Chadwick: Honestly, it's all a bit overwhelming at the moment. Not sunk in at all. I'm sure it will do soon! But at the moment, I'm just elated, really, really happy. A lot of hard work has gone into this year, so to have it all come together and be crowned as champion is an awesome feeling.
KC: You've managed to score three pole positions, five podiums and two wins. You must be proud of what you've managed to achieve this season. How has your team and family's support helped you through the highs and the lows?
JC: It's been awesome. As the year goes, it's been a fantastic year. Obviously the championship is the highlight, but the whole build up and the actual season has been incredible. I've been really lucky, I've had a lot of support this year, a lot of people around me working very hard to help me progress and make the dream a reality. It's been an incredible year. As the year's gone on I've been lucky to have the introduction of support from Williams, which has made a big difference, and also Aston Martin. I've been very, very lucky, so it's nice to have that rewarded and share it all with them.
KC: What has been the most challenging aspect of your W Series experience, and in contrast, what as been your favourite moment this season?
JC: I'd say the most challenging race was definitely that last Brands Hatch race. The most challenging aspect overall is probably the fact that it's not like a normal racing environment where you have your own team, your own independence—you're sharing everything, you're travelling together, you're swapping cars each weekend, nothing's off limits to anyone else. You're teammates but racing against each other effectively, so I would say that's definitely made it quite tough. I'd say the highlight was either the Hockenheim pole or the Brands Hatch pole, and I say that because both situations I felt like that was when the pressure was really on, so to deliver pole position both of those times was a big highlight.
KC: You've been neck and neck with Beitske Visser all season. Would you say that this rivalry has helped push your driving skills to the limit?
JC: Yeah, 100%. For sure, when you're working in that close proximity you find yourself pushing each other along quite a lot and definitely she's pushed me this year to make sure I'm maximising every race, every result. I think the other drivers as well, some of them that came on strong at the end of the year, also kept us honest. But Beitske for the whole year has been the one that's been pushing me hard, so it's been a tough year to maintain the lead over her, and fortunately I managed to do it.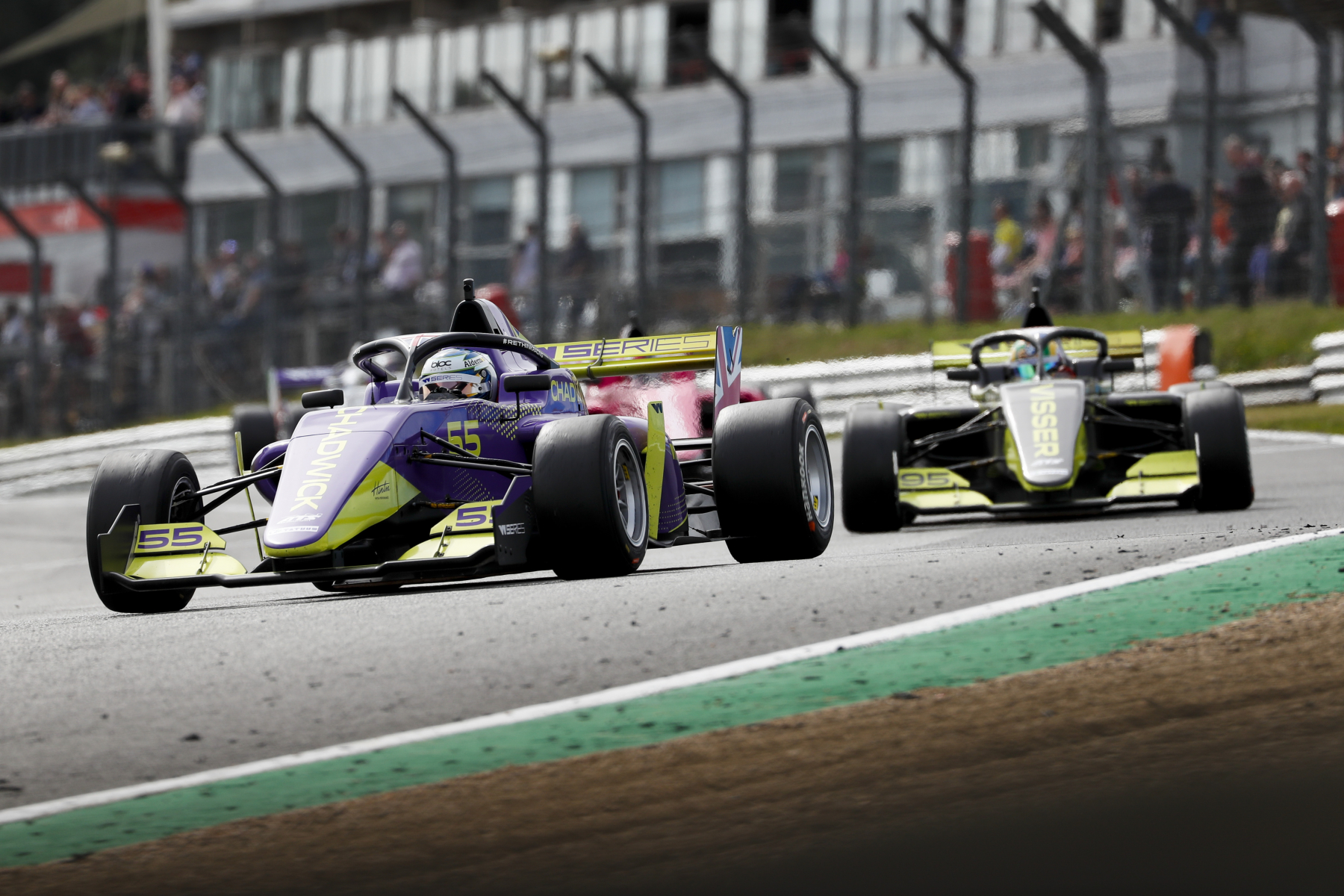 KC: Do you feel that W Series is the way forward for female racers in this industry? Do you think it is the right stepping stone for women who want to progress into the more established classes?
JC: Yeah, definitely. What W Series is doing is offering a platform for drivers to progress, a platform that a lot of us wouldn't have otherwise had. So I think that now we're seeing 20 female racing drivers, racing in Formula 3 cars at a high level, it's giving them a much greater opportunity to feed into the higher levels of motorsport later on. For me this provided the perfect platform, the perfect stepping stone, so it hopefully do the same for others.
KC: 2019 has been quite a year for you with winning the MRF Challenge and the 24h Nürburgring win, and of course, winning the W Series title. The dream for you, as stated in a Guardian article earlier this month, is to race in Formula One. How did you feel when you got the call about becoming the developmental driver for Williams? Do you see yourself racing in Formula One in the near future?
JC: Absolutely. It was a huge moment getting that call. I think every driver wants to be into Formula One, so to get that first step on the ladder and the first association as a development driver really is a dream come true. You just have to look at some of the drivers that have come through their young driver programme to know it's a great place to be for any young driver, and for me I feel very much the same. It's the first step into what will hopefully be a much bigger step in the future.
KC: Which drivers in Formula One (past or present) have influenced you the most in your racing career?
JC: Good question. I'd say maybe from the past—although not so long ago—Alonso's definitely influenced me. More because I like the way he wants to go and race in a lot of different things. You know, last year he was racing in Le Mans, Daytona, quite a lot of different championships. The fact that he's open to doing all sorts of different racing is something that inspires me. And present, I'm not too sure. Definitely Hamilton, the way that he's driving is incredible at the moment.
KC: What advice would you give to someone wanting to get into motor racing?
JC: I would say, just get involved. Don't let anything stop you. It's a great sport, I've loved every minute of it even though I fell into it by accident. It's a fantastic sport. I'd say work hard, learn from everyone and anything that you can, go get involved!
KC. Do you think you will be returning to the series next year or do you have other plans?
JC: I'm not 100% too sure yet in terms of next year. But I think it's a great series, it's a great opportunity. For sure if I can do another season with them, potentially collect some superlicence points next year and get another season of experience, hopefully that will set me on on my way and in good stead for a few years to come.
Interview conducted by James Matthews.