In the moments after the Moto2 race in Brno, rain started to fall. This meant that as the riders lines up on the grid for the MotoGP race, the surface beneath them was wet, which wouldn't have been a problem if the rest of the track was the same.
Between turn two and turn fourteen, the track was completely dry, but between turn fourteen and turn one the track was wet. This meant that riders would have to choose slick tyres, but starting on a wet track and heading into a wet turn one presented obvious safety risks that even Jack Miller (Pramac Racing), perhaps the most relaxed rider on the MotoGP grid when it comes to non-ideal conditions, acknowledged. Those problems included twenty-three bikes arriving at turn one with no grip and no temperature, and all of them leaving the grid with no traction control with slick tyres on a wet surface, such are the limitations of the control Magneti Marelli ECU.
As such, the decision was taken to delay the start of the race. Valentino Rossi (Monster Energy Yamaha MotoGP) was one of the riders most clearly expressing his desire for this decision, for which he received some criticism. Ultimately, if Jack Miller thinks it is unsafe, it is probably unsafe.
The race finally got underway thirty-five minutes late. One of the hopes among fans was that dry conditions would prevent Marc Marquez (Repsol Honda Team) from repeating his Saturday performance when he took pole position by 2.524 seconds with slick tyres on a wet track, where the dry line was maybe two-tyre-widths-wide at its widest and non-existent at its frequent narrowest. Nonetheless, Marquez made the holeshot.
One of the issues with the conditions at the race start was the inconsistency in grip across the track, with the left side of the grid – where the front of each row was – was dry, compared to the middle which was partly wet and the right side which was mostly wet. This meant that while the likes of Marquez, Andrea Dovizioso (Ducati Team) and Valentino Rossi were able to make clean starts from dry grid slots, the likes of Johann Zarco (Red Bull KTM Factory Racing) from KTM's first MotoGP front row or Maverick Vinales (Monster Energy Yamaha MotoGP) from the back of the third row struggled more for grip off the line.
With Miller alongside Marquez on the grid, and the Spaniard making the holeshot, the 'holeshot device' on the Ducati was made to look relatively useless. But it was the performance off the line of Andrea Dovizioso which showed its potential, as the Italian was steaming up to Marquez as they approached turn one, but did not have the over-speed to pass the championship leader.
Behind Dovizioso were Jack Miller and Alex Rins (Team Suzuki Ecstar), with these three and Marquez pulling clear of Pol Espargaro (Red Bull KTM Factory Racing) in the opening stages.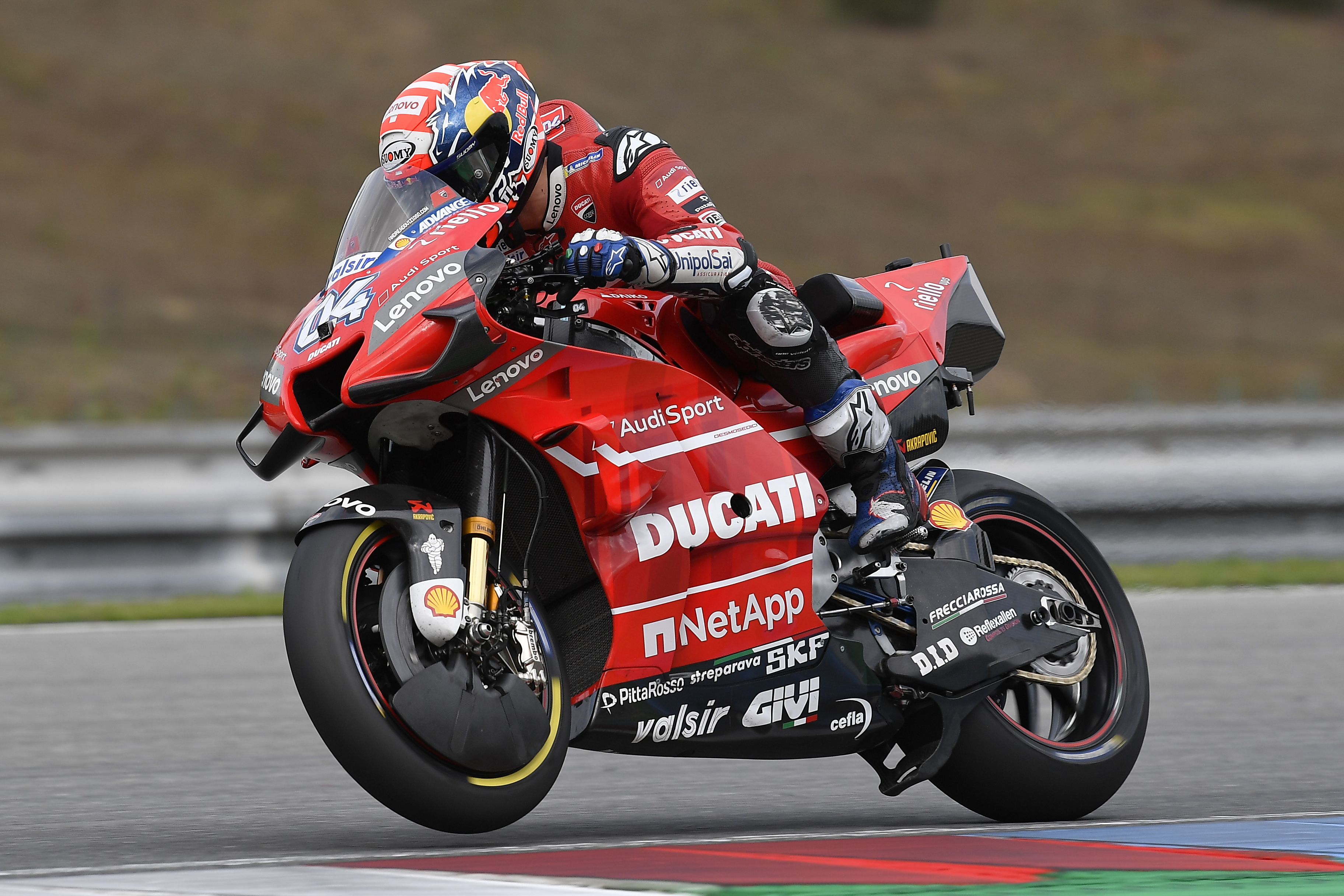 It is normal to see Dovizioso lead. He likes to control the pace at the front of the race, to look after his tyres so he can fight at the end. Perhaps the fact that the Italian was consistently 0.3-0.5 seconds behind Marquez put the writing on the wall. There was no challenge to Marquez' leadership in the first half of the race and, as the tyres started to drop further in the second half, Marquez' pace maintained, whereas for the three behind him it started to drop.
Lights-to-flag race wins were a rarity for Marquez before 2019, but they seem to be his preferred method now, perhaps as a result of the slightly weaker front end on the 2019 RC213V, or perhaps a simple realisation on the part of the pilot: that he doesn't need to fight, he can just run away. Running away is a much more simple way of winning races, although difficult to do in the current age of MotoGP, where the bikes are so close and the operating windows for the tyres are so narrow. But Marquez and Honda have found a way this year to effect this, and it has been devastating. Winning in Brno (Marquez' fiftieth premier class triumph), considered a Ducati track previously, might be the final nail in the 2019 MotoGP World Championship coffin – or, if you're Marquez, the beginning of the engraving process on you're sixth premier class plate.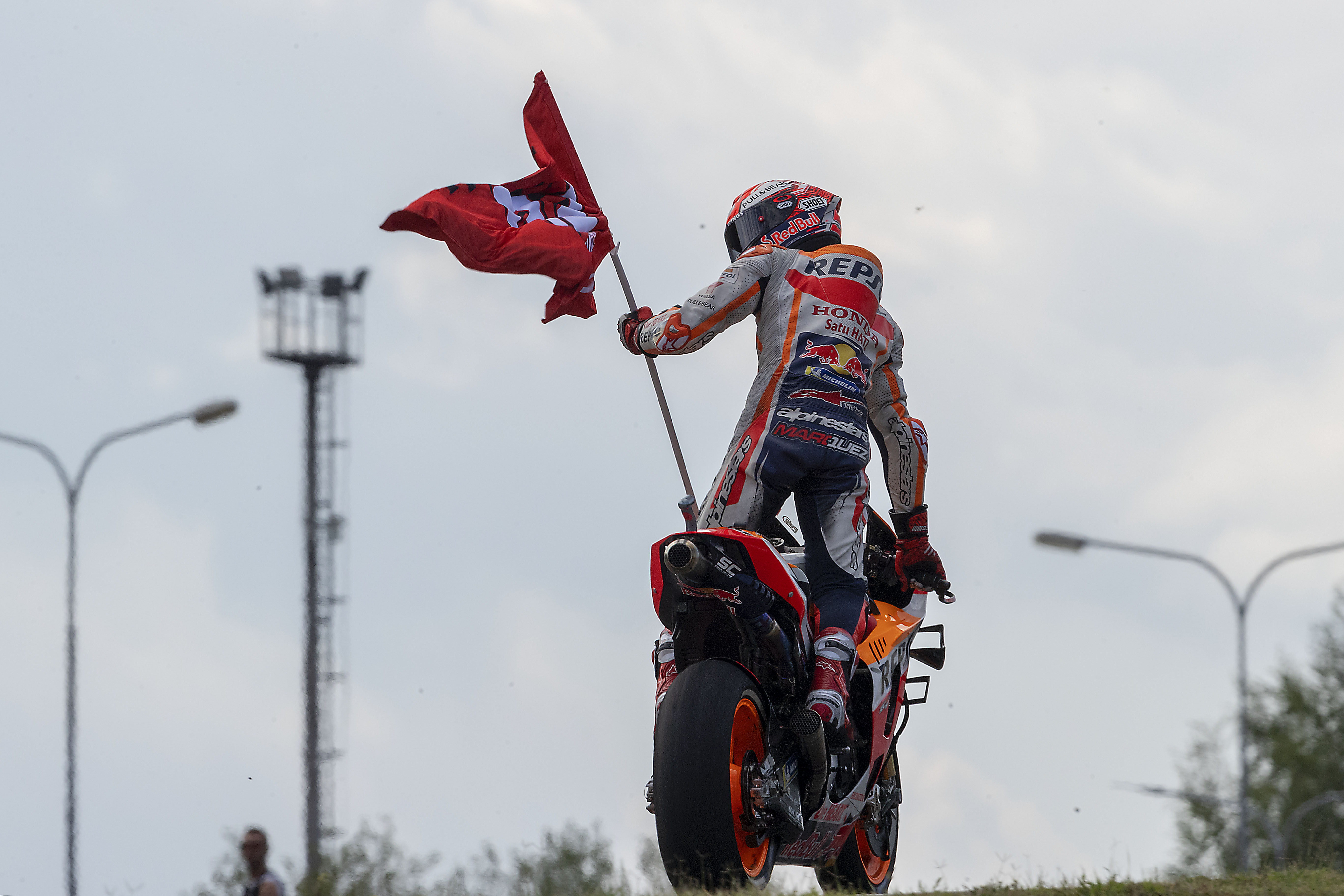 Behind Marquez, Dovizioso was able to pull away from Alex Rins who, for a couple of laps, was beginning to look half-threatening to Dovizioso. But Rins' tyres went away and Dovizioso escaped to a relatively depressing second place, which leaves him sixty-three points behind Marquez ahead of Austria next weekend.
When Rins' tyres dropped, Jack Miller took advantage, and took third place. Rins had a look over his shoulder and confirmed that his only focus was Miller with no pressure from Cal Crutchlow (LC Honda CASTROL) behind. Although he had the focus, Rins did not have the grip, and so Miller was able to claim his second podium of the season after he was also third in Texas back in April.
Miller is known as a strong wet weather rider, and one who is strong in mixed conditions, or when the tyre doesn't match the surface. It is perhaps then no surprise that Miller was the only rider to even get remotely close to challenging Marquez in qualifying, just let down by the timing of his switch to slicks. However, it should be noted that Miller's two podiums this year have come in the dry, and also that they came on weekends where grip was limited.
It is slightly paradoxical that the most aggressive riders, like Marquez and Miller, should be so strong in low-grip, compared to a gentle, smooth rider like Jorge Lorenzo (Repsol Honda Team) or Dovizioso. But, their comfort with the bike sliding is their advantage when all the bike wants to do is slide.
Alex Rins was resigned to fourth place at the end, showing Suzuki still need to find something to protect the tyre in low-grip conditions. Importantly, though, it was Rins' first finish since Barcelona, an important weight off his shoulders after four weeks dwelling on two consecutive crashes from podium positions.
Cal Crutchlow came through well at the start, making multiple positions. After he passed Valentino Rossi for fifth, it was a straightforward race for the Briton – faster than those behind but not fast enough to catch those in front. His 6.007-second gap to Marquez highlights further how well the Spaniard is riding.
Although recently Brno has been considered a Ducati track, it is also a track which suits well the characteristics of Yamaha, with the long, sweeping corners allowing them to use their bikes advantage: mid-corner speed.
However, on Sunday the top Yamaha was Valentino Rossi in sixth place, three seconds behind Crutchlow in fifth, 5.5 seconds off the podium and 9.083 seconds behind Marquez. The positive for Rossi is that he was the top Yamaha rider, so it is arguable that there was little more he could have gotten from the M1. The Italian will need to repeat this, though, to truly respond to those calling for him to make way in the factory Yamaha team.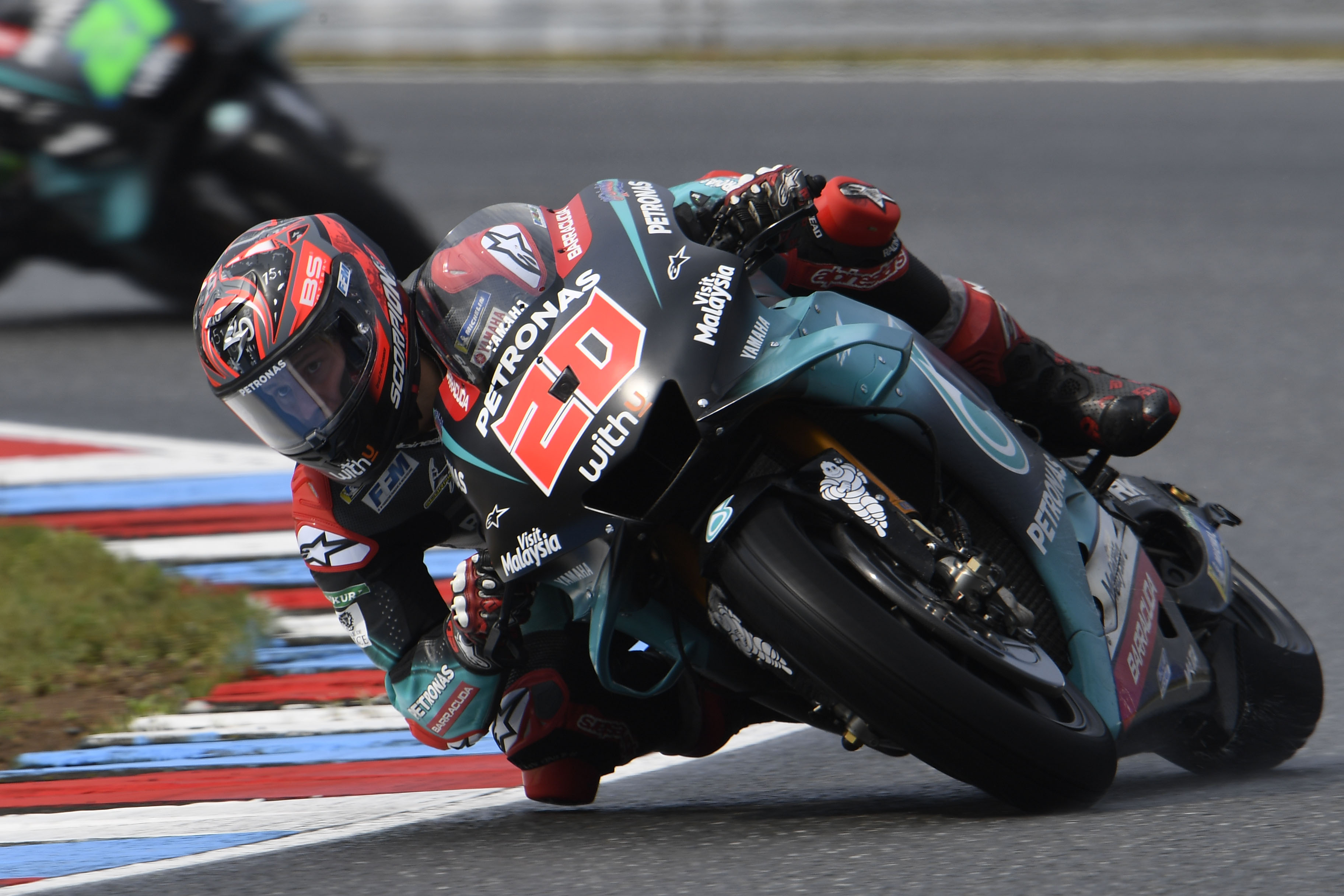 Fabio Quartararo (Petronas Yamaha SRT) passed Danilo Petrucci (Ducati Team) just before Rossi was passed by Crutchlow. The Frenchman, though, was unable to catch Rossi in the time he had left, and ended up three seconds behind the Italian in seventh, almost two seconds ahead of Petrucci in eighth.
Takaaki Nakagami (LCR Honda IDEMITSU) finished ninth, which is probably not going to enhance his case for a factory bike in 2020, whilst Maverick Vinales' race was ruined by his wet grid slot and the Yamaha's lack of power making it difficult to overtake on a track like Brno – the Spaniard finished tenth.
Pol Espargaro went backwards after a good start and finished eleventh ahead of Francesco Bagnaia (Pramac Racing) who will have been content to finish. Miguel Oliveira (Red Bull KTM Tech 3) returned to his form of the opening races of the season to be the second KTM across the line, almost eight seconds clear of Johann Zarco (Red Bull KTM Factory Racing). Stefan Bradl (Repsol Honda Team) finished fifteenth in what is hopefully his penultimate replacement ride for Jorge Lorenzo.
Tito Rabat (Reale Avintia Racing) took sixteenth place ahead of Andrea Iannone (Aprilia Racing Team Gresini) who beat teammate Aleix Espargaro (Aprilia Racing Team Gresini) to seventeenth by three tenths. Karel Abraham (Reale Avintia Racing) could only manage nineteenth in his home race, whilst Sylvain Guintoli (Team Suzuki Ecstar) was twentieth and last on his wildcard appearance.
Joan Mir (Team Suzuki Ecstar) crashed out on lap one with Franco Morbidelli (Petronas Yamaha SRT) when the Italian had contact with Zarco. Morbidelli went down and Mir had no chance to avoid the #21 Yamaha. Hafizh Syahrin (Red Bull KTM Tech 3) was the only other retirement.
Featured Image courtesy of Jesus Robledo Blanco/Box Repsol