Shaun Balfe and Rob Bell continued the impressive form of Balfe Motorsport in British GT GT3 to take an impressive pole position at Brands Hatch.
The will start tomorrow's two-hour race at Brands Hatch ahead of the Optimum Motorsport duo of Ollie Wilkinson and Bradley Ellis.
Jonny Cocker and Sam De Haan, who have a very small chance of winning the British GT title this weekend, start third ahead of TF Sport's Scottish duo of Jonny Adam and Graham Davidson in the Aston Martin.
Jack Mitchell and the impressive Angus Fender will line up fifth tomorrow in Century Motorsport's best showing in Gt3 this year with the BMW M6 ahead of Seb Morris and Rick Parfitt Junior in the Bentley, with Ben Green and Dominic Paul eighth.
Pointon and MacDonald were top of both GT4 sessions by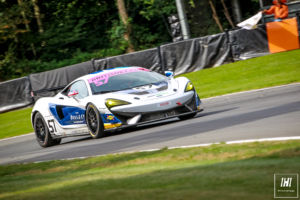 the smallest of margins for HHC Motorsport in their McLaren 570S.
The headed Spa winners Tom Canning and Ash Hand in the TF Sport Aston V8 Vantage and the top Pro/Am duo of Martin Plowman and Kelvin Fletcher in the Beechdean Aston Martin.
Josh Smith and James Dorling will start fourth for Tolman Motorsport in their McLaren, just ahead of the Mercedes AMG Pro/Am duo of Nick Jones and Scott Malvern.
Patrick Matthiesen and Mike Robinson complete the top six in the third Aston MArtin on the GT4 grid, while Sennan Fielding and Richard Williams in the #29 Audi R8 took an impressive seventh ahead of Patrick Kibble and Josh Price.
IMAGES: Inked Hand Images