Jonny Adam and Graham Davidson took their second British GT victory of the season at Brands Hatch to give themselves a chance of winning the championship at the final round of the season.
Adam and Davidson move into second in the British GT Championship at the expense of former leaders Jonny Cocker and Sam De Haan of Barwell Motorsport, who dropped from fourth to eighth on the final lap.
Rob Bell and Shaun Balfe were second having started from pole position, with Jack Mitchell and Angus Fender picking up Century Motorsport's best GT3 result of the season with third.
Phil Keen and Adam Balon in the other Barwell were fourth, Keen passing Cocker on the last lap to set off a chain reaction that saw Dennis Lind, Tom Onslow-Cole and Nicki Thiim also better the Lamborghini.
Polesitter Balfe initially struggled at the start as the Aston Martins of Ollie Wilkinson and Davidson mugged the McLaren at the start.
Wilkinson was gapping at over half a second a lap, but was caught out by traffic to lose the advantage before spinning at Paddock Hill to drop to fourth.
The race was interrupted for over fifteen minutes midway through the first hour as Glynn Geddie's #7 GT3 Bentley attempted lap the #61 Aston Martin of Ben Hurst at Westfield, with contact sending the Bentley into the wall at high-speed to completely ruin the front of the car.
After the restart, Davidson gained four seconds ahead of the stops as a result of kind traffic and his ability to put GT4 cars between, Balfe and Angus Fender, who lost out badly.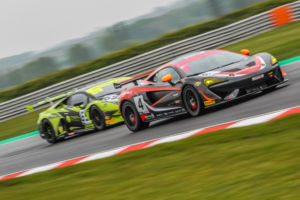 Once Adam climbed into the TF Sport Vantage, the Scot made no mistake to stroke it home for a victory.
In GT4, the race was affected by a Safety Car in the middle of the race after polesitter Callum Pointon was earlier passed by Jordan Smith and Ash Hand to slip to third, while Scott Maxwell climbed to 4th in class during the early staging of the race.
Alex Toth Jones and Moore given a stop go penalty for a starting infringement, but emerged seventh and profited from a well-timed Safety Car to take a big lead in GT4 for the second half of the two-hour race.
Bad luck was never far away though and Moore, with a comfortable lead, spun at Druids to cede their best chance of victory this season and cap a miserable season so far for Academy Motorsport in GT4.
It was left t
o James Dorlin, with the help of Jordan Collard in the other Tolman McLaren, to bring the car home ahead Dean MacDonald in the HHC McLaren, with Seb Priaulx for Multimatic Ford in third.
Martin Plowman and Kelvin Fletcher took GT4 Pro/Am honours ahead of Mark Murfitt and Michael Broadhurst, with debutants Richard Meaden and Jack Roush third in class.
Images: Inked Hand Images