Formula 1 returned to the Austrian hills of Spielberg for round nine of the season, the Austrian Grand Prix. Definitely the best race of the season so far, the Austrian GP delivered what fans desperately needed after the French GP.
Qualifying saw Charles Leclerc taking pole for the second time this season, although he won't have fond memories of the first time he got pole position. In Bahrain with just ten laps to go his engine went wrong, but he still managed to take third place. Lewis Hamilton took second place, although a three place grid penalty for impeding Kimi Räikkönen during qualifying saw him start from fourth. This was due to another penalty, for Kevin Magnussen who qualified P5 but he had a five place grid penalty, thus starting from tenth. 'Local boy' Max Verstappen, thanks to the packed orange grandstands, starts from second place with Valtteri Bottas behind. Norris in fifth showed the progression McLaren has made this season. Drama for Vettel meant he starts the race from ninth, after not being able to set a time in Q3 due to problems with the floor.
Max Verstappen had a horrible start, not being able to come off the line at all, dropping him back to seventh place. Norris had an impressive start and took third place exiting turn one, but Hamilton charged back and even Räikkönen got past him for fourth. Vettel had to make up some positions which he did, overtaking the McLaren of Norris for fifth place. The Brit now had to defend from the poorly started Dutchman.
That same Verstappen went on to P5 overtaking Räikkönen in the Alfa Romeo in lap nine, with a gap of four seconds to Vettel in front of him.
Magnussen was under investigation for being out of position on the grid. The stewards awarded him a drive-through penalty. A great result in qualifying, a drama in the race for the Danish Haas driver.
A nice surprise to see was George Russell in the Williams battling with Kvyat and Grosjean for seventeenth place. Kubica however was still struggling in last place.
A fight for seventh between Räikkönen and Gasly was the most entertaining one. Pierre struggled to get past the Finn, but every time he tried Räikkönen showed he's still capable of racing and defending perfectly. Finally, after around twenty laps of battling the Frenchman got past. Throughout the field the gaps were extending fast, very few battles took place. It was all about strategy now.
On lap twenty-two Bottas came into the pits for his first stop, changing from the mediums to the hard tyres. A pretty big gamble, as Leclerc on the softs was still pulling away up front. Vettel immediately came in as well for the same change of tyres, but the stop took longer than expected, leading to frustration at the team. One lap later it was the race leader coming in for his pit stop, also opting for the hard tyres.
These changes meant that Hamilton was now leading the race, in front of Verstappen. Both still had to make their pit stop.
In lap thirty-one Hamilton came in for his stop. However, it was not only tyres they were changing. A few laps earlier he reported a 'loss of downforce' to the team. They didn't want to take any risks and changed the front wing as well. Verstappen reacted to that by immediately coming in as well, re-joining in front of Hamilton in fourth place.
For third place the heat was on between Vettel and Verstappen, the latter one on much newer tyres.
With fifteen laps to go Verstappen overtook Bottas for second place, leading to a massive standing ovation from the orange crowds. He was putting up insanely fast lap times on the board, and with ten laps to go the gap to Leclerc shrunk to four seconds. A nail-biting end of a better race than the previous ones, although still lacking more battles.
Just five laps to go, the gap shrunk to a very tight one second. Reports over the radio that he had a loss of power disappeared when he showed the pace.
The battle of the season was fought out between the future of F1, Leclerc and Verstappen. A hard-fought battle into the third corner, even a bit of contact and the Monegasque got pushed wide in an aggressive, but fair battle. Verstappen took the lead, but it was unsure for how long as the incident got under investigation by the stewards. Some controversial moments happened this year with stewards after the race, but Austria wouldn't be interfered with. Max Verstappen took another win at Austria, just like 2018 in a dramatic manner.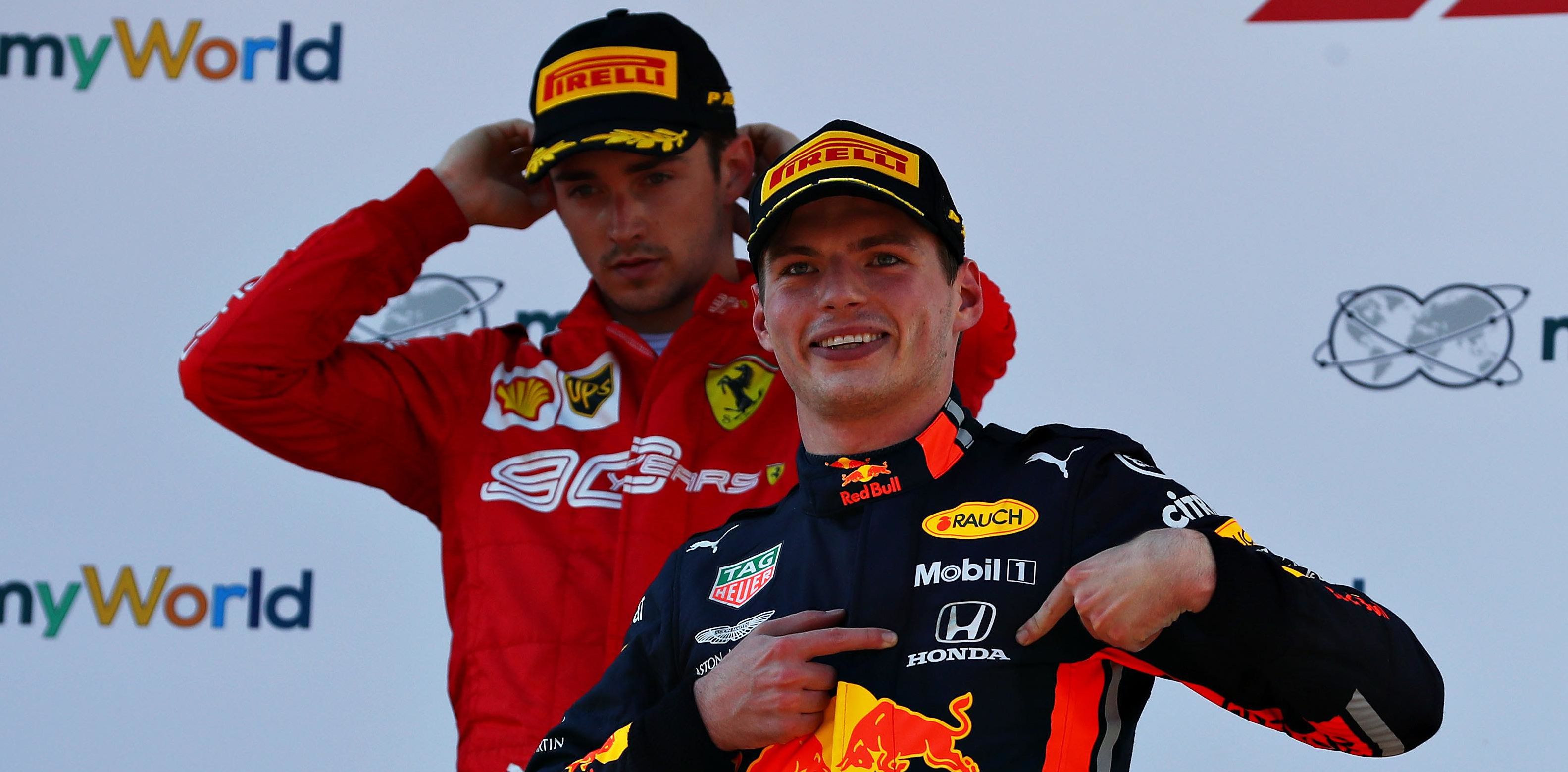 Charles Leclerc ended up in second, a great result for the Ferrari youngster, who definitely hoped for more and for 90% of the race, it looked like that was possible. Bottas would join them on the podium, although it was very close in the end with Vettel.
Possibly the most exciting race of the season so far, F1 leaves Austria to head to a circuit where the crowds won't be orange. They will be full of British flags for the British GP at Silverstone in two weeks time.