The seventh round of the 2019 MotoGP World Championship took place in Barcelona, as misfortune for his main championship rivals saw Marc Marquez (Repsol Honda Team) greatly extend his points lead.
The race started out promisingly, with Andrea Dovizioso (Mission Winnow Ducati) taking the holeshot. The Italian led the first lap-and-a-half, closely followed by Marquez and Maverick Vinales (Monster Energy Yamaha MotoGP) who made a good start from the second row. Jorge Lorenzo (Repsol Honda Team), too, had made a good start from row four. A look behind from Marquez on the opening lap caused Fabio Quartararo (Petronas Yamaha SRT), Valentino Rossi (Monster Energy Yamaha MotoGP) and Danilo Petrucci (Mission Winnow Ducati) to check up, and Lorenzo was able to take advantage and move up to fourth behind Vinales.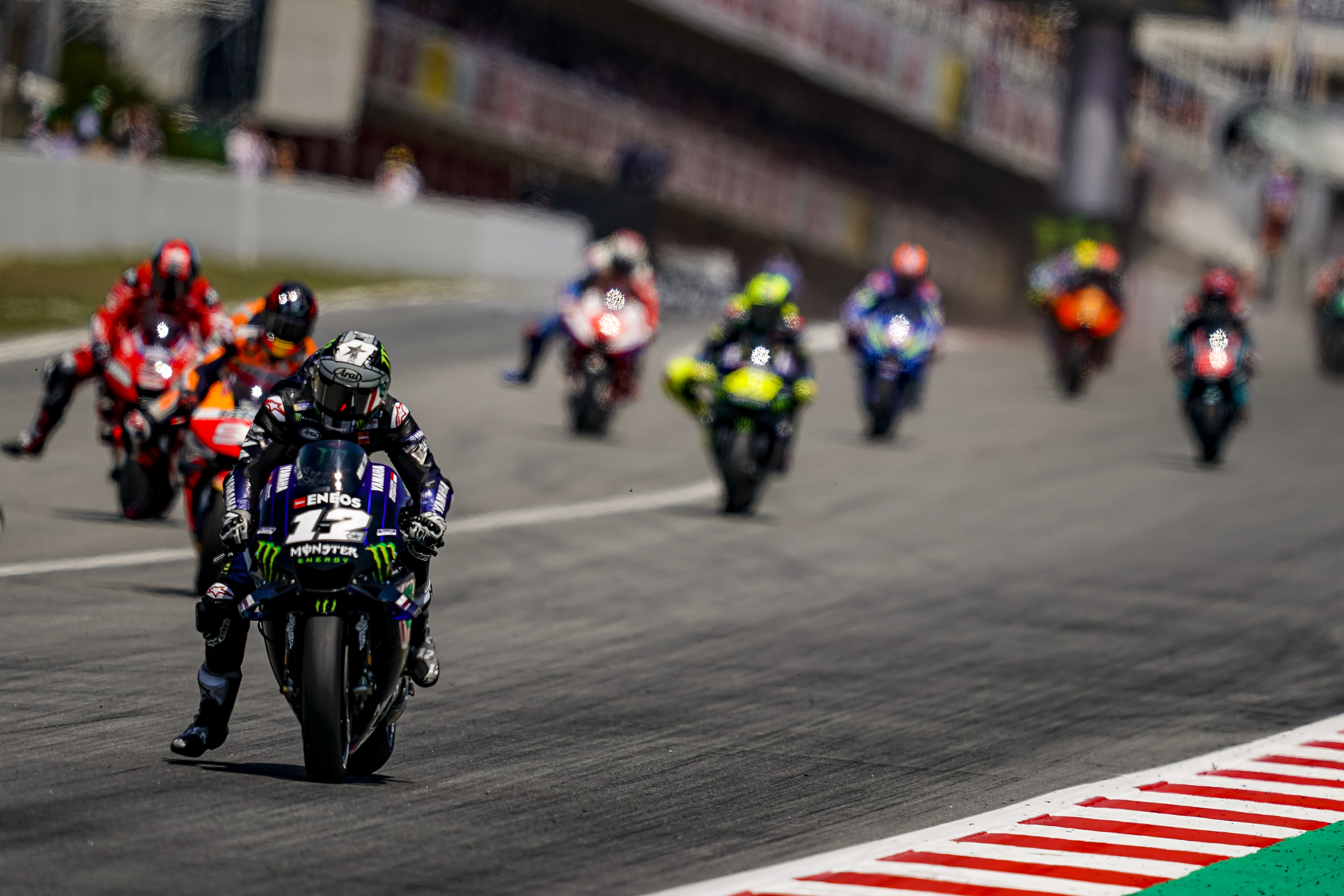 Vinales' corner speed in turn nine on the second lap was far better than that of Marquez and Dovizioso ahead of him, and had to back out of the throttle on the exit to avoid the Honda rider. Lorenzo behind, riding at the front of a race for the first time in Repsol Honda colours, tried to take advantage. Lorenzo out-braked Vinales into the dead-stop turn ten, but as he did so Marquez dived to the inside of Dovizioso. The #04 Ducati rider checked up to try and square off turn ten, since Marquez had taken his line away. As Dovizioso slowed, Lorenzo closed in on his former teammate more rapidly than he was expecting. To try to avoid Dovizioso, Lorenzo squeezed the front brake a little harder, which caused him to fold the front. Out of control, Lorenzo's #99 Honda hit Dovizioso's #04 Ducati, whilst Vinales had nowhere to go and was also caught up in the mess.
Behind, Valentino Rossi was trying to pass Danilo Petrucci. To pass a Ducati on a slower bike, you have to push past the limit, and Rossi did just that, into turn ten to pass the #9 Desmosedici. He was going long, and was also unable to avoid his teammate's YZR-M1. Four riders were out in one corner, and with Marquez out of the incident clean, he already had the victory in sight.
In second place was Danilo Petrucci, and behind him was Quartararo and Alex Rins (Team Suzuki Ecstar). The speed disadvantage of Quartararo's M1 meant that it was not until Rins passed the Frenchman that Petrucci came under real pressure. However, the Suzuki was not quite fast enough on the main straight for a pass into turn one, nor could it accelerate out of turn nine quick enough to put the Spaniard alongside Petrucci to pass into turn ten. So, instead of moving past Petrucci and setting his sights on Marquez early on, Rins was forced to sit behind the slow-to-turn Ducati until lap fourteen, when he forced his way through in the middle of turn four. It was a tough move, and there was plenty of contact, but it was fair enough from the pilot of the nimble Suzuki.
Rins' advantage over Petrucci was short-lived though. Although he had seemed to have a strong pace throughout the weekend, Rins was unable to drop Petrucci and close Marquez down once he had some clear track. Instead, after three laps of leading Petrucci, Rins watched as the Italian came back through. In trying to reclaim second place for himself at turn one on lap eighteen, Rins lost the rear end, made some small contact with Petrucci's bike, and did well to stay on. He dropped to seventh, and now started a fightback through the pack to try to regain a position on the Catalan GP podium.
As soon as Rins ran wide, Quartararo sensed an opportunity, and he moved past Petrucci in turn three. Unlike Rins, the Frenchman was able to get away, and was the fastest rider on the track for most of the final seven laps, although he was not able to put Marquez under any considerable pressure.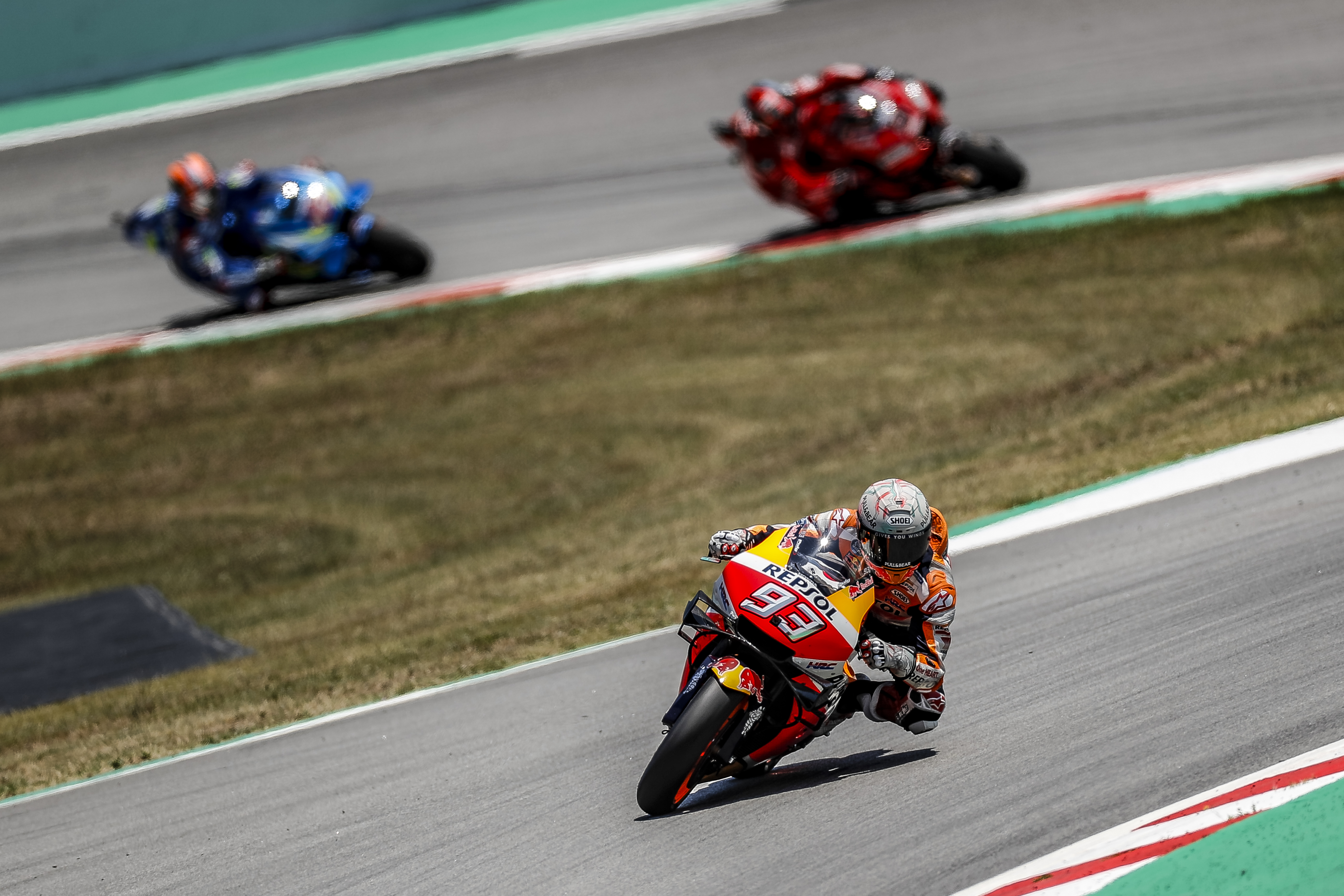 The reigning World Champion was untouchable in Barcelona for the final twenty-three laps. In fact, such was his eagerness to get to the front on lap two when he passed Dovizioso, it is possible to say that Marquez' pace would have been good enough to win fairly comfortably even without Lorenzo, Dovizioso and the two factory Yamaha riders dropping out on the second lap. The race bore similarities to Assen 2016, when Marquez finished second knowing that his rivals for that year, Jorge Lorenzo and Valentino Rossi, were not scoring big points (Lorenzo in a crisis of confidence and Rossi in the gravel). After that race, Marquez' championship advantage was twenty-four points. After the 2019 Catalan Grand Prix, Marquez' points lead stands at thirty-seven points over Andrea Dovizioso. With Assen next up and Sachsenring also on the horizon, it is hard to see that advantage decreasing by the summer.
Whilst mechanical problems cost Quartararo a debut rostrum in his fourth MotoGP race back in Jerez, in Barcelona it was a different story. At the site of his first Grand Prix win – in 2018 in the Moto2 race for Speed Up – Quartararo brought both himself and Petronas Yamaha SRT their first premier class podium. In Assen – being a circuit with almost no straights – victory will be the target for the young French rookie. Quartararo's pass on Petrucci was fantastic, and the lap he put together after that to leave the Italian with no option to pass the Frenchman once they arrived at the straight was superb as well. The #20's ability to capitalise on the YZR-M1's advantages is what brought him this debut podium, and is what could see him win a race this year.
Danilo Petrucci was able to use the advantages of the Ducati to defend his podium, to make it three podiums on the bounce for the Mugello winner. Quartararo had too much pace for the Italian once he came through, but Petrucci's calmness when under such immense pressure from Rins in the first half of the race was impressive. Petrucci did not have the pace for third, but he made it anyway, and that is a testament to the level of his riding at the moment.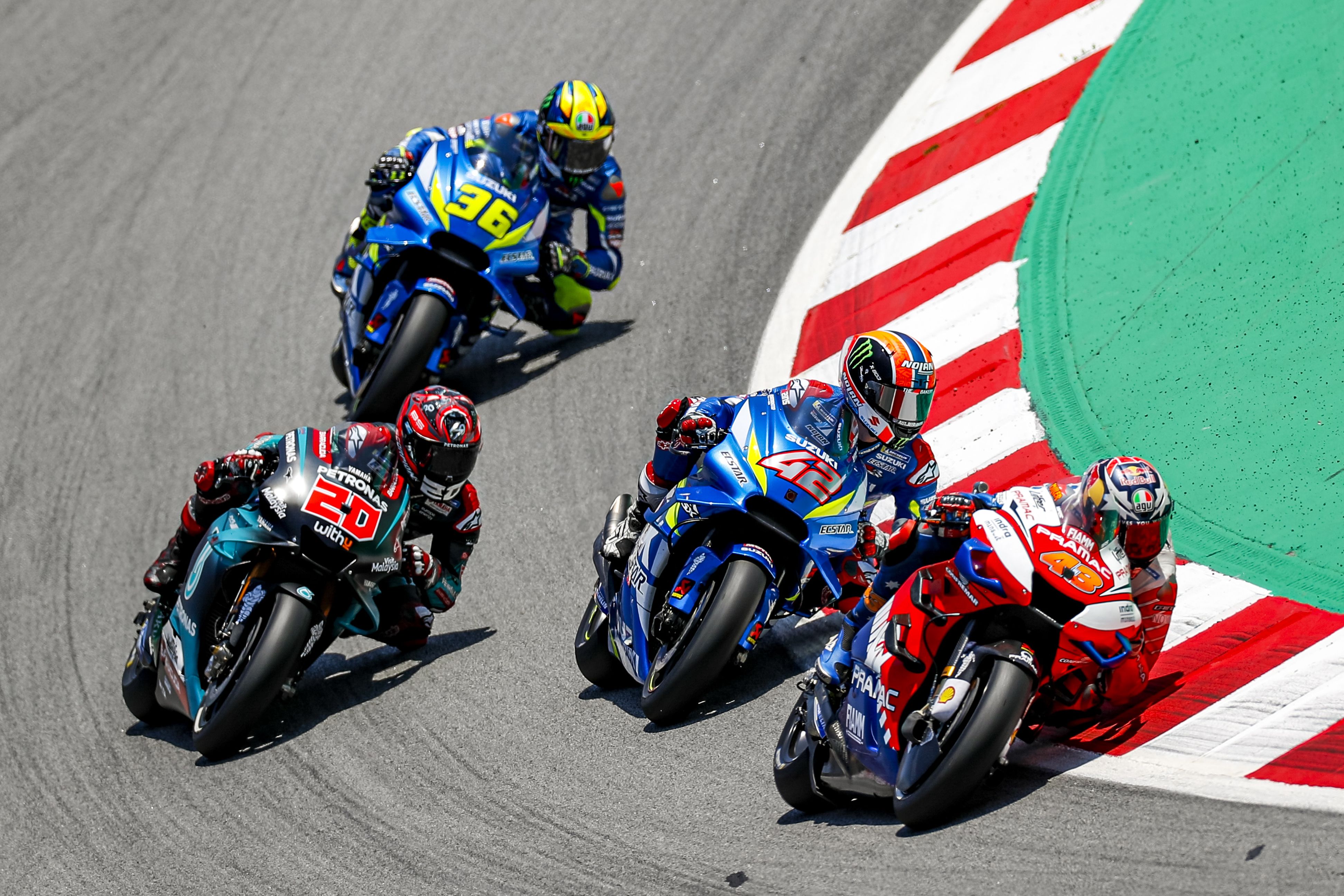 Fourth place will be a disappointment for Alex Rins, who was simply frustrated by Petrucci's non-existent corner speed. The Suzuki can punch off corners quite well from low-speed, but Petrucci's defensive riding meant that the GSX-RR's main positive point – its mid-corner speed – was nullified.
It was a strong race for Jack Miller (Pramac Racing), who came from fourteenth on the grid to finish fifth, ahead of Joan Mir (Team Suzuki Ecstar) who had his best ride since Qatar with sixth place. Pol Espargaro (Red Bull KTM Factory Racing) had another strong ride on the factory RC16 with seventh place, in front of Takaaki Nakagami (LCR Honda IDEMITSU) who was visibly struggling with grip when he was on the live world feed in the latter part of the race. Tito Rabat (Reale Avintia Racing) took his first top ten since his leg was destroyed in Silverstone last year, whilst Johann Zarco (Red Bull KTM Factory Racing) took his first top ten in orange.
Eleventh place went to Andrea Iannone (Aprilia Racing Team Gresini) which is the Italian's best result for Aprilia. Miguel Oliveira (Red Bull KTM Tech3) was twelfth, whilst Team Suzuki Ecstar test rider Sylvain Guintoli was the final finisher in thirteenth.
Karel Abraham (Reale Avintia Racing) crashed out on the first lap, whilst Bradley Smith (Aprilia Racing Team) took out Aleix Espargaro (Aprilia Racing Team Gresini) whose left leg was injured in the crash. That happened one lap before Jorge Lorenzo took himself out of the race along with Dovizioso, Vinales and Rossi. One lap after the four-bike incident at the front, Hafizh Syahrin (Red Bull KTM Tech3) dropped out, before Francesco Bagnaia (Pramac Racing) saw his Catalan GP come to an early end. Franco Morbidelli (Petronas Yamaha SRT) crashed at turn seven when he missed the braking point, slid out off-line and lost the front when he touched the throttle. Cal Crutchlow (LCR Honda CASTROL) was the final retirement when he lost the rear going into turn four trying to pass Jack Miller.
Featured Image courtesy of Box Repsol