Callum Ilott may have had a torrid time in the Monaco sprint race, forced into a retirement before the lights went out where he was set to start in P2, but he was still in high enough hopes to look forward to the next F2 race in Paul Ricard, while answering a few other questions.
Ilott is a member of the Ferrari Driver Academy, and as such there have been questions as to the pressure that can put on a young driver. Ilott insisted it has instead been a positive boost: 'Not really, I'd say more of a support mechanism because they prepare you well in all aspects, not just the driving, so I'd say that's a confidence boost going into whatever you're doing.
'If there's a problem, you work together to find a solution. There's always pressure to perform, but I put as much pressure on myself as they do on the outside, so it doesn't change much, I want to get as far in motorsport as possible and do as well as I can, and I don't think anyone's going to push me harder than myself to do that, so that's the most pressure I receive and they're there to help, to push me to help to improve me'
Ilott then talked about the differences the new F2 cars have, compared to the outgoing F3 machinery he'd driven in the past. 'Firstly, 260hp for the old F3 car compared to around 600 for the F2 car, so quite a big step up from that, but I think the new F2 car is over 100 kilos heavier than the old F3 car, so that makes a difference in how it behaves and how agile it is.
'The old F3 car had a lot of downforce, for the size of the car, I also think the Pirelli tyre's a different tyre all round, they're quite soft, so there's a bit more grip from the tyre on a quali lap on an F2 car than the F3 car, but also when you're doing the races in an F3 car you're pushing 99, 100% all the time whereas in an F2 car you've gotta manage the tyres.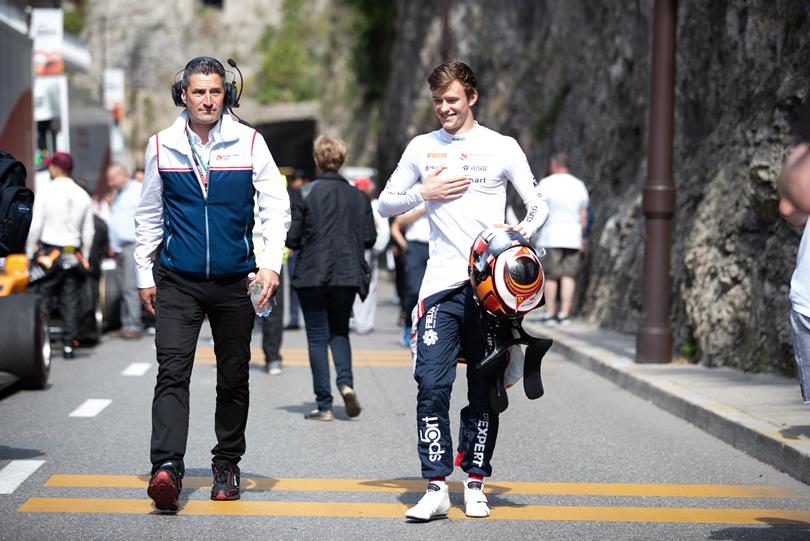 'It's different, the F3 car was always very lively, you had so many laps to get it as close to the edge as possible, whereas the F2 car, in quali you normally get 2, 3 laps maximum, which makes it quite hard to get into a rhythm, you just have to go out and nail it.
'In the race, I would say the F2 is easier to overtake, which again is quite fun, but F3, if you were to make an overtake it had to be a proper one ─l to get past. It's different for different reasons. I think I learned a lot from my F3 days, because 3 years of 30 races a year plus Macau, making it 32 plus testing you're able to do in the winter. I got a lot of track time doing that, and a lot of laps at the limit which is good and prepared me for the rest.
Finally, when asked about his relationship with Charouz Sauber Junior Team teammate Juan Manuel Correa, Illot glowed about their productive and harmonic partnership. 'It seems all good, we've both had our areas to work on and improve and we're getting there. I've made a big rate of progression from the beginning of the season. We're getting on really well, having a lot of fun, and it's important because once you go up the teams are getting smaller, with F4 maybe having three teammates, F3 having another two and F2 having one.
'It's harder to have a good relationship with someone [in lower series], but we get along well and have a good laugh, and work to improve as a team when we need to, and work individually when we don't.
'A good result, I think the place I want to have a good race in is the feature race, I think Monaco was easily the place we could've done it after qualifying, so big shame for that, but these things happen, so make up for that at Paul Ricard. It's quite a tough track in its own way, the last sector becomes very complex, it's easy to lose tyres, in GP3 I should've been pole there, but I messed up at the last sector big time. It's a track where I know I can be quick, the team went well there last year, so we'll see what we can do, but we just need to make up a little bit for the points we've lost'