History will record that Thierry, Nicolas and Hyundai won this rally. Those that followed it, will know it should have been M-Sport duo Elfyn and Scott on the top step in Bastia.
We were treated to a fantastic fourth round of this year's championship. Here's the story of how it all unfolded.
Friday
With 86km's of stages on Friday, including a double run of the long Valinco and just a tyre fitting zone as well in the middle of the day, just getting to the end of day one would be tough. The start list looked like this – Tänak, Ogier, Neuville, Meeke, Evans, Lappi, Loeb, Latvala, Sordo, Suninen.
SS 1 – Bavella 1 (17,60 km) saw Elfyn set a great time, with Thierry and Dani a few seconds behind. Ogier spun in a hairpin and was already 12.5 from the lead. Kris however had a terrible stage, getting a puncture and losing almost a minute.
SS 2 – Valinco 1 (25,94 km), saw Kris go fastest from Ott and Dani. Elfyn could only manage fifth fastest and so Ott was now in the lead, but only by six tenths of a second. Dani's pace saw him pass Thierry into an early third place. Esapekka also moved past Teemu, for the battle to be the top Finn.
SS 3 – Alta-Rocca 1 (17,37 km) Ott also took the next stage with Kris and Elfyn less than a second behind him. Elfyn may have been passed by the Estonian, but he was keeping him in-sight, with just a little over a second between the top two. Thierry also moved past Dani who could only manage ninth fastest. Also moving up the leaderboard were Teemu and Jari-Matti, who both passed Esapekka Lappi who spun in a hairpin.
After the midday tyre change, we had the rerun of SS 4 – Bavella 2 (17,60 km). Once again, Elfyn struck back and took stage victory number two for the weekend, and deposed Ott once more from the lead after the Estonian was 2.7 seconds slower. Esapekka Lappi lost seventh place to his teammate, Seb. Thierry also increased the gap to Dani.
Elfyn's great Friday continued in SS 5 – Valinco 2 (25,94 km), where he took another stage victory and increased his lead further over Ott. Jari-Matti had a problem and dropped right the way down from sixth and into tenth having lost three minutes. A big shame for the 2015 winner.
The final stage, SS 6 – Alta-Rocca 2 (17,37 km) and Ott Tanak forced himself back into the lead, with Thierry winning the stage and Ott just 1.3 seconds behind with Elfyn losing time after getting stuck behind Kris Meeke in the stage. Kris did let the young Welshman past, but he'd lost a lot of time and the lead at this point. The organisers did the right thing and gave Elfyn the same time as Ott, meaning he'd retain the lead.
STANDINGS AFTER DAY 1
Evans / Martin (Ford Fiesta WRC) 1:09:39.6
Tänak / Järveoja (Toyota Yaris WRC) +4.5
Neuville / Gilsoul (Hyundai i20 WRC) +9.8
Sordo / Del Barrio (Hyundai i20 WRC) +26.1
Suninen / Salminen (Ford Fiesta WRC) +30.9
Ogier / Ingrassia (Citroën C3 WRC) +36.3
Lappi / Ferm (Citroën C3 WRC) +46.3
Loeb / Elena (Hyundai i20 WRC) +2:27.9
Camilli / Buresi (VW Polo R5) +2:46.4
Bonato / Boulloud (Citroën C3 R5) +3:06.4
An interesting first day then! Let's hear from the drivers.
M-Sport WRT
Elfyn Evans (1st)
"It's been a positive day and the car has felt really good. This is the type of rally where you have to be smart and efficient, and I felt like we drove well. We were able to carry the speed through the corners, and keep a smoothness in the driving which seems to be doing the trick.
"There's going to be a big battle tomorrow and our plan is to stay in this position. Ott [Tänak] and Thierry [Neuville] will both be pushing hard, but we know when everything is working that we can be faster. I'm really looking forward to the day. There's quite a mix of stages with a bit of everything. It's all about being adaptable."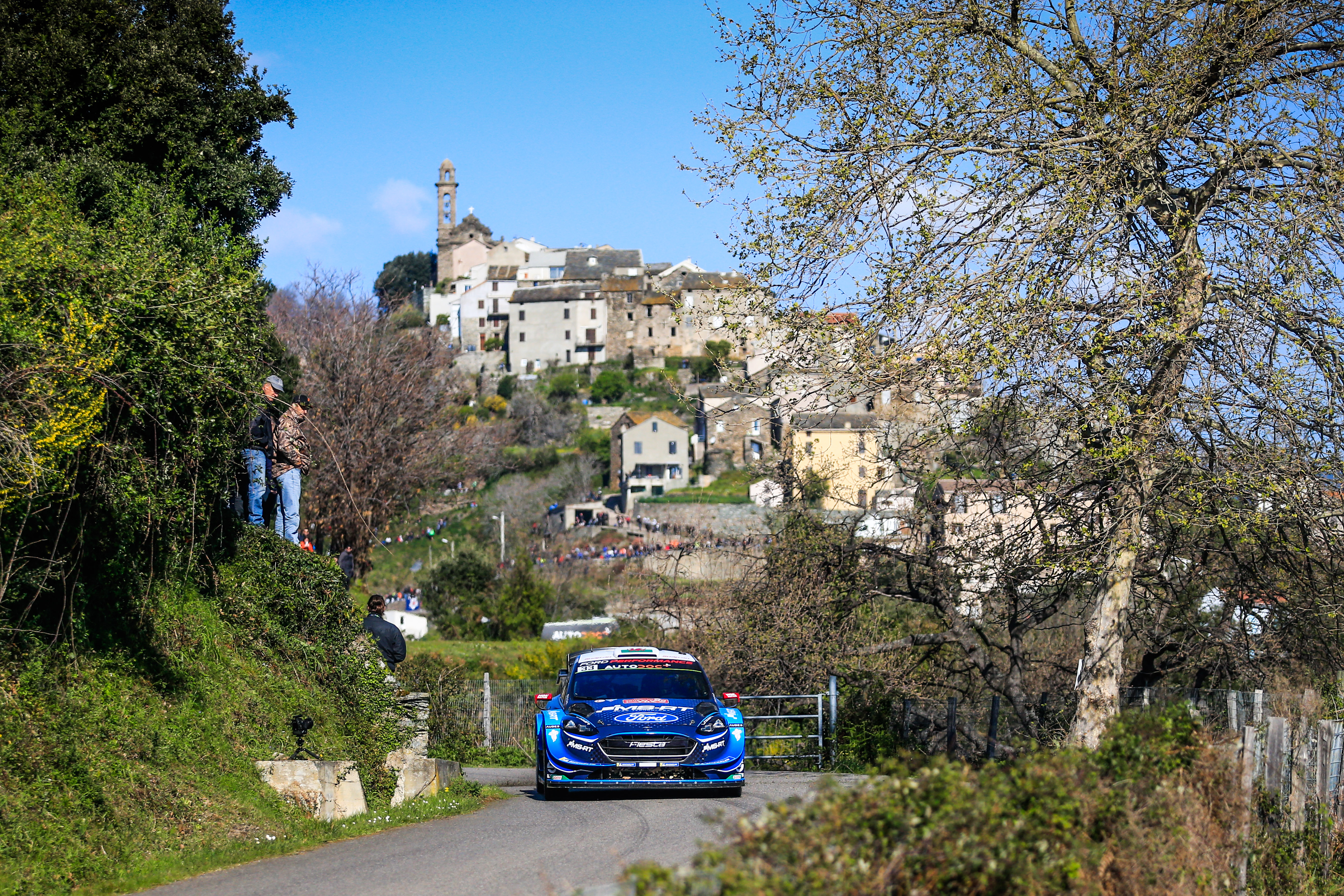 Teemu Suninen (5th)
"It's been a really good day for us and the pace has been good. I could go faster for sure, but I have this monkey on my shoulder holding me back. I have made some mistakes in the last rallies and I need to bring the car home this weekend. But the driving has still been on a good level so we can be happy with that."
Toyota Gazoo Racing WRT
Ott Tänak (2nd)
"I am quite happy with my day. In the morning I was not actually in the best rhythm, as my notes were not perfect on these new stages. This afternoon it was definitely better in that sense, and we had a good feeling. We haven't been pushing the limits yet, but the car is performing well and I quite enjoyed it. Our closest rivals have been setting good times, so it's clear that we will need to push quite hard tomorrow if we want to beat them. The long stage will be the key stage of the rally: It's very tricky so it won't be easy, but I believe it will be possible for us to make a big difference there."
Jari-Matti Latvala (13th)
"The middle stage of the loop was difficult for me today. In the morning my notes were not working well there and we lost a lot of time. We did a lot of work on that over lunch and I was really confident that we could make a good time in the afternoon pass. Two kilometres into the stage there were quite a lot of cuts where gravel had come onto the road, and I think a sharp stone went through the tread. Slowly caused the tyre to started to slowly going down – it was just one of those unfortunate things that can happen., We decided to try and carry on but eventually we had to stop and change it. The car has been feeling good, I've really enjoyed the driving. We will keep going and see where we are at the end of the rally."
Kris Meeke (16th)
"It's been a difficult day to be honest. On the first stage, in a long fast left-hander, I had 'keep to the inside' in my pace-notes, and we hit something that I obviously hadn't seen in the recce. After that the pace was good and we were trying to make up some places. In the afternoon, there was a fast left with a cut, I caught some gravel and we touched the kerb on the outside and broke a suspension arm, which I had to carry through the last stage. I'm very happy that Elfyn has been given a fair time: In no way did we intend to hold him up. Today just hasn't been good enough. We had a package capable of winning this rally: The Yaris has been incredible to drive. We will continue to enjoy driving the car and try and keep it clean for the rest of the weekend."
Hyundai Motorsport
Thierry Neuville (3rd)
"I think we have had a pretty satisfactory day today, and we've done a good job with the car since shakedown. The feeling has not been 100% perfect, and our pace notes were a bit too slow on the first stage, but we've made some good progress. To be in contention for the lead of the rally at the end of this opening day is all we could have hoped for. We are perhaps missing some grip to go ever faster, but it's a solid base from which we can build tomorrow."
Dani Sordo (4th)
"It has not been a straightforward day, although we have had some positive moments. The first stages were really nice and I was able to set some encouraging and fast times. It was more difficult in the afternoon loop as the speed was not there. We have to look at the areas where we can find improvements for Saturday, which is an incredibly gruelling schedule. We have a big distance to cover tomorrow so it will be a crucial day for the rally result."
Seb Loeb (8th)
"Things have got increasingly better as the day has progressed, and I ended the afternoon loop feeling quite confident in the car. We lost a lot of time at the beginning of the first stage this morning. I made a small mistake and on the exit of a corner and broke something on the suspension, which we had to fix. With no lunchtime service, we had to do what we could to keep going. We changed the settings during the day and found some good improvements, which we hope to carry over into Saturday."
Citroën Total WRT
Sébastien Ogier (6th)
"It was a difficult day, where we struggled with understeer. We made a few minor adjustments mid-leg and that helped us to limit the time lost in the afternoon, but it wasn't enough. We have a few ideas about how to change the set-up in order to resolve the issues, so I have high hopes that we can move in the right direction tomorrow. We'll certainly be doing everything we can to move back up the standings."
Esapekka Lappi (7th)
"I pushed hard on the wide, fast sections of today's stages but I had the same issues on the corners as Seb. And we also had a spin, which didn't help matters. I have faith in the team to put things right and obviously on my side, I'm going to give it everything."
Saturday
It was a bright morning at the start of the longest day of this event. The start list looked like this – Meeke, Latvala, Loeb, Lappi, Ogier, Suninen, Sordo, Neuville, Tänak, Evans. 
First stage, SS 7 – Cap Corse 1 (25,62 km) went to Ott, closing the gap a little to Elfyn who was second fastest and Loeb getting into the groove at last. The changes that the Citroen team made to their C3 weren't really making much of a difference other than making the car feel more comfortable to drive, just still no speed.
SS 8 – Désert des Agriates 1 (14,45 km) next up and Ott flew through, taking 3.7 seconds from Elfyn's 3.9 second lead and further back, Kris passed Jari-Matti into ninth place. The fight was on between Ott and Elfyn.
SS 9 – Castagniccia 1 (47,18 km) saw a Hyundai driver finally win a stage, with Dani setting the fastest time from Ott and Ogier who found some pace as well and climbed into fifth. Elfyn was fourth fastest, but 3.3 seconds slower, which meant that he'd dropped behind Ott in their battle for the lead.
After the lunchtime service, SS 10 – Cap Corse 2 (25,62 km) was won by Kris Meeke, with Elfyn and Thierry second and third. It was Ott's turn to be fourth, and now the gap between the top two was just 1.6 seconds. Ogier was now closing on Dani Sordo for fourth place.
SS 11 – Désert des Agriates 2 (14,45 km) saw Elfyn retake the lead, after Ott had a puncture which he stopped to change losing two minutes and dropping to seventh overall. Thierry won the stage and was now in second overall, 11.5 seconds behind Elfyn.
Another fastest time for Thierry in SS 12 – Castagniccia 2 (47,18 km) and the last stage of the day saw the Belgian go 16 seconds faster than Elfyn and would assume the lead over the Welshman. Ogier had a shock, nearly going off the road after his anti-lag system which had stopped working, suddenly started working again further into the stage! Despite all this, the Frenchman moved another place up the overall leaderboard and was now ahead of Dani in third place. Further back, Ott was moving up as well, now ahead of Esapekka into sixth place.
STANDINGS AFTER DAY 2
Neuville / Gilsoul (Hyundai i20 WRC) 2:56:50.0
Evans / Martin (Ford Fiesta WRC) + 4.5
Ogier / Ingrassia (Citroën C3 WRC) +44.8
Sordo / Del Barrio (Hyundai i20 WRC) +49.9
Suninen / Salminen (Ford Fiesta WRC) +1:32.1
Tänak / Järveoja (Toyota Yaris WRC) +1:54.5
Lappi / Ferm (Citroën C3 WRC) +1:59.3
Loeb / Elena (Hyundai i20 WRC) +3:21.4
Meeke / Marshall (Toyota Yaris WRC) +3:55.9
Latvala / Anttila (Toyota Yaris WRC) +6:35.4
Well, what a great day Saturday was. Changes in the lead, drama with tyre failures and engine problems, and Thierry in the lead! Let's hear from the drivers.
Hyundai Motorsport
Thierry Neuville (1st)
"We have had a really good day and I am delighted we can finish Saturday in the lead of the rally. Anything can happen when people are driving on the edge. This is a long and demanding rally so it's important to stay focused. This morning, during the long stage particularly, we couldn't really find the feeling we wanted, but things came good in the afternoon. When you have the right rhythm in the car, it's possible to set fast times without taking risks. That's exactly what we could do and we now need to defend our lead on Sunday. It won't be easy but we'll certainly give it our best shot!"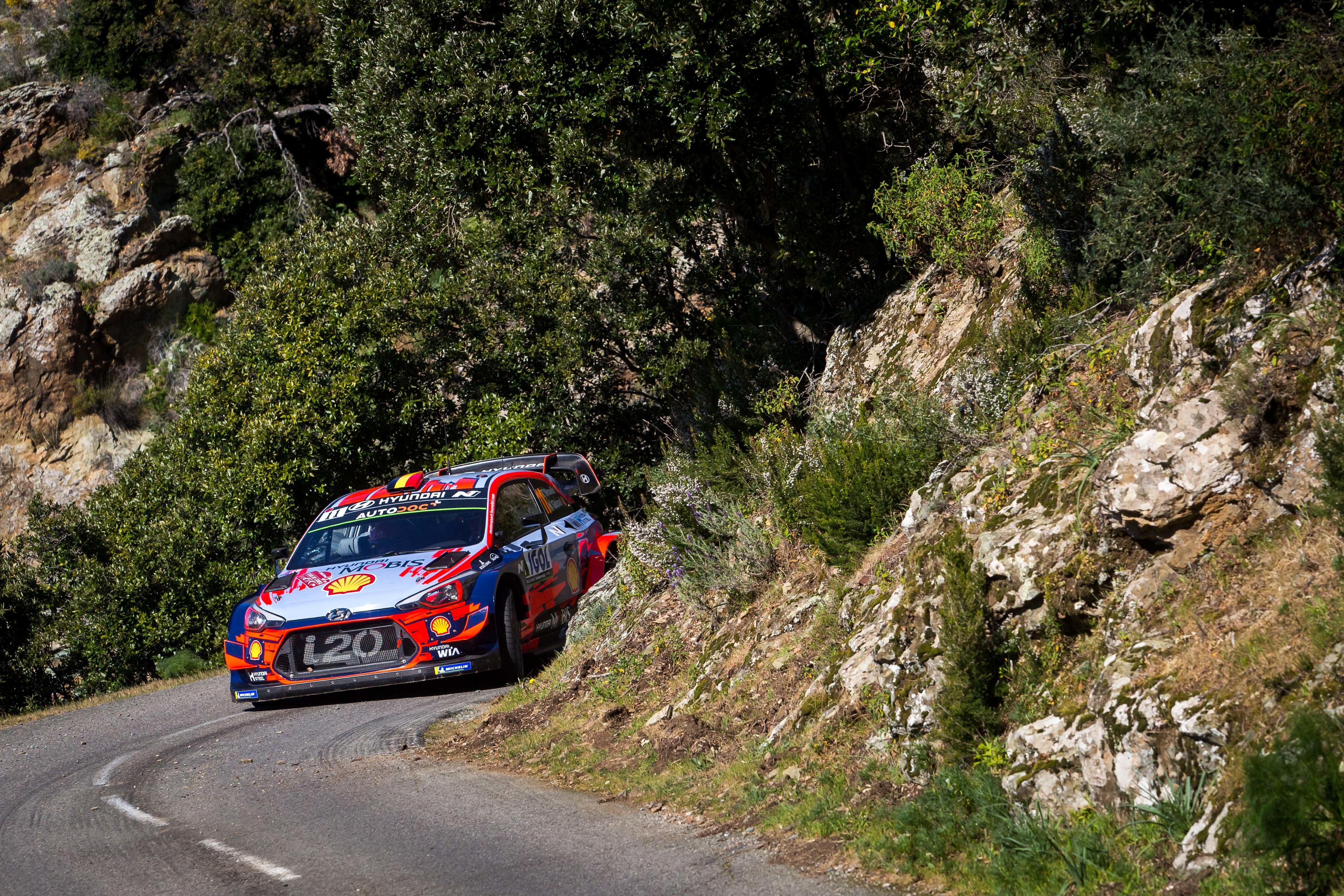 Dani Sordo (4th)
"We had a very strong opening loop this morning. My pace notes were very clear and we showed our potential with the fastest time in the long Castagniccia stage. I had a great feeling and the car was very nice to drive. We didn't manage the same advantage in the repeat loop, as others seemed to make up more time, but we are pleased to enter the final morning in a close fight for the podium. Ogier made up a lot of time on us in the final stage today but we know we can also find some gains, so it promises to be a big battle tomorrow. We'll try our best."
Seb Loeb (8th)
"We are not in the same rally as everyone else after our issues on Friday, so we have used today to improve our feeling with the car. Things started well but on the long stage in the morning loop we had a tricky moment. I understeered in a left-hander, which tightened, and I couldn't turn which then sent us into a ditch. We lost a lot of time getting going again. The afternoon followed the same strategy to make adjustments to the car. Things were not perfect all the time but for the majority of stages we had a good car and a nice feeling. We will continue in this way tomorrow and aim to finish on a positive note."
M-Sport WRT
Elfyn Evans (2nd)
"It had been a good day for us and the pace was really strong, so it was a real shame about that last stage. Honestly it was a bit of a shock to lose that much. We didn't feel that we had a bad stage – maybe not a perfect stage – but to lose that much time was disappointing.
"But we have to forget about it now. Four and a half seconds isn't too much and we can fight for that tomorrow. We know that we have the pace to win this rally, and that's what we'll be focused on. We came here to challenge for the win, and that's what we plan to do."
Teemu Suninen (5th)
"I think we can be quite happy with the day. We didn't make any mistakes, and the driving started to be on a good level through the clean stages. There is still some work to do in places where there is a lot of gravel on the road, but this is only my first time here with this car and I need the experience."
Citroën Total WRT
Sébastien Ogier (3rd)
"It's a shame that we lost a lot of engine power about ten kilometres from the end of the last test, because otherwise I think we would have claimed our first stage win this weekend. Fortunately, it only lasted for two or three kilometres and then normal power came back. I'm pleased to be back in the top three. I hope that the slightly better feeling we had this afternoon will be confirmed tomorrow and we can keep improving. Because it looks like we're going to have to fight right to the end if we want to hold onto third place. We have been losing most time on the wider, circuit-like roads but tomorrow's stages are less like that, so I hope that they are more suited to us."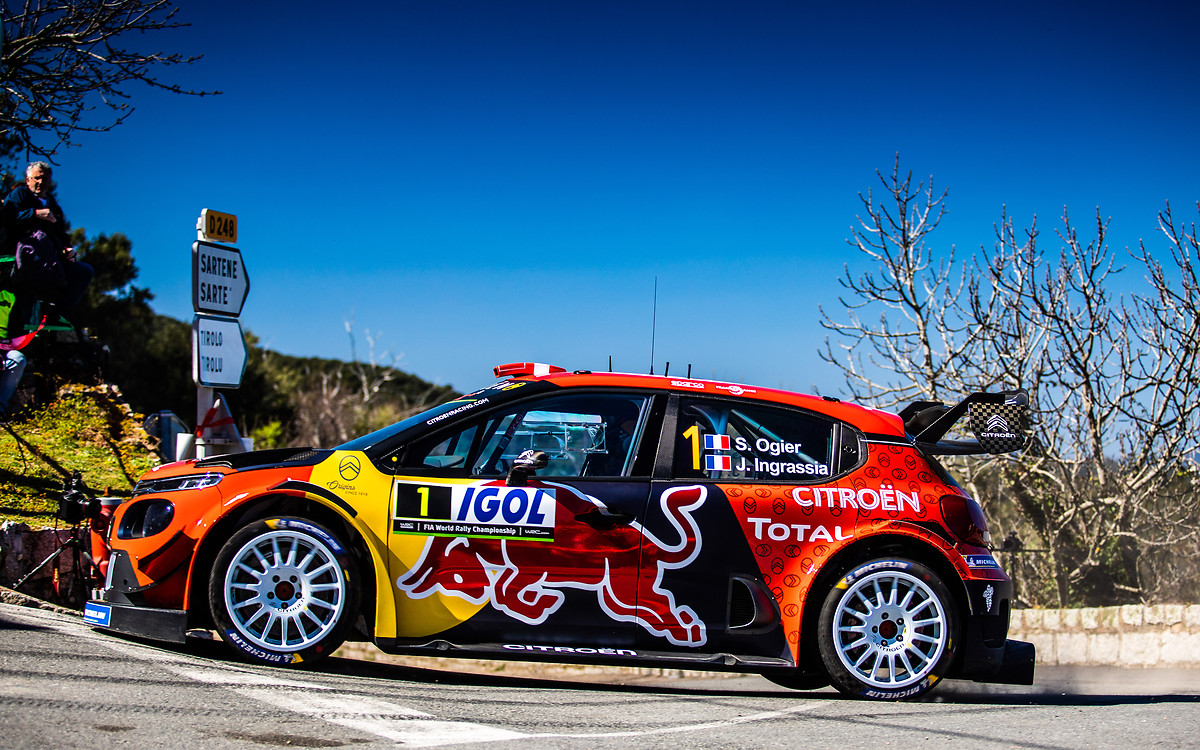 Esapekka Lappi (7th)
"Although we're still not where we had hoped to be, the main thing is that we improved today. Our rhythm was better. Seb also set some good times, so that would suggest that we are moving in the right direction. We're going to give it our all to finish the rally on a high tomorrow."
Toyota Gazoo Racing WRT
Ott Tänak (6th)
"We were having a good day: The car was feeling good and we had a nice clean rhythm with no mistakes. It's still difficult to understand what happened on SS11. It's really disappointing. The team has done a great job, the car has been incredible this weekend and I did everything I could myself. I knew this is one of the hardest events for us, so I prepared really hard. After the work we've done it's difficult to accept this. We still have some points to score tomorrow, and whatever happens, we can still take some positives away because we've been performing very well."
Kris Meeke (9th)
"I enjoyed it today, particularly this afternoon. Being first on the road this morning was maybe not ideal – the surface felt quite slippery with no rubber having been laid down. We made a few adjustments in mid-day service and the car was working very well. To do a fastest time when the leaders are fighting hard shows the rhythm was pretty good. I'm still annoyed that I wasn't able to translate the car we had this weekend into fighting at the front, but now we will focus on the Power Stage tomorrow and see what we can do there."
Jari-Matti Latvala (10th)
"It has been a difficult day my driving has not been good enough. This morning I was missing some performance, while this afternoon I tried to push more, but we had to stop and change a flat tyre. That was down to my mistake: On a right-hand corner there was a hole on the edge of the road and I hit it. I will try to have a good drive tomorrow: That would give us a boost at the end of the rally."
Sunday
Just two stages remained totalling a little over 50km's. The start list looked like this – Latvala, Meeke, Loeb, Lappi, Tänak, Suninen, Sordo, Ogier, Evans, Neuville. With the gap so small between Thierry and Elfyn, we'd be treated to a really amazing battle.
That's exactly what we got! Elfyn flew through SS 13 – Eaux de Zilia (31,85 km), a full 16 seconds faster than Thierry, and incredibly the same time difference that Thierry had been faster than Elfyn in the final stage on Saturday. He now had an 11.5 second lead over the Belgian with one stage left. It marked the fourth stage that the Welshman had won this weekend. Impressive stuff.
Just one stage left then, the SS 14 – Calvi Power Stage (19,34 km). Second into the stage, Kris Meeke set the fastest time as a gauntlet to the others… As rally leader now, Elfyn would be the last driver through. Loeb, Lappi and the others tried, but couldn't get close to Meeke's time. Finally, Elfyn came through and the first split looked okay, but then he lost time in the second split to Thierry, and quite a bit. What had happened? Well, he'd hit a loose rock with his right-front wheel, and it just fell apart! He lost so much time, that he fell to third place, over a minute from the winner, Thierry. Elfyn, Scott and M-Sport were gutted. The top five in the stage were, Meeke, Tanak, Suninen, Neuville and Ogier. 
FINAL STANDINGS
Neuville / Gilsoul (Hyundai i20 WRC) 3:22:59.0
Ogier / Ingrassia (Citroën C3 WRC) +40.3
Evans / Martin (Ford Fiesta WRC) +1:06.6
Sordo / Del Barrio (Hyundai i20 WRC) +1:18.4
Suninen / Salminen (Ford Fiesta WRC) +1:24.6
Tänak / Järveoja (Toyota Yaris WRC) +1:40.0
Lappi / Ferm (Citroën C3 WRC) +2:09.1
Loeb / Elena (Hyundai i20 WRC) +3:39.2
Meeke / Marshall (Toyota Yaris WRC) +5:06.3
Latvala / Anttila (Toyota Yaris WRC) +6:44.6
What a drive then from Elfyn and Scott! They'd really shown the doubters out there, with a fantastic drive. Once more, Toyota confirmed what we all knew, that their car is great on all surfaces and the Hyundai team, when their car worked, it worked well, but that clearly it needs some improvements. Finally, Citroen didn't show the kind of pace you'd expect here, with neither of their drivers winning a single stage. Here then are the thoughts of the drivers.
Hyundai Motorsport
Thierry Neuville (1st)
"What an incredible rally and a fantastic result! I would like to extend my thoughts to Elfyn and Scott; I am really disappointed for them. It had been a great battle and they were undoubtedly the quicker crew this weekend. We didn't really know what had happened until we saw our mechanics at the end. I pushed hard in the Power Stage and the points we've scored this weekend are hugely important for the championship. It is testament to the hard work of everyone at Hyundai Motorsport. We may not have been the fastest in outright pace, but there has been a significant improvement in our tarmac performance and this victory is perfect thanks for all their efforts. We made a big difference on Saturday afternoon's stages to put ourselves in contention, and that enabled this result to be possible. It's never over until it's over!"
Dani Sordo (4th)
"We came to Corsica with a target of taking a good amount of championship points for the team, and we have achieved that. We have shown some positive pace this weekend, most notably on Saturday's long stage, but we've also struggled at times. We didn't have the consistency we needed to fight for the podium but finishing fourth is not so bad. Congratulations to Thierry, Nicolas and the team for taking the victory. I am pleased to see us back on top of the manufacturers' standings. I look forward to the next rally in Argentina."
Seb Loeb (8th)
"A great result for the team today. Unfortunately, our own rally was effectively over after our issues in the opening stage on Friday. We lost so much time; we were on the back foot from then onwards.  The motivation is not quite the same when there's nothing really to fight for. We tried instead to work on the car set-up, making adjustments that will benefit us for the future. Despite our challenges, it has still been an enjoyable rally, the Hyundai i20 Coupe WRC has been nice to drive and I've had fun on the stages. Hopefully I can do better next time."
Citroën Total WRT
Sébastien Ogier (2nd)
"In terms of points, it's a good result, scoring nineteen points at a difficult round. On the other hand, we really suffered in terms of pure performance. We need to understand why, so that we don't have the same problem again on this surface, on which the C3 WRC had performed well previously. In any case, I'm pleased to have managed to get the most out of the car I had and also that I don't have to open the road on gravel in Argentina."
Esapekka Lappi (7th)
"We all had high hopes coming into this round, so obviously we can't be satisfied with this result. We were short on performance and suffered quite a lot of understeer throughout the weekend. We're going to work hard to put things right for the next rounds on tarmac, in Germany and then in Spain. In the meantime, I'm looking forward to getting back on gravel in Argentina."
M-Sport WRT
Elfyn Evans (3rd)
"It's disappointing right now, but overall it's been a really positive weekend and we know that we had the speed to win. The first stage this morning felt really good, and we had a good rhythm going into the Power Stage. I'm not sure exactly what happened, but it felt like we were in the middle of the road and just unfortunate to hit a stone or something in the line. Straight away I knew it didn't sound good, and sure enough a couple of hundred metres later we got the puncture alarm. We had 11 kilometres to go and I knew that if we stopped to change it we would lose a lot of positions. We decided to continue, and thankfully made it to the end to salvage a podium. "Perhaps it's not the result we wanted, but the pace is there and I think we can all take confidence from that moving forward. We've had a pretty strong start to the season so far and I've been really happy with the Fiesta on all four of the opening rounds. The guys back at M-Sport are working exceptionally hard and making improvements all the time so I see no reason why we can't continue this form into the coming events."
Teemu Suninen (5th)
"This weekend was really good for us and I can be happy with the job we have done. Before the rally I thought that this would be the hardest on the calendar. It's the only event I've not done in a world rally car and there were also a lot of slow corners where I have been struggling a bit. But on the clean sections like today I have been able to be really fast and set some top times. We still have some work to do in the dirty sections. But we finished the rally in a good position and with three points from the Power Stage. That was good."
Toyota Gazoo Racing WRT
Ott Tanak (6th)
"Generally, it has been a good event for us: We had a strong performance and I actually quite enjoyed this year's Tour de Corse. Of course, the final result is disappointing, but this was a rally I didn't enjoy at all a couple of years ago, and we are now right on the pace and driving with a good rhythm, so there is something for us to smile about. Today was just about collecting some points from the Power Stage, and we had a clean run with no risks. The fight continues."
Kris Meeke (9th)
"We went for it in the Power Stage today and came away with the full five points. Of course, I don't really like to have to do it like this, as I would rather be fighting for the rally win. But we had a luxury of a time gap, which allowed us to protect our tyres in the first stage this morning. That gave us good tyres for the Power Stage so we went for it, keeping in mind to bring the car home. The Yaris WRC has been incredible all weekend, I've really enjoyed driving it right from shakedown. I just have to keep the confidence and I'm sure a big result will come."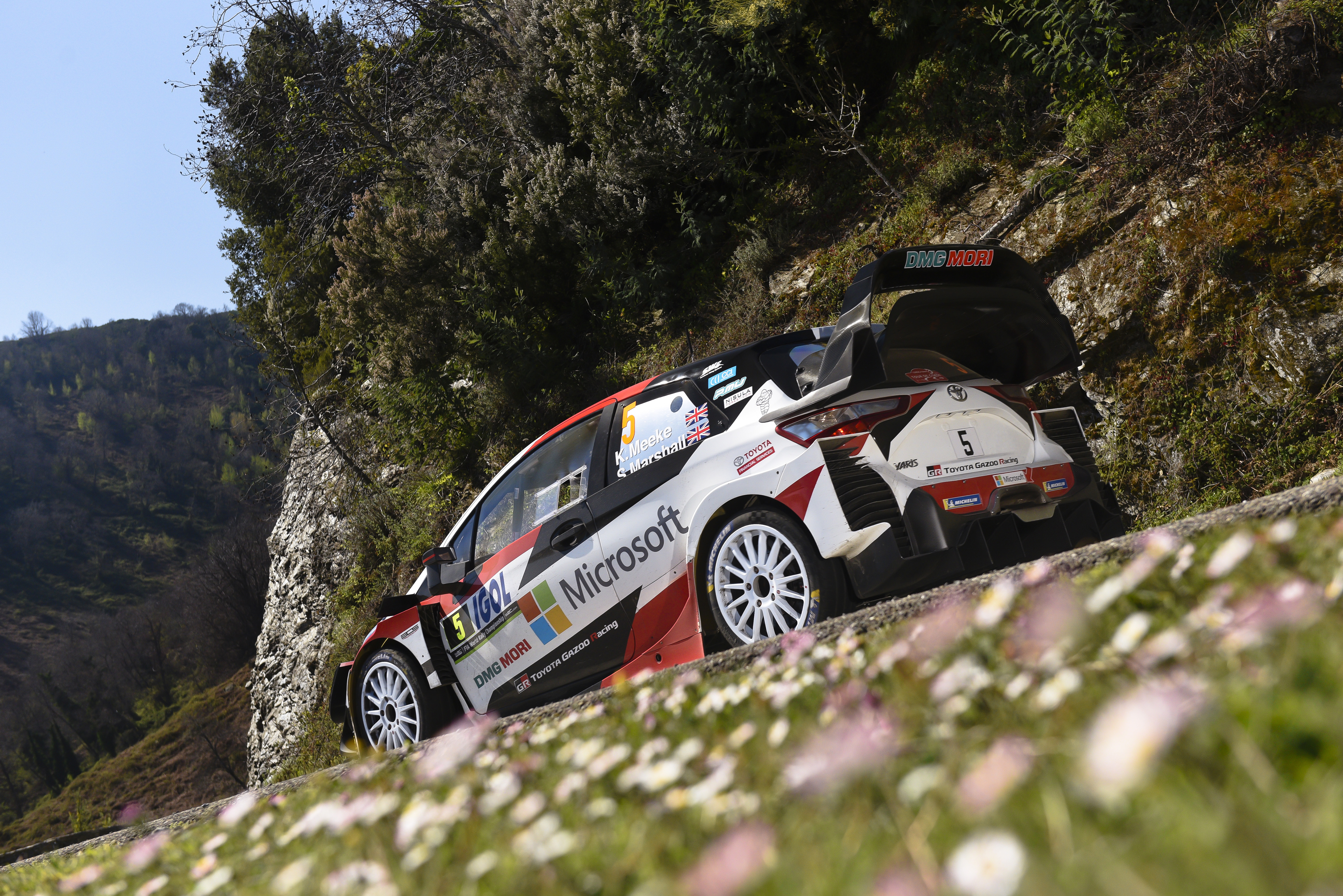 Jari-Matti Latvala (10th)
"We were closing to scoring one or two points on the Power Stage, which I would have been happy with because I didn't have the confidence in myself to take any risks. I have been missing some speed all weekend, so it was important to just bring the car to the finish. I know that I have some things to think about to improve on asphalt, but that is for the future. For now, I will put this event behind us, and try to go to the next events in South America with some new energy."
Here's the points standings. Thierry takes over at the head of the championship, with pre event leader Ott falling to third. Elfyn's podium lifts him into fourth overall, which ironically, he would have been in even if he'd won, but missing the extra ten points which would have put him closer to the top three.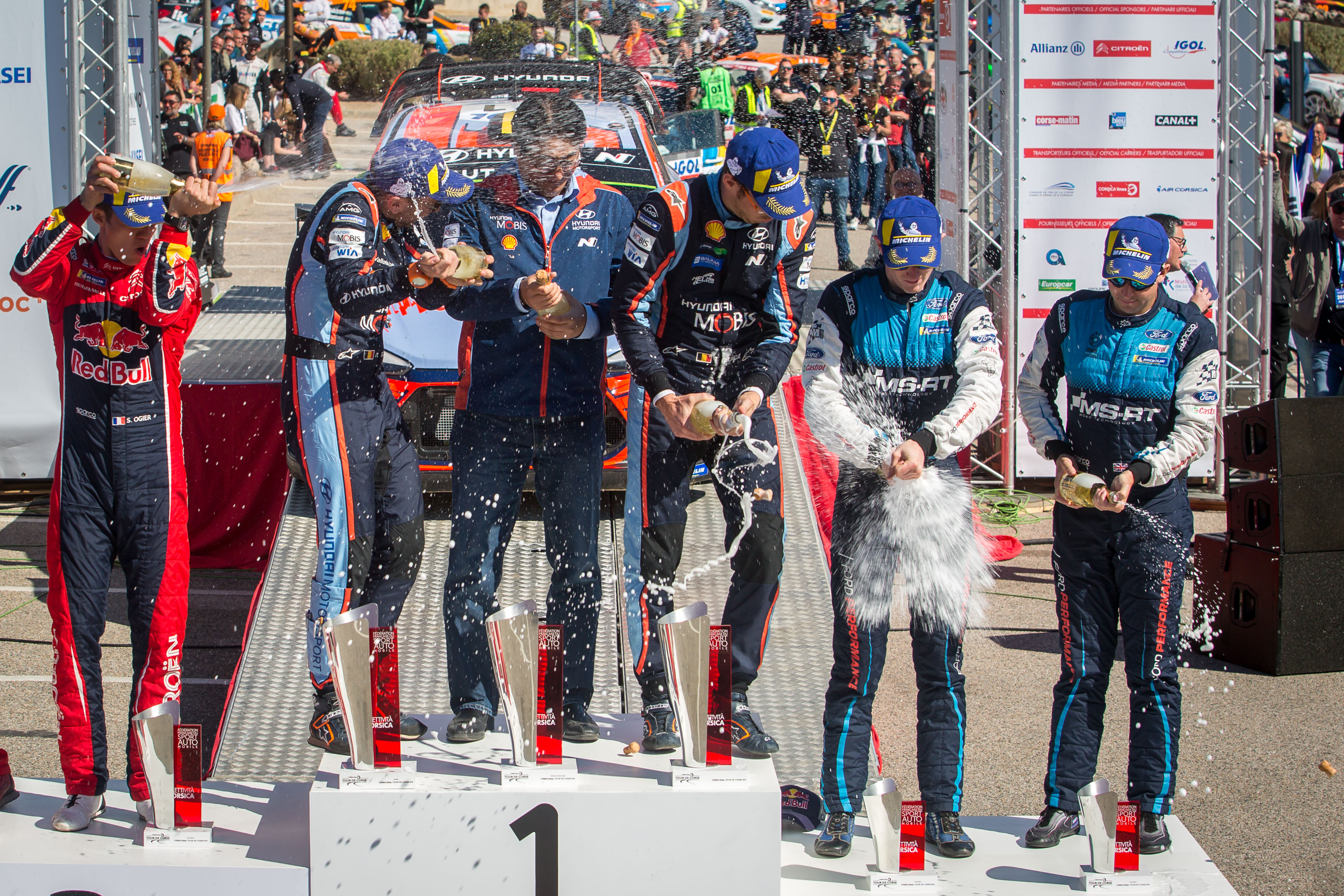 Next event, round five Rally Argentina runs from 25th to 28th of April. Pop back then for my preview.
DRIVERS' WORLD CHAMPIONSHIP
Thierry Neuville – 82 points
Sébastien Ogier – 80 points
Ott Tänak – 77 points
Elfyn Evans – 43 points
Kris Meeke – 42 points
Esapekka Lappi – 26 points
Sébastien Loeb – 22 points
Dani Sordo – 16 points
Jari-Matti Latvala – 15 points
Teemu Suninen – 14 points
MANUFACTURERS' WORLD CHAMPIONSHIP
Hyundai WRT – 114 points
Citroën Total WRT – 102 points
Toyota Gazoo Racing – 98 points
M-Sport Ford WRT – 70 points