This event didn't start in the normal way you'd expect. The Thursday night stage was cancelled, after a jump that had been added was causing cars to fly far too dangerously. It was a surprise then when it later emerged that Michelle Mouton had not actually checked the stage. What we don't know is whether or not she was involved in that decision.
Friday
Anyway, with that out of the equation, the first real action was starting on Friday morning. 114km of stages lay in front of the crews, including a double run of El Chocolate which made up over sixty kilometres of the days action. The start list looked like this- Tänak, Neuville, Ogier, Meeke, Lappi, Evans, Mikkelsen, Latvala, Suninen, Sordo. It was the first time that Ott was opening the road, courtesy of the being championship leader.
Well, the first stage, SS 2 – El Chocolate 1 (31,57 km) saw under pressure Andreas Mikkelsen take a good stage victory and therefore assume the rally lead, using his good start position to effect, with Ogier and Sordo going well in second and third. British hopes Kris and Elfyn were also near the front of the field, holding fourth and fifth, only eight seconds or so from the Norwegian. This stage also saw the demise of Teemu Suninen who stopped 13km's into the stage. He'd gone off the road, damaging the front end.
The shorter SS 3 – Ortega 1 (17,28 km) stage saw Ogier top the times, after finding more grip, and closed to just seven tenths of a second of overall leader Andreas. There was a swap further back as Elfyn moved ahead of Kris, with the pair of them battling over fourth place which Elfyn now held. Further back, Thierry was not having a very good day, already almost fifty seconds from the lead. He just could not get on the pace.
The short SS 4 – Street Stage Leon 1 (1,11 km) didn't see any changes in the leaderboard, with Andreas, Seb and Dani still the top three.
After lunchtime service SS 5 – El Chocolate 2 (31,57 km) we saw a change in the lead after Seb won the stage from Dani and Elfyn. Sadly, Andreas good run in the lead came to an end. He'd stopped in the stage but got going again, only to stop again with 6km's left in to go. Everyone moved up a single position apart from Jari-Matti who still held sixth as Lappi jumped ahead from seventh into fifth!
SS 6 – Ortega 2 (17,28 km), the penultimate stage of the day, and Ogier took it from Dani and Kris. Elfyn was holding the Toyota driver though, with their battle over third place. Esapekka made a mistake though turning in too early to a corner and hitting a tree the result being that he would lose 10 seconds and fall behind Jari-Matti.
SS 7 – Las Minas (10,72 km) saw Dani drop out of the leading positions sadly after a very consistent run throughout the day. He didn't even start this stage after his i20 suffered some kind of electrical failure. A big shame indeed for Hyundai who were now down to just a single car, but way off the pace with Thierry a minute from the lead. Evans and Meeke were now in second and third!
SS 8 – V-Power Shell Stage 1 (2,33 km) was run twice to end the day's action. Nothing of note really happened in these, other than Ott Tanak moving into fourth place. Latvala retired before the stage, after his car refused to start.
CLASSIFICATION DAY 1 (Friday)
Ogier / Ingrassia (Citroen C3 WRC) 1h18'33"8
Evans / Martin (Ford Fiesta WRC) + 14"8
Meeke / Marshall (Toyota Yaris WRC) + 21"1
Tänak / Järveoja (Toyota Yaris WRC) + 37"1
Lappi / Ferm (Citroen C3 WRC) + 39"1
Neuville / Gilsoul (Hyundai i20 WRC) + 1'00"7
Let's hear from the drivers!
Citroën Total WRT
Sébastien Ogier (1st)
"It's clearly a very good day for us, in very difficult conditions. The level of grip was low, especially in the morning, but I enjoyed having traces. It was important to place well today, to tackle the longest day of racing tomorrow with a good starting order. However, it will now be well exploited and also be careful because I expect some particularly tricky portions, narrow and even brittle. "
Esapekka Lappi (5th)
"I am learning little by little to drive C3 WRC on this low grip terrain where I still lack experience and the times have gradually gone in the right direction. I am now expecting a lot of sweeping for the future, but my direct rivals will benefit from a better position on the track, but we will continue to fight to bring back the best possible result. "
M-Sport WRT
Elfyn Evans (2nd)
"It's been a good day out there – with the car and everything inside the car all working really well. It's not been the sort of day to be on the limit. It's been about staying clean, staying in the line, and trying to find the grip. It's been very slippery out there today, but it should be a bit faster with a bit more grip tomorrow.
"There are some really nice stages to come, but also some really demanding ones. It's a bit of a mix and you have to get it all right so I'm looking forward to the challenge. We've got to keep pushing because anything can happen and there is still a long way to go. We'll keep giving it our all and see what happens."
Teemu Suninen (DNF)
"We were driving cleanly, until we hit a big stone. We lost the front-right and spun into the side of the mountain. There was quite a lot of damage which means that we can't continue, but the main thing is that both me and Marko are okay."
Toyota Gazoo Racing WRT
Kris Meeke (3rd)
"I'm quite happy tonight to be in third place at the end of my first day on gravel in this car. We were missing a bit to match the speed of the leader, but we had no dramas and the car has been perfect for me technically. We had a lot of dust get inside at times which made it hard to see, but the car has been performing well. Tomorrow is a long day with tricky stages and demanding roads again. We are not far away from second place and we'll have a better road position than we did today, so let's see what we can do."
Ott Tänak (4th)
"I think we had a good day today. I did everything I could, I couldn't have done much more. I had a good feeling in the car all day, so it was quite enjoyable and I had the confidence to push hard. During the afternoon I had a few moments, so we were driving on the limit. Our road position for tomorrow could have been better, because it was set before we gained a place in the super special, but at least the conditions will be more equal with the drivers we are fighting. The gap to second place is not so big and I believe we will have a chance to get it."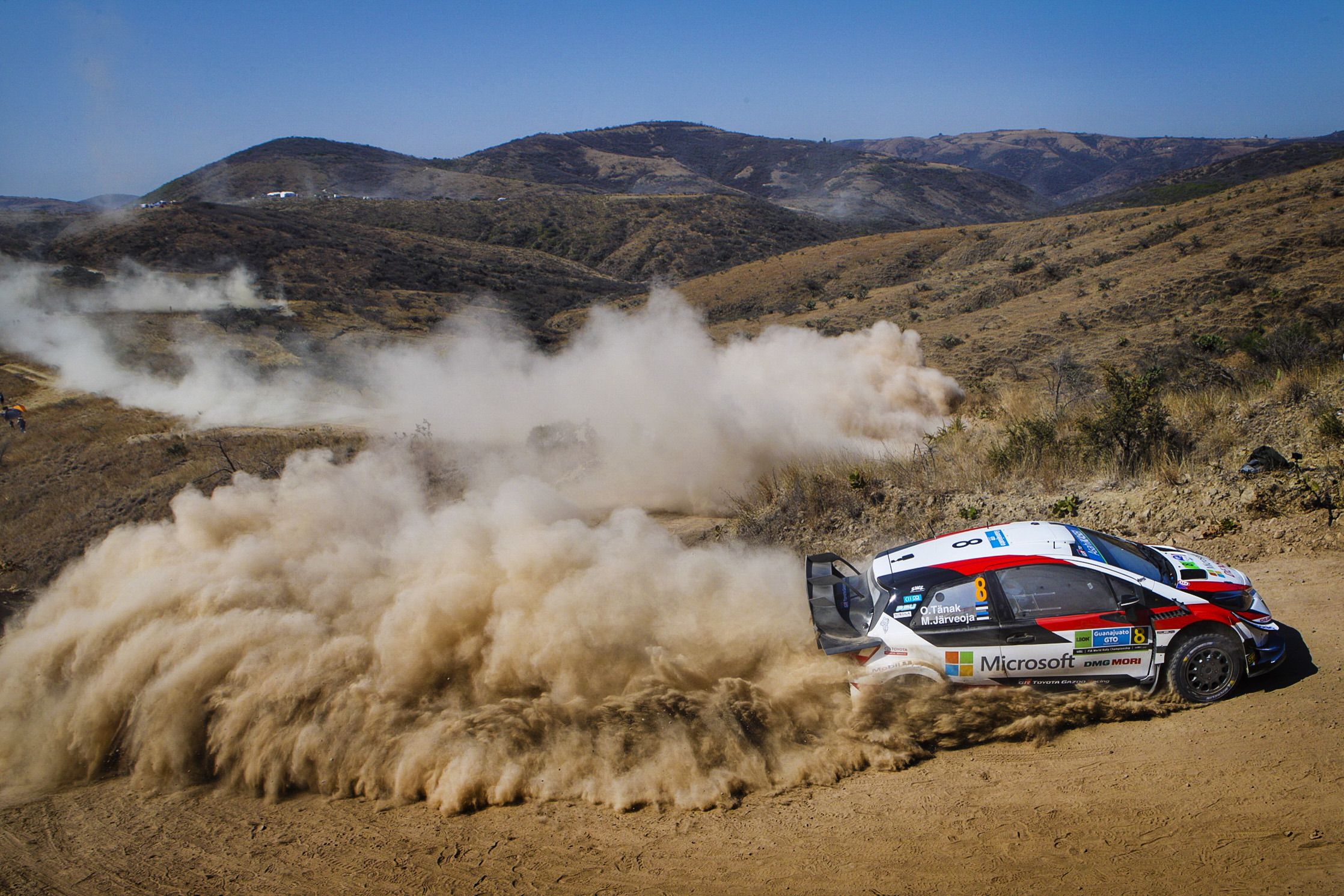 Jari-Matti Latvala (DNF/Rally2)
"I started too cautiously in the first stage this morning but then I started to get the rhythm and the car was working really well. It was getting better during the afternoon and we were up to fourth place. Unfortunately, the alternator stopped charging. We managed to do two more stages and the road section but we couldn't do the last two super specials. It is frustrating for this to happen, but this is how things go in motorsport sometimes. We just need to look forward and keep fighting for the rest of the weekend."
Hyundai Motorsport
Thierry Neuville (6th)
"The puncture this morning ended any real hopes we had of a positive weekend here in México. We could not hide our disappointment from the situation but still did all we could to catch up some places as the day progressed. About 5 or 6km into the stage we nearly went off trying to avoid some big stones and we hit one, which caused the puncture. There was nothing we could do. On these gravel stages, road position plays an important role and unfortunately, we aren't going to benefit much as this weekend progresses. Of course, despite the huge frustration, we will never give up."
Dani Sordo (DNF/Rally2)
"It has been a welcome return to the WRC for myself and Carlos. We hoped to fight near the front from the start, and we were able to do that for much of the day. I felt immediately comfortable in the Hyundai i20 Coupe WRC and we set some very strong stage times. Running in second overall, just four seconds from the lead, we picked up an electrical issue after the Ortega stage. We had to stop on the road section to try and fix the problem but there was no chance. We had the genuine opportunity for a strong podium result here – and who knows what else – but that's no longer possible, which is a really a shame for the whole team."
Andreas Mikkelsen (DNF/Rally2)
"We had a positive morning, but the afternoon could not have been a starker turnaround in fortunes. We wanted to get a good start, and we did just that. We knew that the El Chocolate stage would play an important role; the longest stage of the day and one that everyone knows well. Still, it changes a bit each year but we put a lot of effort into getting it right – and we were rewarded with a stage win in the morning loop. We were in the rally lead, and fighting hard, but in the repeat of El Chocolate I hit a stone. We got a puncture so we changed the tyre but we could only continue for 10km before the suspension broke due to the impact with the rock, and in the end, we were forced to stop."
Saturday
A much longer day awaited the crews, with 138.37km of action! The start list looked like this – Mikkelsen
Sordo, Neuville, Tänak, Lappi, Latvala, Meeke, Evans, Ogier.
Now there was a controversial start to the day with SS 10 – Guanajuatito 1 (25,90 km) getting a red flagged. Esapekka Lappi went off the road. He was setting some fast splits earlier, but slid off the road. Meeke and Evans both finished the stage, with Kris setting a time 19 seconds faster than anyone else! Ogier was next in to the stage and just as Elfyn finished, that is when the stage was red flagged, as it was considered that Esapekka was stopped in a dangerous position. Also, Seb completed the stage having gained a puncture, after hitting some rocks on the stage. Now, all the times from this stage were deleted. I'll cover the details about this later, but it's fair to say if these things had not been changed, Kris Meeke would have been the new rally leader, with Elfyn in second place. Ogier at that point would have been fourth, 51 seconds from the lead.
The next stage SS 11 – Otates 1 (32,27 km), and there was a decision made to increase the time gap between the cars to four minutes. Jari-Matti took his first stage victory of the weekend. Sadly, Kris had a problem and dropped a minute and thirty-three seconds, after getting a puncture. He was now in fifth place. Meantime, Seb had got very lucky with the red flag in stage 10, as he was given a notional time for the stage and that did two things. First of all, the notional time was faster than Elfyn's and also meant that kept him in the lead. It was odd that they'd done this, as Elfyn had been faster earlier in the stage.
The shorter SS 12 – El Brinco 1 (8,13 km) stage saw Seb and Jari-Matti share the fastest time, with Thierry just three and a half seconds slower with the third best time. There was now a fight between Elfyn and Ott developing over second place, and the Welshman was holding the Estonian at bay, the gap at 20 seconds.
Another stage victory for Seb followed in SS 13 – Guanajuatito 2 (25,90 km), with Elfyn increasing the gap to Ott by a little in their battle for runner up. Thierry was kind of in no-mans land with a two-minute gap over Kris, and 45 seconds behind Ott.
SS 14 – Otates 2 (32,27 km) saw the gap between Ott and Elfyn reduce to just six seconds after the Toyota driver took sixteen seconds out of the Welshman's lead. Seb now had a half minute lead over Elfyn.
The repeat of SS 15 – El Brinco 2 (8,13 km) saw Seb increase his lead further, and with Ott winning the stage, he would close a little more on Elfyn, the gap between them reducing a further two seconds!
To finish the day, SS 16 – V-Power Shell Stage 3 (2,33 km) and SS 16 – V-Power Shell Stage 4 (2,33 km) saw Ott and Elfyn set the same time on the first run through and then Elfyn would increase the gap by three seconds on the second run.
The SS 18 – Street Stage Leon 2 (1,11 km) saw Dani come to the fore, winning the stage, with teammates Thierry and Andreas, but it was the gap between Ott and Elfyn that held our interest, with just 2.2 seconds between them!
STANDINGS AFTER DAY 2 (Saturday)
Ogier / Ingrassia (Citroën C3 WRC) 1:18:33.8
Evans / Martin (Ford Fiesta WRC) +27.0
Tänak / Järveoja (Toyota Yaris WRC) +29.2
Neuville / Gilsoul (Hyundai i20 WRC) +1:15.7
Meeke / Marshall (Toyota Yaris WRC) +4:37.1
Guerra / Zapata (Skoda Fabia R5) +12:06.0
Bulacia Wilkinson / Cretu (Skoda Fabia R5) +15:39.6
Latvala / Anttila (Toyota Yaris WRC) +16:32.4
Let's hear from the drivers!
Citroën Total WRT
Sébastien Ogier (1st)
"It was a long and difficult leg, which started with a puncture and finished with a minor technical issue at the very end, but overall, we drove well. I'm delighted to finish today's leg with an increased lead, and I trust my team to make sure the C3 WRC is back in perfect working order for tomorrow. Because we need to finish the job and score maximum points."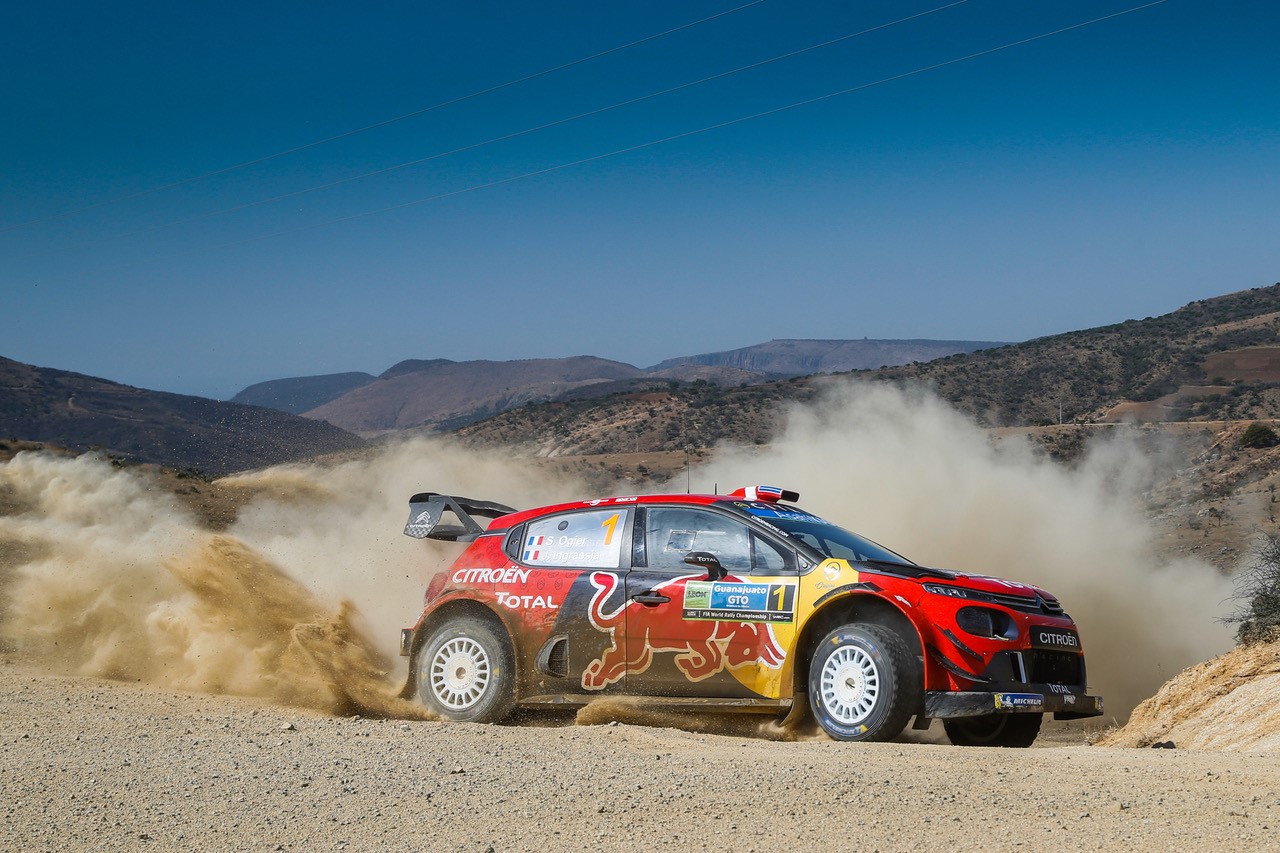 Esapekka Lappi (DNF/Rally2)
"I came into a tight, downhill left-hand corner and it was more slippery than I had anticipated. I ran wide and the car was left balanced at the edge of the road, in the ditch. There was no damage to the car, but we were stuck and had no chance of getting going again. Obviously, I'm sorry for the team, but the main thing is that I have learned a lot at this event, a lot more than last year. I'm starting to understand how you need to drive here and I'm going to try and keep adding to my experience tomorrow."
M-Sport WRT
Elfyn Evans (2nd)
"It was a pretty good morning for us and a good start to the afternoon, but I was disappointed to have given so much away to Ott [Tänak] on the second pass of Otates [SS14]. I was pushing quite hard, but I just couldn't get comfortable and didn't have the feeling to go much faster.
"The gap isn't particularly big right now and there'll be a big fight tomorrow, but if we have a good run, I'm confident that we can get the job done. You still have to drive quite smart to be fast here, but at the end of the day we want that second place and we're going to fight for it."
Toyota Gazoo Racing WRT
Ott Tänak (3rd)
"We've had a good day today. In the morning there was still quite a lot of loose gravel on the stages, but we managed to have a clean loop. This afternoon was our opportunity to fight and we managed to take some time back. The surface was constantly changing and the grip was unpredictable, so it wasn't easy. It looks like it will be interesting tomorrow: We have something to fight for and I'm really looking forward to it."
Kris Meeke (5th)
"I really enjoyed the first stage this morning, we had really good speed and we took the lead of the rally. Unfortunately, in the second one I picked up a puncture. I decided to continue, which was probably the correct decision in terms of time, but it damaged something in the rear suspension which I had to carry into the next stage. To drop to fifth and have nothing much to fight for was disappointing, but it's important to hold on to these points and score a strong result for the team."
Jari-Matti Latvala (8th)
"Overall, I'm happy with today. Compared to yesterday, the performance was much better. We made some small changes to the car and this helped, particularly coming out of the slow corners. Our total stage times have been close to the leaders so I can be satisfied with that. We are now up to eighth place and I think there is a good chance to get seventh tomorrow if we keep going with the same speed that we had today. I would like to get some Power Stage points too – that will be important for the championship."
Hyundai Motorsport
Thierry Neuville (4th)
"Our road position today has been slightly more advantageous with two cars running ahead of us rather than one, but it has still been far from an ideal situation. We knew we couldn't do more in terms of our own performance, so we just drove and tried to enjoy the stages while taking care to avoid punctures. Yesterday we felt like we had no force to fight with the others, but today we were able to drive fast. After the morning loop we knew we were unlikely to catch any more positions, so we just watched to see what happened ahead of us. The afternoon was an improvement. Our car tends to respond well and perform better when the roads are more rutted. When the surface is harder, it is more slippery. We have three more stages to survive and see what we can salvage from this weekend."
Dani Sordo (10th)
"We have done all we could have in some very tricky conditions. At times this morning there was a lot of dust hanging in places during the stage, which made driving that bit more difficult. We made some set-up changes during lunchtime service and I was happier with the car in the afternoon. Still, we struggled for traction with the hard tyre in the repeat of Otates, so it wasn't easy. Seeing the performance of our colleagues has given us motivation to push, along with the fantastic support of the fans, so we will see what we can achieve on the final morning."
Andreas Mikkelsen (11th)
"If there's a time and place when you don't want to be first on the road it is Saturday in Mexico – there has definitely been lots of cleaning today. Even considering that handicap, there are positives to take away. Our times have not been too bad and I have been quite happy with our performance overall. The result is gone but we've tried to enjoy the driving and to keep our motivation high. We've been able to explore some different things on the car for use in the future. The most unusual moment of the day came at the start of the afternoon loop when we arrived at a closed gate mid-stage. Thankfully we had 'Anders the Gate Opener' on hand to open the road in the most literal sense. It was one of those bizarre situations that perfectly illustrates the frustration of our Rally México."
Sunday
Well, with three stages still to run on Sunday, totaling 60.17km, we had the battle between Elfyn and Ott to watch and enjoy! The start list looked like this – Lappi, Mikkelsen, Sordo, Latvala, Meeke, Neuville, Tänak, Evans, Ogier.
SS 19 – Alfaro (21,01 km) got the action underway! Top three was Ott, Seb and Thierry. Kris Meeke was taking it easy, losing time but looking to the final stage and some power stage points. In the battle between Ott and Elfyn with the M-Sport driver setting the fourth fastest time, he'd fall behind Ott, but the gap was still very small at just two seconds between the former teammates.
SS 20 – Mesa Cuata (25,07 km) and Ott flew through the stage, increasing the gap a further five seconds over Elfyn. However, this was no capitulation from the Welshman, who was holding his own and driving brilliantly. Seb was second quickest. Kris Meeke was still taking it easy. He had other ideas. His plan was to win the power stage.
The final one, SS 21 – Las Minas Power Stage (10,72 km)… Early pace setter Esapekka saw his time eclipsed by Dani, but it was Kris who really set the stage on fire with a time that was five seconds faster, but it was Seb Ogier in the end that took the stage victory, narrowly beating Kris' time by one tenth of a second. Incredible. Those taking extra points were Ogier, Meeke, Neuville, Sordo and Lappi.
FINAL STANDINGS
Ogier / Ingrassia (Citroën C3 WRC) 3:37:08.0
Tänak / Järveoja (Toyota Yaris WRC) +30.2
Evans / Martin (Ford Fiesta WRC) +49.9
Neuville / Gilsoul (Hyundai i20 WRC) +1:27.0
Meeke / Marshall (Toyota Yaris WRC) +6:06.2
Guerra / Zapata (Skoda Fabia R5) +15:35.5
Bulacia Wilkinson / Cretu (Skoda Fabia R5) +18:51.5
Latvala / Anttila (Toyota Yaris WRC) +18:55.9
Sordo / Del Barrio (Hyundai i20 WRC) + 22:44.1
Let's hear from the drivers!
Citroën Total WRT
Sébastien Ogier (1st)
"Mexico is definitely a special place for me and I'm especially pleased to secure this fifth win here and take maximum points for the championship! That was what we came for, and although it wasn't a trouble-free weekend, we managed it well from start to finish. The potential I saw in the C3 WRC continues to be borne out. It enabled us to be top performers this weekend. It's now up to us to keep working hard because the championship looks set to be even closer than ever before. In the meantime, I would like to thank the team for the great job done this weekend! We'll now head for Corsica looking for a similar outcome."
Esapekka Lappi (14th)
"I'm pleased to have learned how to drive on this specific surface with my C3 WRC and to have equally made progress in understanding the tyre strategy for these stages. We're now going to concentrate on the Tour de Corse, with the intention of getting back among the frontrunners."
Toyota Gazoo Racing WRT
Ott Tänak (2nd)
"It has been a good weekend. This has been a very demanding event: tough for the car, tough for the tyres and tough for the drivers inside the car. I believe we managed it well and I'm really happy to make it through without mistakes or problems. It really shows how strong we are. I had a puncture on the Power Stage, so there was nothing I could do there, but the first two stages were good and we managed to get the second place. It's been a good start to the championship with three podiums from three rallies, and it would be great if we can carry on like this."
Kris Meeke (5th)
"We were in a secure fifth place in the overall standings, so we had to balance protecting that with a push in the Power Stage. I saved my tyres through the first two stages, which I think was the right strategy. I then gave it everything in the Power Stage, while still making sure to bring home the fifth place. It's been a tough rally for me after the puncture while we were leading, but to come away with 14 points is still positive. For the team and for the manufacturers' championship it's been a really strong rally."
Jari-Matti Latvala (8th)
"I don't think I've ever fought so hard to get four points! At the end of the second stage of the day, we hit some bedrock with the sump guard. We thought we had no chance to continue but I said we can't give up at this point. The sump guard was only half-fixed so I couldn't drive fast in the Power Stage, and we were late into the time control so we lost seventh place by four seconds. But at least we made it to the end. There have been a lot of things happening this weekend, hopefully the next rally will be a bit calmer!"
M-Sport WRT
Elfyn Evans (3rd)
"It's a good result, but I can't help but feel a little disappointed because second place should have been on the cards this weekend. Unfortunately, there were just a couple of things that cost us quite a lot. That second pass of Otates cost us pretty dearly, and then we made the wrong call on the tyres this morning.
"That said, it was still a good weekend and there are a lot of positives to take away. We didn't make a single mistake and we've collected some good points that will give us a better road position in Corsica. Most importantly, we can see that we've made some good changes to the car and we'll work hard to build on that throughout the year."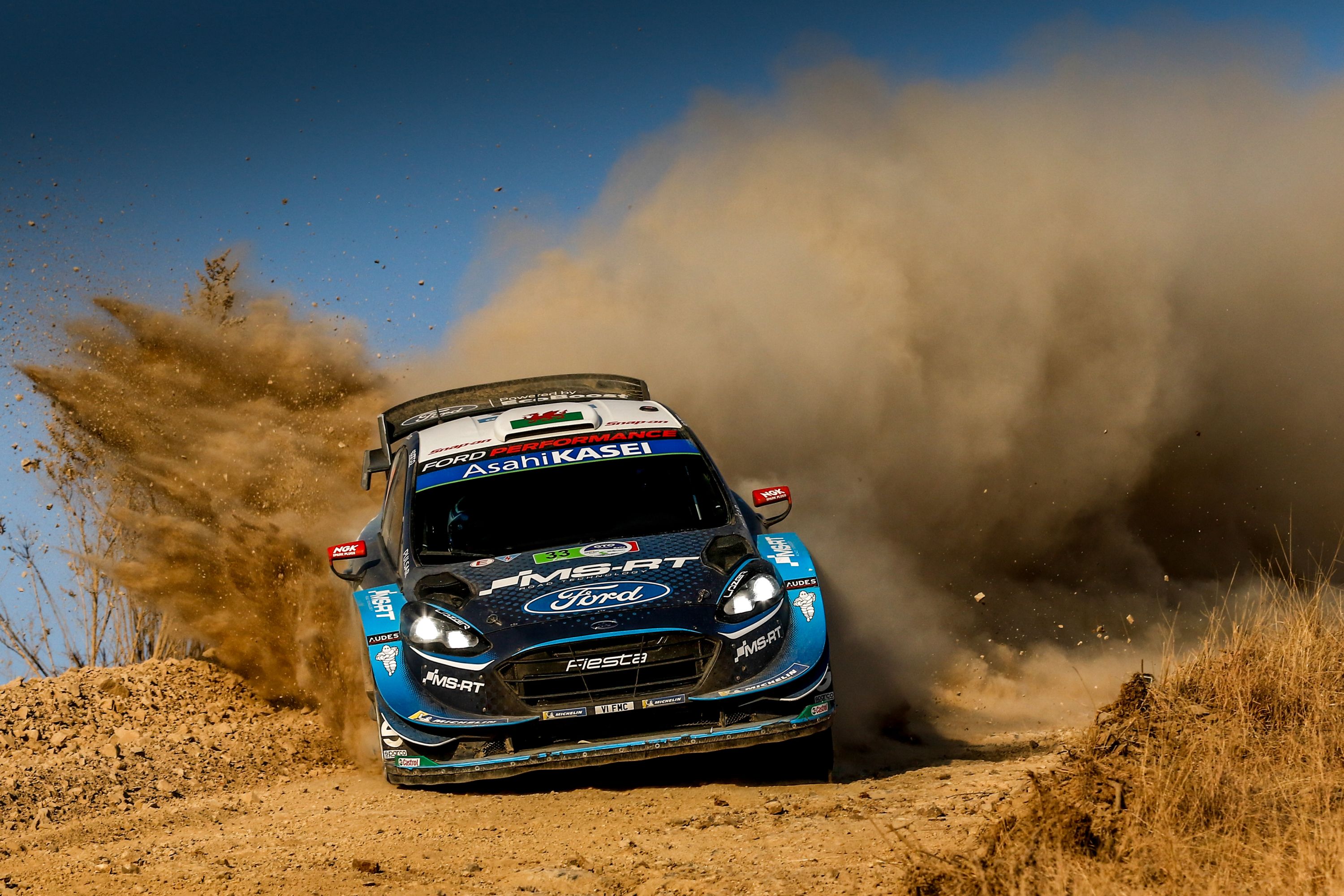 Hyundai Motorsport
Thierry Neuville (4th)
"That was not the weekend we wanted. From the puncture early on Friday morning, and with our road position, it has been a really challenging event from start to finish. We have been missing some speed at times and generally struggling. I felt I was driving on a good rhythm but we weren't on our usual pace. Today, I tried to keep a good rhythm in case something happened to the guys in front but that meant we didn't have enough tyre performance left for the Power Stage, unlike some of our rivals. We have to put this rally to one side and re-group ready for Corsica."
Dani Sordo (9th)
"Our aim for today was to drive within our limits and to pick up some manufacturers' points, which are so important for the team. At the start of the Power Stage, I was enjoying the car so we gave it a bit of a push but nothing too crazy. I have had fun driving the stages this weekend, and the support from the crowds has been amazing, even if the end result was not what we could have achieved. We were fighting at the front on Friday until our problems so the potential is definitely there. We'll be back stronger at the next rally in Corsica."
Andreas Mikkelsen (11th)
"It's easy to dwell on the missed opportunities this weekend, but it is important that we look at the many positives. The i20 Coupe WRC performed much more to my liking on these gravel stages, and that was reflected in our competitive stage times on Friday. Obviously, we weren't able to fight for the sort of result we were capable of scoring but that's rallying sometimes. The final day was clean and we had a decent run through the Power Stage. It was my first attempt at Las Minas as I missed out on Friday afternoon. It wasn't perfect but another useful lesson."
Summary
Now, there you have it! A second victory for Citroen this year and their eighth in Mexico! Ott's drive to second place was incredible and has kept him in the championship lead. Finally, Elfyn and Scott's first podium together, coming at an event that neither of them had stood on the podium before. A very consistent drive had rewarded them with a great result which has lifted them into fifth place in the championship. Both Dani Sordo and Kris Meeke could have also stood on the podium, but they both suffered misfortunes that were not of their doing. Early leader, Andreas had a good event until disaster struck, not least the closed gate that Anders had to open! Another driver that went well was Jari-Matti, who did have a good event, but was hampered again with reliability from his Yaris.
Next up is Tour de Corse. Held over the weekend of the 28th to 31st of March. The first fully tarmac event of the year, meaning the closer you are to the leader, the better the road conditions for you.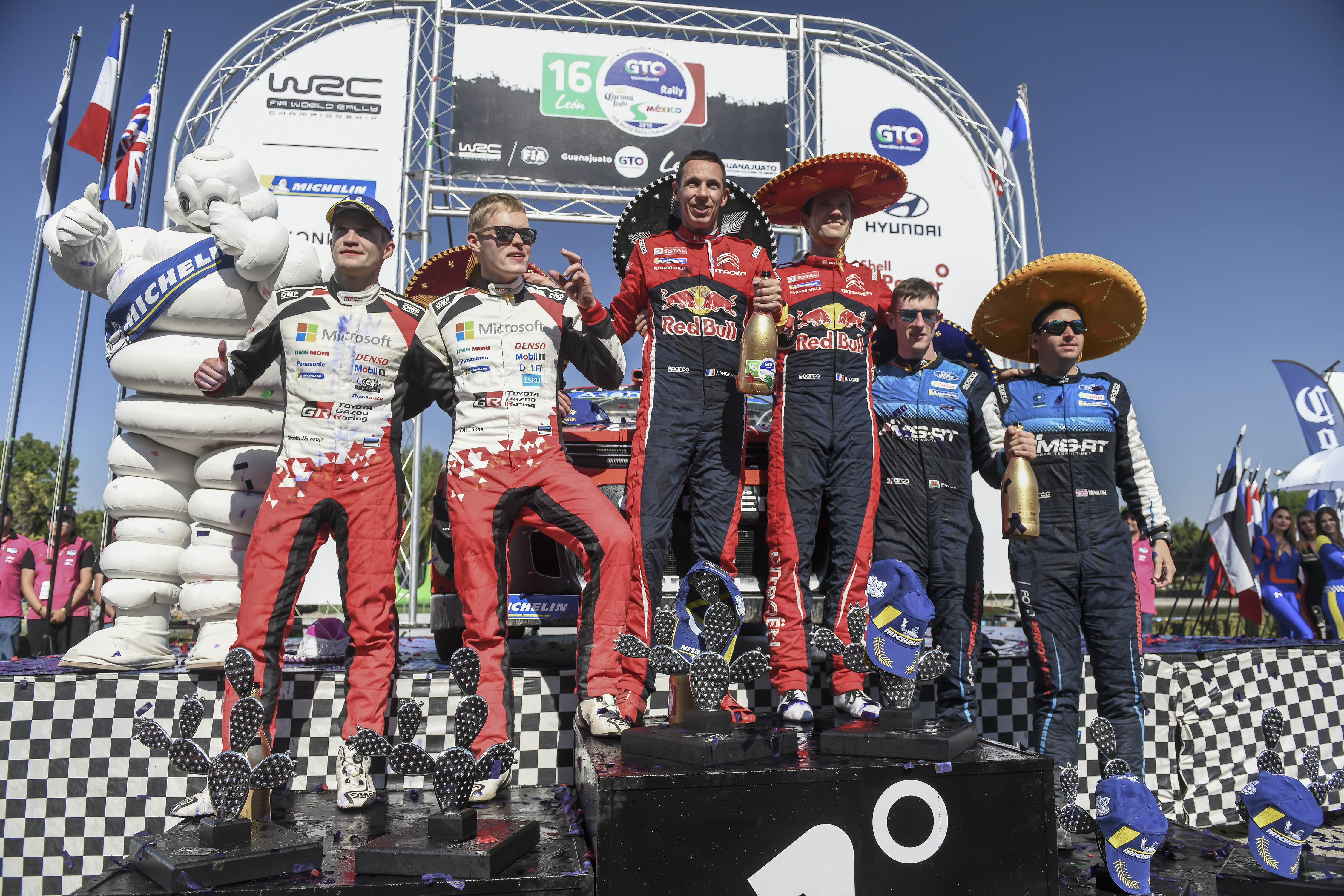 DRIVERS' WORLD CHAMPIONSHIP
Ott Tänak – 65 points
Sébastien Ogier – 61 points
Thierry Neuville – 55 points
Kris Meeke – 35 points
Elfyn Evans – 28 points
Esapekka Lappi – 20 points
Sébastien Loeb – 18 points
Jari-Matti Latvala – 14 points
Andreas Mikkelsen – 12 points
MANUFACTURERS' WORLD CHAMPIONSHIP
Toyota Gazoo Racing – 86 points
Citroën Total WRT – 78 points
Hyundai WRT – 77 points
M-Sport Ford WRT – 45 points