Not only did they take their sixth victory, it was Citroen's 100th WRC victory. Poignant given the manufacturer is celebrating it's 100th year since their first car was released.
Here's the story of how it all came together.
Thursday evening after shakedown, saw two-night stages and they totalled just over 40km's. There were some really tricky ice-covered parts, which meant that studded tyres were the way to go.
SS 1 – La Breole – Selonnet (20,76 km) was first up and we saw the world champion take care, setting the third fastest time, with Ott and Kris ahead in their Yaris WRC cars. Ten seconds covered the top three, with Loeb a further thirteen seconds back in fourth, making his first start in the i20. Elfyn also was going well, with Scott Martin alongside him sitting in sixth, it's great to see two drivers from the UK going so well near the head of the field. Sadly, Teemu and Marko slid out on the first stage, after around three kilometres, but with overnight service, they would be able to return to the action on Friday.
SS 2 – Avançon – Notre Dame du Laus (20,59 km), saw some changes, with Thierry setting the fastest time and jumping up to third overall. Just behind him were the usual suspects of Ogier and Tanak, his rivals from last season. Sadly, Kris lost a minute in the stage, falling to seventh overall after he got a puncture. Elfyn maintained his sixth place, despite Lappi and Latvala passing him and moving into fourth and fifth.
STANDINGS AFTER DAY 1 (Thursday)
Tänak / Järveoja (Toyota Yaris WRC) 26:33.0
Ogier / Ingrassia (Citroën C3 WRC) +9.1
Neuville / Gilsoul (Hyundai i20 WRC) +14.3
Lappi / Ferm (Citroën C3 WRC) +45.2
Latvala / Anttila (Toyota Yaris WRC) +46.4
Evans / Martin (Ford Fiesta WRC) +48.2
Meeke / Marshall (Toyota Yaris WRC) +53.8
Loeb / Elena (Hyundai i20 WRC) + 55.2
Mikkelsen / Jaeger-Amland (Hyundai i20 WRC) +59.6
Tidemand / Floene (Ford Fiesta WRC) +1:41.1
Toyota Gazoo Racing WRT
Ott Tänak (1st)
"It was a tough start to the rally tonight, as we were expecting. There were some extremely tricky and changeable conditions on the first stage, but I had a really good feeling in the car. It was still quite easy to feel the grip changes and this gave me good confidence. The second one was mostly dry asphalt which was a challenge with a mix of tyres, but we had a good run. Overall, I still think our tyre choice was the right one. Tomorrow will be a long day and we will be expecting more of the usual Monte challenges."
Jari-Matti Latvala (5th)
"It was very challenging conditions this evening, in the darkness with a mix of ice and damp patches. When the conditions are difficult like this the time differences can be quite big. In the first stage I lost a lot of time as I wasn't that confident. I didn't have those type of conditions in my test, so I was missing the feeling. But we got through and that's the most important thing. Tomorrow is another day and things can change very quickly in this event, so we need to be patient."
Kris Meeke (7th)
"It was a tricky start to the rally with changing conditions, but I felt really confident with the car, I had a good feeling. On the second stage it was drier but it still felt nice to drive. Then for some reason we got a puncture. I don't believe we hit anything. But we can't let that get us down so early on a Rallye Monte-Carlo. I'm enjoying it and I'm confident in the car, so let's see what the rest of the weekend brings."
Citroen Total Racing
Sébastien Ogier (2nd)
"For my first two stages in the C3 WRC, clearly I'm pleased with the outcome, especially in these conditions. Perhaps I was bit too cautious on the first stage, but it's difficult to really go for it when you are driving a new car competitively for the first time. But I certainly produced a decent time with the studded tyres on the second stage. I think that I made an intelligent start to the rally."
Esapekka Lappi (4th)
"It was easy to make a mistake on tonight's opening two stages, especially on SS1. I probably thought about that prospect a little too much and ended up being too cautious. We played it safe on the set-up as well. It was perhaps a little too soft. However, the confidence gradually came on SS2 and although there are already big gaps between the crews, I'm right in the mix, especially as there's still a long way to go and plenty of things can happen yet!"
Hyundai Motorsport
Thierry Neuville (3rd)
"We have started our season with the right mentality, trying to find our own direction and going with our feelings. The tyre choice this evening was a compromise. With the information we had, we felt we made a good choice, and at the end it was OK. I was perhaps expecting to gain more time on the second stage in the dry conditions but we didn't, which was a shame. But it's not too bad considering it's so early in the rally. We will see what the weather does tomorrow and aim to stay in the fight for the win."
Seb Loeb (8th)
"It has been good to make our debut as a Hyundai Motorsport crew, even if it was a tricky start. The opening has not been too bad, even if it is not easy to start in the night and in icy conditions. The first stage went OK but we didn't select the best tyres for the second one and we suffered as a result of that. We perhaps underestimated the performance gap between the slick tyres and four snow tyres. We made it to the end and that's the most important thing. Tomorrow, our aim is to get into a good rhythm on the slicks and take it from there."
Andreas Mikkelsen (9th)
"A typically tricky start to Rallye Monte-Carlo! In the opening stage, about 1km from the finish, I thought the stage had ended and I started to back off. It was a silly mistake that cost us time. Other than that we just took things cautiously. The second stage was completely dry and we were on four winter tyres: we were sliding everywhere. We could have opted for crossed tyres but I don't have much experience with this car in such conditions. We did the best we could."
M-Sport WRT
Elfyn Evans (6th)
"It's been a typical start to Rallye Monte-Carlo with some really challenging conditions. We could have gone harder for sure, and I was kicking myself in a few places, but we delivered a clean run and are in a reasonably good position going into tomorrow – which is always the most important thing."
Pontus Tidemand (10th)
"This car is amazing to drive, so I have to be clever and stop myself from pushing too hard! I really want to take the maximum, but I have to be careful as I need the experience from this rally and want to learn as much as I can."
Also going well was Gus Greensmith.
Gus Greensmith (1st WRC 2 Pro)
"That was a proper start to Rallye Monte-Carlo and I now understand why Malcolm [Wilson, M-Sport Managing Director] kept telling me to come and do this rally! The conditions were extremely tricky and even though we weren't fully committed, we made it through. We'll step it up tomorrow and aim to get back on the good pace we showed in shakedown."
Friday would see the longest day, but unfortunately the problem with spectators in the wrong places on stage, meant that stage three – Valdrome – Sigottier 1 (20,04 km), the first on Friday morning, would be cancelled. These individuals should really think about what they are doing, as they are really spoiling the event for those who are doing the right thing.
The action therefore would start on SS 4 – Roussieux – Laborel 1 (24,05 km), and Seb Loeb took his first stage victory for Hyundai, with Thierry and Seb Ogier in second and third, rueing the fact he was on studded tyres. The Belgian was now leading and its fair to say that Hyundai had made the best tyre choice, with Loeb and Mikkelsen moving up the leaderboard as well.
Seb Ogier hit back in SS 5 – Curbans – Piegut 1 (18,47 km), winning the stage and passing Ott and moving into second place again, whilst further back Andreas and Jari-Matti jumped up to fifth and sixth, passing Lappi, Evans and Meeke, who were now in seventh, eighth and ninth overall.
Ogier also won SS 6 – Valdrome – Sigottier 2 (20,04 km), despite his tyre choice meaning he'd struggle with the car. In fact, Latvala set exactly the same time, so they shared the stage victory. By contrast, Esapekka hit trouble unfortunately breaking his suspension on a rock. This would result in the Finn having to retire from the rest of the day's action. Thierry's lead over the Frenchman was now just 1.4 seconds. Loeb, dropped a lot of time, with the result he'd fall from fourth to seventh, with Andreas, Jari-Matti and Kris all benefitting, moving ahead of the nine-time world champion.
Loeb won SS 7 – Roussieux – Laborel 2 (24,05 km), from Evans and Ogier and with Thierry a further 14 seconds behind, and Ogier took the overall lead. Loeb's fastest time moved him up to third place as well, whilst Evans' great time, meant he moved up into sixth place. Both Tanak and Meeke suffered drama's losing huge time to the leaders and now Toyota's best placed driver was Jari-Matti in fifth place, just seven seconds behind Mikkelsen.
The final stage of the day, SS 8 – Curbans – Piegut 2 (18,47 km), saw Thierry throw caution to the wind, winning from Tanak and Latvala, and with Ogier taking it carefully, after having no studs left in his tyres, and a super slippery stage, the Belgian reduced Ogier's lead by twelve seconds! Also going well were Andreas and Jari-Matti who both moved up ahead again of Loeb, with Andreas now in third overall.
STANDINGS AFTER DAY 2 (Friday)
Ogier / Ingrassia (Citroën C3 WRC) 1:37:17.3
Neuville / Gilsoul (Hyundai i20 WRC) +2.0
Mikkelsen / Jaeger-Amland (Hyundai i20 WRC) +1:17.7
Latvala / Anttila (Toyota Yaris WRC) +1:25.1
Loeb / Elena (Hyundai i20 WRC) +1:25.9
Evans / Martin (Ford Fiesta WRC) +1:47.5
Tänak / Järveoja (Toyota Yaris WRC) +2:34.9
Meeke / Marshall (Toyota Yaris WRC) +5:33.0
Citroen Total WRT
Sébastien Ogier (1st)
"Obviously, I'm pleased to end the day leading the rally after another really difficult day, where there were some really significant changes in the conditions and the rhythm from one stage to the next. We perhaps didn't have the ideal tyre set-up for this afternoon, but we nonetheless managed to cope with that. I'm driving with confidence in the C3 WRC and our strategy of taking an intelligent approach to the rally has paid dividends thus far, since we haven't made any mistakes at all. I'm going to try and keep it up, especially as tomorrow's leg looks set to be very tricky again, particularly on Saint Léger Les Mélèzes – La Batie Neuve."
Esapekka Lappi (Rally2)
"Like several other crews, our tyre strategy was seriously compromised this morning when the first stage was cancelled as it had more or less dictated our choice of going with four studded tyres. Then at the start of the afternoon, I hit something hard on a corner, probably a rock. It immediately broke the suspension wishbone and we were unable to repair it. It's obviously a shame but we'll now look to use the rest of the rally to continue to get used to the C3 WRC. We might even try out a few set-up options that we wouldn't have dared to attempt under normal circumstances."
Hyundai Motorsport
Thierry Neuville (2nd)
"What a day! We had a good morning loop. The first stage was cancelled but we made the right tyre choice, and could catch some time back. Everything worked well: I was happy with my driving the pace notes were really good and I was confident in the car. Tyre choice has been key all day, as is to be expected at this rally. The start of the afternoon loop didn't go as planned, as we approached a corner too fast and had to use the escape road. We lost around 19 seconds of time, which was frustrating because that mistake cost us the chance to hold the lead. We kept pushing hard and finished the day with a stage win to reduce the gap to Ogier. It certainly makes for an exciting rally! Thanks to our gravel crew for a great job today, which has allowed us to attack with full confidence. There's still room for improvement."
Andreas Mikkelsen (3rd)
"I am pleased to be in the provisional podium positions after another tough day. It is easy to make mistakes in these conditions so I am pleased to have had a clean and relatively competitive day. Tyre choice has been tough for everyone. We were helped with the cancelled stage first thing this morning but in the end, things turned out well. In the afternoon, it was hard to tell where we would compare with so many tyre variations being deployed. It's a bit of cat and mouse in this rally, where you have to work out where you can find the advantage, or minimise the disadvantage. I think we've done that well today. We're only halfway through the stages, so there's a lot of hard work still ahead of us."
Seb Loeb (5th)
"It has been good to secure my first stage wins in the Hyundai i20 Coupe WRC. It's not so easy to win stages in the World Rally Championship so this is a nice feeling. We've had a pretty good day overall. We are at least still in the game, even if it's not for the victory. In the opening loop, we opted for slick tyres, so we were helped by the first stage being cancelled. In the afternoon, it was a similar situation where we knew we would lose time on the first stage but then gained back in the others. The feeling in the car has been encouraging so we aim to continue with this rhythm on Saturday."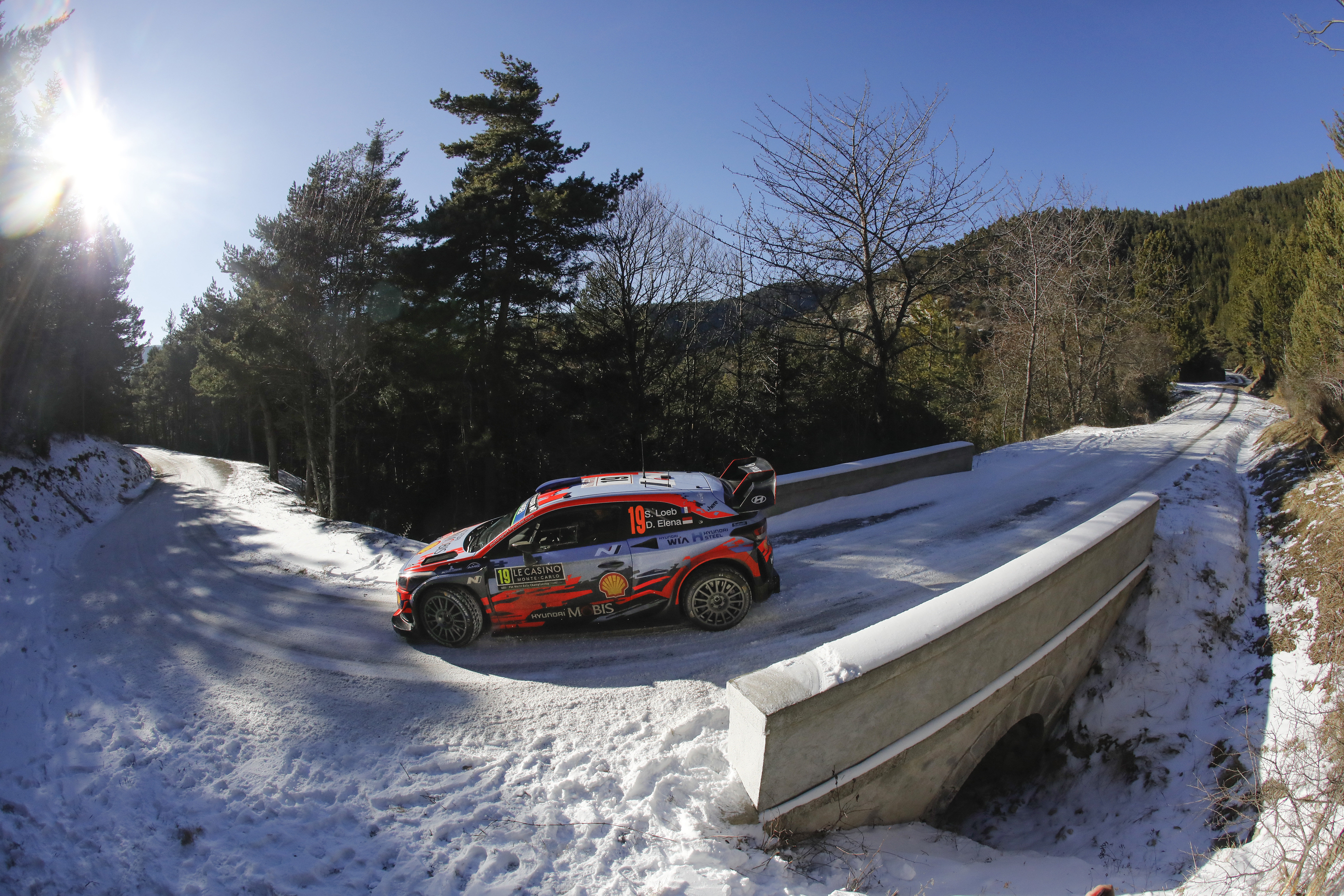 Toyota Gazoo Racing
Jari-Matti Latvala (4th)
"Overall, I must say it was quite a positive day. I think we had a good strategy for this morning, but when they cancelled the first stage it affected us quite significantly. Still, I started to get a good feeling with the driving. This afternoon we played it safe and ran with four snow tyres on two of the stages. On SS7 we had a mix of tyres and I was maybe a bit too careful, but SS6 and SS8 on the snow tyres both went well and in general I'm happy. It's good to be in the fight for the third place on the podium."
Ott Tänak (7th)
"It has generally been quite a challenging day. This morning our strategy was based mainly on the first stage, so the cancellation meant that we no longer had a good tyre choice for the loop. This afternoon, the first stage was quite tricky with a mix of snow, slush, and dry road. Then on the next one we had a puncture, so we had to stop and change the tyre. The last stage was more of a consistent run for us. There is still a long way to go and we will do everything we can."
Kris Meeke (8th)
"Our road position today was not ideal the drivers ahead were pulling lots of mud out onto the road, which was making it very slippery for me but we could still set some good times and gain some positions. Unfortunately, we then had the damaged wheel rim and we had to stop and change it. Nonetheless, I am really enjoying the driving after nine months away, and with a bit more luck we could be sitting in a podium place. Now we're relying on others having problems, but we're looking forward to what's to come."
M-Sport WRT
Elfyn Evans (6th)
"We had a pretty good day behind the wheel, but were maybe just a little bit too brave on the tyre choice this afternoon. It's all part of the game and it was certainly nice to get a feeling for the car on pure Tarmac with full Tarmac tyres again [on SS7]. The rest of the day has been pretty tricky and we lost a bit too much time on the icy sections, but that's what this rally is all about. We're still here, and we'll keep at it tomorrow."
Teemu Suninen (22nd / Rally 2)
"Of course, I always want to be faster, but I think we have had a good day getting through all of the kilometres and learning a lot about this rally. We took four slick and two studded tyres this afternoon which might have been a bit of a risk. On the first stage there was a long snow section – about seven or eight kilometres – and we lost a lot of time there; but on the other hand we were fourth fastest on the next stage where I would say we had the best possible tyre choice."
Pontus Tidemand (40th / Rally 2)
"On the inside of a corner I was just following the line, but there was something there and it broke the wishbone. I don't know what it was, but it was the same corner where Esapekka [Lappi] also had some damage. Before that the pace was getting better and better. It will take some time to get there, but I felt like everything was going in the right direction. For sure we are just here to learn, and we plan to continue that tomorrow."
Gus Greensmith (1st WRC 2 Pro and 1st RC2)
"We had a bit of a tricky morning with some overheating issues which meant that we couldn't always run in full stage mode. We lost a bit of time there, but we were still able to reduce the gap to class-leader Bonato. "This afternoon we decided to take quite a risky tyre choice with four slick and two snow tyres. We knew we would lose time on the first stage [SS6] and we lost 22 seconds to Bonato in there. But on the next one [SS7] we were able to take back 36 seconds, and on the last one [SS8] we pulled back 29 which means that we now have a six second class lead going into tomorrow. "The car feels really good, I feel really good, and we just need to keep doing the same thing tomorrow."
Saturday
Saturday started much better, with no cancelled stages. SS 9 – Agnières en Devoluy – Corps 1 (29,82 km) was won by Ott with Kris setting a great time, just four tenths slower and confirming he was feeling comfortable in the Yaris and with Seb Marshall doing a great job alongside him. Ogier increased his lead over Thierry to 5.6 seconds. Loeb moved back into third as Andreas was thirty seconds off the pace and Elfyn dropped one place to seventh, after getting a puncture, now behind Ott. Unfortunately, Esapekka retired with a mechanical problem. There was a huge accident for Andreas though after he lost control of his car, powering out of a corner and ripping the entire wheel and suspension from the left-rear. He was out.
Ott Tanak set a great time, taking his second stage win in a row in SS 10 – St Léger les Mélèzes – La Batie Neuve 1 (16,87 km), but it was the retirement of Elfyn which was such a shame. He lost control of the car on black ice, that pulled the car to the edge of the road and after that he and Scott were just passengers. He tried to power the car back onto the road, but ended up hitting a tree, which had the effect of spinning the car round and taking a wheel off as well. Jari-Matti passed Loeb, moving up into third place overall.
SS 11 – Agnières en Devoluy – Corps 2 (29,82 km) saw Ott take his third stage victory in a row, whilst the battle between Loeb and Latvala, saw the Frenchman move back into third overall, but there was only two seconds between them – This was certainly not over. Also, the gap between Neuville and Ogier remained very close at just around four seconds separating them.
Ott confirmed that the combination of him and the Toyota was now the best out there, winning SS 12 – St Léger les Mélèzes – La Batie Neuve 2 (16,87 km). He'd won every stage on Saturday, and Kris was second fastest again, just half a second from his teammate. Not only that, he'd reduced the gap to the front by sixteen seconds and was just a further sixteen seconds from third place.
STANDINGS AFTER DAY 3 (Saturday)
Ogier / Ingrassia (Citroën C3 WRC) 2:38:30.0
Neuville / Gilsoul (Hyundai i20 WRC) +4.3
Loeb / Elena (Hyundai i20 WRC) +1:58.7
Latvala / Anttila (Toyota Yaris WRC) +2:01.0
Tänak / Järveoja (Toyota Yaris WRC) +2:16.0
Meeke / Marshall (Toyota Yaris WRC) +5:26.8
Greensmith / Edmondson (Ford Fiesta R5) +10:12.0
Bonato / Boulloud (Citroën C3 R5) +11:43.4
Citroën Total WRT
Sébastien Ogier (1st)
"I'm pleased with my day, because once again today we had to find the right balance between pushing when it was dry and being cautious where it was icy and more slippery. But there's still a long way to go. I'm expecting the final leg to be really close, but perhaps the conditions won't be so tricky, although the top of the Col du Turini always throws up a few surprises. The C3 WRC has proven it is a competitive car on these roads, so I have high hopes that it will work well on tomorrow's stages. Obviously, I'm going to try to win this rally, which means so much to me."
Esapekka Lappi (DNF)
"Obviously, it's a shame that we had this terminal issue with the engine, but it's just part and parcel of racing. I hope to have a bit more luck in Sweden. In any case, I'm going to try and make the most of my two days of testing, so that I'm fully prepared and ready to fight on the fast stages of this event. It's a rally that I really like."
Hyundai Motorsport
Thierry Neuville (2nd)
"Overall it has been a good day and the game is still very much on. We have lost 2.3s compared to Ogier over four stages, which is not too bad. It was difficult to know what rhythm was best on these stages. I know I could have gone faster in some places, especially this morning, but if you push too much it's easy to make a mistake. I didn't want to take any risks but at the same time we had to keep the pressure on Ogier. It is his home rally so he knows the area very well. We will, of course, try to win tomorrow but we also have to be clever and think about the bigger picture."
Seb Loeb (3rd)
"We have been in a great battle with Jari-Matti today, one time he was ahead and then it was me, things were constantly changing over the four stages. I've enjoyed it. This morning I wasn't completely comfortable with the set-up of the car, so we made some adjustments at lunchtime service, which gave me a better feeling. The Toyotas have shown good pace today so the battle for third place will be tough. I will do whatever I can to push for the podium on Sunday, but we'll have to see if that's enough. I hope we will have less ice and more dry tarmac so we can get the slicks on the car for the final stages!"
Andreas Mikkelsen (DNF)
"I am really disappointed but there are positives to take away. It had been such a good start to the rally, and the feeling with the car has been fantastic. Unfortunately, at the end of the opening stage I lost the rear in a right-hand corner and the impact damaged the left-rear wheel. Game over for us and not the result we were going for. I'm really sorry for that on behalf of the team. Now we have to look ahead. We have been on the pace, fighting for the podium and that's what we will bring with us to Rally Sweden."
Toyota Gazoo Racing WRT
Jari-Matti Latvala (4th)
"It's been a great fight with Sebastien Loeb over third place today. At first, he was ahead, then I was ahead, and now he's ahead again, but the gap is very small. I was hoping that I could have kept him behind, but when the conditions were mixed, I was maybe not so strong. It looks as though tomorrow's stages could be drier: I've been doing a lot of testing on dry roads so I'm quite comfortable with the car in those conditions. Hopefully that works in our favour and we can be on the podium in Monte Carlo tomorrow."
Ott Tänak (5th)
"It's been a good day today: a normal day in the office. This afternoon we did something a bit different with the tyres compared to the others to try and gain some more time. In the end we gained a little bit, not much, but every bit helps. Thanks to my gravel crew who pushed me to do something different, because it paid off. The car has been nice to drive and it's giving me confidence. We didn't need to change the setup at lunchtime, and everything's been working as it should. We've gained almost a minute back compared to the two guys in front, and I will keep pushing tomorrow."
Kris Meeke (6th)
"Even though the conditions were tricky, I really enjoyed it today. The Yaris just seems natural to drive, it does what you want. I'm gradually building in confidence. We were really close to Ott's times on a couple of the stages: Over 30 kilometres of snow, ice, greasy, slippery conditions there were only a few tenths of a second in it, so I'm happy to be there or there about already. I've still got a bit to learn about the car, but when it comes so naturally, it bodes well for the future. When we get to the powerstage we'll give it a go and see what we can do."
M-Sport WRT
Elfyn Evans (DNF)
"The first stage this morning [SS9] started off okay, but we picked up a puncture which was pretty unlucky. It was on the rear in a cut that everyone else had been in. It was just one of those things, and we made the decision to continue which I think was right in terms of time. "Then on the next stage [SS10] there was a pretty straight forward left-hander that's been around for a number of years. I didn't approach it any differently to how I usually would, but it seems as though the grip levels were particularly low. "Maybe there was some black ice as a few cars got caught out, but they were a lot luckier than us. There was quite a steep bank with some trees on the outside, the car got dragged down, and that's where our Rallye Monte-Carlo came to the end. "Everyone comes to a rally with the best intentions, and it definitely wasn't part of the plan to start the year on the bad note. All of our attentions are now fully focused on the next event and we're looking forward to getting back on it in Sweden."
Teemu Suninen (14th)
"Today was a pretty good day for us and we didn't make any mistakes. We showed good pace this morning, but in the afternoon, I was too careful. I was concentrated on looking after the studs, but actually the ice layer had become so thin that the studs didn't give any extra grip. But I think I can be happy with my day and how my pace has improved throughout the weekend."
Pontus Tidemand (24th)
"We have seen some very tricky conditions today so I'm glad to be here. We had a slow puncture after six kilometres in the first stage this morning [SS9] and, as we only had one spare, we took it really carefully after that. "It's so easy to make a mistake in these conditions so I tried to be on the safe side this afternoon as well. We need time in the car to learn, and it was important to make sure that we continue to get more experience tomorrow."
Gus Greensmith (1st WRC 2 Pro and RC2) said:
"Three out of four stage wins, so I would call that a good day. I've had this calm, quiet confidence with the car today I've never had before; and I've felt as though I can control the pace exactly as I want to. "I took the first two stages quite easy as I knew that they were tricky, but I was still able to open the lead from six to twenty seconds. We had a bit of a blip in the first stage of the afternoon [SS11] where I lost five seconds, but we were back on it for the last one [SS12]. "After Bonato made a mistake the lead went up to over a minute and a half so we've given ourselves a nice buffer for tomorrow. We don't need to do anything silly. We can be conservative with the tyre choices and bring it home for the win."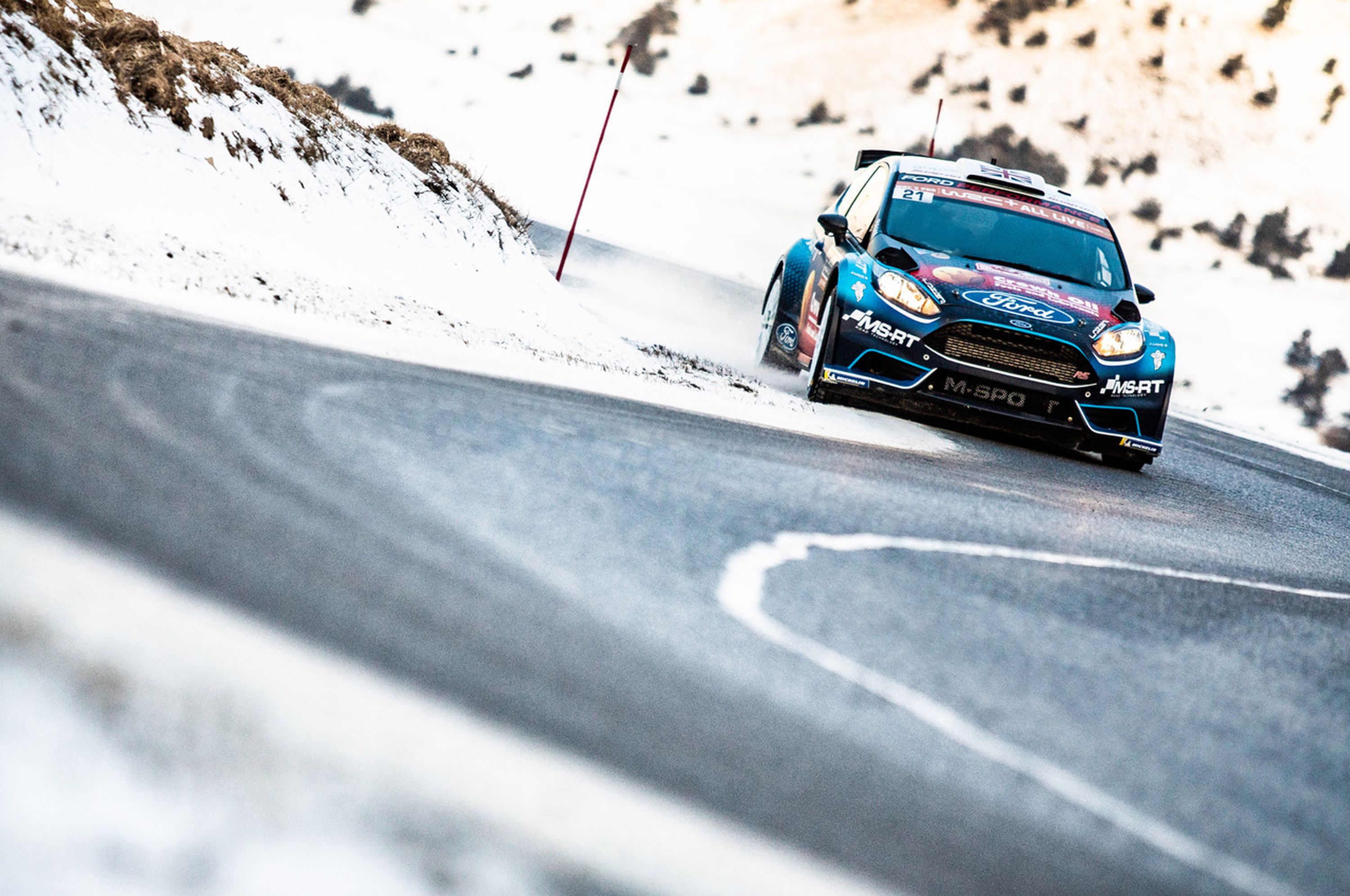 Sunday
The first stage, SS 13 – La Bollène Vésubie – Peira Cava 1 (18,41 km) saw Ott continue to fly, winning the stage from Thierry who was starting to apply some pressure to Ogier as the gap between them at the top was now 3.3 seconds. Were we about to witness a similar result to last years Rally de Italia…? Loeb was losing time as well, as the gap to Ott was now just five seconds after the Frenchman lost eleven and a half seconds.
Ott conquered SS 14 – La Cabanette – Col de Braus 1 (13,58 km) as well, winning again and moving ahead of Loeb into third place from fifth! He'd jumped both Jari-Matti and Loeb in one stage! Ogier was driving with a problem with his throttle, and pretty much held off Thierry in this one, but how would he fare in the longer stage that followed?
Thierry won SS 15 – La Bollène Vésubie – Peira Cava 2 (18,41 km), bringing Ott's run to an end and cutting Ogier's lead to just four tenths of a second. The gaps behind were pretty static now, with Ott over two minutes behind Thierry, Loeb a further seven seconds behind and Jari-Matti three seconds behind Loeb. Despite having to restart under Rally2 regs, Suninen and Tidemand were in the points as well.
The final stage then, SS 16 – La Cabanette – Col de Braus 2 – Power Stage (13,58 km), and Kris set the best time from Ogier and Neuville. Seb and Julien had done it, with the gap between them and Thierry and Nicolas just 2.2 seconds!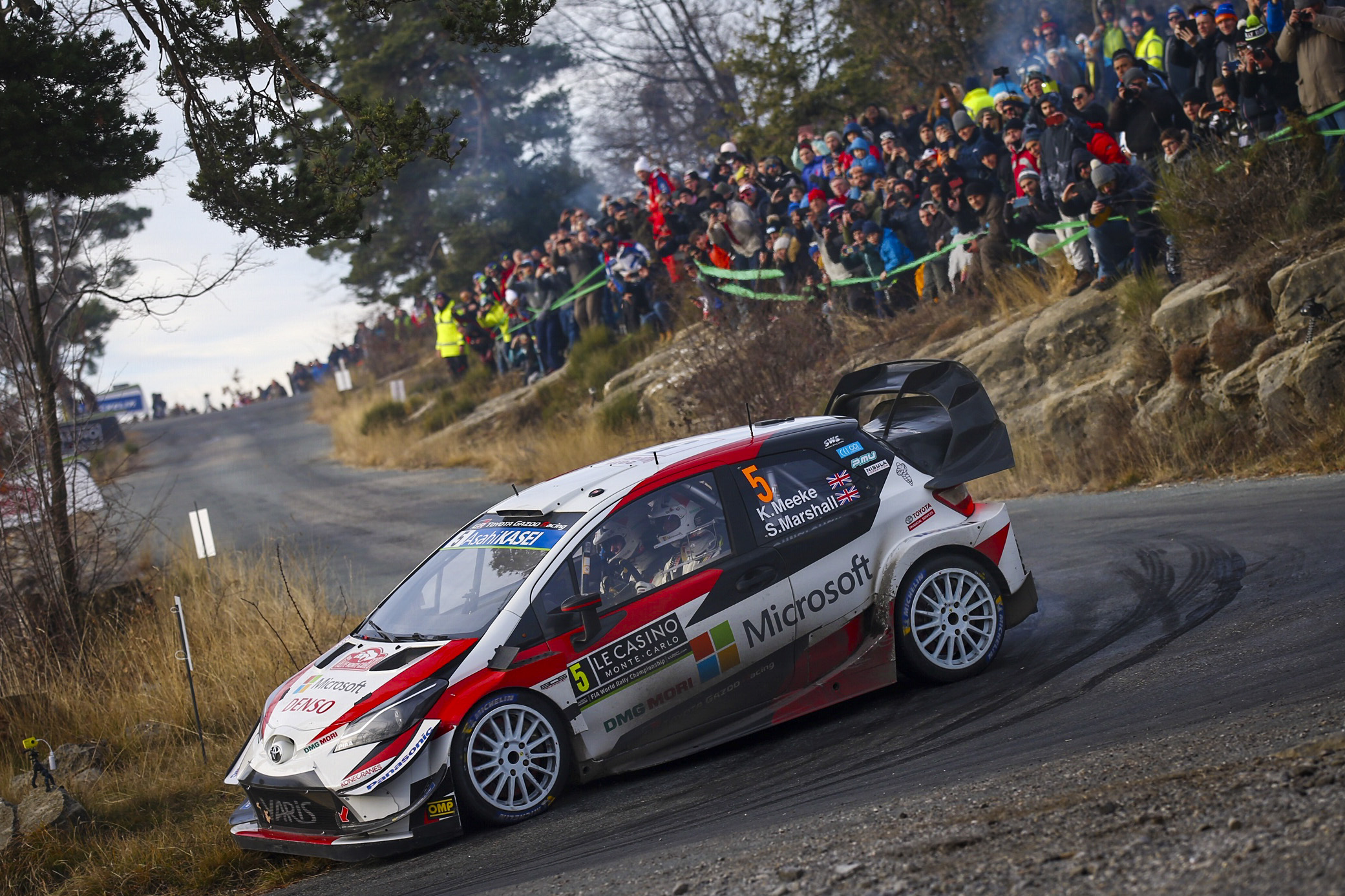 FINAL STANDINGS
Ogier / Ingrassia (Citroën C3 WRC) 3:21.15.9
Neuville / Gilsoul (Hyundai i20 WRC) +2.2
Tänak / Järveoja (Toyota Yaris WRC) +2:15.2
Loeb / Elena (Hyundai i20 WRC) +2:28.2
Latvala / Anttila (Toyota Yaris WRC) +2:29.9
Meeke / Marshall (Toyota Yaris WRC) +5:36.2
Greensmith / Edmondson (Ford Fiesta R5) +13:04.6
Bonato / Boulloud (Citroën C3 R5) +13:56.5
Citroën Total WRT
Sébastien Ogier (1st)
"We certainly weren't taking anything for granted. The final leg, in particular, was really stressful and difficult with our minor throttle issue, which meant the car kept on accelerating, even under braking. We got some good advice from the team and were able to perform some makeshift repairs on the road section. We then pushed really hard and, in the end, it worked out! It was an incredibly intense weekend. It was a non-stop battle, but we managed to come away with the win. Obviously, we're very proud of this result in our first race with the C3 WRC, especially because, as I've often said, this rally is the one that is the most special for me. And it also means we can celebrate Citroën's centenary in style. In other words, we couldn't have hoped for a better start on our first race back with the team!"
Hyundai Motorsport
Thierry Neuville (2nd)
"What an incredibly close fight! We can be pleased with this result, which gets our 2019 campaign off to a very positive start. Of course, when you are in with a chance of fighting for Monte-Carlo victory, you want to push for it but it wasn't to be on this occasion. We gave it everything we had but a small mistake on Friday cost us the lead and we weren't quite able to catch it back. That's part of the game. We enjoyed the weekend a lot even if it wasn't easy. We can now look ahead to Sweden, where we will be second on the road, ready for another nice battle. Thanks to the whole team for a great weekend in tricky conditions at times."
Seb Loeb (4th)
"It has been an exciting weekend for WRC with an incredible battle for the victory and the podium. Fourth place is not so bad. I struggled with the set-up of the car on occasions, which is to be expected with such little time to test before the event. We made adjustments in between each loop in an effort to find our way, and we made good progress. We have to continue like this and see what we can achieve in Sweden. To be fighting for the podium in my first event for Hyundai Motorsport gives us all the motivation we need for the next rally. It's a pleasure to be part of this team, and a positive way to start a new relationship."
Toyota Gazoo Racing WRT
Ott Tänak (3rd)
"I am very pleased with this podium. After Friday I didn't have such high hopes. I'm surprised we could catch all this time back on asphalt in relatively dry conditions. We had a good run this morning and then we just had to maintain our position to the finish. I'm really happy with the team, with my gravel crew and with the car. We did a perfect job on Saturday and Sunday and we should all feel proud of ourselves."
Jari-Matti Latvala (5th)
"It was a close fight for the whole weekend, but I wasn't at my best, I must say. I'm disappointed that I couldn't take fourth place today. But I realise now that I made a mistake in our test and I developed the wrong sort of setup for the rally. Because of that, my car was understeering too much for my driving style, and the confidence wasn't there to go faster. But we had a clean weekend with no errors and we have scored some good points, which is important to start the season. We know that the car is capable of winning."
Kris Meeke (6th)
"To win the Power Stage was an incredible way to finish our first rally with Toyota. We only set one fastest time this weekend but we did it when it counted. Other drivers were still fighting for their positions until the end, so to put it on the line and come away with the five points is great. We had technical issues this weekend that affected our result – fourth might have been possible – but to show our speed is really nice. The feeling with the car is really good. Finally, everything seems to be coming together for me, but we're only one rally in, so we have to stay concentrated now and look forward to Sweden."
M-Sport WRT
Teemu Suninen (11th)
"It's a shame that we went off on the first stage because the rest of the rally has been really good. But we got a lot of good experience and I had some pace on the snow sections. The more we learnt, the more we were able to build our pace and I was happy to get a Power Stage point today – beating Latvala and Loeb who were both fighting for position."
Pontus Tidemand (20th)
"This car is amazing to drive and I have had a lot of fun this weekend. I've learnt a lot and need to thank the team and my route note crew for a really good job. We'll analyse where we were good and where we weren't quite so good. On the slippery sections we set some really fast splits, but on the dry Tarmac we weren't on the pace and I need more time behind the wheel to use the full potential of the car.  But it was good to get the kilometres and the experience. And we'll have a good test before Rally Sweden where I hope to show another improvement."
WRC 2 Pro Winner
Gus Greensmith
"I'm pretty sure this is the best day of my life so far! It took us a while to get here, but it's an amazing feeling and there are so many people I need to thank. It was almost a perfect rally from beginning to end and we did everything we needed to do. When we needed to push and build a gap, we did. And when we needed to control it, we did. It's definitely been my best ever performance behind the wheel, and now I'm just looking forward to a beer and letting it all sink in!"
Elliott Edmondson
"It's been a brilliant rally back with Gus and we couldn't have asked for any more. Monte is always a challenge so I can't say it was easy, but we managed the whole weekend really well. We showed speed when we had to, and were more cautious when we could afford to be. We couldn't have asked for a better start and here's hoping for more good results as the season continues!"
Just incredible. Clearly, 2019 has picked off from where 2018 ended. The three fastest crews are the same. Also, we can see how that group could grow, with Kris Meeke/Seb Marshall and Elfyn Evans/Scott Martin looking comfortable in their cars.
Next up is Rally Sweden, from the 14th to 17th of February.
DRIVERS' WORLD CHAMPIONSHIP
Sébastien Ogier – 29 points
Thierry Neuville – 21 points
Ott Tänak – 17 points
Kris Meeke – 13 points
Sébastien Loeb – 12 points
Jari-Matti Latvala – 10 points
MANUFACTURERS' WORLD CHAMPIONSHIP
Hyundai WRT – 30 points
Citroën Total WRT – 25 points
Toyota Gazoo Racing – 25 points
M-Sport Ford WRT – 14 points