Educating and training the next generation of engineers and mechanics is the goal of any university running a motorsport engineering degree, but the University of Wolverhampton Racing (UWR) do it with a twist. While many universities participate in Formula Student against other student-run teams, UWR's students run a team in the F3 Cup, against other professional teams with fully qualified team members.
This is a rare occurrence and comes with significant challenges, but UWR have been determined to make it work and, so far, they have. The team have finished within the top three in the championship in all three seasons they've participated in and are now heading into their fourth season in the series, with even bigger ambitions for the future.
We caught up with their driver, Shane Kelly, at Autosport International to talk to him about his role within the team and the on-going preparations for 2019.
"My role has grown over the years, we're getting into our fourth year now. We started in Formula Renault which was really a promotion year for the course; it was a great car for students to learn on. As we've upped our game, and as the awareness got around that we've got a motorsport engineering degree, we upped our game into Formula 3 [cup]. It's a great car to engineer as a student, knowing an F3 car inside out is a brilliant thing to be able to put on your CV. We've got Formula Student and the Morgans as well, we've really gone from strength to strength as we built up."
"Every year we get stronger in the sense of we have more data. The F3 is such a niche car, there's so much going on with the car. The speed is in the suspension, the geometry and the damping. Engine we can quantify, we know what we've got. The biggest thing is the mid-corner speed and I think we got that right last season. Bad luck aside, we should've been at the top. More of the same from last year would be good, we were more consistent than the year before. But you can't account for bad luck, you only have to look at Sebastian Vettel in probably the quickest car over 75% of the season and he still didn't win it."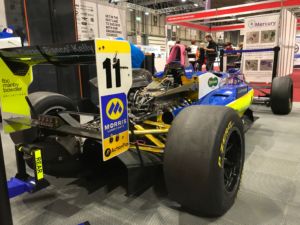 UWR face all the same challenges as any other professional race team, but they have the added element of being student-run, meaning there has to be an educational side to everything that they're doing.
"We go the long way around everything, that's for sure! There's no point us going out doing races if the students didn't remember any of it, it's all about the student experience really, that's why we're here doing it. We take a bit longer because each student needs to know what they're doing. We have a bigger team, we have 20 students for this season, and that's a lot for one F3 car. We manage that, and I think we're on the cusp of two cars and two championships. We do pick and choose our students, but our students chose us so it's important that we honour each student and we'll move them around the car as well, that's probably the challenge we face most in keeping consistent."
"It's hard work to have any team of this level in a university, be it a race team, a rugby team or whatever. At the end of the day, it's high-level industry, we're not racing other university teams – it's not a university championship, it's a mainstream championship. Some universities wouldn't touch that because it's a lot of hard work and myself and Matt Fenton [chief race engineer], we work hard and we put a lot of hours in, but the reward is there and as most people know, you can't stand still in racing, you need to keep getting better. As a university another thing you come across as well is funding, we're quite strong with sponsorship with multiple sponsors, we had a breakfast meeting on Friday and sixty people, all sponsors, turned up. It's just about keeping that up."
As for the future, both Shane and UWR are optimistic about growing their racing programme and keeping the new projects coming in.
"We have to keep moving, keep changing and refreshing. We're always open to ideas, different manufacturers, different championships, but that all comes at a cost. The great thing is that we own our own cars, so we can do what we like in that respect."
To find out more about UWR, click here
[Featured image credit: Reuben Inganni]