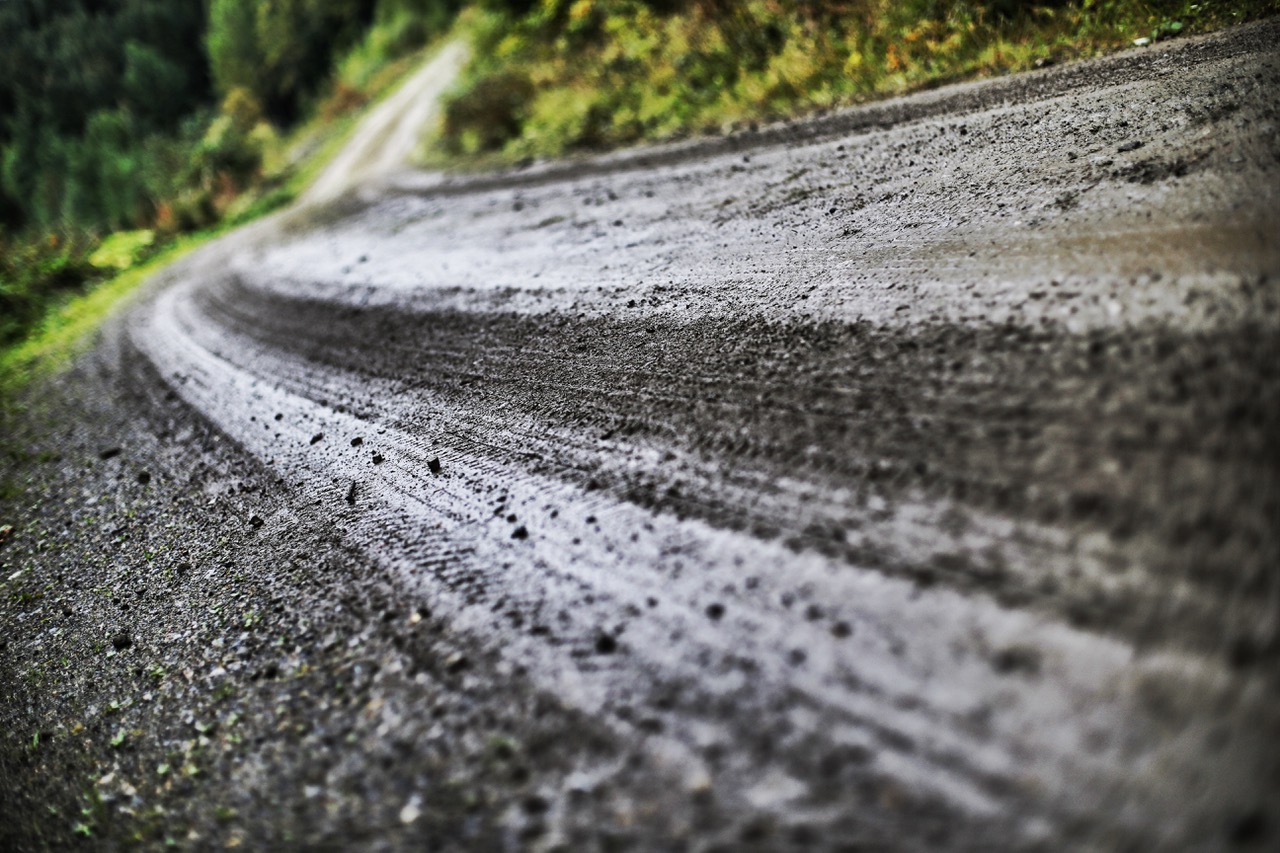 We had another amazing rally this year in Wales. Sadly, Elfyn didn't follow up his win from last year, but he showed that he still had the pace, before engine problems put him out for the day on Friday. However, his teammate and current champion came through to take the win and move back into second overall in the championship.
On Thursday evening, we had the Tir Prince stage and Esapekka was fastest from Thierry with Jari-Matti third. Seb and Ott, were just behind in fourth and fifth. At this point Elfyn was twelfth. On such a short stage, the time gaps were not really worth worrying about.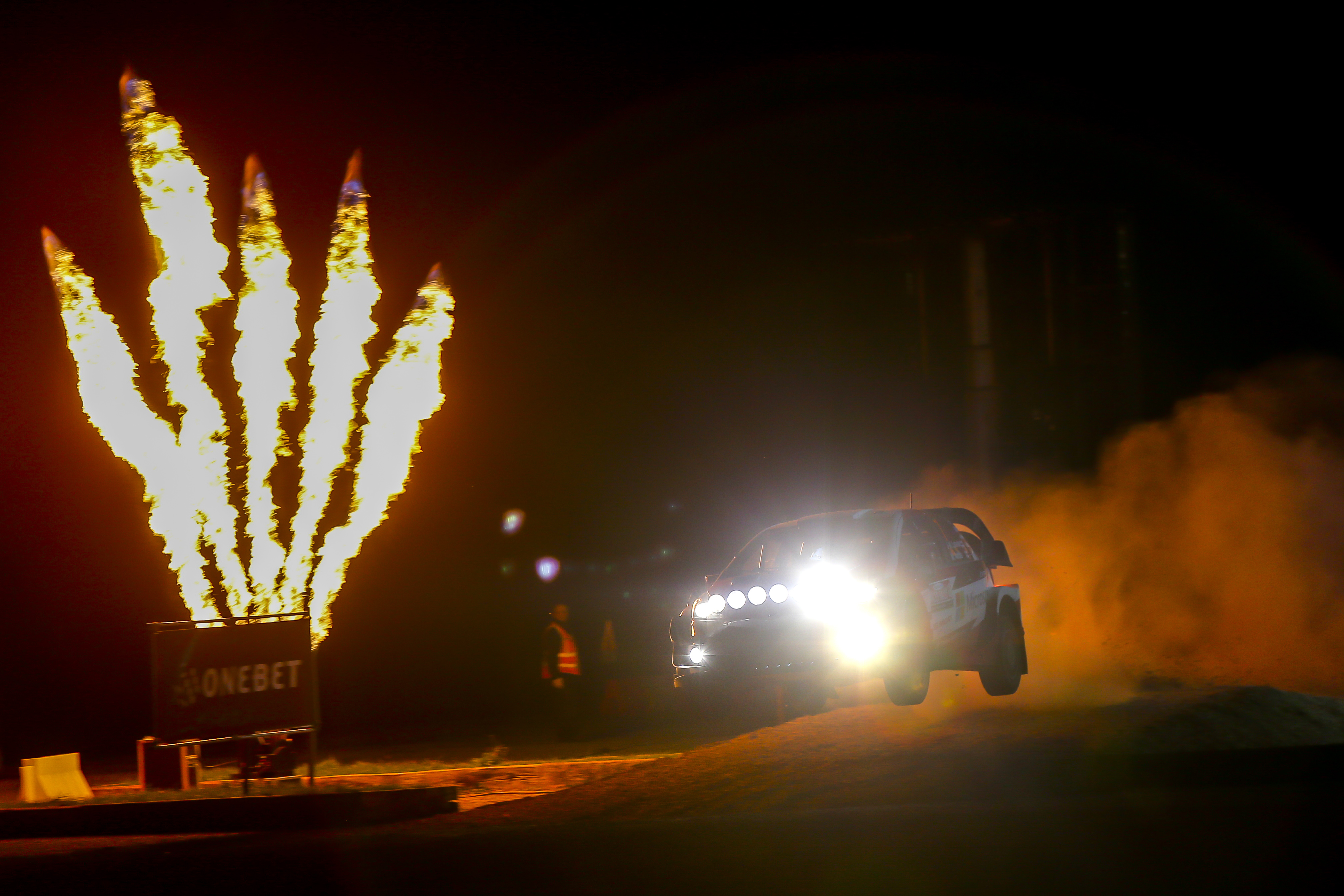 Friday
It was a very early start, with service before 7am and the first stage of the day starting before 8am. The start list looked like this – Neuville, Tänak, Ogier, Lappi, Latvala, Mikkelsen, Suninen, Evans, Paddon, Ostberg, Breen.
SS2, Clocaenog and Ott showed his intent, winning the stage from Elfyn and Mads third. Overall, Ott was now rally leader, from Seb and Thierry third, just 1.3 seconds covering the championship protagonists. Elfyn's pace had lifted him to fifth overall, just 2.4 from the leader.
Next up was the longest stage of the whole rally, SS3 Brenig. Tanak maintained great pace, despite being second on the road, with Elfyn three seconds slower, but still second fastest. The Estonian's lead was now 5.4 seconds from the Welshman and his rivals were falling back, Seb now third and Thierry in sixth. So far, Craig was having a good Friday at last – he was just 14 seconds from the lead.
Next up then was SS4, Penmachno. and Toyota did well here with Ott fastest from Jari-Matti and Esapekka third. Latvala's time was so good, he moved up into third overall from seventh, whilst Elfyn remained in second, nine seconds from the lead. Meantime, Seb dropped from fourth to seventh with Thierry still in sixth.
The double run SS5 and SS6 on the Slate Mountain stages. Top three on the first run was Thierry, Jari-Matti and Ott and the pace from the Belgian meant he'd leapt to fourth overall. The rerun of the stage saw Jari-Matti go fastest from Esapekka and Craig was third and maintaining sixth overall after one of his best Friday morning's in a long time. Overall top three was, Ott who had an 8.9 second lead over local lad, Elfyn followed by Jari-Matti a further six or so seconds behind.
The service break followed, and the M-Sport team would fit a new transmission to Seb's car, but the question was, did they miss something on Elfyn's car? On the road section, he stopped after the car developed a misfire. He tried to fix it, but in the meantime, he'd missed his start time, and picked up some time penalties. He got going again in an attempt to get to the start line, but sadly had to give up. It was later that we discovered a manifold sensor had failed, leading to the problem.
Anyway, will still had a few more stages to follow. SS7, the rerun of Clocaenog saw Ott win again, from Jari-Matti and Seb, plus Teemu Suninen had now moved into third place after the demise of Elfyn.
Now in SS8, Brenig, the rain was coming down, so whilst Ott remained in the lead, Thierry jumped up to second overall, after setting the second quickest time. Seb Ogier moved into fifth place, and the big loser in this one was young Finn, Teemu who spun, with the resulting time loss dropping him down to seventh.
The final stage of the day then, and Thierry stormed it, setting the fastest time from Jari-Matti and Esapekka. Ott Tanak was fourth, 2.4 seconds lost to Thierry after getting a puncture. In the Citroen camp, Craig was very happy having completed his first full Friday in ages, and Mads lost some time after he spun and the engine stalled and proved hard to get started again. It could have led to retirement, but in was okay in the end.
STANDINGS AFTER DAY 1
Tänak / Järveoja (Toyota Yaris WRC) 1:06:04.3
Neuville / Gilsoul (Hyundai i20 WRC) +28.8
Latvala / Anttila (Toyota Yaris WRC) +31.3
Lappi / Ferm (Toyota Yaris WRC) + 35.9
Ogier / Ingrassia (Ford Fiesta WRC) +38.2
Breen / Martin (Citroën C3 WRC) + 48.8
Paddon / Marshall (Hyundai i20 WRC) +1:06.4
Ostberg / Eriksen (Citroën C3 WRC) +1:08.4
Mikkelsen / Jaeger (Hyundai i20 WRC) +1:24.3
Let's hear from the drivers then, top three first.
Ott Tanak
"It has been a very nice day. I think our car's performance has been really good today. It looks like we have made a good step and even in low-grip conditions we are quite competitive. We are in a good position but there is still a long, long way to go, so we need to keep focused and keep pushing. Tomorrow's stage should be pretty good for our car so I have a good feeling about it."
Thierry Neuville
"We have made good progress throughout the day. This morning's opening loop was really tricky, and it wasn't easy as first on the road. I think that was a bit of a disadvantage to be honest. We had no lines to follow and we also struggled with the car. Things got better in the afternoon, both in terms of the handling from the car and the stage conditions, which felt much improved. I don't think I could have given it any more today. Ott has a big lead but we have a very long, demanding day ahead of us all on Saturday, and I am certainly going to keep giving it all I can."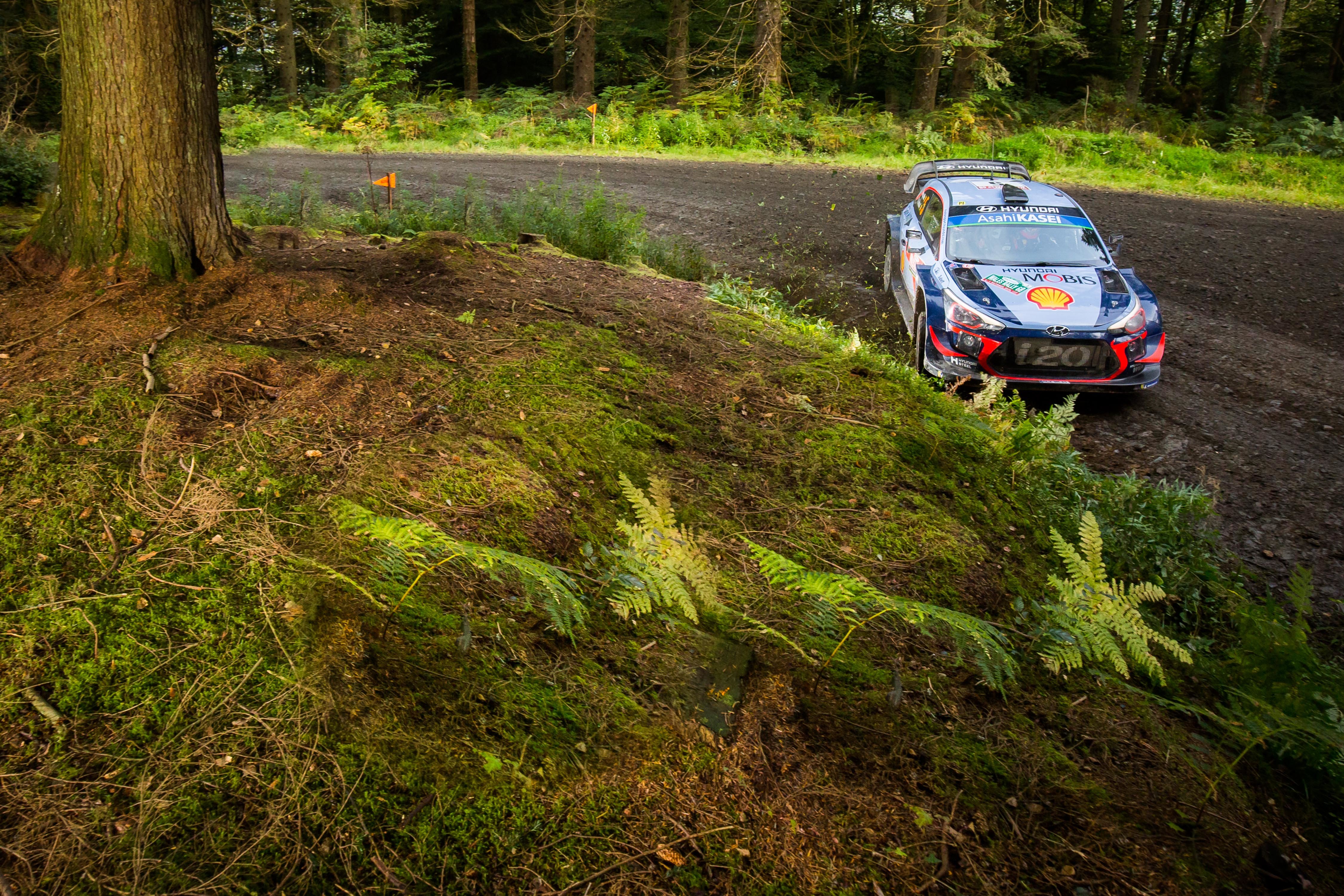 Jari-Matti Latvala
"Today has generally been quite good. At first this morning I was struggling with some understeer but we made some tweaks to the dampers and I started to gain confidence. This afternoon, in Brenig, I wasn't feeling my best and we lost some time, but in Penmachno I got the feeling back and even though it was quite slippery in places, the time was reasonably good. I'm actually really looking forward to tomorrow. Myherin, Hafren, Dyfnant, Dyfi: these are really nice stages. They are wider, more flowing and are better for my driving style."
Toyota Gazoo Racing WRT
Esapekka Lappi (4th)
"This morning was a bit of a struggle for me, but we were able to change the setup in-between stages and that helped, and then the afternoon was more positive. I can't be totally satisfied but at least we are going in the right direction. We are in a good fight and that's really nice. The setup is getting better and so is the feeling and the confidence, so that makes it easier going into tomorrow."
M-Sport Ford WRT
Sébastien Ogier (5th)
"It's difficult to be positive tonight and unfortunately we can't change what happened. I pushed really hard this afternoon, but the times just weren't good enough.   There is no point for us to finish in fourth or fifth position, so we need to take full risk tomorrow. It's definitely not the start to the rally we wanted to have, but there's still a long way to go."
Elfyn Evans (Rally 2)
"We had a good morning, the feeling was really good in the car, however on leaving service we found there was a slight misfire which unfortunately developed into something more terminal on the road section to Special Stage 7.  As a result, we had to retire from the day – but the team can fix it and we will be back out to fight again tomorrow".
Teemu Suninen (DNF)
"Today started pretty good, we were in a good place and then on the last stage I cut a corner a bit too much and hit a tree stump.  On the next left-hand corner, the suspension broke and we crashed the car.  It was my mistake.  It was a shame as I really enjoyed driving this car on a good pace, especially when we were fighting for a podium but unfortunately it didn't end up like this and we will have to go back and try again next year."
Citroen Abu Dhabi WRT
Craig Breen (6th)
"I'm pleased with our day. We didn't make any mistakes at all and we managed to be quick even though it was extremely muddy and greasy when we were on stage, especially on the second runs. We're not too far away from the podium places so we're going to keep fighting. I have high hopes that tomorrow will be an even better day for us."
Mads Østberg (8th)
"We struggled a bit in starting so far down in the running order, but we've already put it behind us and are thinking about the rest of the rally. The gaps are reasonably small and there is still a long way to go, so we'll push tomorrow and try to make up some places."
Hyundai Motorsport
Hayden Paddon (7th)
"We have tried to have a clean day today. In the morning loop, I felt comfortable in the car but we were lacking some grip and traction in the conditions. We had an off-stage excursion in the second stage that cost us some time. We kept focused on our plan with road order playing quite a key role in the afternoon loop. We will have a more beneficial starting position on Saturday and will look to make some gains during the day."
Andreas Mikkelsen (9th)
"Not a day to remember for us. We were not on the pace this morning and struggled to get a consistent feeling from the car. We investigated with the engineers over lunchtime service and made some changes, which helped get the feeling back in the afternoon loop. Unfortunately, we still didn't have the pace to go really fast but tomorrow is another day. We'll push on."
Saturday
It was another very early start to the day with nine stages to run, the first off at half eight in the morning. The running order had changed and looked like this – Mikkelsen, Ostberg, Paddon, Breen, Ogier, Lappi, Latvala, Neuville, Tänak, Suninen, Evans. There would be no service either, as an additional challenge.
First up was SS10, Myherin, which is a beautiful stage. Fastest through was Seb from Hayden and Ott who remained overall leader. Seb had gained two places, moving up to third at the expense of Jari-Matti who lost two places. Thierry was still in second though, but his position was under threat from Seb, who was now just a couple of seconds behind.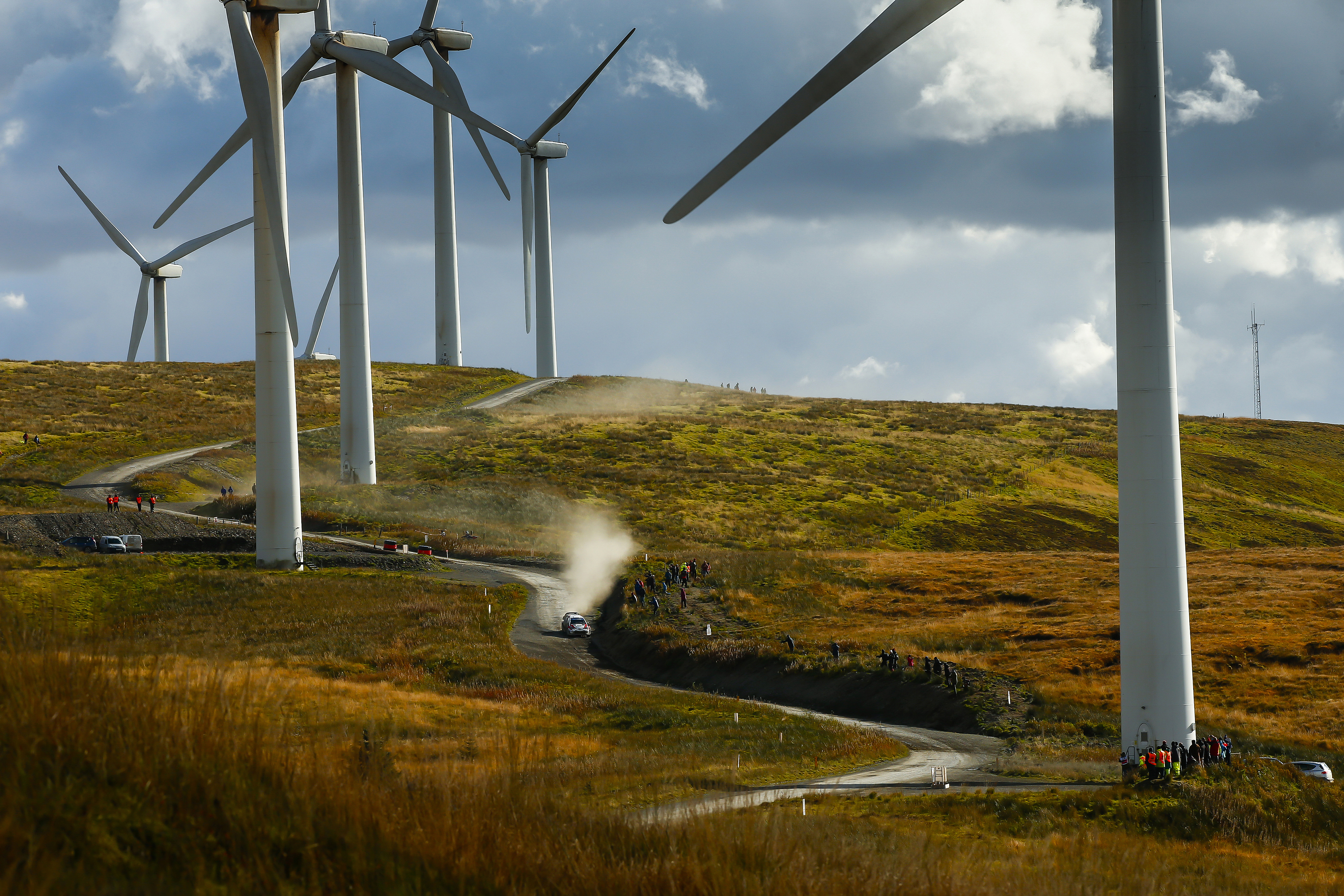 Moving to the combined Sweet Lamb Hafren stage, SS11, there were a few changes at the end. The big one, was Thierry, who spun and got stuck in a ditch, losing 40 seconds and dropping to eighth, now a minute and 22 seconds behind the leader. The spectators nearby got him out and on his way. Meantime, Mads gained places, after setting the fastest time and moved up to sixth and Craig was now fifth.
Well, SS12, Dyfi saw Ott further extend his lead over Seb setting the best time and beating Craig and Mads, who were both second fastest. Showing what might have been was Elfyn, who was only 5.9 seconds slower- He'd almost have certainly been in the fight for the lead.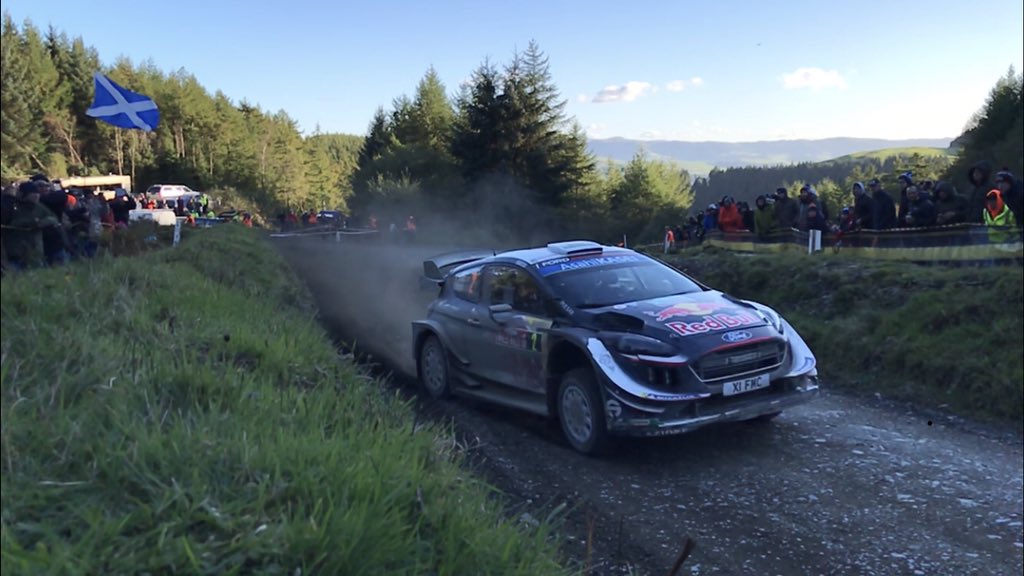 Next up was SS13, Gartheiniog and Andreas finally had a fastest time, beating Mads and Ott. Seb was now 48 seconds behind the young Estonian, whilst Thierry had now fallen behind teammate, Andreas into ninth. Another driver moving up, was Jari-Matti passing Esapekka Lappi who fell to fourth.
On the single run of Dyfnant, SS14, Jari-Matti was fastest, from Mads and Andreas. The pace from the Finn meant that he was closing on Seb, the gap now just 1.7 seconds between the former teammates. Ott remained firmly in charge though with a 48 second lead over M-Sport's champion.
In the final stage, SS15, Myherin, before the tyre and light fitting zone in Newtown, Seb was fastest from Craig and Andreas and Ott lost six seconds of his lead too. Jari-Matti also lost time in his fight for second overall, finishing the stage 3.8 seconds slower than Seb. Elfyn again went well setting fifth fastest time.
The following stage, SS16, Sweet Lamb Hafren would see drama for the leader, Ott. After a jump, he suffered a heavy landing, ripping the sump guard from his Yaris and damaging the radiator. He was out, and it was a big shame as he looked to close the points gap to Thierry further. Andreas won the stage from new overall leader Seb with Jari-Matti moving into second overall too with the gap between them just 5.5 seconds.
SS17, the second run of Dyfi was won by Jari-Matti, with Andreas and Hayden second and third. Esapekka was just a few seconds ahead of Craig now as well in their battle over the final podium spot. The gap now between Seb and Jari-Matti was now just 2.9 seconds as they battled for the lead!
The final stage of the day, SS18, Gartheiniog saw Andreas set the best time with Craig second and Thierry third. Seb opened up the gap over Jari-Matti, the gap between them now 4.4 seconds. Craig also remained close to Esapekka in their fight for the final podium spot.
STANDINGS AFTER DAY 2
Ogier / Ingrassia (Ford Fiesta WRC) 2:31:22.5
Latvala / Anttila (Toyota Yaris WRC) +4.4
Lappi / Ferm (Toyota Yaris WRC) +11.8
Breen / Martin (Citroën C3 WRC) +13.5
Ostberg / Eriksen (Citroën C3 WRC) +34.1
Mikkelsen / Jaeger (Hyundai i20 WRC) +36.5
Paddon / Marshall (Hyundai i20 WRC) +45.4
Neuville / Gilsoul (Hyundai i20 WRC) +55.5
Let's hear from the drivers after another dramatic day in this year's championship.
Sébastien Ogier (1st)
"Today has been a good day, but being in the lead tonight is a bit of a surprise. When I heard about Ott Tänak, I really felt for him because he was much faster than all of us this weekend. Instead of fighting for second place we now find ourselves in a big fight for the victory. Yesterday was a tough one and I said I would take full risk – and it worked. We finally had a clean day without problems. But it's very close and it won't be easy to maintain the lead tomorrow. We have to keep fighting."
Jari-Matti Latvala (2nd)
"After Ott had to retire, I realised that the door was open for the victory and I started to push harder, and the feeling was getting better and better. On the final stage I stalled in the ruts in a hairpin and I lost a few seconds, but we still have a day to go. It has been a while since my last win, so the motivation is definitely very high to go for it tomorrow."
Esapekka Lappi (3rd)
"Today has been a long day and a really close fight. The morning was quite enjoyable. I didn't want to take any big risks, but the times were reasonable. This afternoon we did start to lose some time and that was frustrating, but still, we are in third position and Jari-Matti is second, and this is important for the team. I think we will need to push hard tomorrow as we don't have much of a gap behind."
Citroen Abu Dhabi Racing WRT
Craig Breen (4th)
"I'm really pleased to be right in the mix for the podium after an incredible day. We just kept pushing. I can't wait for tomorrow, I really enjoyed it today and I hope we can keep up the momentum on Sunday. Tomorrow's leg will be pretty short, so we'll need to be on it right from the word go. But one thing's for sure, we'll be going flat to the square right!"
Mads Østberg (5th)
"I really enjoyed driving my C3 WRC today, especially this morning. Although I had to contend with some understeer issues this afternoon, we are definitely in the running for a decent result. We're going to keep on pushing to build on today's good performance. Tomorrow's final leg promises to be interesting, with the new sections and the stage held on tarmac."
Hyundai Motorsport
Andreas Mikkelsen (6th)
"It has been a really good day – we are going in the right direction. I've been happy with the car today; it has been very nice to drive, stable and predictable. Being first on the road helped a bit this morning, but the conditions were surprisingly dry and improving as the day went on. We didn't quite have the full advantage that we were hoping for. We had clean runs, making no mistakes and picked up three stage wins too. We're too far from the front-runners to catch much time but anything can happen. We've tried to give it a bit of a push but without going crazy and we'll see what happens tomorrow."
Hayden Paddon (7th)
"We have had another clean day with no real problems. The car has felt good on most of the stages, although we were missing some traction at times. Overall, I have been happy with the balance and have felt comfortable and in control. It has been closely fought throughout the day so we have been searching for very small improvements. We will continue to find some gains on Sunday morning with five stages still to run and important points up for grabs."
Thierry Neuville (8th)
"Our targets for today were completely overturned after our off early in the morning loop. The grip level caught me out and I went off. It's part of the game when you are pushing as hard as we do all the time. Of course, it is a shame, and we've paid for it, but we won't give up. Even with that mistake we have had a tough day with our tyre choice.  As we have seen, anything can happen anytime so we just have to keep going and see what happens. If we can make up a few positions tomorrow, and score some Power Stage points, that would be ideal."
M-Sport Ford WRT
Elfyn Evans (24th)
"It's been OK today, it's difficult without something really to fight for as such, but the stages have been great to be honest, real good fun to drive and the atmosphere from the home fans has been great out there.  Overall, enjoyable but still frustrating at the same time!"
"Tomorrow we will have to wait and see what is possible on the Power Stage, we will sit down with the team tonight and work out what we can do and then go from there."
Sunday
It was another very early start on Sunday with the first stage due to start just after 7am! There was also a big difference, with the power stage being run as the second stage of the day and not as the last stage as normal. The starting order looked like this – Neuville, Paddon, Mikkelsen, Ostberg, Breen, Lappi, Latvala, Ogier, Tänak, Evans.
First stage then, SS19, the single run of Elsi saw Esapekka Lappi pull away from Craig, their battle for the podium continuing from yesterday. Jari-Matti was also very quick, reducing Seb's lead to just 1.7 seconds and confirming he was going on the attack like he said he would. Championship leader, Thierry was still in ninth place, but he had taken a couple of seconds out of Hayden, as he looked to move up the leaderboard.
Now, it was time for the power stage, the first run through SS20, Gwydir, where in some places the road was just wide enough for the cars and the mirrors were in the hedges! Fastest through was Jari-Matti, on full attack mode, including over a jump where his car was sideways in the air! Seb was fast, but lost the lead after being 5.2 seconds slower than the Finn who was now 3.6 ahead of Seb. The power stage points went to Jari-Matti, Ott, Seb, Thierry and Esapekka. Thierry had moved closer to Hayden again, with just six seconds between them now.
Clearly, Seb wasn't going to lie down and let Jari-Matti stay in the lead for long though, as the Frenchman won SS21, Great Orme Llandudno and closed to within two tenths of a second. Meanwhile, Thierry moved past Hayden and into eighth place- Top three overall was Jari-Matti, Seb and Esapekka. Craig's battle with Esapekka was over after a mistake at the end of the stage, where he thought he'd crossed the flying finish, and stopped the car, but then realised he had to get going again.
Into the second run of Gwydir, SS22, and Seb hit back, setting a time faster than Jari-Matti had done in the morning and retaking the lead by 3.1 seconds. The other driver to gain positions was Thierry, who emerged in fifth overall at stage end, after not only being nine seconds faster than Andreas, also passed Mads who's spun in the stage, the Norwegian therefore fell to eighth overall.
There was a delay of 40 minutes before the last stage got underway, after a young rider, Riley Dexter was badly injured whilst performing stunts on bikes. Our thoughts very much go to the family.
Seb flew through SS23, Great Orme Llandudno, a full 3.5 seconds faster than Thierry with Mads and Andreas setting exactly the same time to both be third fastest. Our top three was, Seb, Jari-Matti and Esapekka. A very timely victory for the Frenchman, with just two events left. The title will be decided down-under at the season finale. His last win this year was Round 4, Corsica, whilst his last podium was in Round 7, Italia.
FINAL CLASSIFICATION
Ogier / Ingrassia (Ford Fiesta WRC)
Latvala / Anttila (Toyota Yaris WRC) +10.6
Lappi / Ferm (Toyota Yaris WRC) +35.1
Breen / Martin (Citroën C3 WRC) +1:10.4
Neuville / Gilsoul (Hyundai i20 WRC) +1:14.4
Mikkelsen / Jaeger (Hyundai i20 WRC) +1:15.9
Paddon / Marshall (Hyundai i20 WRC) +1:18.4
Ostberg / Eriksen (Citroën C3 WRC) +1:21.6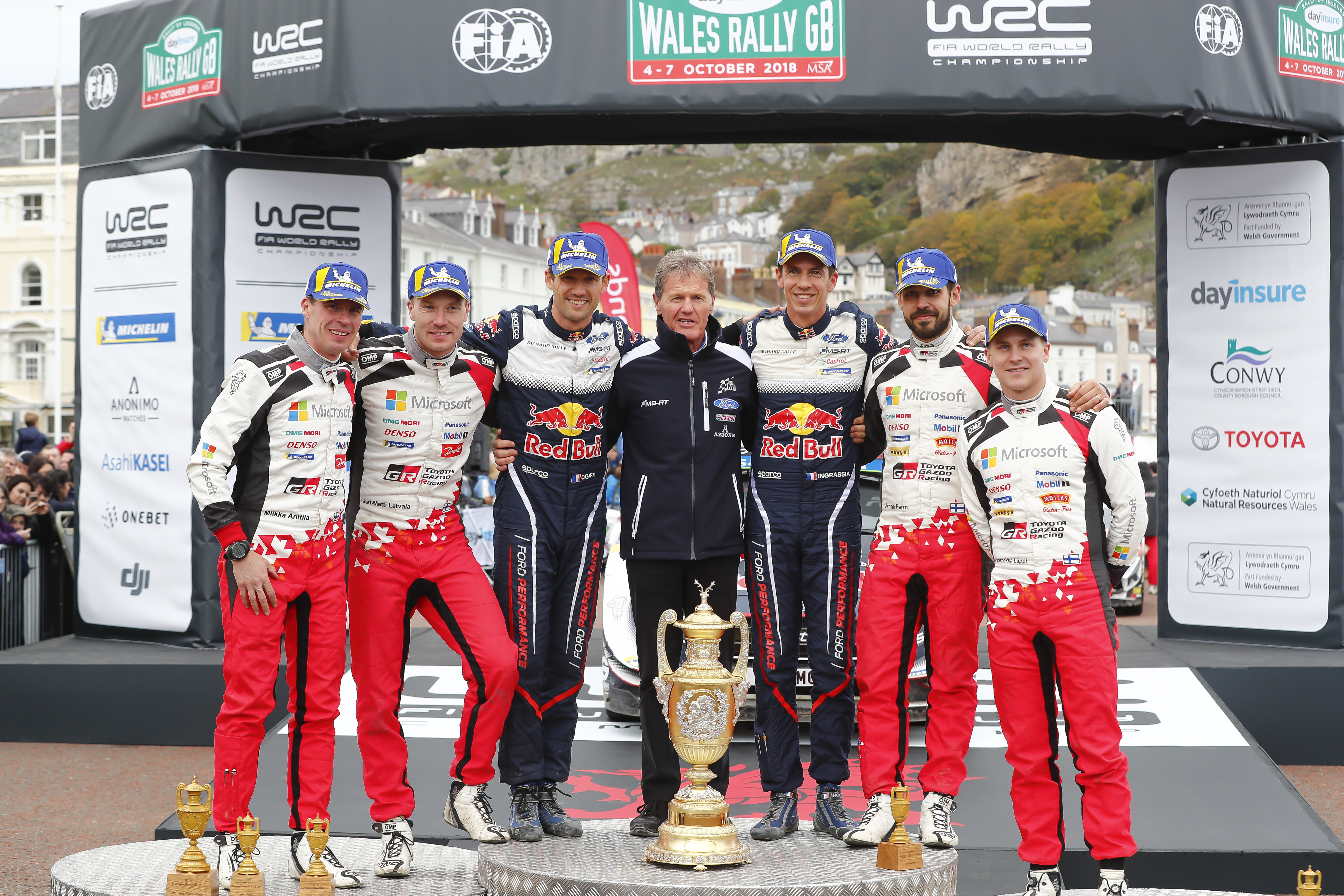 Let's hear then from the drivers! Top three first.
Sébastien Ogier (1st)
"It's been a great weekend for us and one with a lot of different emotions. I'm very proud to have won this rally for the fifth time, especially because we know how challenging and tough it is to stay on the road and not make mistakes in these conditions.
"We had a very difficult start on Friday and thought the rally was almost over, but then we fought back with everything we had. We knew that the podium was still within our reach and when Ott [Tänak] had his problems it became a big fight for the win.
"Jari-Matti [Latvala] was determined to win himself and was very quick, which forced us to react. Luckily, I was able to finish the rally with three perfect stages – especially SS22 which was as close to perfection as I can get and I'm glad I could make the difference there.
"It's a great step in the right direction for the championship and puts us right back in the fight. The last two rallies will be exciting and the intensity is going to be higher than ever.
"I'm looking forward to Spain now, where we can perform well I think, followed by Australia where it will probably all be decided. I'm sure the fans will love a close fight and I'm excited for the end of the season."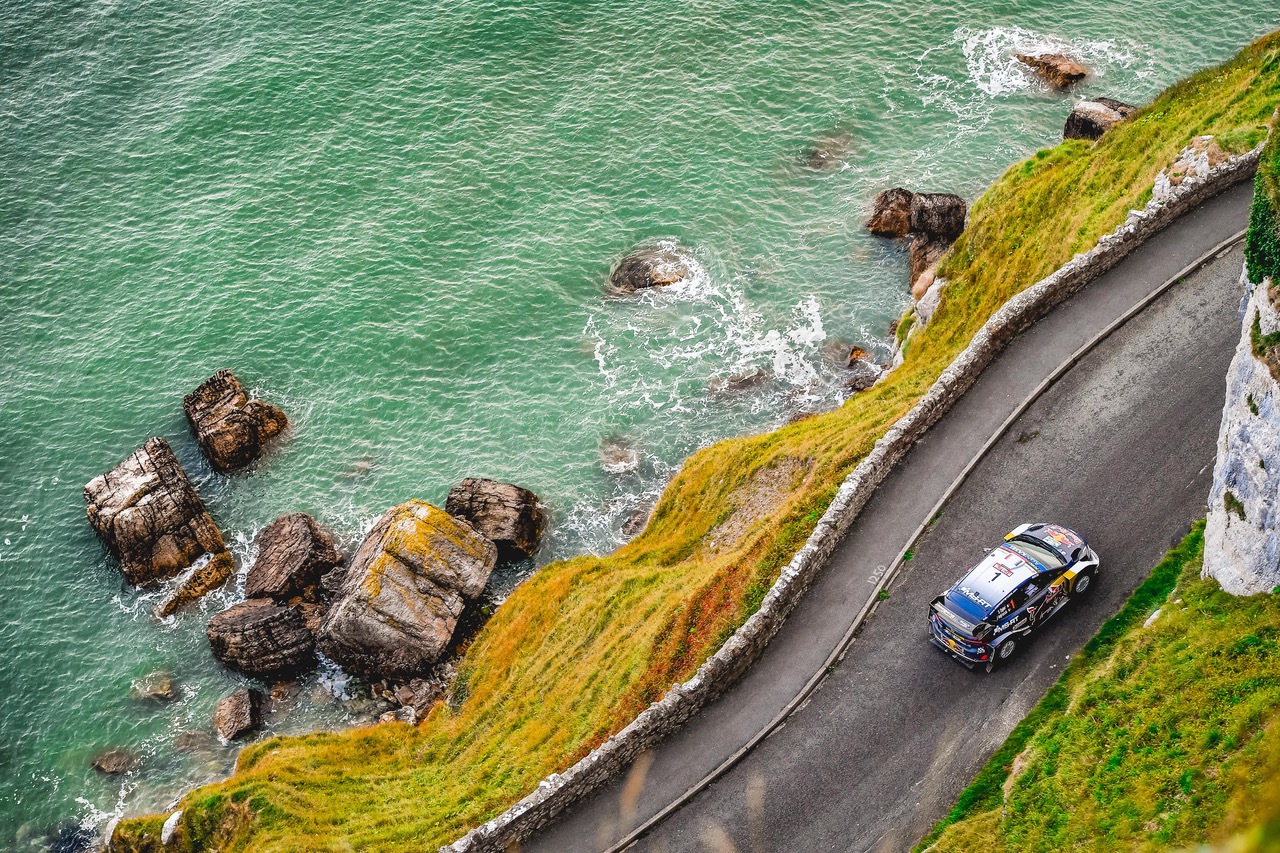 Jari-Matti Latvala (2nd)
"It was a great battle today, I really enjoyed the fight. The first two stages were great for me, but it went away in the final loop. It was maybe down to the tyre choice: I had one used soft tyre and, on the gravel, it wasn't biting that well. This is a very important result for the team for the manufacturers' championship, and also for myself: to get these consecutive podiums is very nice."
Esapekka Lappi (3rd)
"I am pretty pleased with this result. These are important points, especially for the team. In the morning loop the performance was really strong: We defended our third place and we managed to do a fastest time, which is always nice. We got a big gap and after that it was just about bringing the car safely to the finish, which we did."
Hyundai Motorsport
Thierry Neuville (5th)
"We have given it everything this weekend. The mistake yesterday ended any chance of scoring a podium but we've pushed hard to reclaim a few lost positions. The championship is far from over.  From a fan point of view, it's getting exciting between me, Sébastien and Ott. I'd rather have a bigger lead than we have now, but we can't dwell on what's happened in recent rallies. We have to pick ourselves up and fight for overall victory in the final two rounds. It's in our hands."
Andreas Mikkelsen (6th)
"After our positive performance on Saturday, we struggled again on the final stages today. It was really difficult to have a good stage. I was feeling really bad yesterday so I wasn't able to watch any videos in preparation for today's schedule. I didn't know where to place the car, and we had a few moments as a result. Thankfully we were able to complete the rally but not in the sort of position we need to be finishing. We now need to concentrate on the last two rallies where we know we can be strong."
Hayden Paddon (7th)
"There are some positives to take away from this weekend even if the result doesn't do us justice. We took some fastest splits and top-three stage times on Saturday, and generally found comfort in the car. This morning's stages were incredibly slippery. We couldn't read the grip and the pace notes weren't optimal. The second loop was better. With only 15 seconds between fourth and eighth, it was a close fight. We will now prepare for our final WRC event of the season in Australia, determined to finish the season on a high."
Citroen Abu Dhabi Racing WRT
Craig Breen (4th)
"I'm pleased with my weekend, I really gave it everything this morning but the other guys were just faster than us. It was important to get a result for the team. I'm now going to try and build on it and keep the momentum going at the last couple of rallies so we can finish the season as strongly as possible. And given that I have a bit of preference for tarmac, I'm already really looking forward to Spain!"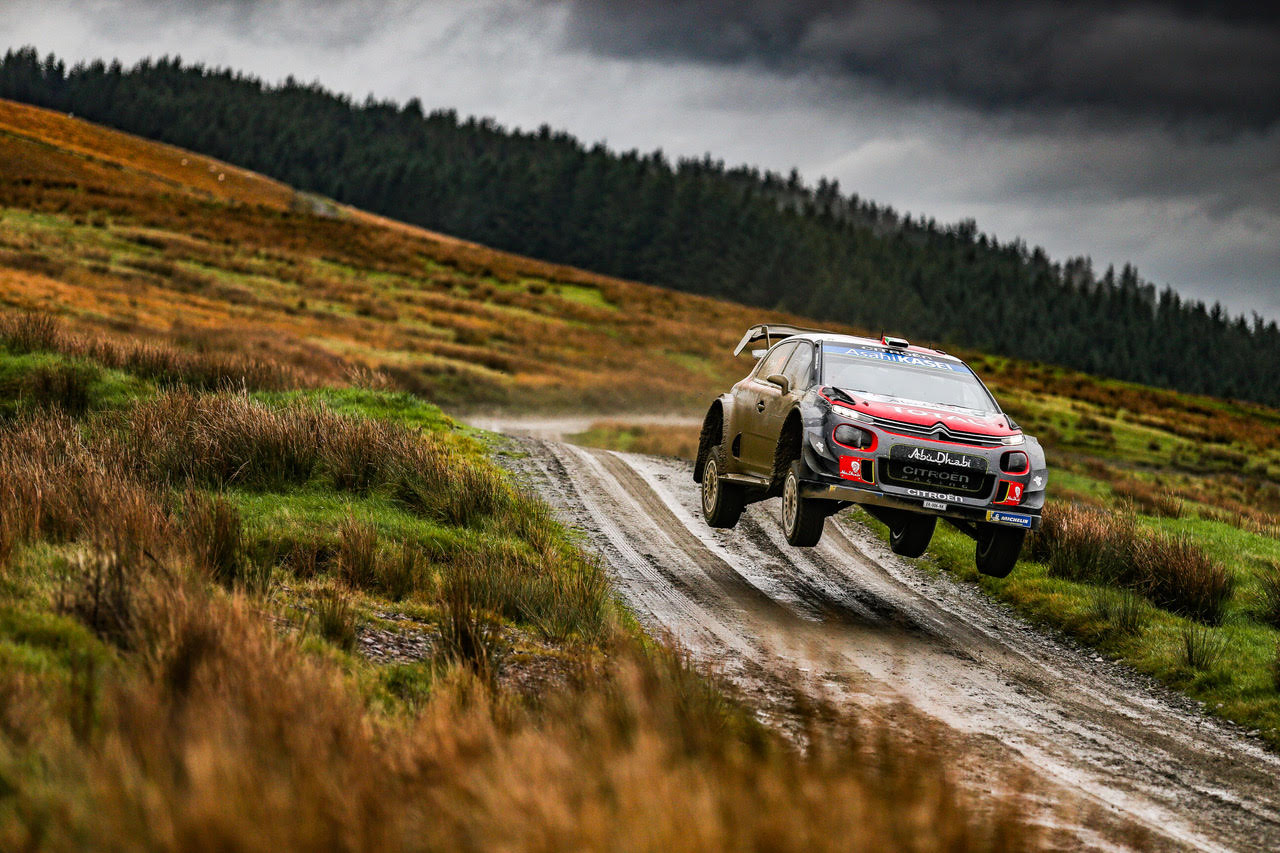 Mads Østberg (8th)
"Although we had a few difficulties putting it all together, we had some very good stages this weekend, winning one speed test and setting several other good times. We never gave up and tried to stay in touch with the leading crews. It's a shame that we were a little bit unlucky today. A minor mistake has ended up proving very costly."
Toyota Gazoo Racing WRT
Ott Tänak (19th /Rally 2)
"Today we just did our job, which was to get some points from the Power Stage and then to get to the finish. That is all we could really do today. We are still in the championship fight but the situation is tougher for us now. It will not be easy but we will keep trying until the end."
M-Sport Ford WRT
Elfyn Evans (20th / Rally 2)
"It's been a really disappointing rally for us as we knew we had the speed and performance to challenge for the victory this weekend. It's one of those things and after retiring with the misfire on Friday we just had to focus on getting through without any issues.
"At some points I was surprised at the times as we really weren't pushing at all, but there isn't a lot we can take away from this weekend. That said, it was great to see all the spectators out on the stages and such a fantastic atmosphere at the finish in Llandudno!"
Well, what a finish we are going to get this year! I can't remember the last time the WRC fight went to the last round. The next round is Rally Catalunya on the weekend of the 25th to 28th of October. Don't miss it! Twenty-one points between the top three is very close!
DRIVERS' WORLD CHAMPIONSHIP
Thierry Neuville – 189 points
Sébastien Ogier – 182 points
Ott Tänak – 168 points
Esapekka Lappi – 104 points
Jari-Matti Latvala – 98 points
Andreas Mikkelsen – 83 points
Dani Sordo – 60 points
Craig Breen – 59 points
Hayden Paddon – 55 points
Teemu Suninen – 54 points
Elfyn Evans – 53 points
Mads Ostberg – 52 points
MANUFACTURERS' WORLD CHAMPIONSHIP
Toyota Gazoo Racing – 317 points
Hyundai WRT – 297 points
M-Sport Ford WRT – 273 points
Citroën Total Abu Dhabi WRT – 187 points