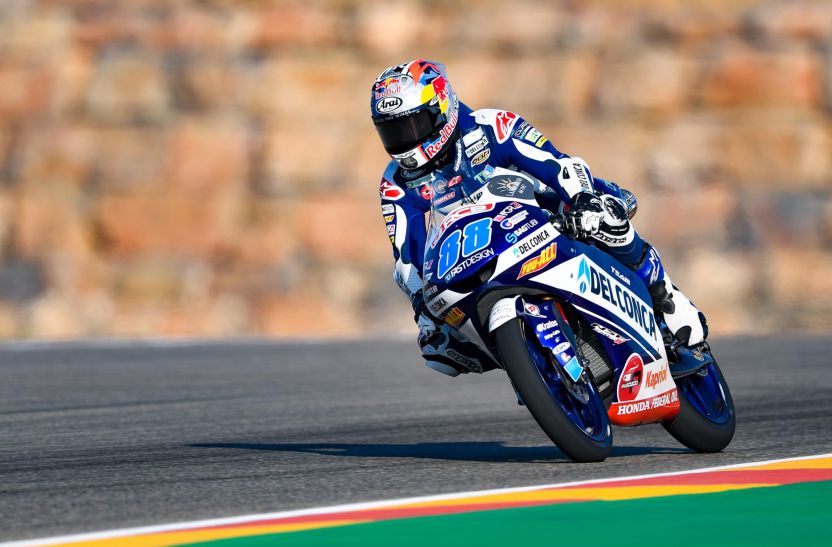 The 14th round of Moto3 world championship proved to be a decisive one, as Marco Bezzecchi narrowed the gap between himself and the series leader Jorge Martin.
It was Martin (Del Conca Gresini) who stole the show, after a great start saw him create a sizeable gap between himself and the rest of the pack. This lead would be too much for the rest of the grid, but that made the fight for second all the more brutal.
On paper, Juame Masia (Bester Capital Dubai) should have been Martin's closest rival as he started from second on the grid, but a cracked collarbone from a previous accident caused him to fall out of contention fast. Masia and Martin were the only two riders to start the race where they'd qualified, as all other riders were handed heavy penalties that saw the likes of Enea Bastianini (Leopard Racing) starting in 15th and Bezzecchi (Redox PruestelGP) in 18th. Ultimately it was Martin who soared to his sixth race win, Bezzecchi in second and Bastianini in third.
With Martin out in front, the next riders expected to perform well at the AragonGP were title rival Bezzecchi, Bastianini and teammate Fabio Di Giannantonio (Del Conca Gresini).
All three riders fought for to try and finish in the top three, but Marcos Ramirez (Bester Capital Dubai), Tatsuki Suzuki (SIC58 Squadro Corse) and Adam Norrodin (Petronas Sprinta Racing) also kept up with the group which failed to dissipate for the entire race. Unfortunately, Suzuki and Norrodin slipped back and weren't able to finish in the top five, after securing sixth and eighth respectively.
Those two were propelled forward in the standings after Aron Canet (Estrell Galicia 0,0), who would have been looking to put in a good performance to sustain his rivalry with Martin, retired from the race with a shoulder injury. He fell out of the top ten and was lingering in 16th position when he decided to call it a day.
Gabriel Rodrigo (RBA BOE Skull Rider) also crashed out of podium contention when he got too close to Albert Arenas (Angel Nieto Team) and slid out of the race. He had been flirting with the top four but wasn't fast enough to really pull away from the pack, instead trading places multiple times before his Aragon race came to an end.
With about eight laps to go, further penalties were handed to Vicente Perez (Reale Avintia Academy) and Dennis Foggia (Sky-VR|46) for exceeding track limits. They had to concede positions for gaining an advantage when riding wide of the track. Ultimately, it would be Perez who finished within the points after crossing the line in 14th. Niccolo Antonelli (SIC58 Squadro Corse) was the only other rider to crash out though, just before Rodrigo did on the penultimate lap.
It seemed to be a race of hard tactics. On several occasions the rider in second would attempt to pull away whilst the pack behind him was too preoccupied with the rider in third (Di Giannantonio, Ramirez, Bezzecchi and Bastianini). However, this tactic was often hampered due to the nature of the track, and didn't work for longer than a few laps. The Motorland circuit is very physical due to several elevation changes, so in many ways this tactic would work to take the pressure off of the rider in second but only temporarily. Slipstreams are also very common on this track, so riders had to make the most of them whilst also defending their own.
Points-wise, this was a very good race for Bezzecchi, Bastianini and Di Giannantonio. Bezzecchi managed to make up valuable points on Martin, who is now 13 points ahead of him. This means that the Championship is still all to play for, between the Spaniard and the Italian, both of whom are moving up to Moto2 in 2019. Third overall in the standings is Di Giannantonio, who finished fourth in Aragon. He's been a consistent rider but not to the levels of Martin and Bezzecchi which means he trails behind by 28 points. This is substantial but would only take a few podium finishes to level it. There is every chance that the Gresini rider could still cause Bezzecchi a few headaches before the season is over. In fourth, Bastianini is 17 points behind Di Giannantonio.
Taking third place in the race really helped elevate Bastianini enough so that he could break away from Canet in the standings. But all of this could change when Moto3 goes to Thailand in October.