After scoring pole position on Saturday, his first in Moto3, Jakub Kornfeil went into Sunday's Moto3 Czech Grand Prix with hopes of delivering his home crowd a top result.
From the off, it looked as though it would be on the cards, as the most experienced rider in the lightweight class field got to turn one first, and duly scarpered, pulling a second on the field in the first lap. Kornfeil managed to hold that gap, too, for a small while, but after a couple of laps, the pack pulled their respective fingers out, and quickly closed erased the advantage the pole sitter had built in the initial stages of the race.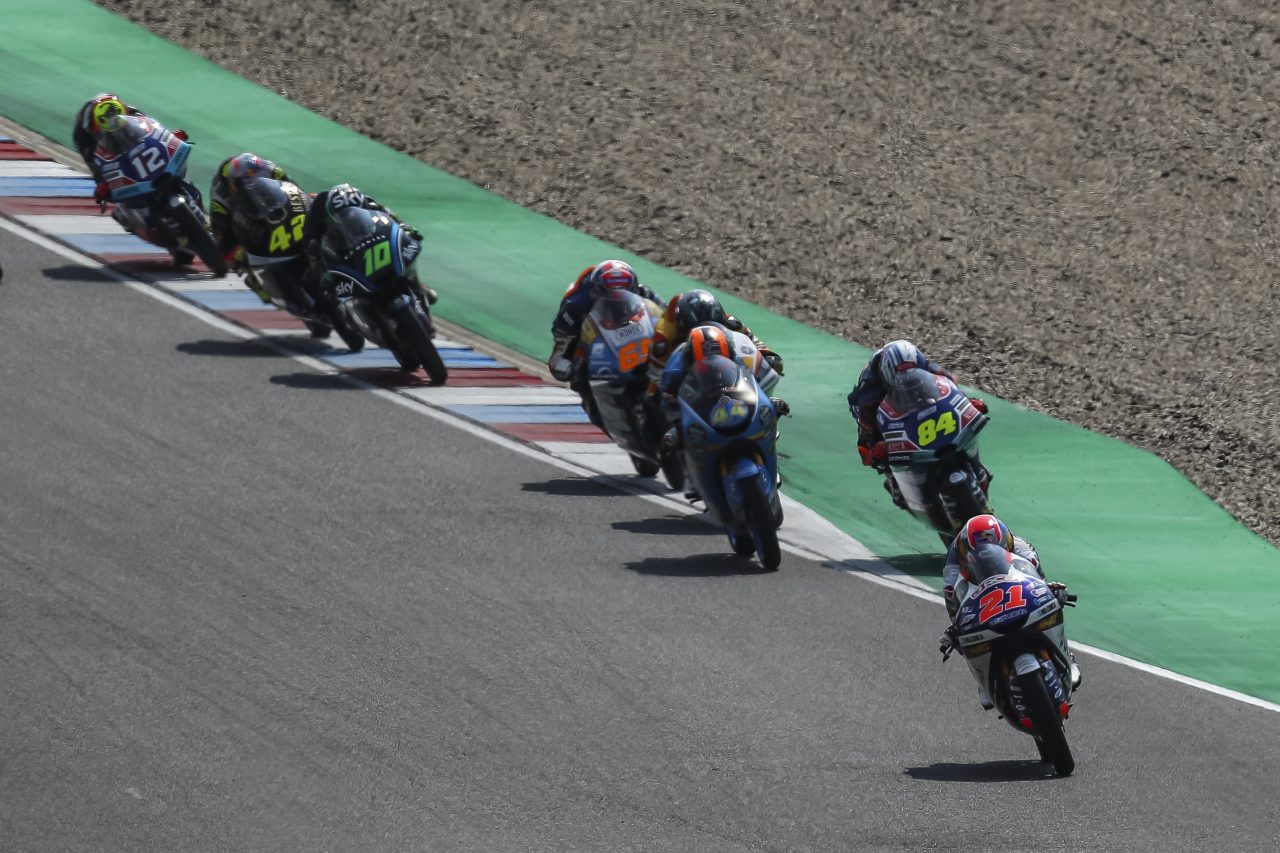 At this point, it looked like a normal, chaotic, Moto3 race, with all fifteen points scoring positions, plus a few more, locked together in the fight for the win.
This was good for several people, especially the likes of Marco Bezzecchi and Enea Bastianini who were looking to take advantage of Jorge Martin's absence, but were having to do so from poor grid positions, fourteenth for Bezzecchi and tenth for Bastianini.
On the other hand, Aron Canet appeared at one stage as though he would have the pace to break the pack or at least split the group, setting several fastest laps on his early charge through the field to the front, but once he arrived at the head of the pack, he could do nothing about their attention.
It was a similar story for Fabio Di Giannantonio, who should have been on pole before all of the mistiming occurred on Saturday afternoon. The Italian was at the front for less than half a lap before he started to pull away, along with Gabriel Rodrigo, but a mistake for the number 21 Gresini rider at turn ten made all that work null and void, as he was sucked back into the group.
Further back through the field, but still in the front group, there were many changes of position, riders climbing up the rankings, only to steadily fall back again, whilst some hung around the same spot, unable to advance their standing. It was the most "Moto3" Moto3 race of the season, the group stayed together for almost the whole race, and when it split in the closing stages, there were still ten riders in victory contention.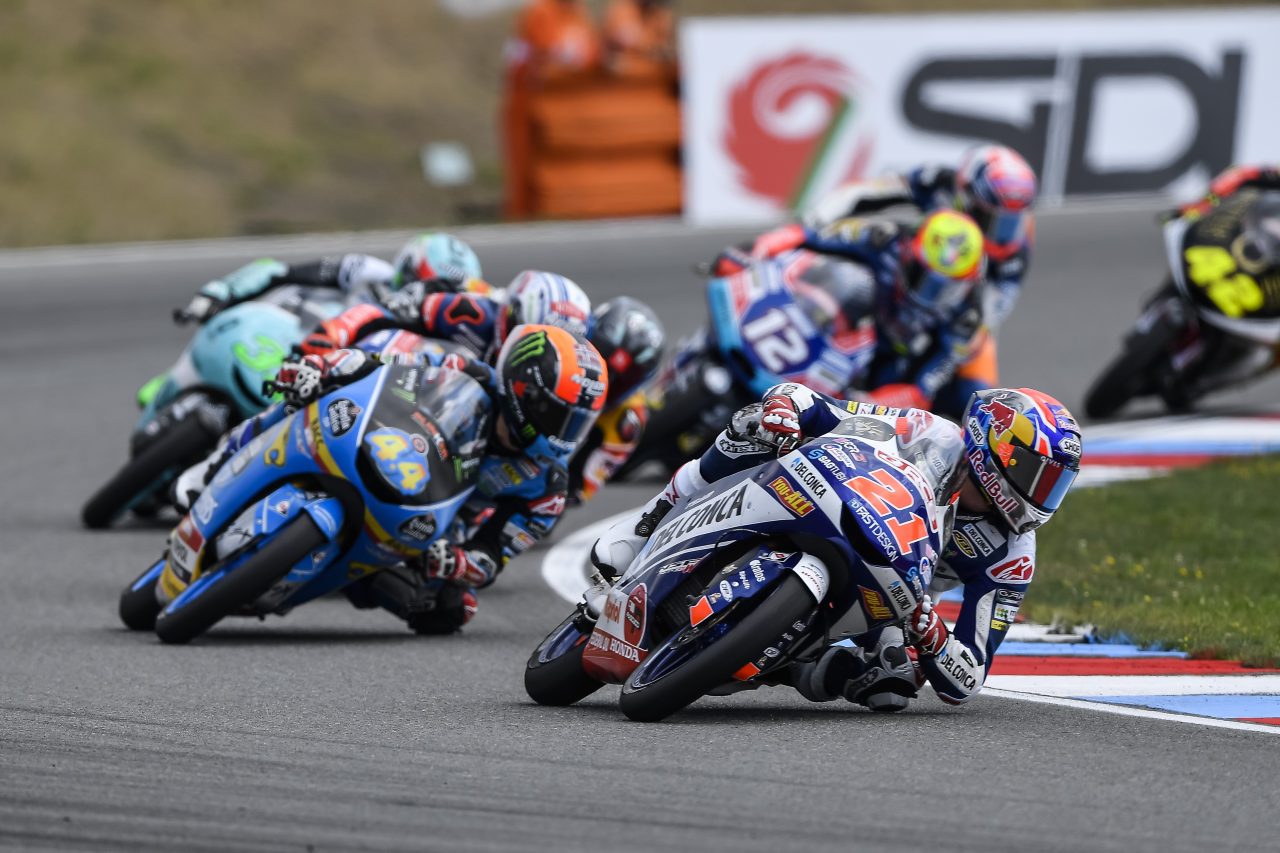 Especially, though, it was Di Giannantonio, Kornfeil and Canet who were looking likely to take the top step, all looking for firsts of some kind: both Di Giannantonio and Kornfeil were looking for their first Moto3 World Championship victories and Canet was in search of his first of 2018.
This doesn't always happen – especially in races as frenetic, confusing and chaotic as Moto3 group races – but on this occasion it did, the fastest riders over the course of the race being the ones fighting it out for the victory.
Finally, it was the should-have-been pole sitter, Fabio Di Giannantonio who righted the wrongs of Le Mans – where the Race Direction committed daylight robbery – and took his first (official) Moto3 World Championship victory.
Twenty-two years on from Valentino Rossi's first Grand Prix victory in Brno, back in 1996 in the 125cc class, there are of course many comparisons to make between the nine-times World Champion and Di Giannantonio – ironically one of the Italians not associated with the VR46 empire. However, on a weekend where the shadow cast by the biggest stars of Grand Prix motorcycle racing is under particular scrutiny, it seems like a bad moment and, after all, this is Fabio's first win, perhaps he might even deserve all of the attention for this one.
Either way, Di Giannantonio's ride was sublime, with some stunningly tough moves on both Kornfeil and Oettl in the middle of the stadium section. His confidence was immense, and ultimately undeniable. Furthermore, Di Giannantonio spent a lot of time in the front five positions, a crucial thing if you want to fight for the victory, and a sign of a rider with a good feeling, because it means they are always able to respond, even to their fastest rivals. Now we have to see whether this victory will act like Jorge Martin's first win, and open the floodgates for Diggia, who moved to second in the championship and just 17 points off the top spot. All of a sudden he is right back in the championship hunt, and could prove to be Martin's biggest threat for the title.
Aron Canet was second over the line, little over a tenth behind Di Giannantonio. It was a strong ride from the Spaniard, perhaps his best of the year and his strongest challenge for victory since Qatar. Like Diggia, he stayed pretty much in the top positions for the whole race, losing out only through the strength of Di Giannantonio, and no fault of his own, something from which he can take big motivation and confidence into the next races. Also, Canet is now only 21 points back on the championship lead, and like Di Giannantonio is still right in the title fight.
Whilst a dream would have been the dream of Kornfeil going into Sunday, he had to make do with third place, whish is still far beyond what probably anyone expected him to achieve. KTM had a new frame for this weekend, a softer one to try to negate a little bit the problem they have been having in trying to get the bike turned, especially mid-corner. It seemed to work a treat for Kornfeil, as he had his best weekend of the year, and fully deserved the podium position he walked away with, and no doubt he brought a lot of smiles to the faces of the Czech fans who were out in their droves to watch Sunday's action.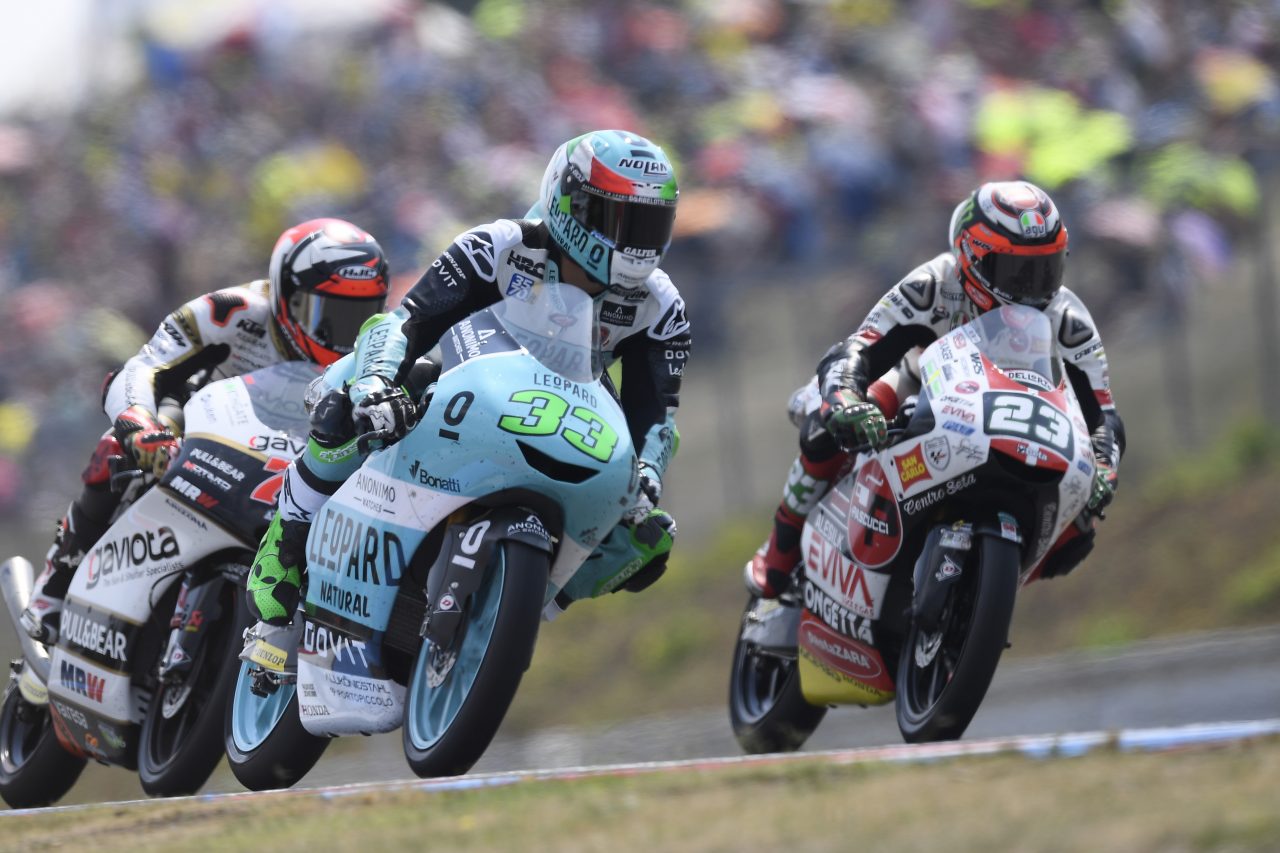 Fourth over the line was Enea Bastianini, who passed Gabriel Rodrigo on the final lap to demote the Argentine to fifth, but was too late to mount an assault on the podium. Again, it was an important points haul for Bastianini who now lies 36 points off the championship lead, and is not entirely out of contention. But if he wants to take the lightweight class crown in what will probably be his final year in Moto3 he will need to have a strong run of races in the coming rounds.
Behind fifth-placed Rodriog was the new championship leader, Marco Bezzecchi, who recovered quite well from a poor weekend to take sixth spot. It was the first race in which Bezzecchi has finished, but not inside the podium places. However, he did perhaps more than was expected after Saturday, when he qualified fourteenth, and gave KTM the championship lead going into the Austrian manufacturer's home race in a weeks' time, a round where he will hope to return to the podium, and maybe even win at a track which on paper should suit his bike and style quite well.
Seventh place went to Marcos Ramirez, who continued his good form from Sachsenring; Philipp Oettl was eighth, ahead of Albert Arenas and Lorenzo Dalla Porta who rounded out the top ten.
Niccolo Antonelli had one of his best races in recent times, but in the end could only manage eleventh, ahead of compatriot and fellow VR46 academy rider, Dennis Foggia who was running strongly all race but dropped back in the final two laps. Thirteenth over the line was Kazuki Masaki, ahead of Tatsuki Suzuki and Tony Arbolino who was the final points scorer.
Nakarin Atiratphuvapat took sixteenth spot, whilst Jaume Masia was seventeenth, ahead of Alonso Lopez, Nicolo Bulega and Andrea Migno who completed the top twenty. Vicente Perez took twenty-first place, in front of Ayumu Sasaki, Darryn Binder and Filip Salac.
There were only four retirements: Kaito Toba, John McPhee, Stefano Nepa and Adam Norrodin.