The #27 Andretti team and Alexander Rossi left the rest of the IndyCar paddock scratching their heads and looking for answers after they completed what should've been the impossible – the two-stop at Mid-Ohio. To highlight the unusual nature of this, Rossi was the only driver in the 24-car field to even attempt the two-stop strategy, everyone else stuck to the book with the three-stop.
Rossi's win was far from certain for the first half of the race with his strategy looking outlandish and impossible at best but, as we all should've known, Rossi's the master of making an unreasonable strategy work… just think back to his sensational Indy 500 win! Many were writing the pole-sitter off as he stayed out way later than anyone else for his first stop with most thinking that this was going to be Robert Wickens' long-awaited first win.
However, it soon became clear that Rossi's strategy call wasn't stupid at all, in fact it was a masterstroke, leaving him untouchable with a 20 second lead. His only real mistake of the day came after the chequered flag when he tried, and failed, to do a donut. He got the spin going alright but then dropped off the edge of the track and got himself stuck with his front wheels off the ground… not the best way to end what was otherwise a near-perfect race.
Second on the road was Rossi's season-long rival Wickens who felt that his race could've been so much more without the intervention of traffic. After Rossi's final stop, Wickens found himself caught amongst a gaggle of lapped cars and ended up losing over a second a lap, meaning he was unable to make any impression on Rossi's lead. This was primarily because blue flags in IndyCar carry no weight; they are simply there to warn a driver that there are leaders behind, but they have no obligation to let them past. Still, it was another good result for the rookie who has established himself as an IndyCar front-runner.
The same could not be said for Wickens' Schmidt Peterson teammate, James Hinchcliffe, who crashed in qualifying and was unable to recover during the race. The strategy didn't work out for Hinchcliffe and, to add to that, he had a slow stop which meant he came out behind Zach Veach and was then unable to pass. The #5 SPM driver trailed home in fourteenth with yet another race to forget.
Max Chilton joined Hinchcliffe in the 'race to forgot' club. He qualified in sixth which was an all-time best for Carlin but contact with Takuma Sato in the opening laps earnt him a drive-thru penalty which was topped off with a very long stop as a result of damage from that incident. It was just one of those days for the British driver…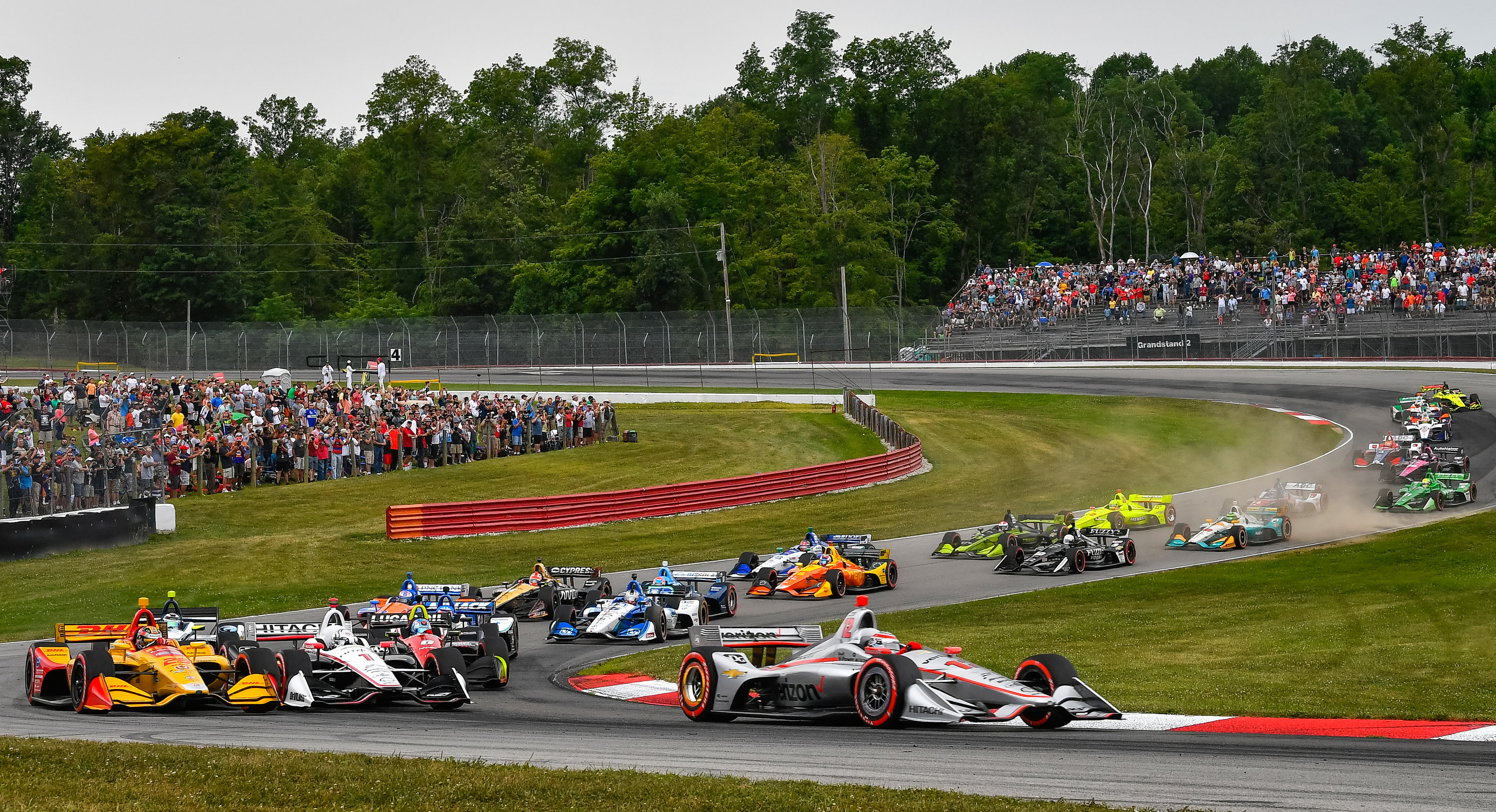 Meanwhile, Will Power took third as he continues to struggle in keeping his title hopes alive. Power, like everyone else, got caught out by Rossi's risky strategy while he also got jumped by Wickens who pitted earlier than the #12 Penske driver. Despite trying to put on a late challenge, Power was unable to regain the place he lost to Wickens, leaving him in third but with a reduced 87-point gap to championship leader Scott Dixon.
Power's Penske teammate, Josef Newgarden, finished between him and Dixon on track but he was hoping for so much more after Dixon's poor qualifying. Newgarden only ended up gaining two points on Dixon, despite the fact the latter qualified in ninth after being caught out by Hinchcliffe's crash in qualifying. Dixon himself ran a fairly good race with damage limitation being the name of the game; his lead is down by 24 points with Rossi stealing a march, but it could've been a whole lot worse.
The star of the race, other than Rossi, was undoubtedly Sebastien Bourdais who, after starting dead last, made 20 passes to finish in a sensational sixth place. This was made all the more impressive by the fact that there were no cautions to close the field up during the race, Bourdais did it all on merit. The Frenchman overtook more drivers than can be mentioned with the majority of the overtakes happening in risky places and around the outside – he was unstoppable all race and proved to everyone what he could've done had he not crashed in qualifying.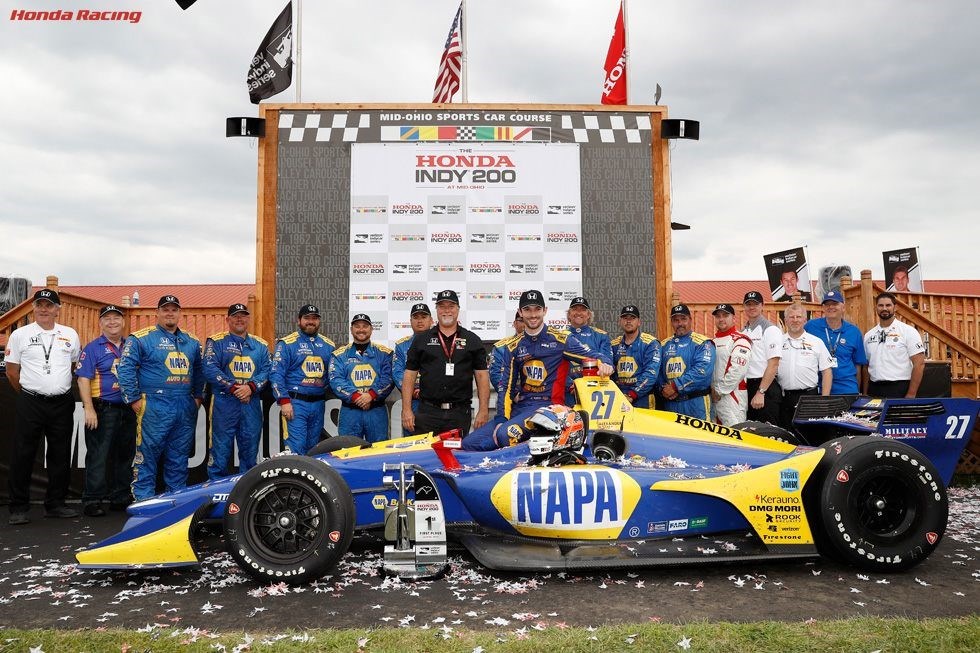 Another driver to note was Bourdais' returning teammate, Pietro Fittipaldi, who was competing in his first race back since his horrific leg-breaking crash at the top of Eau Rouge during the WEC round at Spa. Fittipaldi is still walking with a cane, could hardly get into the car, had to have a brace on his leg and had to have numerous adjustments to the pedals – any normal person just wouldn't race but Fittipaldi's a racing driver, so race he did! The Brazilian finished second-to-last but that didn't really matter, he finished and gained valuable experience while he was at it.
That rounds out the IndyCar action at Mid-Ohio with a well-deserved two weekends off for the IndyCar paddock ahead before they return at the 'Tricky Triangle' of Pocono.
Full Race Results:
Alexander Rossi
Robert Wickens (R)
Will Power
Josef Newgarden
Scott Dixon
Sebastien Bourdais
Ryan Hunter-Reay
Simon Pagenaud
Graham Rahal
Zach Veach
Marco Andretti
Jordan King (R)
Spencer Pigot
James Hinchcliffe
Ed Jones
Charlie Kimball
Takuma Sato
Tony Kanaan
Matheus Leist (R)
Jack Harvey
Rene Binder (R)
Conor Daly
Pietro Fittipaldi (R)
Max Chilton