As part of a once-every-other-year contract, Formula One returns to Hockheim for the first time in twenty-four months for the German Grand Prix, and what a setting it is. Situated twenty kilometres south of Mannheim in south-west Germany, trees stretch as far as the eye can see across the forest into which the track used to extend. Heidelberg crosses the River Neckar, with two massive white pillars forming a beautiful gate at the end of it. Standing proudly among the trees behind it is Heidelberg castle. There is a really special old racing town feel about Hockenheim, making it extremely frustrating that the Formula One bandwagon can only visit every other year.
This will of course be the first ever time that these new-spec Formula One cars will have raced around the Hockenheimring. The last time the race was held back in 2016, Lewis Hamilton took the win from the Red Bulls of Daniel Ricciardo and Max Verstappen, en route to Rosberg's thrilling championship victory. That particular win had given Hamilton a 19-point advantage in the championship, but in 2018, Hamilton is fighting to take back the lead.
He will have to do so against another of the local heroes that of Ferrari's Sebastian Vettel. The German emerged from the race at Silverstone with an eight-point championship lead after an excellent victory at his rival's home race. Hamilton brilliantly recovered to second place after contact on the first lap with the other Ferrari of Kimi Raikkonen.
Up until 2013, Hockenheim shared ownership of the German Grand Prix with the Nurburgring in Ahrweiler, but the historic circuit lost these rights due to a lack of funding. This prompted the then F1 supremo Bernie Ecclestone to take some creative measures to try and keep the circuit on the calendar, which led to a messy bribery court case.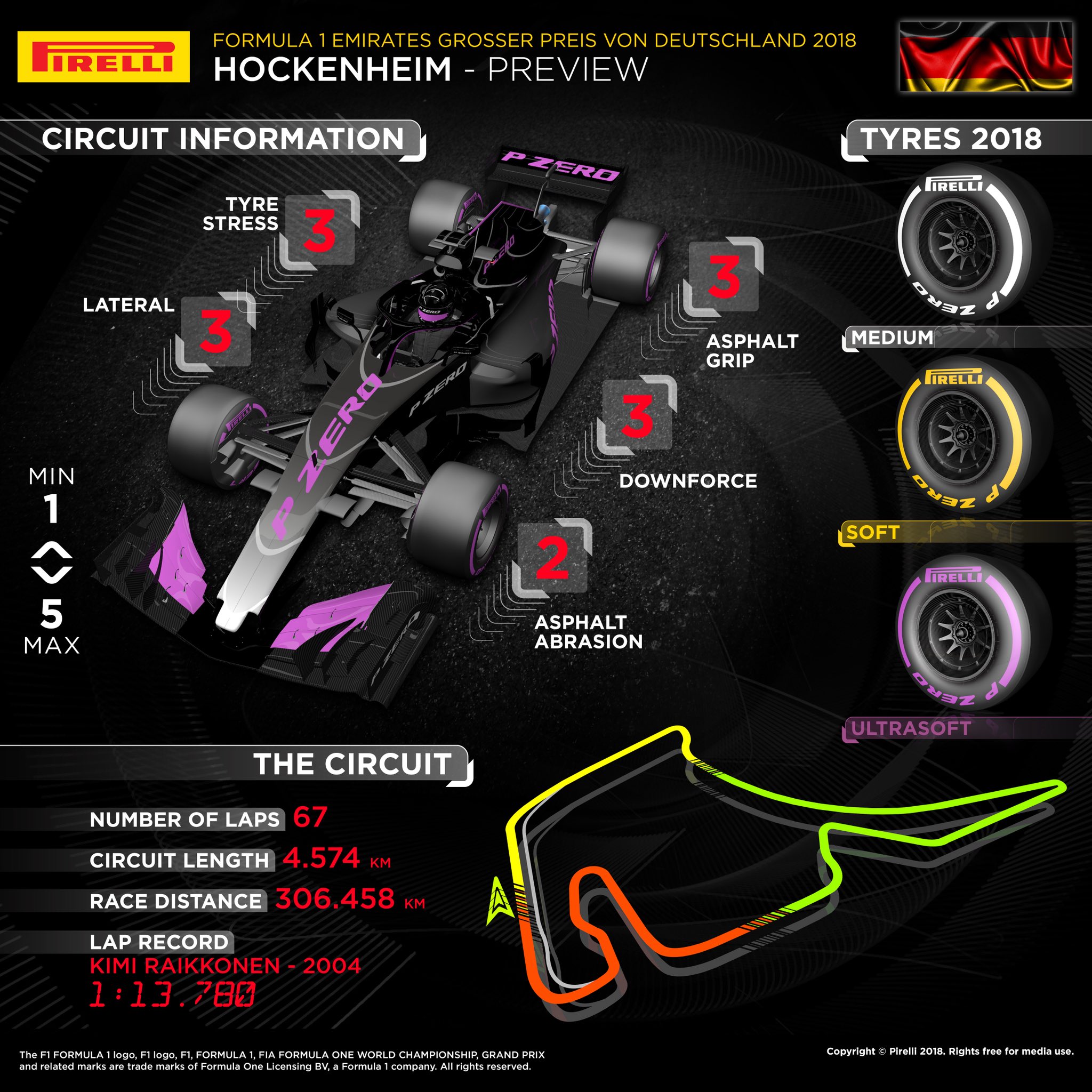 As well as Sebastian Vettel, it is also the home race for Renault's Nico Hulkenberg, with the French team for whom he drivers continues to battle with Haas and Force India in the mid-field. And of course, it is a return home for constructors' champions Mercedes.
Predominantly, this is a circuit that should suit Mercedes, but don't completely rule out Ferrari and Red Bull. The second and final sectors offer a few more twisty sections, so expect them to be right on their tails.
As beautiful as the setting and the track are, Hockenheim holds painful memories for motor racing. The [longer] circuit has claimed the life of twenty-seven drivers over the years, including the great Jim Clark.
The championship battle is heating up almost as much as the British weather, as we head to Germany for round eleven of the 2018 world championship.