Fourth place in race one gave Michael van der Mark pole position for World Superbike's second race of the weekend in Misano, and with the pace he displayed in Saturday's race one the Dutchman had a prime opportunity to take his third World Superbike win.
But it was Xavi Fores, from third on the grid, who made the holeshot, and took the early lead in race two, and in the early stages he led well, until his Barni Racing Ducati expired on the second lap of the race. It was a tough blow for Fores, who returned to the front in Rimini after a few difficult races since Donington, and a podium – which was on the cards,  it would have been the perfect way for the Spaniard to go into the eternal summer break.
The retirement of Fores let Van der Mark into the lead, a position which he relished. Battling behind between Jonathan Rea, Tom Sykes, Marco Melandri and Chaz Davies – especially between Rea and Melandri when the Northern Irishman was trying to take second place from the Italian – allowed the Donington double winner to create an advantage, and before too long the #60 Pata Yamaha was over one second up the street.
It was about at this point that Rea finally dispatched Melandri and with nine laps to go set on after the 2014 World Supersport Champion. It took the reigning champion all of about three laps to catch Van der Mark, but unlike the other seven riders he had fought past in the race to this point, Magic Michael put up a defence strong enough to keep Rea behind. Rea had been making moves in turn three, turn six and turn fourteen almost with ease to this point in the race, but Van der Mark rode superbly to keep him at bay for a number of laps.
The battling at the front allowed Marco Melandri to catch the two leaders, at which point Rea dealt with Van der Mark. Melandri then had the opportunity to take second place from Van der Mark and challenge Rea for the win, but was unable to set something up. It was a tense ending to the race, but with each of the three riders in the front group having just enough to keep them out of range of the rider behind, it was a stalemate from the beginning of lap nineteen to the flag; Jonathan Rea leading over the line from Michael van der Mark and Marco Melandri.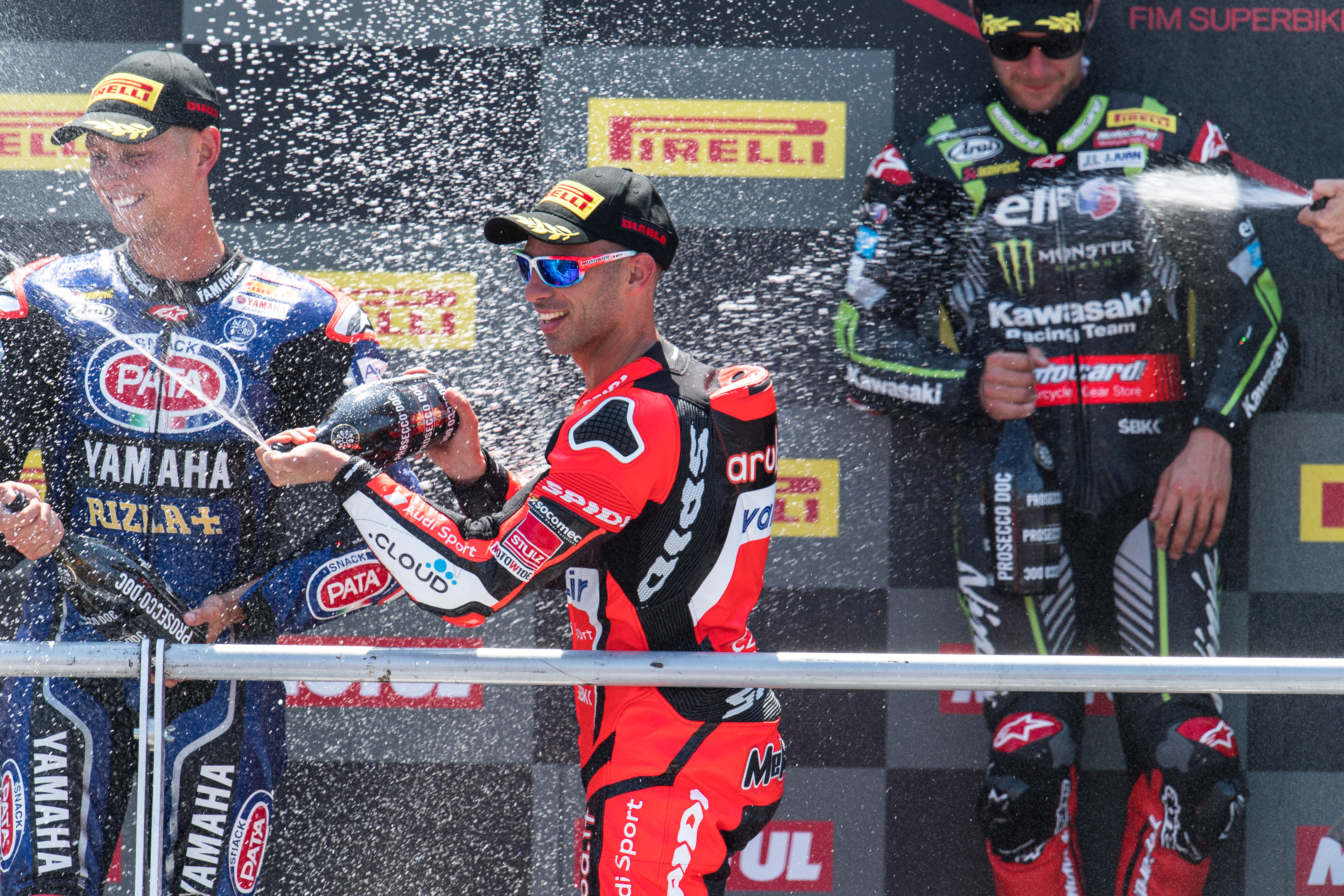 Rea's victory was an important one, as it was his third double in the last five rounds and took him 92 points clear at the top of the championship – out of range. It's difficult to find words for Jonathan Rea anymore. He controlled the first race of the weekend from lights to flag, and then made a perfect start in the second race which was followed by some tough battling and sublime overtaking. Once again, he showed his knowledge of the Pirelli tyres and how to get the maximum out of them, hauling the bike up on the exit of every corner like no other to minimise spin without too much electronic intervention. This has been a common trait of Rea's riding since he arrived at Kawasaki in 2015 and realised that, whilst the overall package of the ZX10-R was an improvement over his previous machine, he wouldn't be able to run the corner speed of the Honda with the Kawasaki. Instead, Rea changed his style to break hard and late, trail braking deeper into the corner than any other rider – somehow without ever losing the front – and then using the power of the Kawasaki to fire him out of the corner. This style has only been exaggerated this year with the rev limits which have been placed on the Kawasaki limiting both its top speed and, more importantly, its acceleration. These limitations which have been placed on the Kawasaki this year have basically made it essential for their riders to make all their lap time on the brakes, and this is where the difference is between Rea and teammate Tom Sykes, because Rea is more confident braking late and on angle than Sykes, and even when the reigning champion gets out of shape in the braking zone, he can still make the apex. This is in part because Rea has tremendous front feel, but also because the bike is quite clearly set up in a way to suit this style perfectly. Rea's advantage in this area has been visible all season, especially on Sunday in the second Misano race, and for the most part it is why he is able to win so many races.
Michael van der Mark's second place was an important one after a tough Laguna Seca round, and being hampered by a poor Superpole for the first race. It could have been a win had it not been for the mastery of Rea, but then, without Rea, the championship fight would actually be, well, a fight. Either way, Van der Mark rode beautifully and in the laps where he was being challenged by Rea his replies were superb, his answers to Rea's probes were ones which no other rider could imitate. He adapted his lines to match Rea's attacks, and whilst he was overcome in the end, his performance was perhaps the best of any pilot in the field in this race.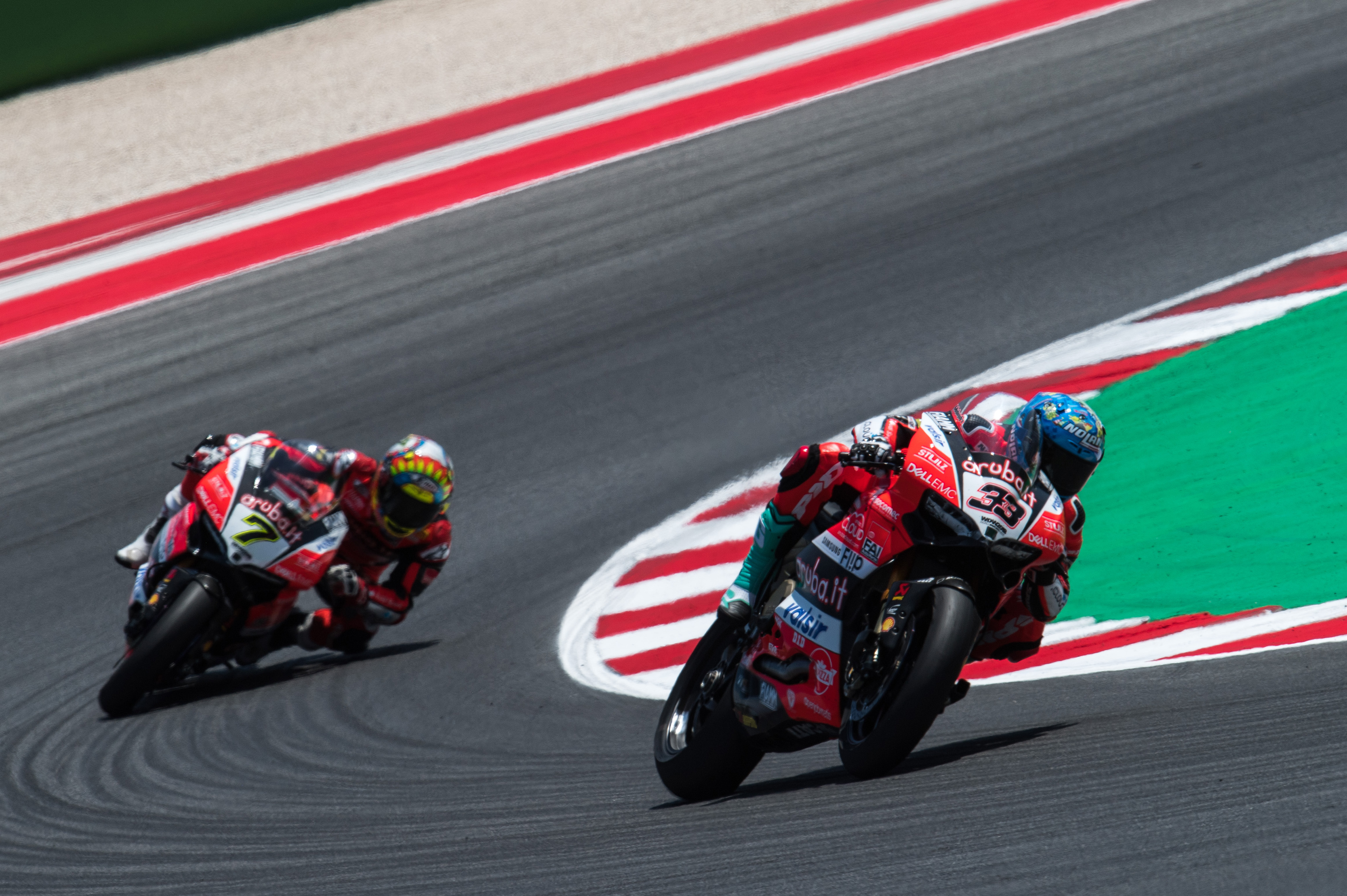 Third place for Marco Melandri was partly disappointing, but also very positive for the Italian. Firstly, it was disappointing for Melandri because he could have won. This was not only because he was there in the front trio, but also because he suffered a lot on Friday, and losing both FP3 and FP4 was critical for his weekend, as it cost him time to adapt for the new front tyre which Pirelli took to Misano, and was the popular choice amongst the riders for both races. The first race turned into a test for Marco, trying to work out what he needed to make the new tyre work, and the warm up was in the same vein. In the end, it worked for Melandri, as he was able to fight for the win, but the point is that had he not lost the third and fourth sessions of the weekend he may well have been able to challenge harder for the win. But, this is racing. Unfortunately for Melandri, he has to hold onto the positivity of the progress made between Saturday and Sunday in Misano for 9 weeks before World Superbike returns in September at Portimao.
Chaz Davies ended the race over two seconds off the win, which will be a disappointment after he made such a positive start, making moves on many riders and looking like he had the pace. However, the longer the race went on, the longer it became clear that Davies would be without a second trophy from Misano. Being 92 points back in the championship, it's pretty much rostrum or hospital now for Davies, not because he can still win the title if he does that but because no one goes racing to not come home with a cup.
It was a second fifth place of the weekend for Tom Sykes. After the Kawasaki garage exploded in Brno, and the scything words from Sykes aimed towards both Rea and his crew chief, it was to be expected that the 2013 World Champion might have put up a bit of a fight against Jonathan Rea, but that never came. It looks like Sykes has lost a bit of motivation, and to me it seems like the best thing that can happen for Tom right now is for him to get this season over with, get out of Kawasaki, to a new manufacturer where he feels more comfortable and then perhaps we can see him back at his unbeatable best.
Sixth place went to Alex Lowes, who was looking for pretty much anything after two crashes in the first race. Finishing six seconds off his teammate won't have pleased him too much, but coming from twelfth was always going to be difficult, as he noted himself both before and after the race. Now Lowes goes to Japan, and the Suzuka 8 Hour along with his Pata Yamaha teammate, Michael van der Mark and many other World Superbike riders, as well as about half the British Superbike grid, to try to win for the fourth successive time in the biggest single race of the year.
Lorenzo Savadori took seventh place, beating teammate and Saturday's third place man, Eugene Laverty, over the line. Laverty put his downturn in both pace and result between Saturday and Sunday down to the rear tyre, which he claimed had no grip in the second race. It has been the target of Aprilia and SMR all season to give Laverty a bike which has some rear grip. They finally arrived at that point in Laguna, and continued that in Misano, at least until the end of the first race, and the podiums that arrived when they found him some rear grip served as proof that Laverty is still a top runner when he has what he wants, so to lose that on Sunday to what seems like a tyre problem was a big shame for Laverty. But Portimao is next for the Northern Irishman, and his target there is to win – he has nine weeks to think about how to do that.
Ninth place went to Loris Baz, and he finished ahead of Leon Camier who rounded out the top ten. Camier is another of the riders heading out to Suzuka. Leon is riding the first full factory HRC Honda there has been in a long time, as they look to end Yamaha's winning streak at Honda's home circuit.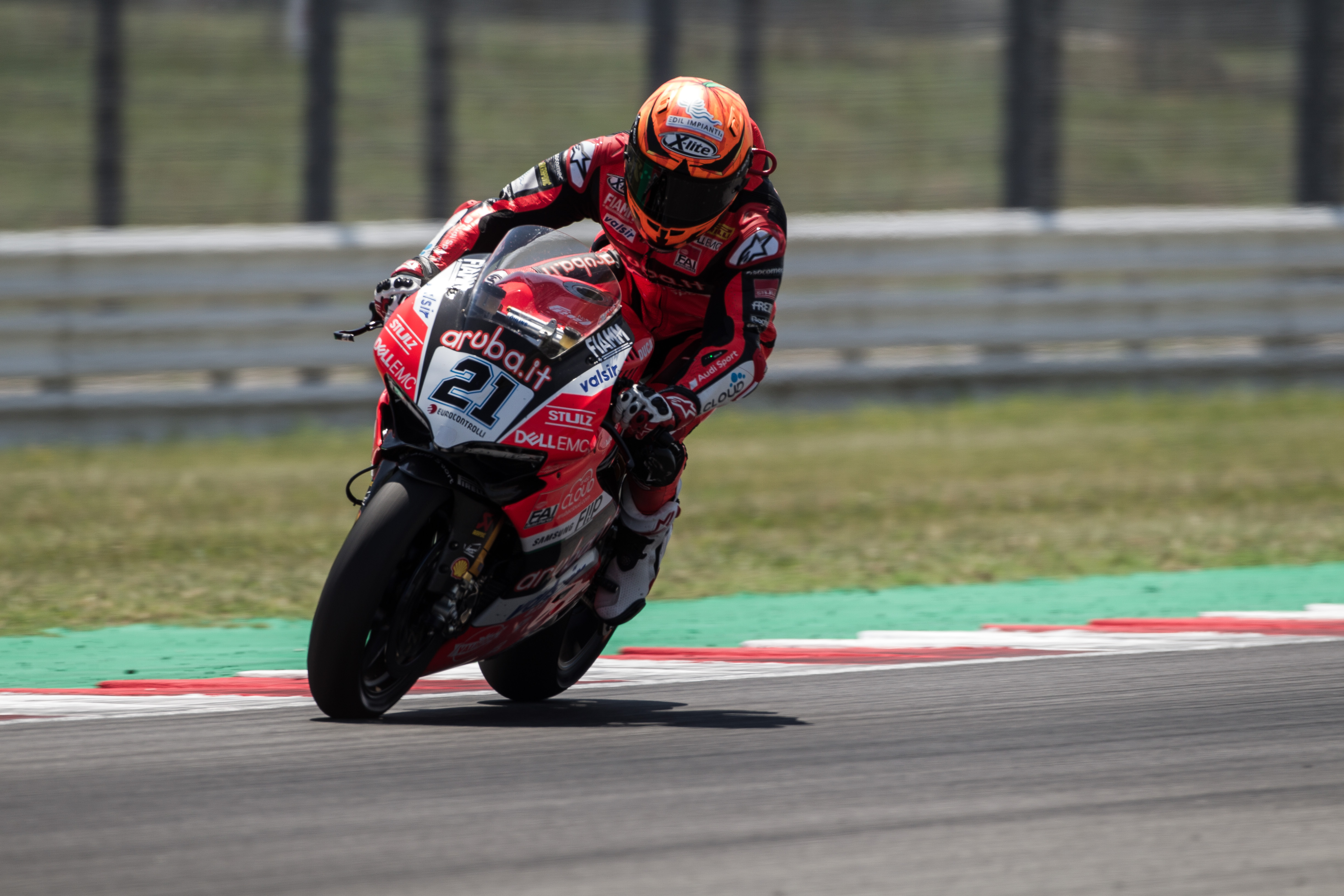 Michael Ruben Rinaldi showed a big improvement in race two compared to the rest of the weekend, but could still only manage eleventh place, whilst the injured Toprak Razgatlioglu was twelfth. Nicolo Canepa scored thirteenth in his third wildcard race of the season, as he beat Jake Gagne home, whilst Roman Ramos rounded out the points.
Yonny Hernandez was sixteenth, and Leandro Mercado re-mounted his Orelac Racing Kawasaki after a crash early on to be the last of the seventeen finishers.
Jordi Torres retired at the end of lap one when his MV expired, and half a lap later Fores' Panigale blew. Karel Hanika's replacement, Alessandro Andreozzi, retired with six laps to go and PJ Jacobsen went out with two to go.
Now the Superbike World Championship heads for its nine-week-long summer break, after which it heads to the Autodromo do Algarve in Portimao.