This weekend sees the return of the British Touring Car Championship to the Cheshire circuit of Oulton Park.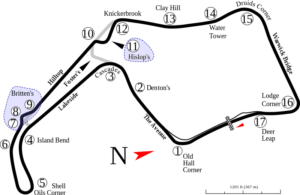 The 5th event on the calendar this year, Oulton Park marks the midpoint in the hectic season that defines the BTCC and what a season it's been so far!
With Adam Morgan currently holding a precarious one point lead at the top of the championship, this weekend could be the location for large amounts of reshuffling with the top 5 separated by a mere 18 points! Oulton Park is a circuit renowned for exciting racing with its varying gradients and hills such as Knickerbrook as well as possessing a number of tight corners ideal for overtaking such as Lodge Corner. Be prepared to see big reshuffles of the standings throughout races as there are simply countless areas ideal for overtaking.
With low chances of rain and predicted temperatures of around 20 degrees Celsius, the fans will be turning out in droves with an estimation of around 40,000 coming to the circuit over the weekend. It's sure to be an enjoyable weekend for them if they are lovers of adrenalin fuelled overtaking and gorgeous weather!
The make-up of the grid was confirmed after qualifying today and there was a shock at the top of the grid.  Matt Simpson set pole with a lap over two tenths faster than second placed Sam Tordoff. In terms of the title race, it was expected to be a tricky qualifying session for championship leader Adam Morgan with the 75 Kilogram success ballast that accompanies the top spot. He ended up 19th. This leaves considerable work to be done on race day for Morgan but it also presents a glorious opportunity to his championship contenders, especially Matt Neal. After struggling in the early rounds of the Championship Neal has gotten to grips with the new Honda Civic sealing a win at Thruxton, he currently sits 6th in the standings but has qualified 5th at Oulton. If there's a man to watch this weekend I'd point towards Matt Neal.
It's sure to be a great day of racing at Oulton Park with many thrills and spills along the way so start your countdown to round 12 of the season, it's going to be an interesting one.
James Clinton Hunt
Featured image courtesy of BrianDeegan.co.uk under creative commons