Coming into MotoGP qualifying, there had been 67 crashes across all three classes over the course of the French Grand Prix weekend, and surely the number was only going to increase during the most high-pressured fifteen minutes of the weekend.
And indeed it did. Alvaro Bautista was the first to fall in Q1, followed by Karel Abraham and then a giant high side for Cal Crutchlow before Pol Espargaro crashed as well. In Q2, it was Aleix Espargaro who was the first and only who crashed at turn two. Well, he lost the front at turn one, let go of the bike at turn two, and the bike came to a halt on the outside of turn three. It could have been a lot worse for Aleix, but he returned to pit lane in time to get out on his second bike.
However, it could not have been much worse for Cal Crutchlow. He crashed in FP3, then again in FP4, before the monster high-side at Garage Vert on his final Q1 lap. He cracked the throttle, and the electronics did not save him, it almost looked a bit like Dani Pedrosa's Aragon 2013 crash when he came out of turn 12 with, to his surprise, no traction control. Cal came crashing down on his back, on the right side, and was then collected by the bike too, for good measure. It had been a messy day for Cal upto that point anyway, and he had been quite animated on Friday at times, too, but it was difficult to foresee his day ending in that way. He went to hospital for check-ups, where it seems to have been discovered that he has suffered no broken bones, but heavy bruising has occurred. He did not go unconscious after the incident, which means that he could theoretically race tomorrow, and it is difficult to ever discount Cal Crutchlow from fighting to race. Either way, it could have been a lot worse for Cal, and it is good to know that his injuries are not too serious.
In fairness, it was a surprise to see Crutchlow in Q1 in the first place, after the start to the season he has had, winning in Argentina, and pole in Jerez being the highlights of an opening four rounds that got many people wondering (again) whether he would replace Dani Pedrosa in Repsol Honda.
But the Q1 session was very close, and it was to be expected: Dani Pedrosa, Alex Rins, Danilo Petrucci, as well as Crutchlow all being riders who had a decent shot at getting through to Q2. In the end it was Pedrosa and Petrucci.
So that left Q2, and it was a battle between Petrucci, Johann Zarco and Marc Marquez, it seemed, for pole. Finally, it was Zarco who took it, the home rider putting in a stunning 1'31.185 to take both pole and the outright Le Mans Bugatti Circuit lap record – the home hero in sublime form to delight the patriotic French crowd. Apparently, there was a "royal wedding" today in Britain, but I think the real prince of today has been Johann Zarco. I mean, he didn't have to get the homeless scurried away for his moment of brilliance, and it is probably fair to say that he brought more joy to the crowd today in that one moment than any prince will in a lifetime. Today, Zarco was great, unstoppable, and it is difficult to imagine that he will be much different tomorrow, and in this moment I think it is important to point out what Johann Zarco is: different,  and is he afraid to be different? No. He embraces his quirks, he is comfortable with them, and it shows in his performances. He is someone people should look to for inspiration and he should be celebrated for his quirky success – it's his success because it's success done his way, and that deserves a lot more celebration than two rich people getting married. I wish people like him got what they deserve.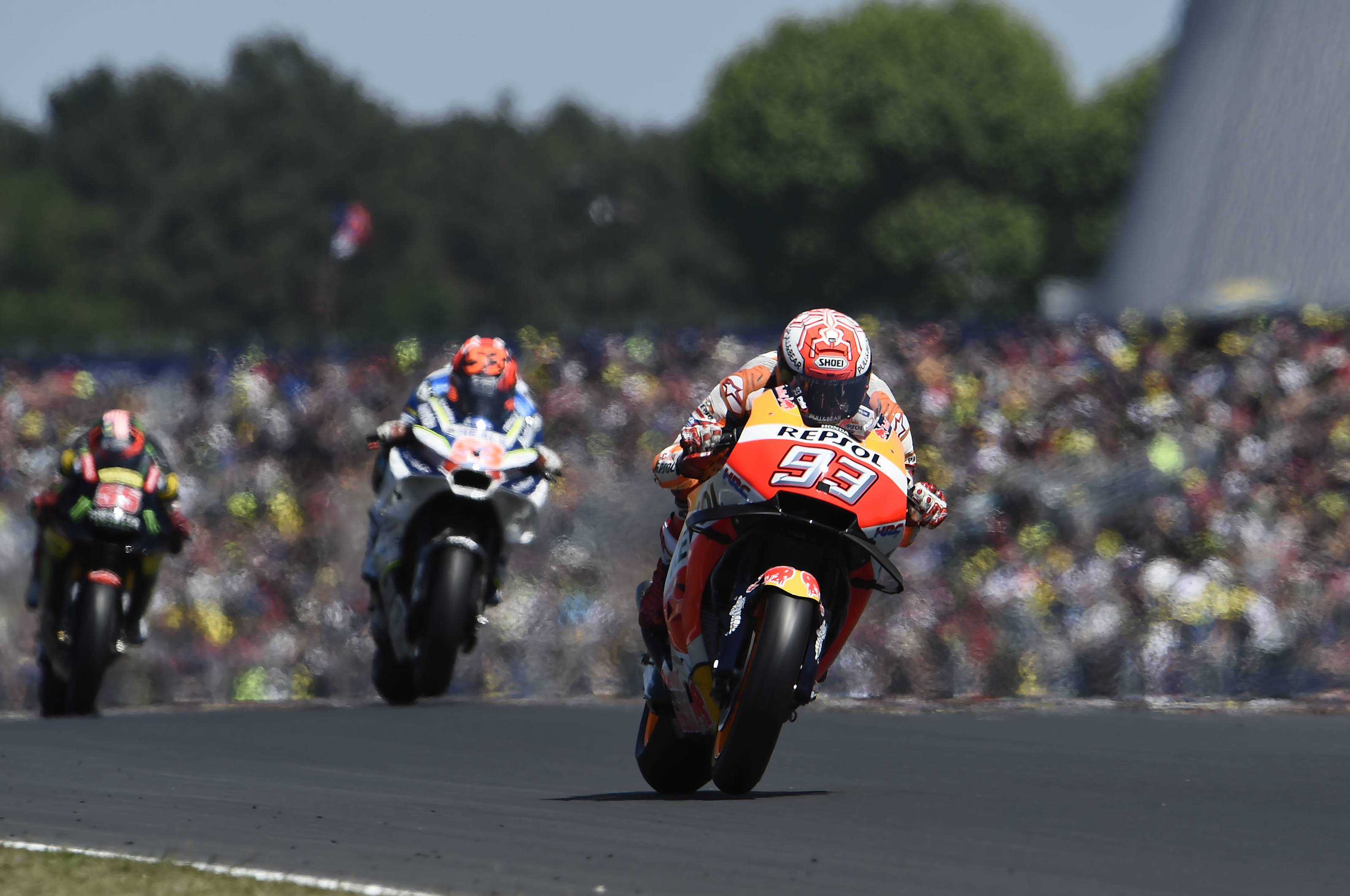 People like him might include Marc Marquez, although he should be celebrated simply for being the best at what he does, and for being outstanding entertainment. Marc Marquez is the personification of why people like motorcycle racing, or motorsport in general, because you just do not know what will happen. Sometimes this is bad, sometimes it is remarkably great, but today it fell somewhere in the middle. He crashed in FP3, but as he has done on so many occasions, he just got back on, and rode round some more. Two corners after a crash, he has his elbow on the deck again – the man is truly biblical. But it was the second fastest time for the reigning World Champion today. It will be difficult to keep him there tomorrow, and that very sentence when spoken on the French GP weekend is a worrying thought for the rest of the season.
After making a step in FP4 and advancing to Q2 from Q1, Danilo Petrucci qualified as top Ducati in third place, making stronger his case to replace Jorge Lorenzo next season in the factory team. Can Petrucci win tomorrow? Maybe not, but he can make it very difficult for the people who can.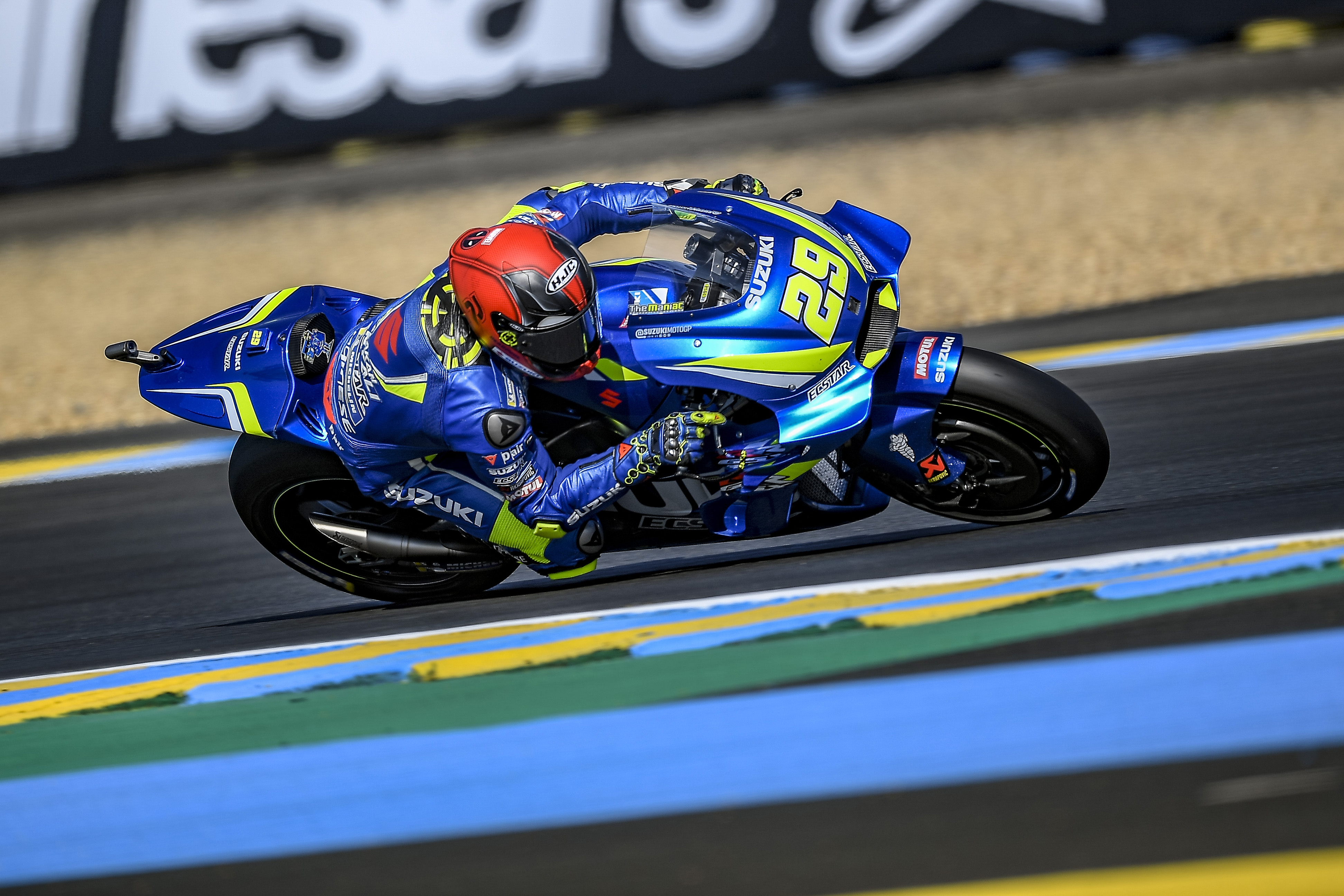 Andrea Iannone will start tomorrow's race from the front of row two. He has out-paced his teammate, Alex Rins, at both of the previous two races, and has out-performed the Spaniard in France, too. He wants that second Suzuki seat for next season, and he is going about it in a good way – a third successive podium tomorrow would only help his chances.
The #04 Ducati of Andrea Dovizioso put in a late lap to move from tenth on the grid to fifth. It was an important lap for Dovi because he needs to win tomorrow to start taking points out of Marquez, if he wants to fight for the championship. Whilst the one lap pace for Dovi was not so fantastic, the race pace looks good, and he seems to be one of the few riders who has free reign when it comes to tyre selection; soft, medium, hard – on the rear they all work. It will be a question of temperature tomorrow for Dovizioso when it comes to tyre choice, but it looks like he will be able to fight for the win no matter what the situation.
It is the third GP18 of Jorge Lorenzo which will line up at the back of the second row tomorrow in sixth place. The Spaniard will be aiming to climb onto the podium, both to make up for what he missed in Jerez, and also to combat Petrucci and Iannone. Lorenzo could win tomorrow, but will he? Well, probably not. He may have the pace to stay with the leaders but Lorenzo's silky smooth riding style and apparent inability to maintain a rhythm after he has been passed means it will be difficult for him to maintain the fight tomorrow, especially with a fired up home hero like Johann Zarco in the mix. Even if Lorenzo gets out front, there is little to stop the Frenchman sending a torpedo into the bow of Lorenzo's Duc if it came down to a last lap scrap, and history would suggest that he would have little with which to respond.
Jack Miller goes off of seventh place tomorrow, as he impressed once more on the GP17 Ducati. The Aussie out-qualified both factory Yamaha riders, both of whom start alongside him on row three tomorrow.
Maverick Vinales is the lead of the two Movistar bikes in eighth. He has been quick all weekend but Yamaha's newest weakness; qualifying, once more reared its softly-sprung head in today's Q2. It seems that, when it gets hot, even if the M1 can keep hold of the tyres over a race distance, it cannot make one lap with good speed. Vinales complained in Thailand that the bike, this year, has become too smooth. This was somewhat backed up in Jerez when Valentino Rossi, who was ninth in quali, complained that the tyres on both the front and rear were too soft, which implies there is too much weight transfer going on for the tyres to handle. The smoothness, or potential over-softness, of the 2018 M1 is unhelpful for qualifying because it means that it is difficult for the rider to feel the grip of the new tyre underneath them, because still the bike is moving too much, and this is heightened by high temperatures and low-grip conditions. If the rider cannot feel the difference of a new tyre, then they cannot make the expected difference with a new tyre. This puts the pair in a difficult spot for tomorrow, as they seem to have good race pace, but a poor first lap could ruin that, and a poor first lap is entirely possible from the third row.
Dani Pedrosa will line up tenth tomorrow, but has struggled this weekend and so might find it difficult to make progress. Tito Rabat and Aleix Espargaro were 11th and 12th.
If Cal Crutchlow starts tomorrow he will line up 13th, ahead of Hafuzh Syahrin and Alex Rins, who needs a good race tomorrow and most importantly a finish, because he only has one of those so far this season. [Update Cal has been cleared to race].
Franco Morbidelli will start 16th, ahead of the KTMs of Bradley Smith and Pol Espargaro. It's strange that, since Pol signed for KTM, Bradley has stepped up a lot. Either way, he will struggle to find a GP ride for next year, and World Superbike aren't exactly struggling for Brits, or ex-Grand Prix riders. Smith is in a hole and the next races are going to be crucial if he is going to dig himself out of it.
Takaaki Nakagami will start nineteenth for LCR Honda, perhaps their only starter tomorrow, ahead of Alvaro Bautista and Tom Luthi who complete row seven. Row eight is comprised of the eternally damned qualifier, Scott Redding, Xavier Simeon and Karel Abraham.