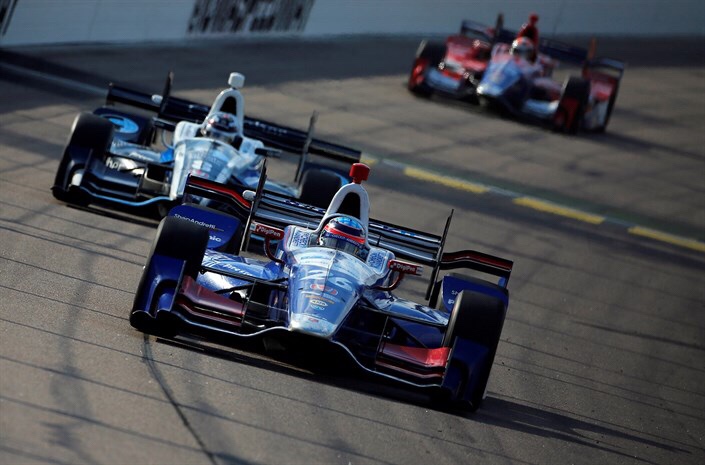 Indycar, Iowa, Hunter-Reay, Rahal, Dixon, Jones, , Action, Drivers
New to IndyCar? Wondering what it's all about? Fear not for here we will bring you a comprehensive guide to the series with everything you need to know about IndyCar as well as a run-down of some the pitfalls a new viewer may find.
Races
IndyCar races take place on ovals, street tracks and normal circuits with most races lasting between two and three hours. However, that can vastly fluctuate and, with no time limits on the races, they will go the full distance unless other factors come into play such as large accidents or rain. To race on ovals, first a driver must have completed a rookie's test at an oval to prove that they are safe to race on them.
For 2018, there will be six oval races and eleven road or circuit races.
Weekend Format
The weekend starts with three practice sessions that take place across the first two days of the race weekend.
Qualifying then takes place as follows:
Ovals (excluding the Indy 500)
The qualifying order is determined by entrant points entering an event – the cars will run in reverse order of this, so the driver with the least points will do their qualifying run first whereas the championship leader will go last. If a car has no points, it will be placed at the start of the order and if more than one entrant has no points their order at the front will be determined by a blind draw.
Each car is allowed two warm up laps prior to their timed run – extra laps are occasionally permitted but only at the race director's discretion. Following this, a driver will complete two consecutively timed laps; an aggregate time is taken as the qualifying time and whoever has the fastest overall time is on pole. If you miss your attempt or mess up one of the laps, tough luck – you only get one qualifying run.
Road courses/circuits (excluding Detroit)
Qualifying is broken into three sections with the first segment being broken into two additional groups determined by the times set in the final practice session before qualifying.
Each of the two groups in segment one gets ten minutes of track time with the fastest lap of each car determining the order. The fastest six from each group (so twelve in total) then advance to segment two while the other cars are assigned grid positions thirteen to last with group one drivers taking the odd numbers and group two the even.
The twelve remaining cars get another ten minutes on track, those who place within the top six will advance to the final section of qualifying while the others will be assigned grid positions seven to twelve.
The remaining six go into the 'Firestone Fast Six' where they get another ten minutes to set lap times with positions one to six on the grid being decided by their respective times in this segment.
If, for whatever reason, not all segments of qualifying are completed, the grid will be taken from the last fully completed segment and if qualifying as a whole doesn't take place, the grid order will be decided by the points order going into the round (if it's the first race this will be based on the points from 2017).
We'll cover the omissions shortly.
Points
Points in a race are awarded for a driver's finishing position as well as for leading at least one lap (one point) and leading the most laps (two points as well as the additional point for leading a lap).
Points in a normal race are awarded as follows:
| Position | points |
| --- | --- |
| 1 | 50 |
| 2 | 40 |
| 3 | 35 |
| 4 | 32 |
| 5 | 30 |
| 6 | 28 |
| 7 | 26 |
| 8 | 24 |
| 9 | 22 |
| 10 | 20 |
| 11 | 19 |
| 12 | 18 |
| 13 | 17 |
| 14 | 16 |
| 15 | 15 |
| 16 | 14 |
| 17 | 13 |
| 18 | 12 |
| 19 | 11 |
| 20 | 10 |
| 21 | 9 |
| 22 | 8 |
| 23 | 7 |
| 24 | 6 |
| 25 | 5 |
| 26 | 5 |
| 27 | 5 |
| 28 | 5 |
| 29 | 5 |
| 30 | 5 |
| 31 | 5 |
| 32 | 5 |
| 33 | 5 |
The exceptions are the Indy 500 and the final round at Sonoma which both award double points.
One point is also awarded for pole position at every race bar Detroit and the Indy 500 which have different systems.
In a normal weekend, the most points a driver can score is 54 if they get pole, lead the most laps and then win.
Double Headers
The only double header on the IndyCar calendar for 2018 is the duel at Detroit on the 2nd and 3rd of June. Double headers have a slightly different format; while the races are more or less the same, the qualifying procedure is different.
The field is divided into two groups based on practice times like normal but each group is given twelve minutes of track time, as opposed to ten. Each driver will set their time which will then determine the grid – all the group one cars will take up the odd numbered grid positions and all group two cars the even. There's no Fast Six and no round two, just the two groups as is normal for segment one. This will take place for each of the two races and one point will be awarded to the driver with the fastest time in each of the two groups for both Race 1 and 2.
Honda/Chevrolet
In IndyCar there are only two engine manufactures, Honda and Chevrolet, with each team choosing one to run in all their cars. The difference between them is minimal however, in previous years they have run different aero kits. This has changed for 2018 because now each team will run the universal aero kit mandated by IndyCar.
Tyres
As in F1, there is a single tyre manufacture, in IndyCar's case it's Firestone. There are three compounds of tyres, two slicks and one wet – they are as follows:
Black = Primary (harder, used at all races)
Red = Alternate (softer, only used at road/circuit races, not ovals)
Rain = Wet tyres (only used at road/circuit races, not ovals)
It's down to Firestone as to how many sets are issued to each car per race, the teams have no say in the matter.
Indy 500
The easiest way to deal with the Indy 500 is to treat it as an entirely separate event in its own right – the format is just so different to the normal races that it's best kept on its own.
The Indy 500 takes place at the end of May but the entire month of May is littered with rookie tests, practice sessions and then qualifying. Practice for the 2018 running begins on May 15th with the first two hours open to rookies and returning veterans, then to all cars following that. Practice continues from May 16th to the 18th ahead of qualifying which takes place on the 19th and 20th.
Qualifying is a confusing affair but it goes something like this…
A blind draw is conducted prior to the Saturday qualifying runs to determine the running order. Each car gets two warm up laps before their run with the timed run itself being an aggregate over four flying laps.
On the Saturday, all cars complete a qualifying run as stated above. This then splits the drivers into two groups: the Fast Nine and everyone else.
This comes into play on Sunday when everyone tenth down from Saturday runs in reverse order to determine positions ten through to last. Following this, the fastest nine cars from Saturday go out on their individual runs also in reverse order. This determines the top nine positions on the grid.
Points are awarded for the top nine as follows:
| Position | points |
| --- | --- |
| 1 | 9 |
| 2 | 8 |
| 3 | 7 |
| 4 | 6 |
| 5 | 5 |
| 6 | 4 |
| 7 | 3 |
| 8 | 2 |
| 13 | 1 |
The race, as the name suggests, is run over 500 miles and normally consists of many lead changes, numerous crashes and more cautions than you could care to count. The rules for it are pretty much the same as a normal race however, double points are awarded for finishing positions:
| Position | points |
| --- | --- |
| 1 | 100 |
| 2 | 80 |
| 3 | 70 |
| 4 | 64 |
| 5 | 60 |
| 6 | 56 |
| 7 | 52 |
| 8 | 48 |
| 9 | 44 |
| 10 | 40 |
| 11 | 38 |
| 12 | 36 |
| 13 | 34 |
| 14 | 32 |
| 15 | 30 |
| 16 | 28 |
| 17 | 26 |
| 18 | 24 |
| 19 | 22 |
| 20 | 20 |
| 21 | 18 |
| 22 | 16 |
| 23 | 14 |
| 24 | 12 |
| 25 | 10 |
| 26 | 10 |
| 27 | 10 |
| 28 | 10 |
| 29 | 10 |
| 30 | 10 |
| 31 | 10 |
| 32 | 10 |
| 33 | 10 |
After the race, the winning driver will park up in 'Victory Circle' and drink (well cover himself in) a glass bottle of milk. The milk drinking tradition comes from 1933 when Louis Meyer drank a glass of buttermilk after winning because his mother told him to drink it when he was thirsty and since then, it's stuck and become part of quirky Indy 500 tradition. The winning driver also gets a massive trophy called the Borg-Warner trophy which, later in the year, they get their bust put on, to be forever immortalised as that year's Indy 500 winner.
Championships
IndyCar has two main championships: drivers and engine manufactures. The driver's championship is fairly straight forward, whoever has the most points from qualifying and race results at the end of the season is champion.
Engine manufacturer points are awarded to the top three finishing positions for each manufacture in a race using the drivers points structure. They get double points for the Indy 500 and Sonoma and also get one point for qualifying on pole at all races bar Indy.
Here's where it differs from the drivers…
Two points are awarded for the manufacturer that leads the most cumulative laps in a race whilst the winning manufacture will also receive five extra points. For the Indy 500, one point is given to the manufacturer who is the fastest qualifier on Saturday and another two points for the fastest on Sunday. Along with this, ten points are awarded if an engine meets the 2,500-mile threshold but twenty points are deducted if an engine fails to complete this.
Whichever of Honda or Chevrolet has the most points by the end of the season is the engine manufacturer champion.
Indy Lights
Indy Lights is to IndyCar what F2 is to F1 to put it simply. A few of the IndyCar teams run a team in Lights, Andretti for example, but it's mainly there as a proving ground for up and coming mostly, but not exclusively, American drivers. Last year's champion was Kyle Kaiser who has moved up to IndyCar for this season but previous champions include: Tony Kannan, Scott Dixon, Josef Newgarden, Gabby Chaves, Spencer Pigot and Ed Jones – to name just a few.
If you want to see who tomorrow's American stars are, look no further than Indy Lights.
Where to watch
In the UK, IndyCar is usually found on the BT Sport/ESPN channel but will sometimes be shown on BT Sport 1, 2 or 3. This is only for the races but practice and qualifying can be streamed through IndyCar's Facebook and YouTube channels.
In American it's split between ABC and NBCSN but it's best to check on a race by race basis as to whose got what.
Potential pitfalls for the new viewer
This is the final section of the guide and it's comprised of things that caught me out when I first started watching IndyCar or things that I can see would be misleading or just different for someone who's used to European racing.
Here we go…
Numbers are attached to the cars and not the drivers.
Liveries change throughout the season depending on the race and what sponsors the car has.
Most of the time, the liveries within a team will be different – just because they're cars don't look the same doesn't mean that they aren't teammates.
There are varying amounts of cars in the teams ranging from single entries like Harding to four car teams like Andretti.
Some drivers and teams come and go throughout the season – some, like Fernando Alonso, just come for the Indy 500 while others will do that and maybe one or two other races.
Some teams share drives between two drivers for example the #19 at Dale Coyne.
What we'd call yellow flags and safety car periods are called cautions and they have them for absolutely everything – another one to note is that cautions breed cautions so one is normally closely followed by another.
What we'd call the 'Pit Lane' is instead 'Pit Road'.
Only six team members are allowed over the pit wall to service the car during a pit stop.
Each car has their own pit box and pit crew so there's no double stacking.
They have rolling starts not standing starts – that would be carnage otherwise!
Cars have to be in a grid-like formation for the restarts.
Marshals arrive to the scene of an accident in bright orange trucks.
The drivers aren't allowed out of their car after an accident (unless it's on fire) until the marshals arrive to check them over.
There are no tyre warmers.
Ovals aren't run in the rain whereas road courses and circuits are.
Team orders are banned.
Rookies will have an '(R)' on the timing screen.
There, as previously mentioned, are no time limits on races – they can go on for as long as they need to which can, in some cases, be very long indeed!
That just about covers everything you need to know about IndyCar, anything you don't know or understand you'll soon pick up as the season progresses. It just makes it easier if you've got a bit of a heads up!
One more thing, here's the season calendar with start times converted to UK time (and yes, there are some in the very small hours!):
| Dates | Race | Location |
| --- | --- | --- |
| 11th March | Firestone Grand Prix of St. Petersburg | Streets of St. Petersburg - St. Petersburg, FL |
| 7th April | Phoenix Grand Prix | ISM Raceway - Avondale, AZ |
| 15th April | Toyota Grand Prix of Long Beach | Streets of Long Beach - Long Beach, CA |
| 22nd April | Honda Indy Grand Prix of Alabama | Barber Motorsports Park - Birmingham, AL |
| 12th May | INDYCAR Grand Prix | Indianapolis Motor Speedway - Indianapolis, IN |
| 27th May | 102nd Running of the Indianapolis 500 | Indianapolis Motor Speedway - Indianapolis, IN |
| 2nd June | Chevrolet Dual in Detroit - Dual 1 | The Raceway at Belle Isle Park - Detroit, MI |
| 3rd June | Chevrolet Dual in Detroit - Dual 2 | The Raceway at Belle Isle Park - Detroit, MI |
| 9th June | DXC Technology 600 | Texas Motor Speedway - Fort Worth, TX |
| 24th June | KOHLER Grand Prix | Road America - Elkhart Lake, WI |
| 8th July | Iowa Corn 300 | Iowa Speedway - Newton, IA |
| 15th July | Honda Indy Toronto | Streets of Toronto - Toronto, Ontario |
| 29th July | Honda Indy 200 at Mid-Ohio | Mid-Ohio Sports Car Course - Lexington, OH |
| 19th August | ABC Supply 500 | Pocono Raceway - Long Pond, PA |
| 25th August | Bommarito Automotive Group 500 | Gateway Motorsports Park - Madison, IL |
| 2nd September | Portland International Raceway | Portland International Raceway - Portland, OR |
| 16th September | Grand Prix of Sonoma | Sonoma Raceway - Sonoma, CA |
By Emily Inganni 20/02/2018
image courtesy of Honda Media Europe.