Felipe Massa's Formula One career doesn't come to an end for another two weeks at the Abu Dhabi Grand Prix.
However, after his address to an adoring public at the Brazilian Grand Prix following a typically gritty seventh place, it feels only right that a reflection on his career is made now.
Massa has said since his first announcement of retirement 12 months ago that while he did not win a World Drivers' Championship, he would not trade the respect given to him by almost every member of the Formula One paddock.
Rarely has an entire sport taken one of its protagonists to heart in the manner that F1 has with Massa.
He first appeared on the Formula One scene as a fresh-faced 20-year-old with Sauber in 2002, regarded as one of Brazil new prospects. After a strong 2002 season he was drafted into test for Ferrari in 2003, returning to Sauber for 2004 and 2005.
His strength against teammate Jacques Villeneuve earned him a seat at the top table in Formula One as Ferrari replaced Rubens Barrichello with Massa for 2006, where he took his first win at the Turkish Grand Prix before winning at home for the first time.
In 2007 he was a successful rear gunner for Kimi Raikkonen's victorious World Championship quest against the might of McLaren, Lewis Hamilton and future adversary Fernando Alonso, before roles at Ferrari were reversed the following year.
Few will forget the 2008 Brazilian Grand Prix. Few will forget the celebrations in the crowd as Felipe Massa crossed the line for victory, seemingly on his way to a maiden World Championship.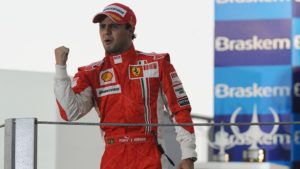 Few will forget the manner in which Hamilton stole it from him with a last gasp pass on Timo Glock to move back into fifth place.
Few will forget the emotion, dignity and passion shown on that podium as Massa realised that it was not to be. It was the other side of sport, as Hamilton celebrated with his entourage and mechanics in the garages below.
That was far from the last time the 36-year-old showed grit in adversity, as in 2009 the Ferrari was uncompetitive heading into what was to become a sombre Hungarian Grand Prix when Massa was struck by a spring from Rubens Barrichello's Brawn and knocked unconscious.
A fractured skull was to rule him out for the rest of the season, a small price given the initial fears for his life.
He was never to win a race again.
Alonso joined Ferrari for 2010 and became top dog, as Masa operated as a reliable back-up. The controversial German Grand Prix saw shades of the old Felipe, as he led for much of the race before a now-infamous team order to allow Alonso through to victory, with many feeling he had been cheated.
A mixed 2011 was marked largely by an ongoing spat with Hamilton, the collided on several occasions, while an uncompetitive Ferrari in 2012 seemed to affect him more than Alonso.
A podium appearance at the 2013 Spanish Grand Prix was as good as it got, before he was jettisoned by Ferrari in favour of Raikkonen. He resurfaced for 2014 at Williams.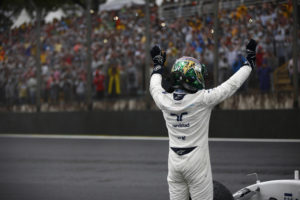 At Williams, he became team leader once again and his consistency during a successful first two years peaked with a pole position at the 2014 Austrian Grand Prix, with the team finishing third and fourth in the Constructors' Championships.
2016 and 2017 have been more disappointing for Williams. Force India relegated them to fifth in 2016, while they are battling with Renault and Toro Rosso for a top five Constructors finish this time around.
Should he finish outside the top three in Abu Dhabi, In 14 seasons Massa has taken nine victories, 16 pole positions and 41 podiums.
Felipe will leave the sport not as a champion, not as a man known for a ruthless streak and not as a driver with a fearsome reputation.
He will leave as driver known for facing down adversity and for keeping his dignity when others with more glittering careers sometimes failed to.
Massa leaves Formula One as a driver as well-liked as much as he is well respected by peers and fans alike.
In Formula One, that does not often happen.
Obrigado and Ciao, Felipe.