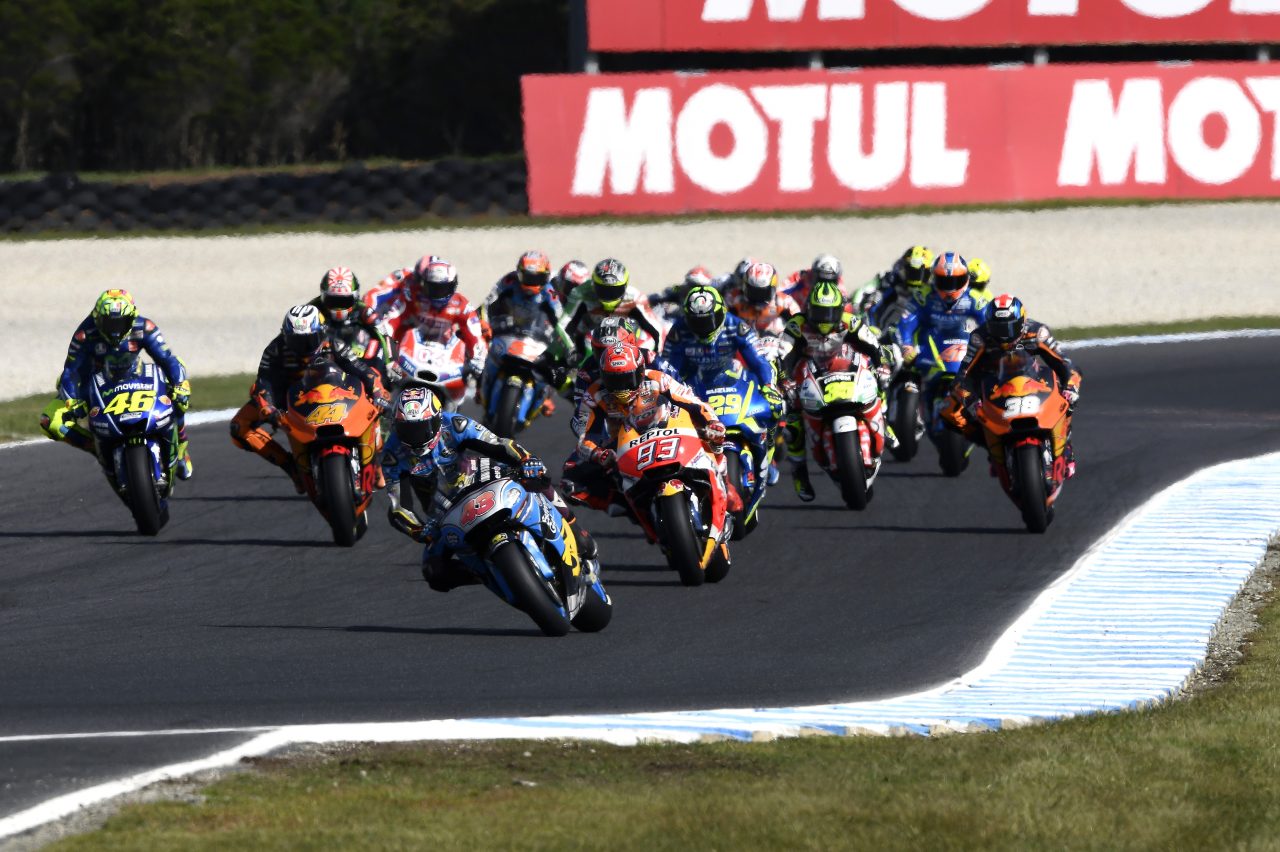 The Malaysian MotoGP gets underway this weekend for the penultimate round of the 2017 season, at Sepang, approximately 35 miles away from the country's capital, Kuala Lumpur. Since the switch back to 1000cc motorcycles, Dani Pedrosa has won three times from five races, although last season, it was Italian and current championship challenger, Andrea Dovizioso who took honours. The Malaysian GP has been hosted at three venues in total: the current Sepang circuit since 1999, Johor in 1998 and Shah Alam from 1991-1997. Marc Marquez comes into the weekend with a 33 point lead, after a disastrous Australian GP for rival Dovizioso. This means that a finish in the top two will be enough for Marc Marquez to win the championship, regardless of what 'Dovi' does.
With Marquez leading the championship by 33 points, he has to be favourite to take the championship, whether it be in Malaysia or at Valencia in Spain. The Spaniard hasn't been lower than 2nd since Misano and if you take out Silverstone, the last time he was off the podium would be at Mugello, in June. Marquez won the Malaysian GP in 2014 and also won the 125cc race at Sepang in 2010. However, Marquez crashed in 2015 after him and arch-rival Rossi came to blows and last season, he crashed but remounted to finish 11th. One mistake for Marquez could swing the championship wide open.
Andrea Dovizioso has a simple task: he must beat Marc Marquez by 9 points to keep the championship alive until the Valencian Grand Prix. A race winner at Sepang last season, Dovi has just two other podiums in the premier class at Sepang: in 2008, which was his first ever premier class podium and in 2010, when he was 2nd to Valentino Rossi. Dovizioso hasn't had back-to-back finishes outside of the top 10 since 2002, at the Sachsenring and Brno. That is a record he will not want to update. Between 2010 and 2016, Dovizioso's best finish at Sepang was 8th, so it is a track that he hasn't particularly shone at in the past. Will that change this weekend?
Maverick Vinales returned to the podium at Phillip Island, having been missing from the top three positions since Silverstone in August. The Spaniard was 8th and 6th in 2015 and 2016 respectively at Sepang but will want to consolidate his podium pace this weekend. The last time he had back-to-back podiums was at Le Mans and Mugello, in the first third of the season. Vinales is a winner at Sepang too, taking victory back in 2011 – his first season of racing and his first visit to the track. He also won the Malaysian Moto2 race in 2014 so that proves that he could be a race winner this weekend as well. If he was to win, he'd be the first ever premier class winner at Sepang who has also won a Moto2 race. Vinales can't mathematically win the championship but he could be just as big an upset.
Valentino Rossi's heroic ride to 2nd in Australia was his first podium since Silverstone. 'The Doctor' hasn't had back-to-back podiums since the opening three races of the season, an incredible statistic given Valentino still holds 4th in the championship. He has won at Sepang a total of six times in the premier class and won at Shah Alam in 1997. Rossi made his GP debut in 1996 and that was also at Shah Alam, where he finished 6th. Yamaha haven't had a race win at Sepang since Rossi won their in 2010 but they have also never had a 1-2 at the venue. Rossi is 31 points behind Vinales, meaning he needs to score 7 or more points than him to keep the race for 3rd in the title alive. He is 48 points behind Dovi, meaning nothing less than two wins in the final two races will give Rossi 2nd overall – an unlikely outcome.
Dani Pedrosa was demoted from 4th to 5th in the standings after a dire Australian GP, in which he was 12th. It was the 3rd time in 2017 that Pedrosa had finished a race outside of the top 10, eliminating him from the championship race. Pedrosa has won three times in the past five races at Sepang, making him a hot favourite this weekend. A win for Pedrosa would match Valentino Rossi's current record of six wins at Sepang. The last time Honda had a double podium was in 2013, a performance they will seek to repeat. Dani Pedrosa hasn't had back-to-back finishes outside of the top 10 since Donington Park and the Sachsenring in 2001 and he will not want to update that fact. Pedrosa is 14 points behind Rossi.
Johann Zarco has won at Sepang twice, in 2015 and 2016 in Moto2. He was the first rider since Hiroshi Aoyama to achieve this feat. If Zarco was to get on the podium on Sunday, he would be the first Frenchman to stand on a premier class podium at the Malaysian GP since the event started back in 1991. The reigning double Moto2 champion is yet to DNF since the Qatari Grand Prix at the start of the season and has finished every Malaysian GP since 2013 in the points. Tech 3 haven't had a podium at Sepang in MotoGP, with their best result being 4th, with Ben Spies, back in 2010.
Jorge Lorenzo somehow retains 7th in the championship, despite the Spaniard finishing 15th at the Australian GP. Lorenzo has never won a premier class race at Sepang and will be hoping to become the 4th Ducati rider to win in Malaysia, joining Capirossi, Stoner and Dovizioso. Lorenzo did however win the 2006 250cc race, although that is his only win at the circuit.
Danilo Petrucci missed a huge opportunity to close in on Lorenzo at Phillip Island, with his dire 21st place finish. Petrucci hasn't had back-to-back finishes outside of the points since Catalunya and Silverstone in 2012, his first season of GP racing. Petrucci was 10th at Sepang last year and 6th in 2015. Teammate Scott Redding has finished every Malaysian GP in the points since 2011 and will yearn for that run to continue.
Cal Crutchlow is 9th in the championship and his 5th place in Australia helped him close in on the battle for 7th overall. Crutchlow has never scored a podium at Sepang and his last back-to-back top 5 finishes came at Aragon and Motegi last season. His best result at the Malaysian GP remains a 5th, from 2015.
10th place in the championship belongs to Jonas Folger but once more, he isn't racing due to his virus. Michael van der Mark gets his long-awaited opportunity to ride a premier class MotoGP prototype machine and is the German's replacement this weekend. The Dutchman has been to Sepang before, on a World Superbike Honda Fireblade, where he achieved a 7th and 6th last season and a 5th in 2015.
The factory Aprilia team will be hoping for a change of luck this weekend, as their lead rider, Aleix Espargaro, recovers with a fractured hand and does not take part. That means all eyes will be on Sam Lowes, who has a best result of 13th at Sepang, back in 2015. Last year, Aprilia had a 7th place finish from a row three start, with Alvaro Bautista.
Andrea Iannone's return to form over the last two GPs have been a welcome return to form for Suzuki too. Iannone hasn't finished three consecutive races in the top 10 since Brno, the Red Bull Ring and the Sachsenring last year. Suzuki in turn haven't had three double-top-10s on the bounce since Mugello, Le Mans and Jerez last season.
KTM come off the back of an incredible Australian Grand Prix, where they had their first ever double-top 10. The Austrian manufacturer will be looking to achieve their first back-to-back double-top 10s and possibly even break into the top 8 for the first time ever. Pol Espargaro will be looking to continue his run of top 11 placings and Bradley Smith will hope to achieve his first back-to-back top 10 since Losail and Termas de Rio Hondo in 2016.
Aspar Ducati will be looking to have a change of fortunes after a difficult Australian GP, endured by all Ducati teams. It was the first time Alvaro Bautista had finished a race outside of the points since Brno last year. If he finishes outside of the points again at Sepang, it will be the first time since Austria and the Czech Republic last season that he has done it on consecutive occasions. Karel Abraham was 14th at Phillip Island and has a best finish of 10th at Sepang, back in 2012.
Marc VDS made a welcome return to form at Phillip Island – or one of their riders did. Jack Miller lead the opening laps at home in Australia to the delight of the 36,000 people trackside. His 7th place meant he kept hold of 12th in the championship. Tito Rabat will be hoping to get his first top 10 of the season at Sepang. He won in Moto2 in 2014 and was 3rd in 2015.
Last but by no means least, Avintia Ducati come to Sepang in search of returning to point scoring ways. Both riders were in the top 5 last season, with Barbera beating Baz. The last time the team failed to finish a race in the points on two consecutive occasions was in 2014, at Aragon and Misano.
The championship could be won this weekend with Marc Marquez looking odds on to wrap it up, now he has a 33 point lead. However, as we have seen in British Superbikes this season, a 33 point lead could be slashed if bad luck falls in order. Vinales, Rossi and Pedrosa could all be massive championship upsets on Sunday and after a hardcore ride at Phillip Island, Johann Zarco will be more determined than ever before to mount the podium, after coming so close Down Under. What the weather will do on race day is another question? Could the heavens open and give us a championship fight or will we see Andrea Dovizioso's championship dreams become drowned out? Time will tell.