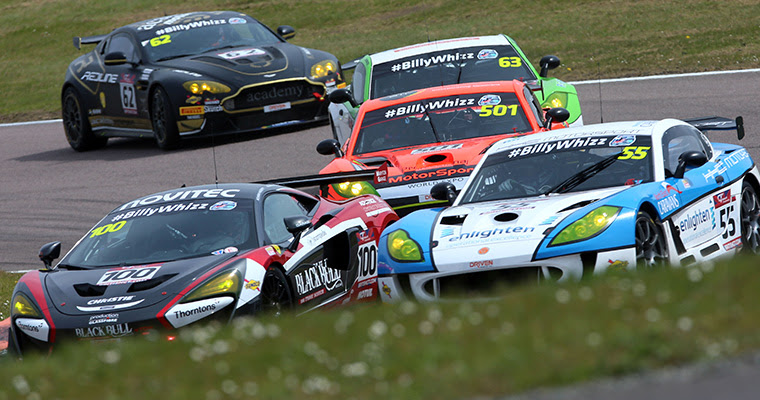 Photo Courtesy Of British GT (c)
2018 entry process opens early after British GT organisers confirm class format.
> 14 of 34 spaces reserved for GT3 cars
> Championship retains multi-class GT3/GT4 format
Entries are now being officially accepted for next season's British GT Championship after series organiser, SRO Motorsports Group, confirmed its successful multi-class GT3/GT4 format would remain unchanged for 2018.
SRO considered splitting its grids into separate races, but that idea has now been dropped after consulting with teams, drivers and stakeholders. The idea of staging a standalone GT4 round at Thruxton has also been shelved for next season.
14 of the 34 full-season spaces have been initially reserved for GT3 cars, although SRO is happy to revise this number up or down depending on demand. Several of the class' current teams have already committed, with driver announcements expected in due course.
GT4's rise also looks likely to continue with new teams and manufacturers in the pipeline. Entries will be accepted on a first-come-first-served basis, as well as historical support and marque variety.
Indeed, the level of interest is such that SRO has moved the opening of its 2018 entry process forwards to the end of October rather than waiting until its usual mid-November date.
Meanwhile, Silverstone and Spa-Francorchamps' additional pit garages once again raise the possibility of seeing one-off or race-by-race entries competing in both classes.
Championship Manager Benjamin Franassovici had this to say in a statement:
"After a memorable and record-breaking 2017 campaign we're hopeful that British GT will be bigger and better than ever before next season. Demand is already such that it makes sense for us to open the selection process earlier than usual so that teams have more time to plan once assured of their entry. That's why I strongly suggest anyone interested should not delay registering their interest!
"We have initially reserved spaces for 14 GT3 cars, which I believe sends a strong message about our commitment to the class. British GT is still home to the strongest GT3 Pro/Am platform in Europe and ensures amateurs are able to win races and championships outright. However, Macmillan AMR's excellent performances this year – they claimed four podiums and two pole positions – prove our Silver Cup class also represents an attractive option for aspiring professionals. The same goes for GT4 where both driver line-ups compete closely together.
"July's announcement about the possibility of running separate GT3 and GT4 races resulted in much discussion in and outside of British GT's paddock. There are pros and cons to both but after consultation with teams, and also taking into consideration the opinions of our fans, we believe a single multi-class championship remains the overwhelmingly best and strongest option for our championship in the foreseeable future."
British GT's nine-round 2018 campaign begins on its traditional Easter Bank Holiday Weekend at Oulton Park (March 31 – April 2).
Neil Simmons
Twitter: @world_racing