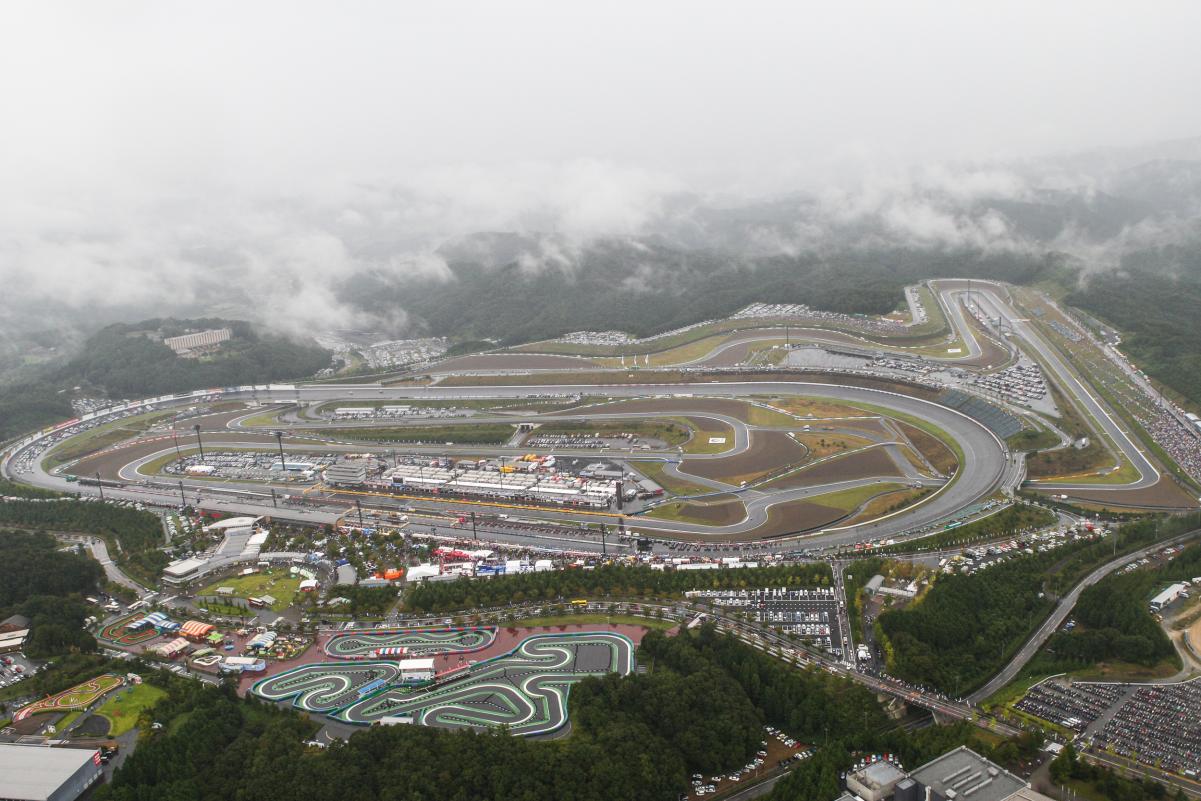 The 15th round of the MotoGP championship season comes from Motegi in Japan, with the title still all to play for, unlike last year when Marc Marquez had his first chance to win the title. The Twin Ring Motegi circuit has been on the calendar since 2000 and has been home to the Japanese Grand Prix since 2004. Marc Marquez has won at the track on just one occasion in the premier class – last season – but Honda have won a total of five times, with Yamaha and Ducati winning four times. It promises to be a great weekend of racing, as well a potential turning point in the championship – although it mathematically can't be won.
Marc Marquez has won the last two races in 2017 at Misano and Aragon. Marquez hasn't won three on the bounce since Assen, Sachsenring and Indianapolis in 2014, a staggering statistic for someone who has took 18 wins and two titles since then. The 24-year-old has not finished outside the top five at Motegi since 2009 and has taken two other victories at the venue – one in the 125cc class in 2010 and one in Moto2 in 2012. Marquez will be hoping to extend his championship lead to above 25 points, which not only gives him a race-in-hand over the opposition but also gives him a shot at the title at Phillip Island.
Andrea Dovizioso had a terrible Aragon and haemorrhaged 16 points to Marquez. Dovi knows he has to take points back out of Marquez in Japan to have any realistic chance of the championship. With the exception of Casey Stoner in 2010, all of Ducatis wins in Japan have come from an Italian rider. Dovizioso – who has taken four wins in 2017 – finished 2nd to Marquez last year, whilst finishing 5th in 2015. The 31-year-old has taken two pole positions at Motegi in the premier class, in 2010 and 2014. His worst result was 2013 with 10th but apart from that and 9th in 2008, he has never finished outside the top 5 at Motegi. Could Sunday be a Dovizioso and Ducati success story?
Maverick Vinales is really on the back-foot as we approach Japan, with him giving more points to Marquez last time out at Aragon. Vinales hasn't won since Le Mans and his last podium was Silverstone and before that it was Brno. Vinales was third last year on the Suzuki at Motegi, although he failed to finish in 2015. Vinales has never actually finished a race at Motegi outside the top four but at the same time, he hasn't won at the Japanese venue. Yamaha's last win came in 2014 with Jorge Lorenzo, despite taking pole position for the last two seasons. The rival Japanese manufacturer will be desperate to reignite their title fight with a win in Honda's backyard.
Dani Pedrosa was the winner of the Japanese GP in 2015, coming from eight seconds behind to beat Valentino Rossi and Jorge Lorenzo. The Spaniard hasn't had back-to-back 2nd places since COTA and Termas de Rio Hondo in 2014 so a 2nd in Japan would update that statistic. Pedrosa didn't start the race in Japan last season but was a winner at the track in 2011 and 2012. He has two other wins in the smaller classes too – in the 125cc class in 2002 and in 2004 in 250s. A podium for Pedrosa would give him 9 for the season, his highest since scoring 10 in 2014. Pedrosa must finish 11th or higher to remain in with a chance of winning the title this year, although realistically, he could do with beating teammate Marquez.
Valentino Rossi caused an earthquake when he announced he would be racing at Aragon and he triggered even bigger aftershocks after running 2nd for almost 50% of the race. Eventually finishing 5th, Rossi has been hard in training at his ranch to try and speed up his recovery. Going into Japan, the Italian is two points shy of Dani Pedrosa and is 56 points behind series leader Marquez. The 38-year-old veteran has won at Motegi just twice, in 2001 and 2008. He has achieved 9 other podiums however and will be hoping to repeat his pole position success of last year. 'The Doctor' has crashed out of the Japanese GP three times in the premier class and will surely be hoping not to do the same as last year. Rossi must finish 9th or higher to have a mathematical chance of the title but in reality, he just needs to take as many points off his rivals as possible.
Johann Zarco continues to hold onto 6th place in the championship. Zarco has finished every race this season, with the exception of the Qatari GP where he crashed out the lead. Whilst that statistic may be impressive, Zarco's last top five was in Austria and he has only had one podium finish – at home at Le Mans. The Frenchman took his first ever GP win at Motegi in 2011 and also won the Moto2 race at the track in 2015. A French rider has never won in the premier GP class in Japan at any circuit. Could Zarco break that record? He is 51 points off Valentino Rossi's 5th place in the championship and mathematically can't win the championship, relieving Zarco of any pressure, so he can attack fully in the final four races.
Jorge Lorenzo is the 2nd Ducati rider in the championship. He hasn't taken back-to-back podiums since Sepang and Valencia last season and will be itching to use the Ducati's horsepower at Motegi, as the circuit hosts four long straights. Lorenzo has won at Motegi three times and has taken four other podiums. Could Jorge take a win this weekend?
Aprilia's hopes of a good weekend will be sky-high after finishing the closest to a race win ever at Aragon last time out. Aleix Espargaro was 6th and will be looking to give Aprilia their first ever top 5. Sam Lowes' season has been a difficult one, so he will be looking to finish in the points for only a 2nd time this year. He hasn't had a top 20 ride since the Red Bull Ring in Austria.
The factory Suzuki team have had a disastrous 2017 campaign. Andrea Iannone didn't ride at Motegi last year and hasn't finished a race at Motegi since 2014, where he was 6th. Alex Rins hasn't had a top 10 at Motegi since 2014 but apart from that and a 4th in 2012, he hasn't had any other top 10s. It may be another tricky weekend for Suzuki at home.
KTM continue to impress – in the Pol Espargaro corner anyway. Pol is level on points with Iannone going into the Japanese round, on 37 points. Since Assen, every race Espargaro has finished has been in the points. Bradley Smith however will be feeling the pressure, especially after wildcard Mika Kallio beat him again at Aragon. Smith last scored points at Misano, finishing 10th, which is so far his best finish for KTM. Neither KTM rider has finished inside the top five before at Motegi in the premier class.
Danilo Petrucci is top independent team rider, in 8th place. Petrucci endured a disastrous weekend at Aragon, finishing 20th. It is the first time since Aragon in 2016 that he has finished a race outside of the points. The last time it happened in back-to-back GPs was in 2012, at Catalunya and Silverstone – his rookie season. Teammate Scott Redding finished ahead of Petrucci for the first time since Phillip Island last season (calculated on the basis that both riders have finished the race). Redding has finished every race since Brno in the points and will be looking to extend that run to Motegi, where his best finish so far is 9th, achieved last year.
Cal Crutchlow did not capitalise on Petrucci's dire weekend at Aragon, as he crashed out whilst inside the top 10. The Brit's best result at Motegi is a 5th from last season, although he retired from a podium battle with Alvaro Bautista in the closing stages of the 2012 race, after running out of fuel. Crutchlow has finished the last two Japanese GPs in the top six, although he didn't finish in 2014.
Jonas Folger is 10th in the standings, making all four Yamahas appear in the top 10 places of the championship. The German was 2nd in the 2015 Moto2 race at the track and 3rd in 2013 in the Moto3 class. A German rider has never scored a podium in the premier class at any Japanese GP. Could Folger set that record straight?
The Aspar Team have Alvaro Bautista in 11th and Karel Abraham in 18th in the championship; both riders have achieved a podium at Motegi at some point in their careers. Alvaro was 7th last season at Motegi and took a podium for the Gresini Honda team in 2012. Karel Abraham has only finished one premier class race in Japan and that was in 2012 but he was 3rd in 2010, in the Moto2 class.
Jack Miller is next up in 12th but isn't racing this weekend due to a broken leg. He is replaced by Hiroshi Aoyama, who finished 2nd at Motegi in the 250cc class in 2009. He finished 15th in the premier class last year. Tito Rabat on the other side of the garage has been more impressive of late. He has a best result of 3rd at Motegi, back in 2014.
Loris Baz and Hector Barbera are the last riders left to cover. Baz has confirmed he will leave the GP paddock after this year, therefore this will be his last race at Motegi. The Frenchman has never scored a point in Japan. Barbera was 17th last year, as a replacement rider in the factory Ducati team. His best result in Japan in the premier class has been 9th, in wet conditions two years ago.
Whatever happens at Motegi, it promises to be a pivotal race in the championship. Will Marquez be able to escape the attentions of his rivals or will they hunt him down and narrow the point's gap at the front? Could weather play a part in proceedings? It has done before. Will we see Aprilia and KTM up the sharper end again, like at Aragon? Of course, it could be another frantic race, which will be just as unpredictable as others have already this season. We will have to wait and find out.
Race Record (Considered lap circuit record): 1.45.350 – Jorge Lorenzo, 2015, Yamaha
Fastest Lap (Any timed session) 1.43.790 – Jorge Lorenzo, 2014, Yamaha
Top Speed – Andrea Iannone, 2015, 314.3kmh/195.29mph