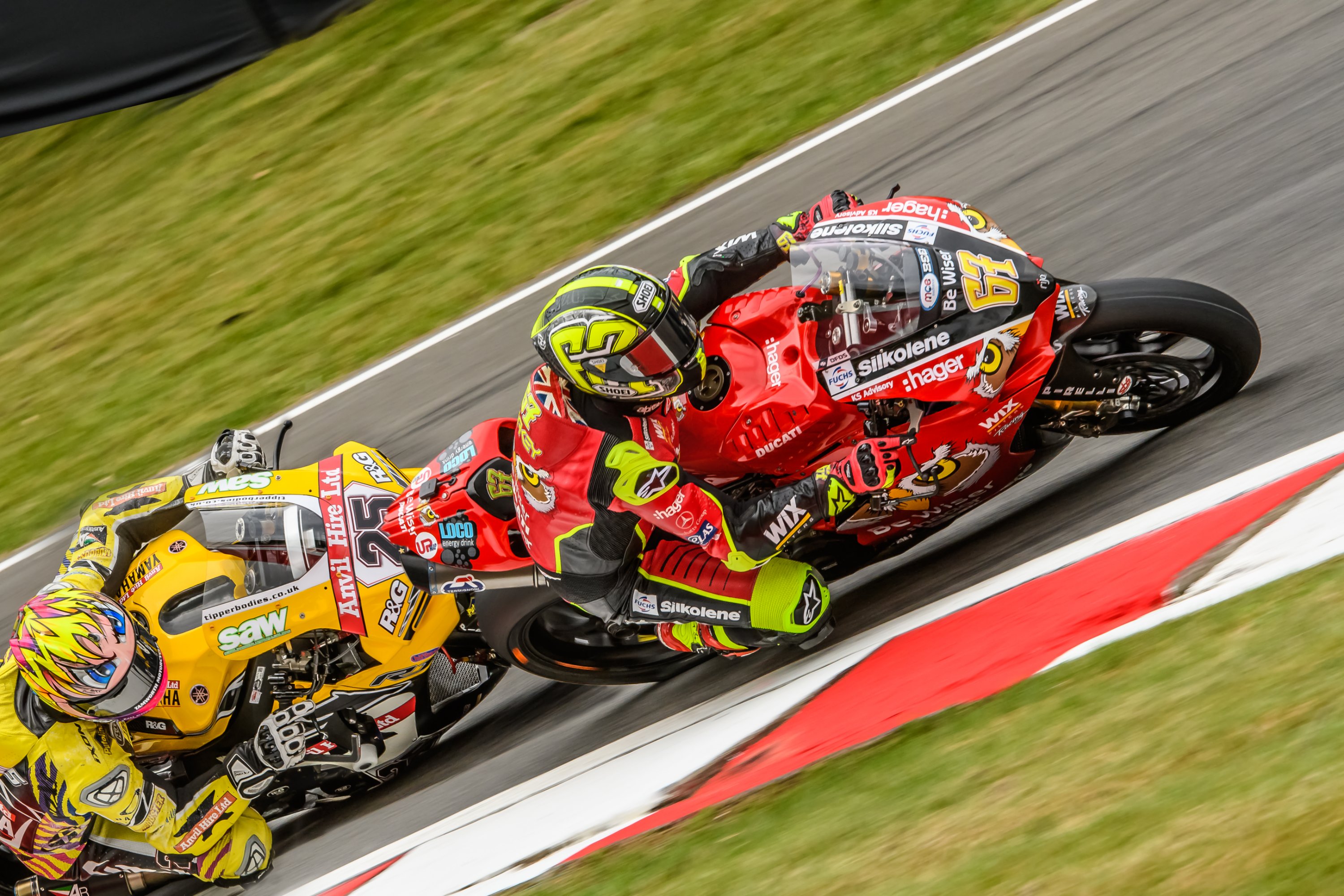 The penultimate round of the 2017 MCE British Superbike Championship beckons and this weekend, it comes from Assen, just outside of Groningen in the north of The Netherlands. The circuit – which was added to the championship back in 2012 – hosted two phenomenal races in 2016, both of which were won by former WSBK Superstar, Leon Haslam – who will be looking to do the same again this year, especially after a new deal was announced on Wednesday, to remain in his current team. Out to stop him in his tracks however are Josh Brookes and Shane Byrne. Both Brookes and Byrne have won around Assen and will use their own knowledge of racing at world level to combat Haslam in the races. You can't discount the other showdown contenders either, with Jake Dixon having had podiums in the Supersport category in 2015. Peter Hickman and Jason O'Halloran need a strong showing here to be in with any realistic chance of championship glory at Brands Hatch.
Leon Haslam leads the championship coming into Assen. This is the first time he has led the championship since he last left Oulton Park, back in May. For the last three seasons, whoever has left the 11th round of the championship in the lead has gone on to win it at Brands Hatch. With Haslam boasting a 22-point advantage over Josh Brookes, that is a daunting statistic for the opposition. On top of that, Haslam won both races at Assen last season and has three World Superbike podiums to his name at the circuit. However, despite his success at the 'Cathedral of Speed', we shouldn't write off anyone else from matching him or beating him, especially Josh Brookes.
Josh Brookes was a World Superbike race leader at Assen in 2016, showcasing his talents on an ill-handling Milwaukee BMW in wet weather. Brookes has three British Superbike wins at the circuit, one other podium and has finished in the top four in every BSB race he has finished in at Assen. Brookes has however had three DNFs at the track but that won't phase the Aussie, who is hunting for his 2nd British Superbike championship, looking to become the only Australian to be a double-BSB champion. Of all the riders on the grid, the 34-year-old has won the most races at the track (3), which sets the stage for a titanic head-to-head scrap with Haslam.
Shane Byrne currently sits in the bronze medallist position in the standings, with just one point separating him from arch-rival Josh Brookes. Byrne has had two wins at the circuit but has only had two podiums at Assen between his last win and 2017 – both of which were 2nd place finishes last season. A Ducati has never won at Assen in BSB, so that will be another record that 'Shakey' will want to set straight whilst in The Netherlands. Byrne has just five wins to his name – his lowest tally of wins prior to the 11th round of the championship since 2012 – which he eventually won. Could the 40-year-old turn statistics upside down?
Jake Dixon will be tackling the TT Circuit Assen for the first time on a Superbike. Having sustained hip injuries at Oulton Park last year, he missed this round, so he is effectively in the identical situation to Bradley Ray. Dixon has shone at Assen in the past, with two podiums in 2015. Dixon has already shown that this year, he can turn up to a circuit and re-invent himself as a rider and be competitive from the start. Kawasaki won both races as a manufacturer last season, so the bike is a proven winner. It all depends on how quickly young Dixon can adapt. Then again, that is not to say 'discount him'. He is just 30 points off Leon Haslam's series lead and that may well come down a few points if Jake can take on the established trio at the front of the field.
Peter Hickman hasn't had a podium since race two at Cadwell Park but he has scored points in all but one race so far this season. The Smith's BMW ace will be hoping that he extends his consistency on the other side of the North Sea, at Assen – a circuit where he has just two top-tens and a best finish of 7th, back in 2013. BMW have never won a race at Assen in BSB, although Hickman will be hoping to change that on Sunday. If results don't go Hicky's way, then it could be all over for him by the time we get to Brands Hatch, two weeks later.
Jason O'Halloran comes to Assen as the last rider in the Showdown, in sixth place. Back in 2013, O'Halloran scored two podiums for Honda in the British Supersport category and in 2016 – the next time he raced at Assen, he was 5th and 3rd, setting the fastest lap in race one and starting from pole in race two. Assen has to be treated as a turning point in the Showdown for O'Halloran, who trails series leader Haslam by 54 points. It could all be over by Brands if things don't work out in Jason's favour this weekend but to make it to the Showdown with a new bike is an achievement in itself – one that a lot of pundits did not expect.
Whatever happens this weekend at Assen, it is sure to set us up with a thrilling climax to the year at Brands Hatch two weeks later. Throw into the mix the likes of Christian Iddon, Luke Mossey, Bradley Ray and the McAMS Yamaha pairing of James Ellison and Michael Laverty and you have a big opportunity for potential upset – not to mention the in-form Dan Linfoot.
Thanks to Pete Backhurst for the image.