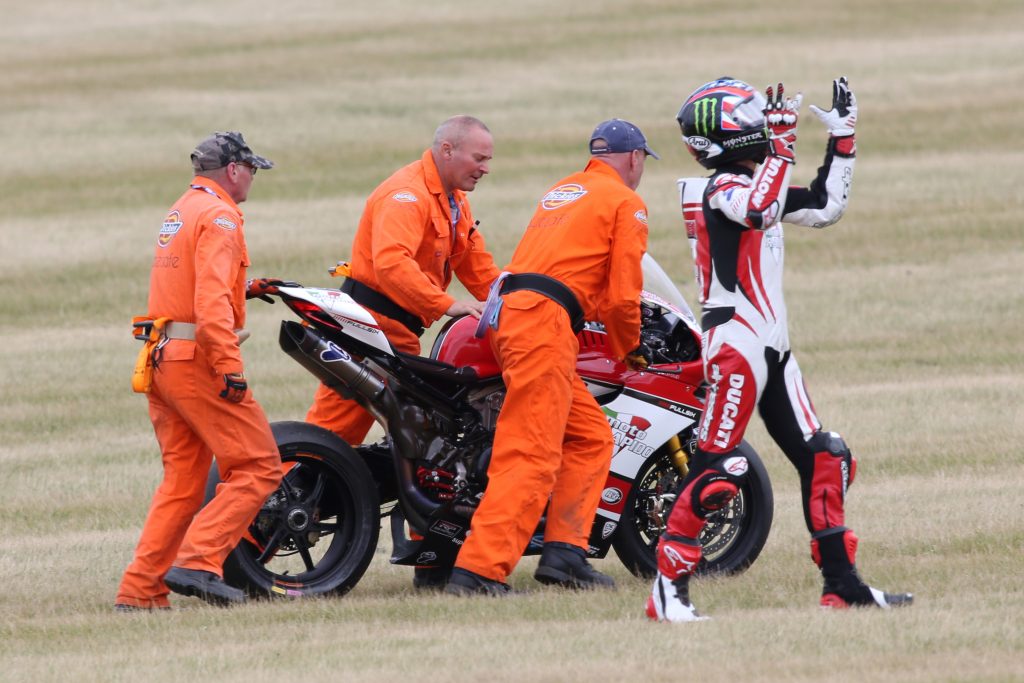 Despite not being able to run their Superbike at Cadwell Park – due to a John Hopkins injury – I caught up with team manager, Iain Hopcroft. Iain discussed the team's season so far and how it hasn't gone to plan, the plan for 2018 and the prospects of a wildcard appearance at Donington Park next season!
How has 2017 gone for you so far?
So far, not to plan. During pre season testing with John we were extremely fast and to be honest, I was hoping that we could continue that positivity into the racing season. We arrived at the first round at Donington Park and we were very fast so all was looking good but we had three crashes, which is unheard of for most teams and especially John. in the morning warm-up, John's final crash was coming out of Goddard's and he broke his foot.
We moved on to round two, at Brands Hatch Indy and then Oulton park. John was still in pain. That put us on the back-foot for the opening part of the year. Obviously, it's hard to recover from the points loss and puts pressure on the rider. Also, with round two and three being so close together, it gave little time in between to heal.
When the North West 200 came along and then the Isle of Man TT, it was a welcome break for us to refocus and for John to get back to full fitness.
However, we then arrived at Knockhill. John was pushing hard and he fell off. This time, he broke his hand. We had some ECU problems at Knockhill, which is unheard of but for some reason, it's happened a lot this year to a few other teams too. So Knockhill was just super frustrating. The plan at the start of the year was to aim for the top six, get into the showdown and work it all out from there.
Snetterton was pretty good. John had a little punch-up with his bike on Saturday – after a bit of over-revving around Coram Curve. The races were strong. We were very happy with that. Since then, things haven't been too bad – until we got to Cadwell Park and again, John injured himself and put himself out for the Sunday races with ligament damage.
There's been a bit of pressure on John, as he was brought into the team to deliver. A rider of John's caliber expects to be fighting at the sharp end of things. Especially after we had strong races together in 2015.
Back to this year, we're aiming for the top eight now, seeing as we can't get into the Showdown. We want to end the year strong with some silverware.
How much have ECU problems or machine issues held you back this year?
We have had a good year so far with a couple of minor issues. The team has been fantastic all season long and I couldn't fault them. The Knockhill issue was a minor Motec problem which is totally out of our hands but was soon rectified by the technical support of Motec.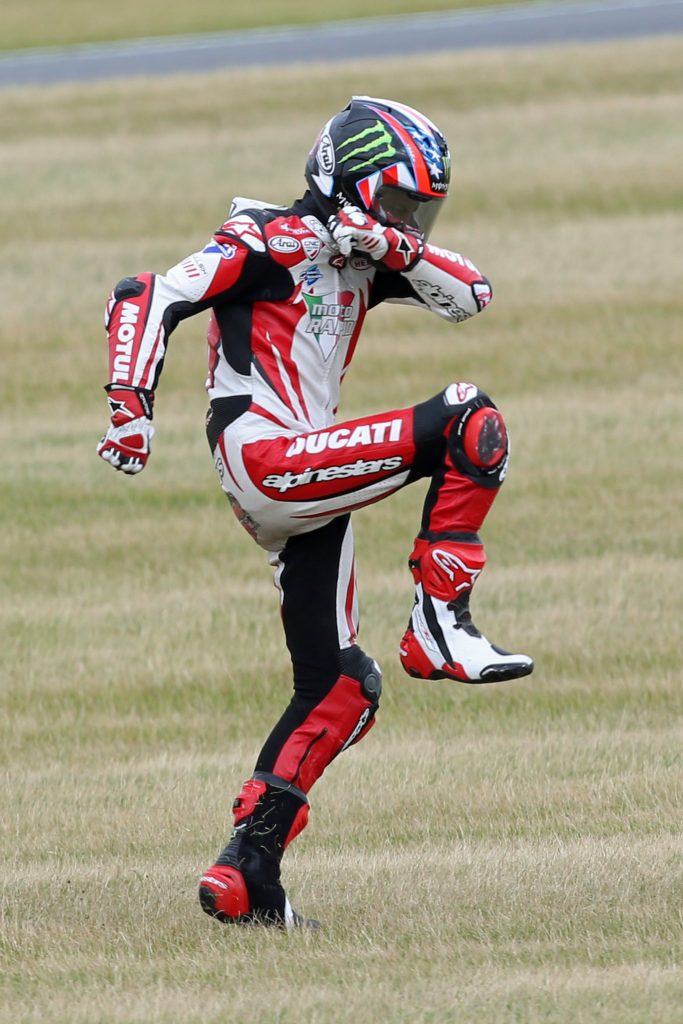 What is your aim for the rest of the year?
John is aiming to give the team podiums at Silverstone! it's a track that he really enjoys and has held the lap record there in previous years. It is also a triple-header, so with 75 points up for grabs, it'd be nice to take them all.
The last four tracks are tracks that John loves so we head into them with great positivity. Brands Hatch GP is also a good track, as John gave us a podium there in 2015 so the run-in to the end of the year shows a lot of promise.
What are the advantages of using the Ducati? You guys were the only team for a long time to run the Panigale.
Since the Panigale came out in 2012, we were the only team in the world to run the bike. In 2013, WSBK introduced it. Our relationship with Ducati is very strong. It is great that Paul Bird has decided to use Ducatis as it brings along a team friend in Giovanni Crupi, who is also Shakey's crew chief.
How close are you to the Paul Bird Motorsport team?
We know that John and Shane are different so setting the bike up is also quite different. We all get along very well and it is great to have a Ducati Corse engineer (Giovanni Crupi) in the paddock. If there are any questions, we can ask the factory and they will help. Giovanni has been instrumental in the design of the Panigale and he has been very helpful with the chassis set up in the past.
There's no difference at all with the bikes. Paul Bird may have a bigger budget than us, meaning their access to having more spare parts or their ability to test is greater. PBM buy exactly what Moto Rapido buy. The engine specs are the same. The difference is that we build our engines and PBM use Ducati Corse but as you can see from the speed trap data, our engines are fast too.
Given that you've said you get along well, would John help 'Shakey' if he needed it?
No. It's all about winning races and yes, they'd have a laugh and a joke about it all but neither of them would share information like that. They are racers.
What do you as a team and John as a rider have to do to get in the top six every weekend?
Honestly, an extra 100cc wouldn't go amiss! No, seriously, all weekend we are good in practice and qualifying. This year, I believe that the pressure has been on John from the get-go. From this point onwards, you'll see a different kind of 'Hopper'. The team didn't consider Cadwell Park their favourite circuit and John doesn't either so up until he crashed, we had been mega happy with where we'd been all weekend. John being out of the races on Sunday didn't show the amount of effort that went in over the weekend. The team has worked amazingly well, so I wouldn't change anything on that front.
The Motostar championship is going OK this season, do you agree?
It's not going bad at all. It's been really good! It was more a project for us to work with Moto3 stuff as some of the team had worked with it before. Thomas is amazing at feedback and he is good with PR, sponsors and everyone in the team, which really helps with the team harmony and if John's having a bad day, Thomas normally brings home some silverware which balances it all out – otherwise we'd all be suicidal! It's nice to have a second rider in the team because it does relieve some of the pressure from John.
It doesn't stretch resources, which is good. The way it has worked out this year is that Sean Willers does the tyres for both Thomas and John. Tom Brown, who is the second mechanic on the Superbike, uses his knowledge of the Moto3 to the benefit of Thomas. That's been evident right from testing in Cartagena. They both work alongside Matt Balchin who is Thomas's main mechanic.
We haven't decided on our plans with regards to Motostar next year. We want to follow Thomas through his career and into the British Talent Cup and see what happens.
How close to the WSBK Ducati side of things are you?
Ducati Corse don't use Motec and they can't really help us out because there are no circuits in BSB – apart from Assen and Donington Park – that replicate anything on the WSBK level. Throttle mapping is different, suspension will be different and also, they run traction control whereas we can't. In other words, the WSBK Ducati is totally different to our MotoRapido Ducati or Paul Bird's BeWiser Ducati.
Was there a view to do wildcards at WSBK?
If we had a better start in BSB, then a wildcard would've definitely been on the cards. We are certainly looking at that for next year. I think it's a really cool thing to do and a good opportunity to show WSBK what we have and what we can do. Dorna need an American too. John has a huge personality and a tonne of fans so he would definitely attract people to watch him.
What is the plan for 2018?
John Hopkins – I'd love that but who knows at this stage. It'd be nice to run a Superbike and a Superstock bike. We'd probably run something else too but we aren't too sure what. We help out the Boast Plumbing team in the Ducati Tri-Options, which runs Joe Collier, Jon Railton and Levi Day. It'd be a great match and great to see Joe's progression continue further if he wins the Cup.
Thomas has been accepted into the British Talent Cup but the plan for that championship is to not interfere with any BSB rounds and it is only planned to be six rounds anyway. It'd leave him available to do anything that he wants to do within BSB. We have a few more rounds left to decide on that one just yet.
It would be really nice to have a second bike if we could have the sponsorship to cover it. With a second bike, you double your team size. It'd be a case of who that second rider would be, whether or not they had their own crew chief or preferred mechanics etc. There's a lot of talented people in this paddock and I'm sure that if you are going to pick a rider from a team, they'll come with someone. Resources wouldn't be an issue. We were left in the lurch with the Lloyds British sponsorship, after they went bust. Luckily, we have some very good sponsors this year which has been amazing and we can't thank them enough.
We support some of the CoolFab series riders too, with the likes of Ollie Walker and Ryan Hitchcock. It's nice to see a rider progress through the ranks.
Next year, if John's here, we are looking at Showdown places. John is hungry for the championship, especially after the 2011 title fight. We know he can fight for the championship and he knows that he can too. He will not give up trying for a BSB championship until he has won it. We as a team give him the best package possible every weekend.
Images by Gareth Davies of Full Factory Photgraphy.