Cammish And Eastwood Clash As Tensions Grow In The Scottish Hills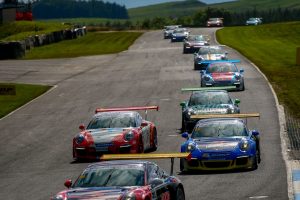 The anticipation of two exciting races was fuelled in no small part by the unfolding championship battle between Charlie Eastwood (Redline Racing), Dan Cammish (Redline Racing) and Dino Zamparelli (JTR). While Eastwood and Cammish held the advantage with dropped scores factored in, all three needed to win at all costs to keep their title hopes alive. Behind and closer than ever, the remainder of the Pro category could see their opportunity for a first win getting nearer.
Against this backdrop, Knockhill produced two races that did not disappoint and provided arguably more excitement – and certainly more debate – than even rounds eight and nine. Cammish converted his pole position in round ten into a win in his traditional style, despite periods of firm pressure from Zamparelli behind. However, in round eleven, a clash between pole sitter Eastwood and the defending champion resulted in Cammish failing to finish, Eastwood losing three points and facing a ten-place grid penalty for round twelve.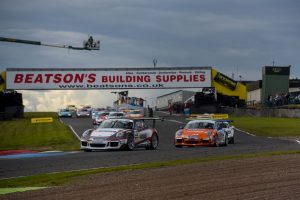 In Pro-Am1, championship leader Justin Sherwood (Team Parker Racing) once again shared a win and second with Alex Martin (Team Parker Racing), leaving the gap between the pair unmoved at a slender three points. John McCullagh (Redline Racing) claimed his second podium of the season in round ten, but a start line incident saw the 2015 Pro-Am2 champion sidelined for round eleven.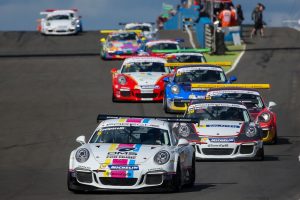 Peter Kyle-Henney (IN2 Racing) took a pair of Pro-Am2 wins, his seventh and eighth of the season, to boost his championship hopes and move him to five points adrift of Shamus Jennings (G-Cat Racing), who came away with third and second places. Iain Dockerill (Asset Advantage Racing) took a pair of category pole positions in his strongest showing to date, second and third keeping him within nine points of Jennings at the top of the table with four rounds to go.
Round ten
Anticipation was high for an entertaining race as Dan Cammish (Redline Racing) led the field around for the rolling start. From the very first corner the race was not to disappoint. Cammish made a good start, but team mate Charlie Eastwood's was even better. As Eastwood positioned himself for a challenge, a hit from behind pushed him wide and left enough space for Dino Zamparelli (JTR) to move into second, the Bristol driver making his intentions clear from the off.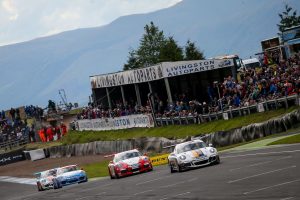 Also making the best of the start were local brothers Dan and Euan McKay (Redline Racing), Dan making the most progress into fourth from sixth, Euan up one place to fifth and pushing Dan hard. Losing out was Tom Oliphant (Redline Racing), shuffled down to seventh behind Lewis Plato (JTR). Their battle would build throughout the race, but at the front Zamparelli was inching up on Cammish with Eastwood close behind.
As Plato passed Euan McKay on the second lap, Cammish and Zamparelli were trading almost identical sector times while Eastwood settled into an almost lonely third place. The order was almost disturbed when Zamparelli lost time on his eighth lap to fall back into the clutches of Eastwood, allowing Cammish to slip away by just over one second. The following lap it was Eastwood's turn to loose time at Chicane, giving Zamparelli some breathing space.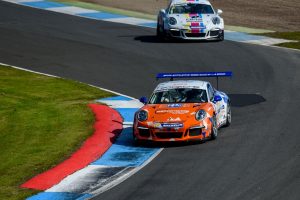 By lap 17, traffic was playing a critical part in the battle for the lead which Cammish had extended to around three seconds. First to arrive and faced with making his way through some good battles in the other categories, Cammish had to watch the gap to Zamparelli reduce to just seven tenths of a second. However, back onto a clear section of track, the reigning champion pulled back half a second in just one lap and took the flag with over two seconds in hand from Zamparelli.
Eastwood held on to third, but behind two JTR drivers had been on the move. Plato passed Dan McKay for fourth on lap 11 at Taylors after having posted fastest lap of the race. Tio Ellinas also had strong pace and set about passing Euan McKay on lap 15 into Duffus Dip and Dan McKay into Taylors on lap 26. Separating the JTR team mates was Oliphant in fifth, unable to continue his fight back past a defensive Plato.
Local driver Ross Wylie (Slidesports) had a good race with Jamie Orton (IN2 Racing), coming through as second-placed Rookie in ninth. Tom Wrigley (IN2 Racing) was not able to celebrate his birthday in race one at least, contact with Matt Telling (Welch Motorsport) on lap 31 putting both drivers out at Clarks.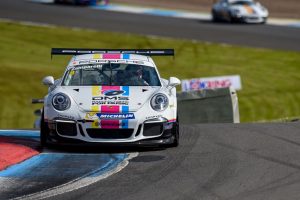 In Pro-Am1, all three drivers ran close together for the every one of the 32 laps, the win going to Alex Martin (Team Parker Racing) who relentlessly edged away from Justin Sherwood (Team Parker Racing) in second. Shadowing Sherwood in third was the returning John McCullagh (Redline Racing), happy to take his second podium in three races on a circuit that has not been the kindest to him in the past.
Pro-Am2 once again provided some of the closest racing, Iain Dockerill (Asset Advantage Racing) holding the lead from Peter Kyle-Henney (IN2 Racing) away from the start with David Fairbrother (Slidesports) passing Shamus Jennings (G-Cat Racing) for third. Jennings came back into a podium position after Fairbrother, on his first visit to Knockhill, ran through the gravel at McIntyre and dropped back.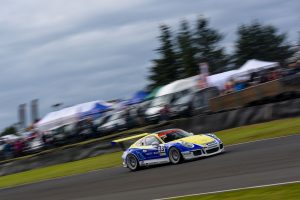 While Kyle-Henney took Dockerill for a lead he would maintain to the flag, Jennings was in a wheel-to-wheel battle with Telling for the final podium position. On lap 16 Telling passed to take the position, only for Jennings to reclaim it the very next lap. A spin into Chicane on lap 20 for Telling put paid to the battle and allowed Rupert Martin (Team Parker Racing) to claim fourth.
Round eleven
Eastwood made a good start from pole position, Cammish tucking in behind off the line to follow his team mate into Duffus. Sprinting away from the second row was Zamparelli, the JTR driver passing Oliphant who was slow to pick up momentum. Behind, Wylie was squeezed onto the grass as he left the line and spun, collecting an unfortunate McCullagh and putting both drivers out of the race.
At the end of lap six the safety car pulled in, Eastwood looking to make a break but with Cammish pushing him all the way. Within three laps Eastwood had posted fastest lap to edge away from Cammish as Zamparelli inched ever closer to Cammish. The contest looked to have stabilised until on lap 20 Eastwood began to lap traffic.
As the leader negotiated the cars ahead, Cammish began to apply the pressure and Eastwood's defence backed the pair into Zamparelli. With each fighting for their own championship, Zamparelli made a move on Cammish at Taylors, a move which almost saw Zamparelli take to the grass on his run to the line and lose momentum. This freed Cammish to resume his assault on Eastwood, and left Zamparelli to defend from a fast approaching Oliphant.
By lap 30, Cammish was making his most concerted effort yet to dislodge Eastwood from the lead, once again allowing Zamparelli and now Oliphant to close back in. Cammish gained a run on Eastwood into Clarks on the penultimate lap, drawing alongside the leader on the exit. Eastwood exited wide, causing Cammish to run onto the grass and make contact with the barriers, ending his race. After an inquiry that went to the stewards, it was decided Eastwood should be handed a 10-place grid penalty for round twelve and be docked three championship points.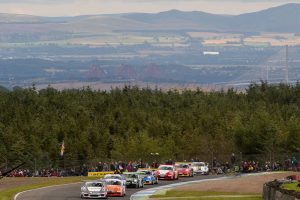 Eastwood recovered to defend from Zamparelli who had inherited the momentum, Zamparelli in turn running wide at Taylors on the run to the flag and causing Oliphant, who had committed to a move around the outside, onto the grass. Oliphant recovered, albeit with an advertising hoarding wrapped around the front of his car, to take his second podium of the season.
Behind the leaders, the battle was no less fraught. By lap 15 Plato had caught Euan McKay, bringing Dan McKay and Ellinas with him. As the quartet scrapped, Dan McKay ran around the outside of Plato at Taylors for sixth, losing the back end of the car on the exit and only just saving the slide before reaching the grass on the inside. Ellinas inherited sixth position and Wrigley seventh after a move into Duffus Dip as Plato dropped to eighth in avoidance. Dan McKay recovered to ninth, before running through the gravel at McIntyre on the same lap.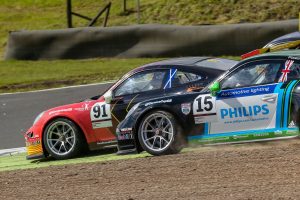 Plato retook seventh from Wrigley, and began to close on Ellinas who was fighting hard with Euan McKay. As Plato put Ellinas under pressure, contact between the Cypriot and Euan McKay ahead put McKay into the gravel and earned Ellinas a 15 second penalty and the loss of three championship points.
After the early exit of McCullagh, Pro-Am1 became a straight fight between Martin and Sherwood. Sherwood had made the best of the start to take the lead from Martin, although by lap 12 the gap was down to just two seconds. As Martin closed, he ran wide at Clarks, just managing to recover but handing Sherwood the win.
Kyle-Henney took the lead in Pro-Am2 at the start after pole-sitter Dockerill was forced to avoid the start line incident. Jennings came through for second with Dockerill third and Fairbrother fourth. The four drivers were covered by less than three seconds, but that order remained to the flag with Martin fifth and Telling sixth. Dockerill's weekend was enough to earn him the 'Driver of the Weekend' award, and Asset Advantage Racing 'Team of the Weekend'.
As the championship crescendo continues to build, follow the battles at @CarreraCupGB on Twitter and /CarreraCupGB on Facebook.
Championship positions
Overall:
Charlie Eastwood  Redline Racing  180
Dino Zamparelli  JTR  172
Dan Cammish  Redline Racing  152
Pro-Am1:
Justin Sherwood  Team Parker Racing  89
Alex Martin  Team Parker Racing  86
Graeme Mundy  Team Parker Racing  48
Pro-Am2:
Shamus Jennings  G-Cat Racing  85
Peter Kyle-Henney  IN2 Racing  80
Iain Dockerill  Asset Advantage Racing  76
Neil Simmons
Twitter: @world_racing
Photographs courtesy of Porsche Carrera Cup GB (c)