Charles Rainford was a rookie Pro-Am driver for CCK Motorsport in the Porsche Carrera Cup GB for 2021 as well as racing at Le Mans for the Porsche Sprint Challenge France. However, the 23 hasn't taken what is considered the 'usual' route to the series.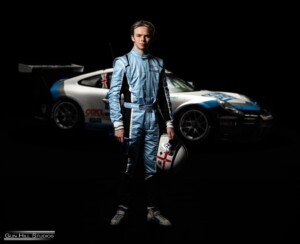 "Dad bought my brother James and I go karts when I was 7 for our birthdays. We went testing a couple times at Bayford Meadows and seemed to be quite quick. But we approached the subject of racing and my mum said not yet so unfortunately was not able to race karts when I was young. She agreed that I could race cars when I was old enough to have my full race licence at 16."
On his way to his racing licence Charles gained a passion for teaching ''I used to play guitar and was a dancer, both of which I also taught. I just enjoy teaching things and I really wanted to be an instructor." And before long he passion for racing and teaching collided.
He continued, "I had been racing for a couple of years at this point and then raced at the Legends of Brands Hatch SuperPrix in 2017. The next morning the chief instructor [at Brands Hatch] Pete Alexander called me to come in and look at doing my instructor's course. Brands hatch and MSV sponsored my licence, so now I can work at every circuit in the UK as an ARDS 'A' instructor."
Having raced for a few years and now a driver instructor, it was a race at Goodwood Revival which started the ball rolling, "We came 2nd in a Volvo PV544 which was a really good weekend for us. A couple days later I got a call from Peter Dignan at Piston Heads and they were running a ford KA in MSVR Enduro KA series. They asked me if I wanted to join and of course I jumped at it! Racing a standard road going Ford KA, it was amazing fun, absolutely awesome!"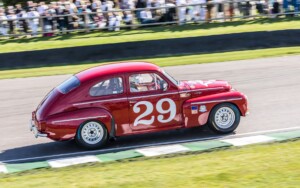 He impressed by finishing in the top 5 at Snetterton and was asked to compete at Brands Hatch completing a 500 mile endurance race into a cold November night. Having had the roof of his car damaged in qualifying after another car rolled on top of it, his team worked through the night to get their KA in shape for race day. Charles started the race having been the quickest among his teammates.
"We got helped out by safety cars within the first hour. We would get 2 laps running and then a safety car, 2 laps, safety car, but in that time I was able to make up enough places to go from 47th on the grid, to 1st." Being the first hour, Charles and the team achieved this without anyone completing a pitstop, meaning it was just pure pace.
He continued, "We manged to go on and finish 2nd in that race, so it was good. And from that I got more recognition from that first hour of driving than I had my entire racing career in historics even being on the podium at Goodwood so from that we knew that we had to move into modern racing."
It didn't take long for the team to decide where their next venture would be "We knew that we had to go onto the BTCC support paddock because it's the place to be, it's on live television. The racing is very competitive with all the different series and all the different cars."
When it came to purchasing a car a Ginetta and Porsche were very available at Brands Hatch, but one series stood out. "There's something about a Porsche 911 GT3 Cup car that is just so appealing. They sound fantastic and go so quick around the lap. We decided to try and buy a Porsche and thankfully got accepted into the championship."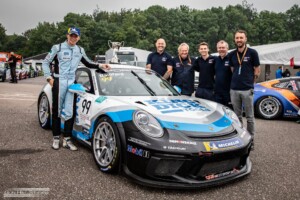 2021 was set for Charles and the team at CCK Motorsport, but he was not expecting much from his rookie season, "I went testing for the first time early March, it was a cold but dry day at Snetterton and at first I couldn't even get the car out of the pit lane. I was going down the pitlane, turned the pit limiter off and literally the car was wheel spinning in every single gear, I had no throttle control."
But by the end of the season Charles and the team had racked up 5 wins in the Pro-Am class. "There was lots to learn with strategy, tyres and racing the cars. But if you had said after that first day we would win the most number of races in that year and could have won the championship we would have been like absolutely no way! It's just incredible for my first season as a driver and for us as a team really, it couldn't have gone much better."
He does have a favourite of those wins, "For the Carrera Cup GB, race 2 at Brands GP. The car just felt so good, we were on pace with the Pros, and it was the first time all year that we properly out classed the rest of the Pro-Ams. I had Ryan Ratcliffe behind me who had just won the championship. I was pulling a gap, by a couple of tenths every lap by not even trying. So yeah, that's definitely my favourite race of the year."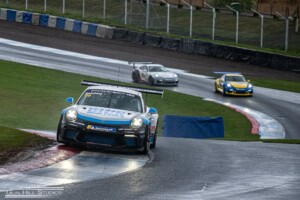 The opportunities continued to arrive for Charles, with one of the defining moments being an invitation to the Porsche Sprint Challenge France support race at Le Mans. ''I was in 55th during the start of practice 1 but I was learning the track, focused on every single apex and braking zone before, with about 10 minutes left, I decided to see what I could do.''
He began to climb up the field. Charles was putting what he learnt into practice. ''Back at the pit wall, the team thought, ''he's coming round awfully quick,'' and when they gazed up at the timing screens, they couldn't find me initially expecting me to be near the bottom. After triple checking I was 2nd overall in practice! We qualified 4 seconds faster than anyone in our class and from this point I knew if I don't win this race it will be a massively lost opportunity."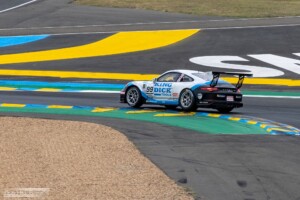 Sunday morning and the race was on, "straight away I managed to pull a big gap. I was battling with a 992 and 911 R which was fun, they'd always disappear on the straights and I would catch them again on the brakes in the corners. It was nice because I couldn't even see the car behind me, there was a massive gap. I was just in the rhythm, driving round managed to actually win the race!"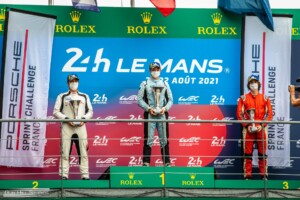 It's been an incredible first year racing full time in modern cars, it was hard for Charles to pick a highlight. "If I'm honest it's the whole thing isn't it, the whole year has been a highlight and a big learning curve for me. Every circuit was fantastic for its own reasons, every weekend had massive positives in it, even if we hadn't done that well it was still always really big positives to take from each weekend so the growth I think has to be a big highlight for me."
Next year the Porsche Carrera Cup GB will see the retirement of the 911 991 GT3 Cup car as they switch to the 992. Charles has already had the opportunity to test the 992 "It was fantastic, I know it is a completely different car, but it feels like a completely different car. So much has changed on it, the driving style is nowhere near close to what you need for the old car."
Charles and the team are looking for next season to be onwards and upwards, "At the moment the plan is to do the Porsche Carrera Cup GB next year, currently working on trying to get sponsors for the championship and trying to buy the new car. From there try and find the package and get some winter testing in. But looking for some sponsors to join us for next year to try and make it all possible."
For Charles, after a successful year he has proven it was the right decision to go into modern racing. Should he be able to compete in the Pro-Am class again he will be able to put his year of experience to good use, to improve on last season results. 2022 could be filled with huge opportunities for the young talent and his team, it's just a matter of time.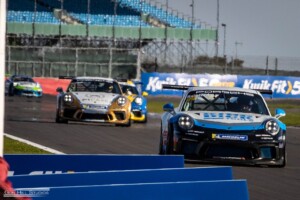 Feature image courtesy of Gun Hill Studios