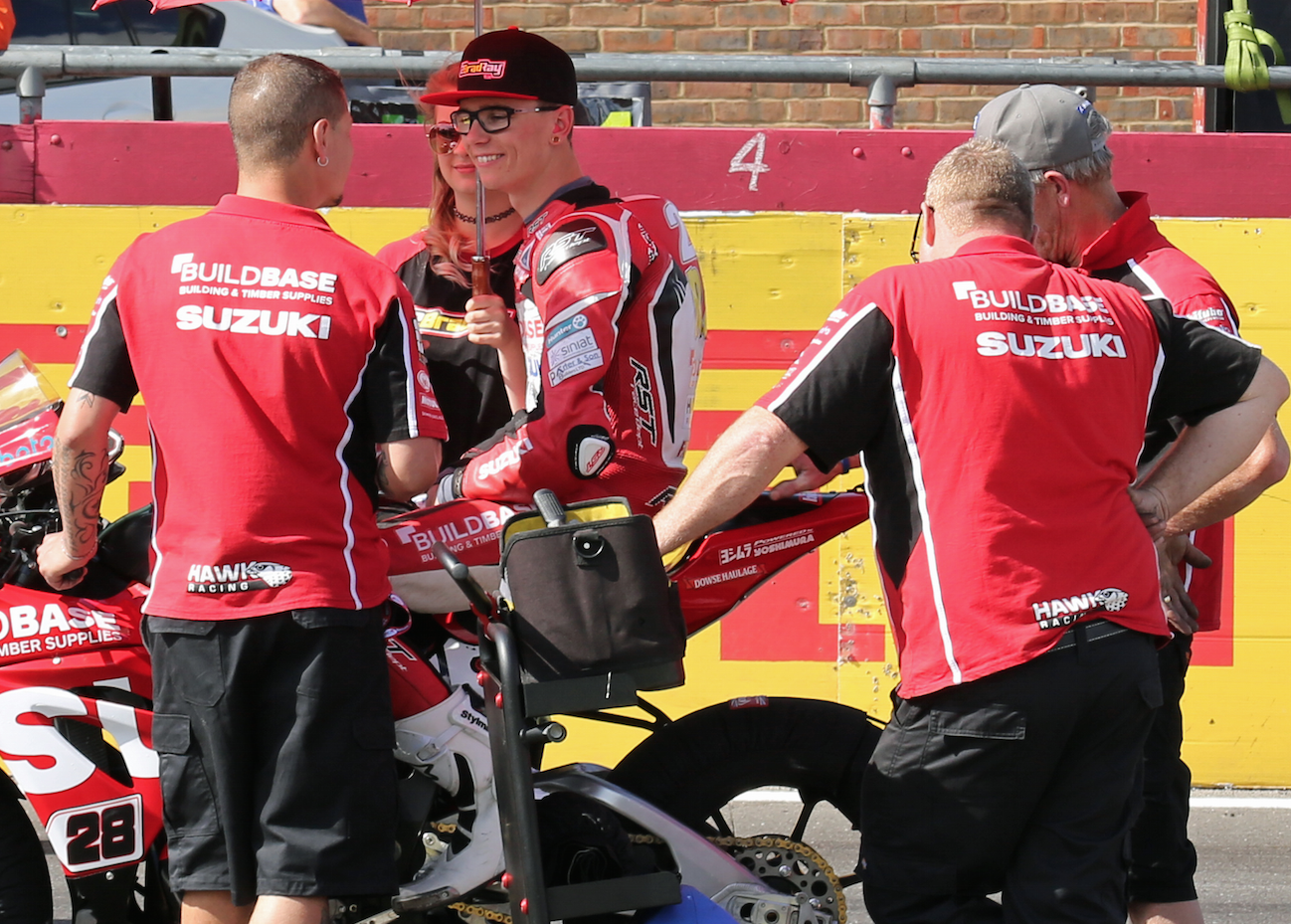 In our latest interview, we catch up with Chandler Warren-Gray, the Team Manager for Buildbase Suzuki, which runs Bradley Ray in Superbikes and Alex Olsen in National Superstock 1000. Chandler speaks of Bradley's mesmerising season so far, the plan moving forward and also about Sylvain Guintoli's presence in the Bennetts Team. On top of that, he highlights the differences between the two bikes and gives us an insight into how both the Suzuki teams co-ordinate.
How has 2017 been so far this year?
2017 has been an incredible year for us. We've taken it very steady, as it is our first year with Bradley and Bradley's first year in the British Superbike championship. The plan was to focus on learning the tracks on a big 1000cc bike and getting used to the bike's behaviour and yes, it has been a very steep learning curve at some stages but we are all incredibly proud of what Bradley has achieved. Suzuki as a factory are incredibly proud of him too. Bradley has exceeded the Hawk Racing Team's expectations. He is punching well above anything we could have imagined, even in our wildest dreams. I think that considering this bike is new to us and Bradley, we are doing brilliantly!
What were your expectations at the start of the year – surely you can't have expected to beat Sylvain and Taylor like he is doing?
Absolutely not at all. We never set any targets for Bradley. It was all about learning the bike, learning the teams' way of working and learning the tracks on a superbike. Because we haven't set any targets, it meant that Bradley is relaxed but mainly, he is enjoying himself in his rookie year. Bradley raced very well in his opening races and therefore has set his own targets and expectations – which every rider does the same – whereas we haven't at the beginning of our journey together and still haven't done so.
Has Bradley found it difficult to adapt?
It has been quite difficult for Bradley, in terms of adjusting to how a 1000cc bike should be ridden on some circuits. However, he is a natural. He is a natural rider with tremendous amounts of ability, the way he rides a motorcycle isn't one you see very often. He rides it like MotoGP riders do. That seems like a huge comparison but one that is accurate and is shared by the motorbike community alike. Some tracks have caught us out and at others, we as a team haven't made the most of, but Bradley is amazing and has made such a huge difference in our project. We've made great strides in our project and are very happy together.
Where do you think the future lies for Bradley Ray?
I believe he is a huge talent and the team believes he is a huge talent. You can never stop the Suzuki MotoGP team coming for him, maybe even to WSBK with a Suzuki! For us, it is about developing him as a rider, the bike and us as a team. I'd like to think the future lies firmly with Suzuki in whatever championship, those decisions will be taken when it's right to do so. Obviously, moving forward, we have a plan for him next year, a plan that has been talked about and strategised. There are conversations taking place and also contract obligations to adhere to, however we know he's happy with us and we are happy with Bradley. It is still early days to have a concrete answer on his future. The BSB paddock likes a good gossip, people talk nonsense and throw some rumours around but for us as a team, it is about the team progressing and continuing with Bradley for next year somewhere within the Suzuki outfit.
There are some rumours about Sylvain maybe not staying on the Bennetts side much longer, are they just rumours?
Rumours are rumours. There's a lot of rumours in the paddock. 99% of which are rubbish and speculative. We as a team do not get involved in that. When results don't come in, of course there's always a lot of speculation but mainly from outside the garage. Inside the garage, none of us think that is the case. We are harmonious and everyone is working together.
So Sylvain will still be there at the end of the year?
It is early days to answer that question. I am mainly working on Buildbase Suzuki and our focus is Bradley. We need to remain grounded with Bradley and keep progressing. Sylvain is a big name and everyone associates him with a World Superbike championship so maybe the pressure was on him way more than on Bradley. However, I won't be doing a disservice to anyone; Sylvain has developed the bike tremendously well and is someone who has a wealth of experience which counts for a lot too.
Apart from the colours, what are the main differences between the Bennetts Suzuki and the Buildbase Suzuki?
Haha, one is red and the other is blue! There is obviously a bit of a difference as they are the more "factory" team. You could say that Buildbase are the more "satellite team" but there isn't a huge difference in the way that we operate. There are engine differences as you'd expect between factory teams and satellite teams but we all work together. We share data, ideas and the riders also talk to one and other. The crew chiefs converse together but for me, "sharing data" is a big umbrella to cover. The teams talk together successfully. Not every idea they have works for us but that is because we have a mildly different bike and a very different rider. As an example, Bradley's lean angle is far more acute than Taylor's and or Sylvain's. Our corner speed is very different too; settings will only work if our rider can make them work for him and ultimately for the team.
What is the plan for the remainder of 2017?
All cogs going in the right direction, I'd say a top five isn't out of our reach. The data shows that we aren't far away. I'd like to say we can get a podium but then again, why wouldn't I say that? It would have to contain an element of luck but I have no doubts in our rider's talent or the team's ability. I have no doubt that we can make everything work if everything falls nicely for us.
Surely that'd be a nice bonus for Bradley then?  A test on a MotoGP bike maybe?
Haha nice try! I'd like to think that would happen but I am personally unsure that will happen this year. However, all of us in the entire Hawk Racing outfit have expressed our will for Bradley to move on in the right direction in the future. The plan is for us to continue working together. I believe that he will stay with us, progress together and hopefully put us in the showdown in 2018 and maybe deliver Suzuki a title. I think it is very much achievable.
We would like to thank Chandler for his time and wish the team the best successes for 2017 and beyond. Image courtesy of Gareth Davies of Full Factory Photography.