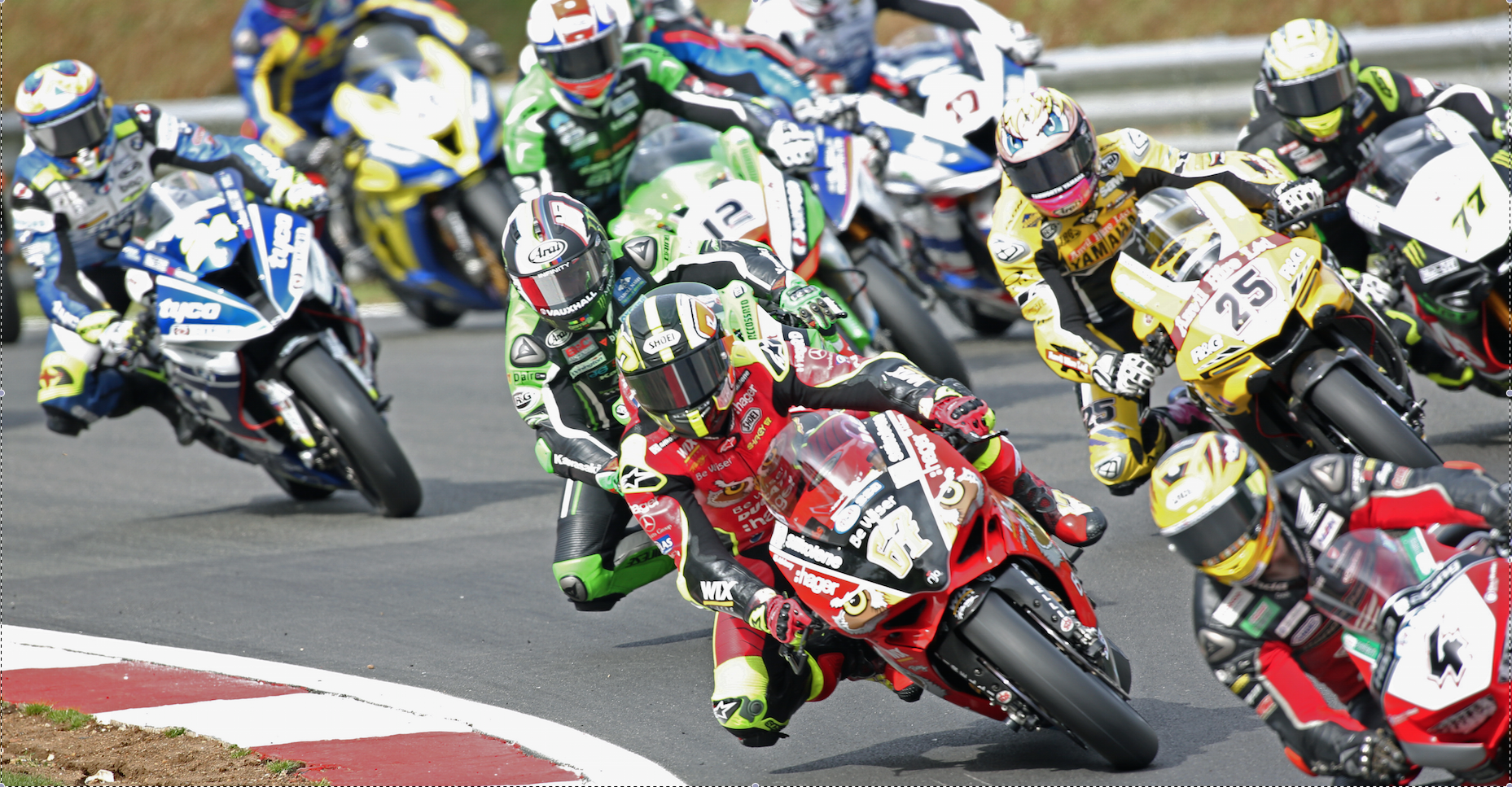 British Superbikes visits the fastest venue on the calendar this weekend, at the Thruxton circuit near Andover. Having taken the title lead at his home round two weeks ago, Shane Byrne comes to a circuit at which he has won at a total of eight times. However, Josh Brookes has done the double in the last two years he has been racing in BSB (2014 and 2015), and will be looking to achieve a repeat performance to give him and the Anvil Hire Tag Team their first race wins of the year. Leon Haslam and Luke Mossey will also be seeking a return to form, having not won a race since Oulton Park, back in May. Lap times from the past two seasons suggest that the pace could be even faster, with the perfect lap from last years qualifying sessions combined being a 1.13.836. If a 1.13 lap is achieved, it will be the fastest ever lap on two wheels around the Thruxton track.
Shane Byrne, after a dismal start to the year, retook the lead of the championship last time out. He sits on four consecutive race wins and has a 29 point advantage over nearest rival, Luke Mossey. Byrne has won a total of eight times around here and has a further seven podiums. Ducati as a manufacturer haven't had a double victory at Thruxton since 2007 and Gregorio Lavilla. Byrne himself last achieved the double at the 2013 meeting. If Byrne was to do the double, it would be the first time since 2003 that he has won six races on the bounce. Will he rewrite records again?
Luke Mossey comes into the Thruxton meeting having not stood on the podium since race one at Knockhill, way back in June. The Bournemouth Kawasaki Team, run by Pete Extance, will hope that their form changes at Thruxton. Luke Mossey has won twice around Thruxton, albeit in the lower classes: in 2009 in the National Superstock 600 class on a Yamaha, and in 2008 on a 125cc Honda. Kawasaki's last win came with Byrne in 2013 but Mossey achieved a third and fourth with the older version ZX10 in 2016.
Teammate Leon Haslam has a mountain to climb – and we aren't even at Cadwell Park yet. The Factory Kawasaki employed rider was back on the podium at Brands Hatch with a third place in race one, however that was his first podium since his victory in race one at Oulton Park. He is now 10 podium points behind Shane Byrne, which could be crucial if he wants to take his first ever BSB title. However, the news for Haslam fans gets worse. He has never won at Thruxton and hasn't been on the podium there since his Airwaves Ducati days of 2006, when he finished 2nd in both races. Will the Pocket Rocket surprise us?
The first of two Australians in the Showdown – so far – is Jason O'Halloran. The Honda Racing rider's season came to an end at this very circuit two seasons ago, when he collided with Howie Mainwaring-Smart on the exit of Segrave Corner in qualifying. The tough Australian has fought back strong and is just 26 points off the rear end of Leon Haslam and 3rd in the championship. One of the most iconic recent memories of Thruxton involves O'Halloran, who drifted his 1000cc CBR Honda Superstock machine out of Church corner in 2014, setting blue smoke pouring off the rear end of his wayward bike. Since being in the Superbike class however, O'Halloran has had a sixth and a second. Can the Honda go one better and achieve his and the team's first win of the year?
King of Thruxton and former BSB champion Josh Brookes sits pretty in fifth place in the championship heading into the round. Having had a relatively disappointing Brands Hatch in comparison to Snetterton, Brookes will be more fired up than ever to rack up his podium points tally. However, he currently looks like the only rider who can give Shane Byrne a proper challenge. Until he crashed in race two at Brands Hatch, Brookes was on lap record pace. Not only does he seem like the only rider to challenge 'Shakey', but he is also the lap record holder at this airfield circuit. Brookes and Byrne, with their recent history at Thruxton, could be set for a classic scrap and a revival of their fierce rivalry that was left unfinished at the end of the 2015 season. Rob Winfield and the Tag Racing Team will be hoping Josh can deliver their first ever victory in BSB.
The last man in the showdown at the moment is former plasterer Peter Hickman, who has taken his Smith's BMW to new heights in 2017. Although he hasn't had a podium yet this year, he – along with O'Halloran – has not crashed or suffered any form of DNF thus far. A pair of fourths at Brands Hatch did his championship a load of good but form shows that Hicky may be coming to a circuit which hasn't been too kind to him in the past. A double-DNF in 2015 and a best of sixth last year suggest Hickman's sixth place may be under threat by the likes of Christian Iddon or Jake Dixon.
The next few riders are Christian Iddon, who took his 2nd podium of the year at Brands and moves to just nine points behind Hickman and the all-important top six. Next up is double race winner at Knockhill, Jake Dixon. He endured a nightmare at Thruxton last year on the BMW, finishing outside the points in both races. James Ellison desperately needs points after his disastrous year so far, which has left him 9th in the championship. The 'Factory' Yamaha rider has been somewhat embarrassed by Josh Brookes, who effectively has the same Yamaha as Aaron Zanotti, with little manufacturer help. Ellison was 5th and 7th in the races last year and his last podium came in 2013, with third. Completing the top 10 is Dan Linfoot, who has found form of late aboard the all-new Fireblade. Although a showdown spot looks unlikely, the Honda rider could make a nuisance of himself as far as other riders are concerned. Linfoot sits 39 points back of Hickman with seven races left before the showdown six are set in stone.
Keep your eyes out for the sensation that is Bradley Ray, on board his Buildbase Suzuki. Ray finished second in the Supersport race last year. Tommy Bridewell is the only other rider (besides O'Halloran and Hickman) to finish every race in the points and goes well at Thruxton. Glenn Irwin achieved his first BSB podium at Thruxton last season and the 2017 North West 200 winner will be hoping to do the same again, to try and somehow make the top six cut. John Hopkins also goes well at Thruxton and was running upfront back in 2015. It is the MotoRapido Ducati Team's home race.
Although the Superbike races aren't until Sunday, the first racing action gets underway at 12.50 on Saturday, with the Sidecar race.
In other classes, Keith Farmer will be looking to hold onto his series lead in the Supersport series ahead of the likes of Jack Kennedy, Joe Francis and Andy Irwin.
In National Superstock 1000, Danny Buchan will be seeking a return to form after a winless Brands Hatch – although the Basildon Bullet has become a dad for the first time that same weekend. Richard Cooper will want to use his Superbike experience around the course to propel him to another win and close down former champion Buchan.
The National Superstock 600 class is always a treat, with the likes of the Neave brothers going well lately, with Dan Stamper and Brad Jones also getting in the mix. Keep your eyes peeled for young Ryan Vickers though, who has been testing at Brands Hatch lately, lapping under the lap record and with a mentor in former Grand Prix superstar Alan Carter, you'd be mad to discount him.
The MotoStar championship will see home-hero Jake Archer out for victory as he chases his title hopes on the City Lifting KTM, run by Ryan Saxelby.
Thanks to Gareth Davies of Full Factory Photography for the image.