The 2019 world champions have taken their second victory in a row and their third win of this season, whilst Kalle and Jonne who crashed out on Friday see their lead in the championship to just 72 points. Here's the story of this year's Ypres Rally.
Friday
With eight stages on Friday and a service break in the middle, we saw a big surprise with Kalle crashing out in stage two. This meant that Elfyn moved into the lead of the rally at the end of the stage. The top three were Elfyn, Ott and Thierry at this point. The last stage of the morning loop saw the rain arrive, and this affected a number of crews, and mostly the M-Sport Puma's. Adrien had moved up some places in the previous stage, but fell down to eighth from fourth at the end of this one.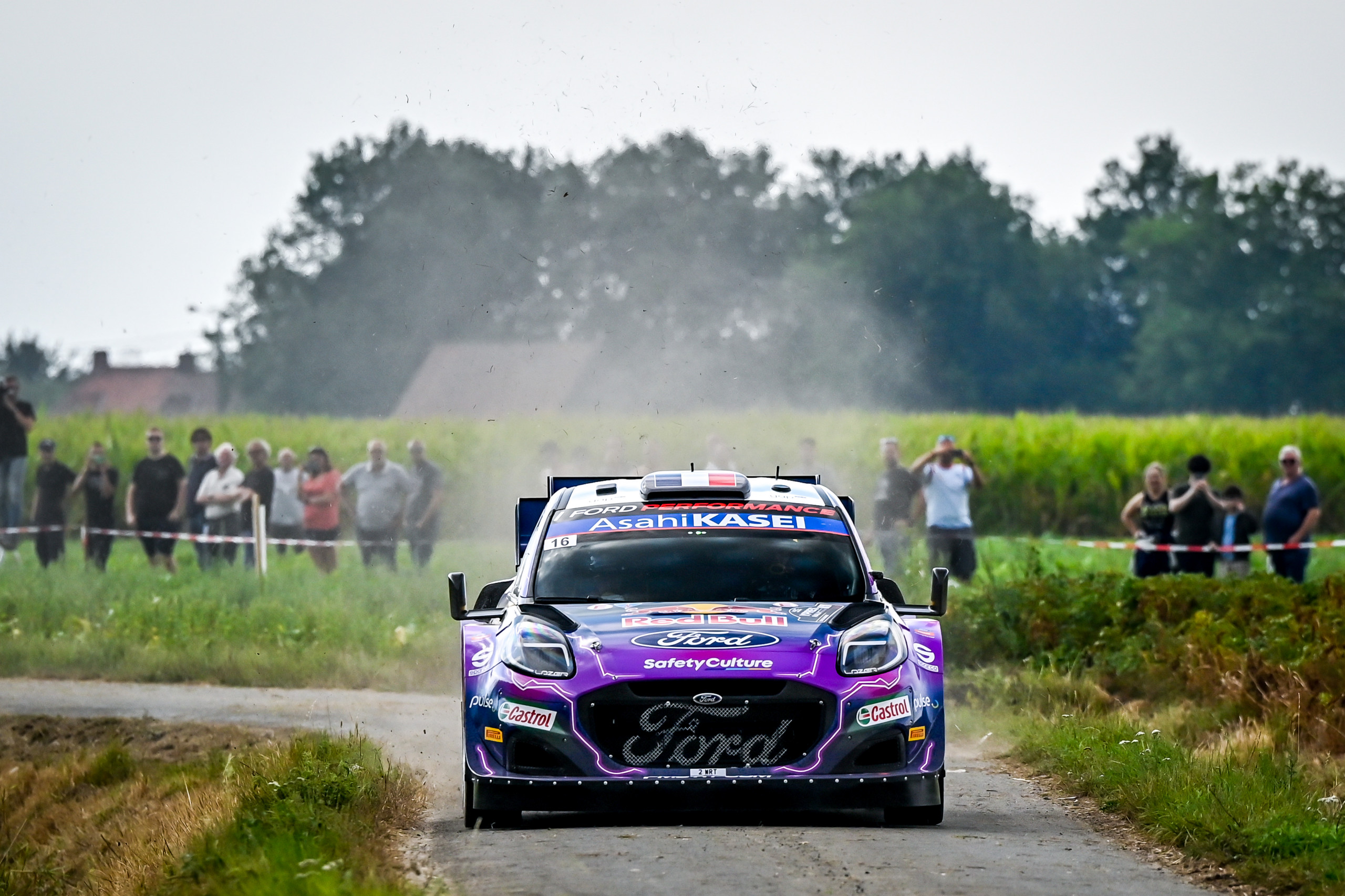 After the service break, Ott reduced the gap to Elfyn in the first stage of the afternoon. Thierry won the third stage of the afternoon and moved into the overall lead from third position. Ott remained in second as Elfyn dropped from the lead into third, but there were only seven tenths of a second covering the top three at this point. In the WRC2 Junior class, Chris and Craig were holding second overall in their Skoda Fabia run by Toksport. Before the final stage of the day, Elfyn was given a ten second penalty for clocking in one minute too late. He remained in third overall at the end of the day, whilst Thierry led Ott in a Hyundai 1-2. In the WRC2 Junior category, Chris and Craig took a stage win, now firmly holding second place in the category after their earlier troubles during the morning loop.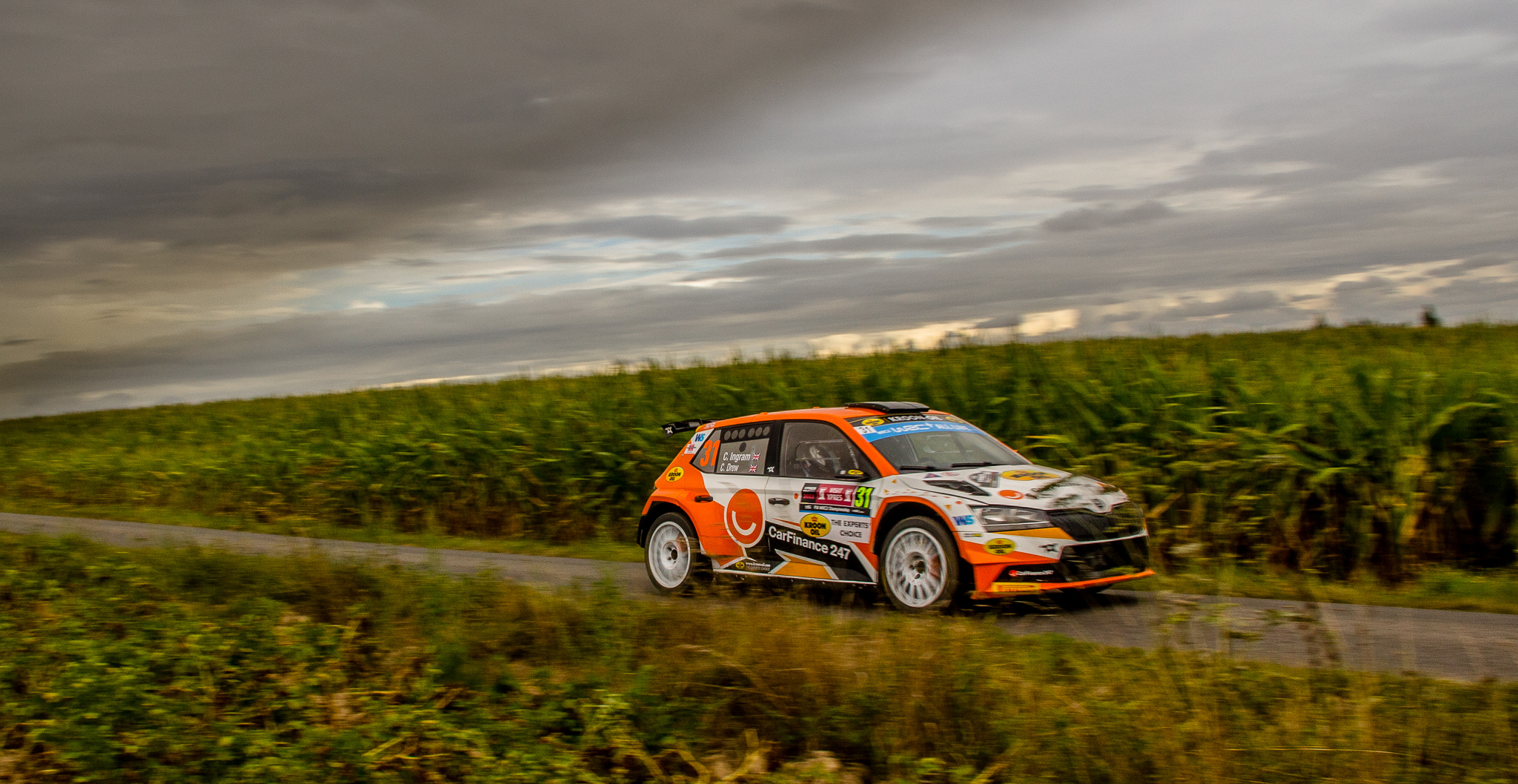 Let's see the top ten and hear from the drivers.
Classification after Day One
| | | | | |
| --- | --- | --- | --- | --- |
| 1 | T. Neuville | M. Wydaeghe | Hyundai i20 N Rally1 | 49:50.4 |
| 2 | O. Tänak | M. Järveoja | Hyundai i20 N Rally1 | +2.5 |
| 3 | E. Evans | S. Martin | Toyota GR Yaris Rally1 | +13.7 |
| 4 | E. Lappi | J. Ferm | Toyota GR Yaris Rally1 | +37.3 |
| 5 | C. Breen | P. Nagle | Ford Puma Rally1 | +56.1 |
| 6 | G. Greensmith | J. Andersson | Ford Puma Rally1 | +1:34.5 |
| 7 | O. Solberg | E. Edmondson | Hyundai i20 N Rally1 | +2:01.2 |
| 8 | A. Fourmaux | A. Coria | Ford Puma Rally1 | +2:09.5 |
Hyundai Motorsport
Thierry Neuville (1st)
"It has definitely been a close day, but I have been much happier with the handling of the car in this afternoon's loop after a tricky morning. The grip was lower than expected first thing and the weather was also uncertain. I made some mistakes, dropping several seconds in SS1, but we have also set some good stages since to catch back time. I felt more comfortable on the repeat run, even if we still have somehow to work a bit to get more out of the car and to make it easier to drive. We made a good step already and have been able to build confidence, which in turn helps us to go faster. The weather guys have done a strong job to give us precise information which is important on a day like this. Tomorrow, there will still be a high risk of punctures, so we'll be aiming first of all for a clean run."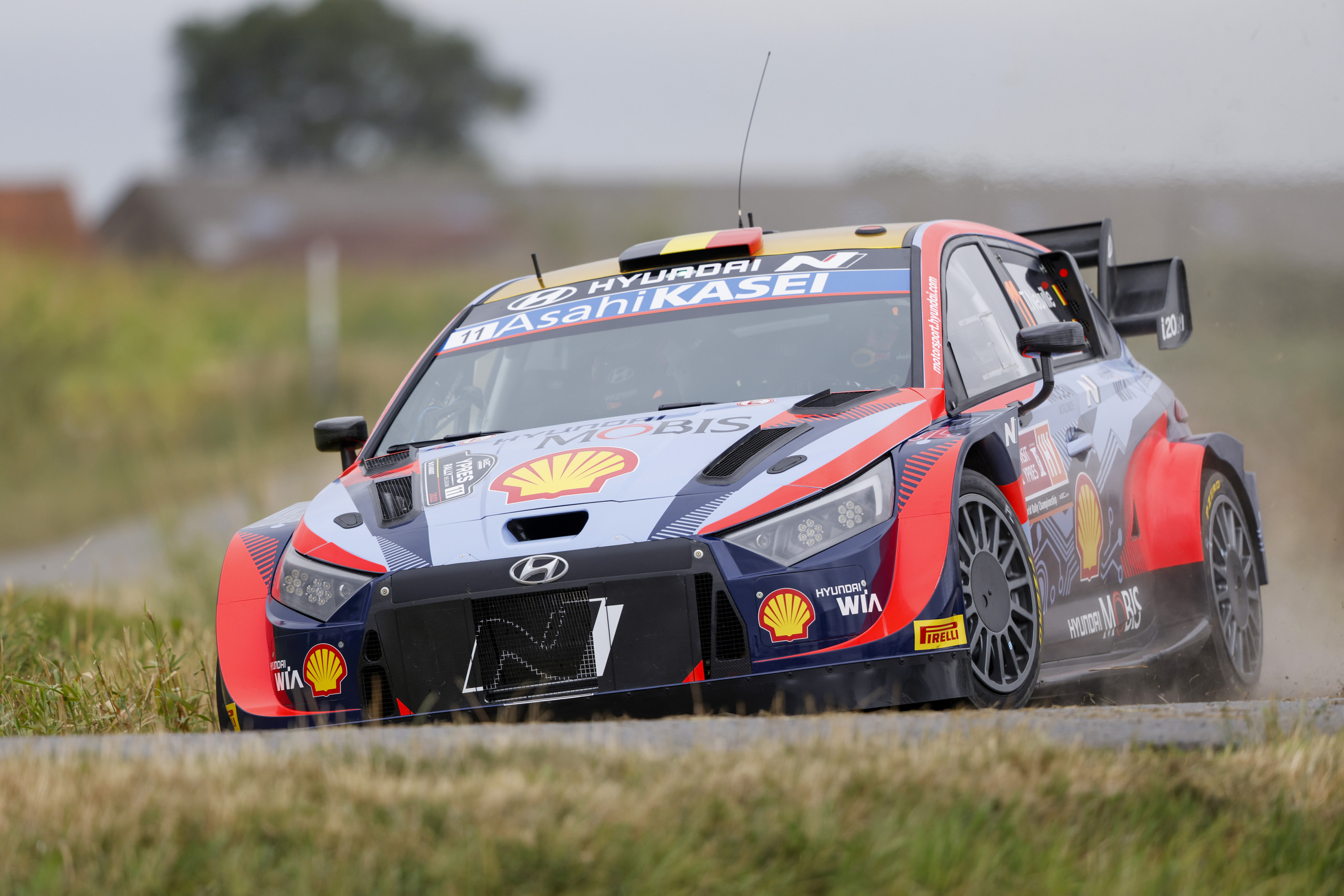 Ott Tänak (2nd)
"This afternoon's loop felt a lot smoother than the opening stages, and generally the stability of the car was much better. We struggled a bit this morning to find the necessary confidence and feeling. We still couldn't push to 100% but I'd say we're at around 90% at the moment. The rally itself is a bit tricky so these two things combined makes life a bit difficult. We had a consistent second loop and, in a way, we were lucky with the weather. Our weather guys put in a strong effort to predict things before we entered the loop because the rain here disappears and reappears in places where you don't expect it."
Oliver Solberg (7th)
"The first day is complete and we can be satisfied overall; the feeling has got better and despite a couple of issues, including a sticking gear shift in SS8, it's been generally a clean run with no mistakes, and lots learned. We lost a lot of time on that last stage, but we're here and we've been building up nicely this afternoon with better pace. It's just about gaining more confidence in our first time here with the WRC car. These stages need 100% commitment, and the top guys have so much more experience, so we need to be smart and learn for the future."
Toyota Gazoo Racing WRT
Elfyn Evans (3rd)
"Overall, it has not been a bad day. We had a solid morning loop, but the end of the afternoon was a bit difficult. We had a slow puncture near the end of the second stage, so we were a bit unlucky there, and then we had to use the rain tyre for the last two and the feeling was not so good to be honest. An unfortunate error checking in for the final stage got us the penalty, but this can happen sometimes in this sport. There's definitely still a long way to go, it's a big day out on the stages tomorrow and we just have to try and enjoy it and see what happens."
Esapekka Lappi (4th)
"I feel it's been a good day. We had quite a decent morning, nothing crazy but not too slow anyway. I felt we could improve the car during the mid-day service and we were able to do that, so I felt much more comfortable. A lot of the cars took the wrong tyres for this afternoon because the rain never came. It was just about managing this as well as we could, and we were the fastest of those on the softer tyre options, so I can be really satisfied with that. I think this is a good place to be. I don't think it's possible to match the speed of the top guys so we'll just try to continue in the same way tomorrow."
Kalle Rovanperä (SuperRally)
"This morning the conditions were tricky with very little grip but I was driving at quite a normal pace and everything seemed to be OK. Then in the middle of the second stage, there were two corners together and for the second one my pacenote was just too optimistic. I had it marked as a short corner, but I turned in too early and couldn't make it and hit the ditch. It was a big impact but both myself and Jonne were fine. Hopefully the team is able to fix the car and we can be back out tomorrow."
Saturday
Well with the longest day of the event, it started well for Ott as he passed Thierry for the lead at the end of the first stage and top M-Sport driver was Adrien, setting the fifth best time. Meanwhile, Craig remained the highest placed Puma, holding fifth overall. Chris was continuing to move closer to Gregoire Munster in their battle for the lead in the WRC2 Junior category, the gap reducing to 17.2 seconds as the Brit took 9.2 seconds out of the Luxembourg drivers lead. There was a change in the lead before the last stage of the morning loop as Thierry passed Ott. Gregoire was also fastest in the final morning stage and now he was just 4.9 seconds ahead of Chris as they continued their fight.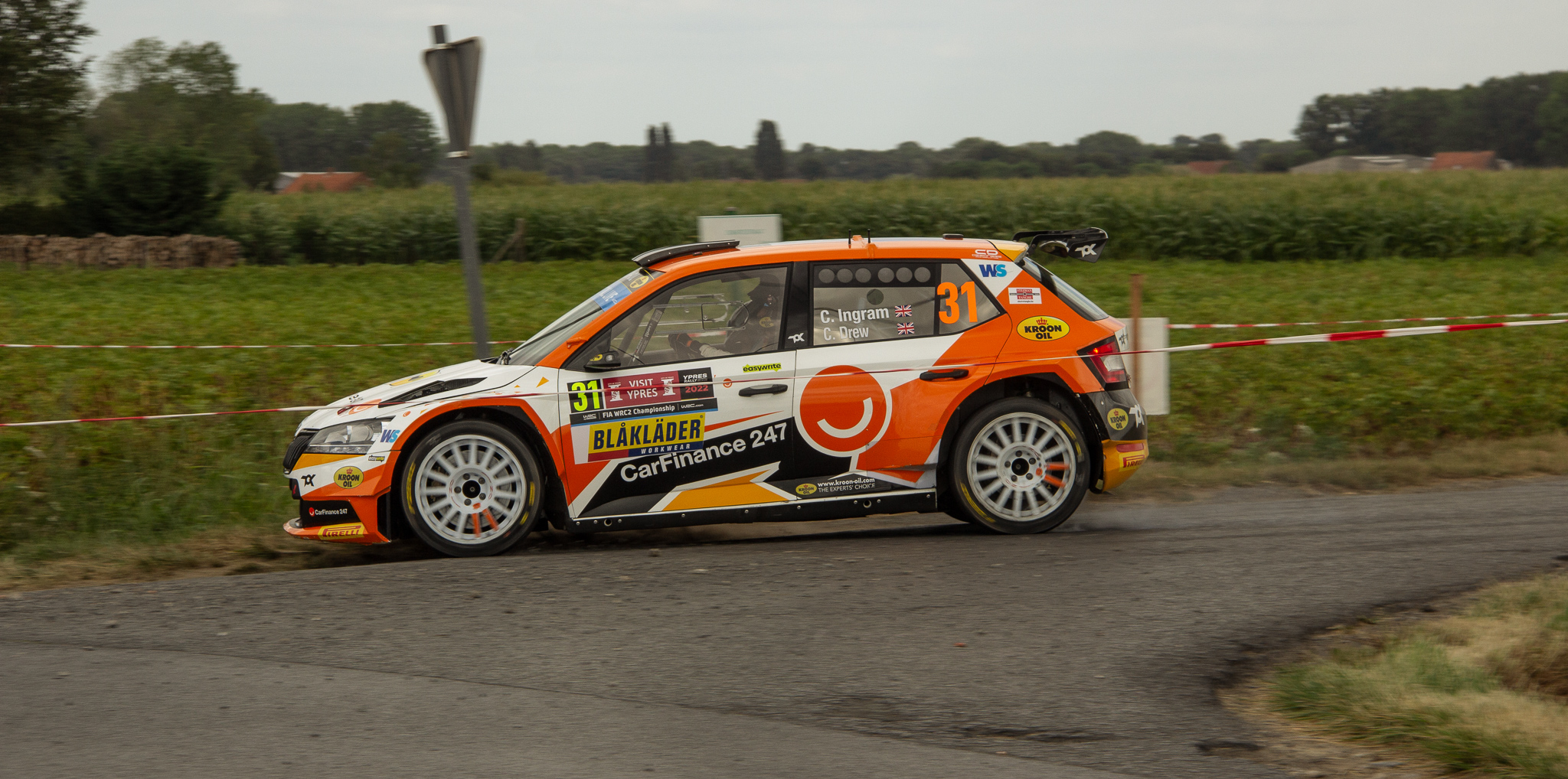 After the lunch service there was no change in the lead as Thierry continued to pull away from Ott after the two first stages, but there was disaster for Thierry as he slid off the road into the ditch in the third afternoon stage, thus ending his challenge for victory. Some spectators got him out and he drove to a section in the stage and pulled off the stage. Ott was now leading from Elfyn and Esapekka. Chris and Gregorie continued to battle over the WRC2 Junior category with the Luxembourg driver holding the advantage over the Brit.
Let's take a look at the top ten and hear from the drivers.
Classification after Day Two
| | | | | |
| --- | --- | --- | --- | --- |
| 1 | O. Tänak | M. Järveoja | Hyundai i20 N Rally1 | 1:58:55.2 |
| 2 | E. Evans | S. Martin | Toyota GR Yaris Rally1 | +8.2 |
| 3 | E. Lappi | J. Ferm | Toyota GR Yaris Rally1 | +1:09.8 |
| 4 | O. Solberg | E. Edmondson | Hyundai i20 N Rally1 | +2:51.6 |
| 5 | A. Fourmaux | A. Coria | Ford Puma Rally1 | +3:05.9 |
| 6 | T. Katsuta | A. Johnston | Toyota GR Yaris Rally1 | +5:39.3 |
Hyundai Motorsport
Ott Tänak (1st)
"In the morning, we were struggling with the transmission, which left us with inconsistent four-wheel drive. At lunchtime, we were able to change it, although it was a different setting, so it took me some time to adapt. In the end, I could trust it and got used to it. We had a generally good afternoon loop. It was a shame what happened to Thierry. Tomorrow will be a bit like Finland take two; we will have a big push in the morning, but it will be far from easy. Elfyn has been doing a good job, so we'll have to see what tomorrow brings.
Oliver Solberg (4th)
"We have stuck to our plan today but have also shown some good pace as we climbed up the standings. This morning's loop was good, even if we were fighting some understeer and carrying an extra spare tyre. We made some changes at lunchtime service and the car felt much better, with thanks to my engineer and the team. In the afternoon, we felt the extra weight of the spare tyre on some fast corners, but it was safety first. It was sad what happened to Thierry in his home rally, it is never nice, especially when you have fans and family watching. Now it is important for the team to bring both cars home on the final day. We have some short but tricky stages to negotiate, and with a small gap to Fourmaux everything is still open. We have to keep our nose clean."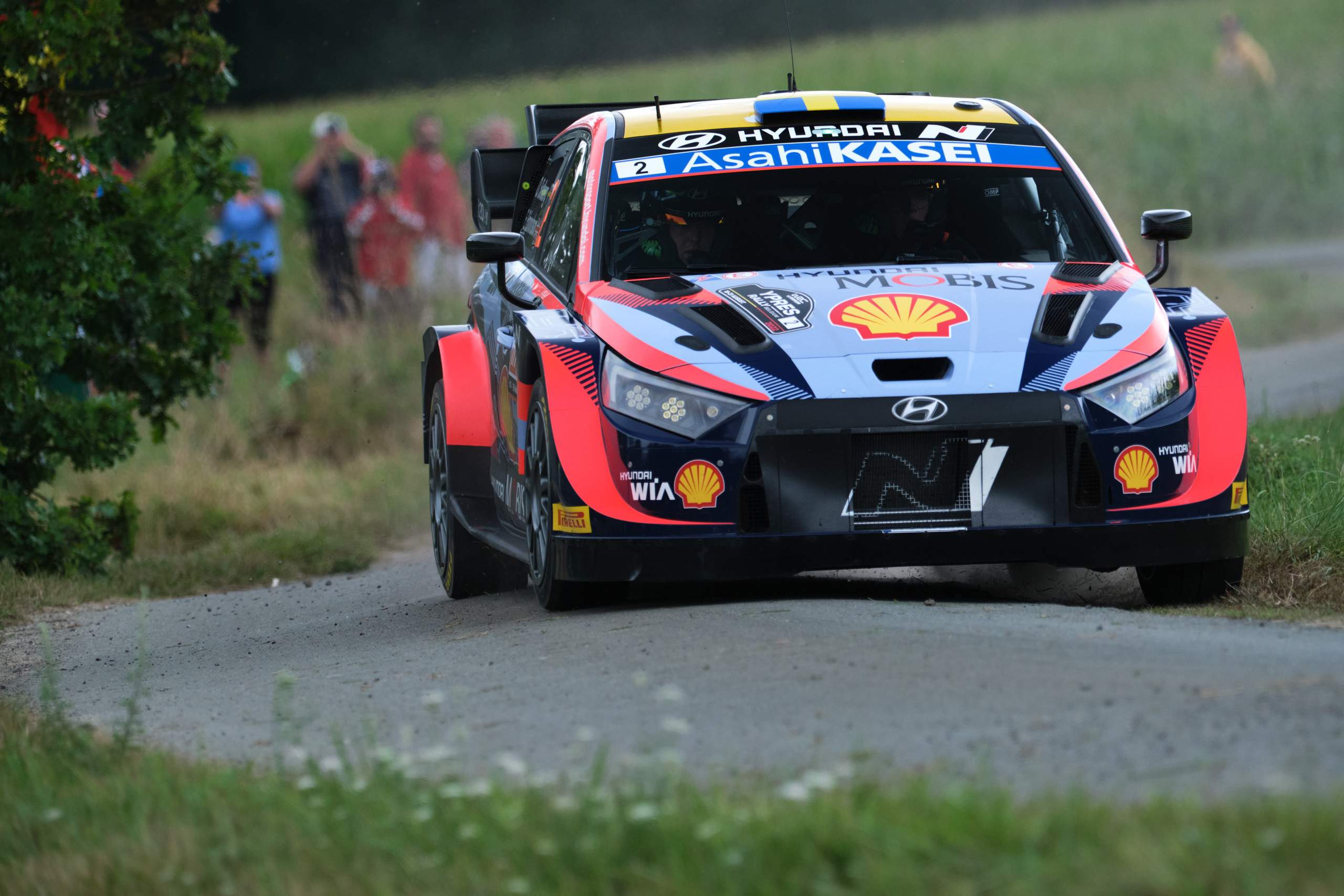 Thierry Neuville (SuperRally)
"A huge disappointment for the whole team and for all of our fans, who have been numerous on the stages all weekend. I came to a slow left-hand corner in SS15, on quite slippery tarmac, and it was full of dirt from the cars in front. There was nothing in our pace notes and we weren't aware it could be that tricky. When the gravel crew passed through, it was still clean, so we were just caught by surprise. Nothing we could do, I just understeered into a ditch. The car didn't have much damage but unfortunately, we couldn't make it to the end and had to retire there. The target was clearly to get the victory, to give something back to the fans who have been an absolute joy this weekend. It is what it is and we're really disappointed, but we go again tomorrow for a few more kilometres and will try to put on a show."
Toyota Gazoo Racing WRT
Elfyn Evans (2nd)
"It was pretty difficult this morning with a lot of new pacenotes, especially when you have a lot of places where the road goes from very fast to very slow in an instant. There's always places where you think you could have gone quicker. So, I wasn't fully at ease but things were working OK. The gap is not massive tonight, so it's definitely all to play for tomorrow. On a rally like this when the margins are so tight, it will be a challenge to make up the time but we'll have to keep the pressure on and see what we can do."
Esapekka Lappi (3rd)
"It's been a very consistent day from our side. There was potential to be faster but with the gaps around us, it didn't make sense to push like crazy. In fact, I wasn't really concentrating on the times at all, just trying to get through with a good rhythm and with no mistakes, and here we are in third position, so it's paying off. As we've seen the margins are so fine and we have been smart and stayed on the road. We'll aim to do the same job tomorrow and hopefully have a more straightforward Sunday than in Finland."
Kalle Rovanperä (SuperRally)
"A big thanks to the team who did an amazing job fixing the car so we could restart. The car was like new, it was perfect today. Straightaway in the first stage the feeling was good and we could have the fastest time. Of course, we had nothing to fight for today but we tried to enjoy it. It was important to push a bit to have a nice feeling and we set some good times. Hopefully we can do the same tomorrow in the Power Stage when we need to try and get some points."
Sunday
The final day saw Elfyn close the gap to Ott in the first two stages, bringing the gap down to Ott to just under seven seconds before the final two stages of the event. There had been a change in the WRC2 Junior category as Chris moved past Gregorie and into the lead. Sadly, Adrien crashed out in the first afternoon stage, suffering the same fate as Craig on Saturday. The final stage then and Kalle was fastest taking maximum powerstage points. Ott took victory, but only by five seconds over Elfyn, whilst Esapekka was third. Chris was the WRC2 Junior winner, from Gregorie! The Brit had driven really well to take victory!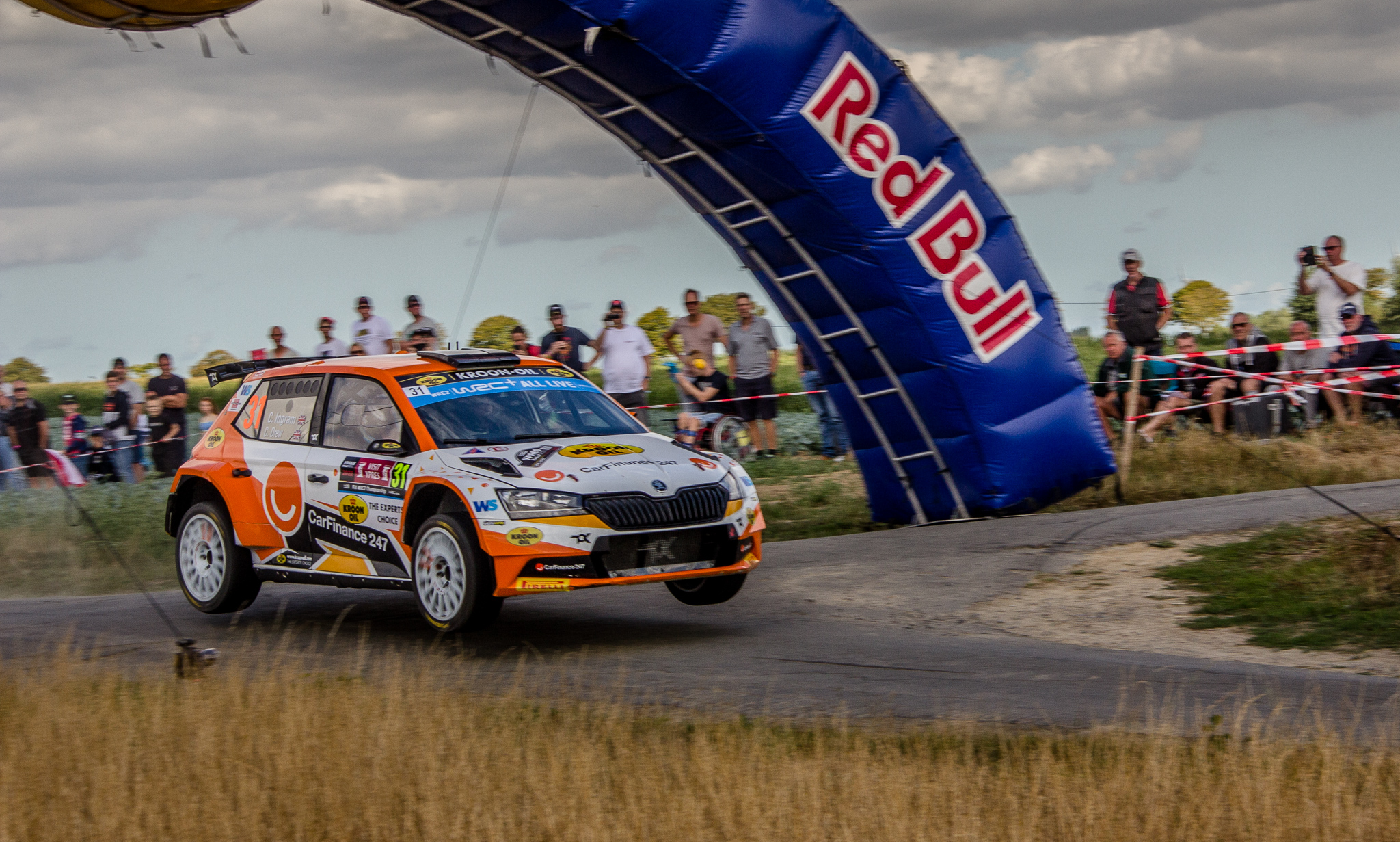 Let's see the top ten and hear from the drivers.
Final Overall Classification – Ypres Rally Belgium
| | | | | |
| --- | --- | --- | --- | --- |
| 1 | O. Tänak | M. Järveoja | Hyundai i20 N Rally1 | 2:25:38.9 |
| 2 | E. Evans | S. Martin | Toyota GR Yaris Rally1 | +5.0 |
| 3 | E. Lappi | J. Ferm | Toyota GR Yaris Rally1 | +1:41.6 |
| 4 | O. Solberg | E. Edmondson | Hyundai i20 N Rally1 | +3:28.5 |
| 5 | T. Katsuta | A. Johnston | Toyota GR Yaris Rally1 | +6:06.1 |
| 6 | S. Lefebvre | A. Malfoy | Citroën C3 Rally2 | +9:45.7 |
| 7 | A. Mikkelsen | T. Eriksen | Škoda Fabia Evo | +10:03.8 |
| 8 | Y. Rossel | V. Sarreaud | Citroën C3 Rally2 | +10:54.8 |
| 9 | C. Ingram | C. Drew | Škoda Fabia Evo | +11:20.8 |
| 10 | N. Gryazin | K. Aleksandrov | Škoda Fabia Evo | +11:26.8 |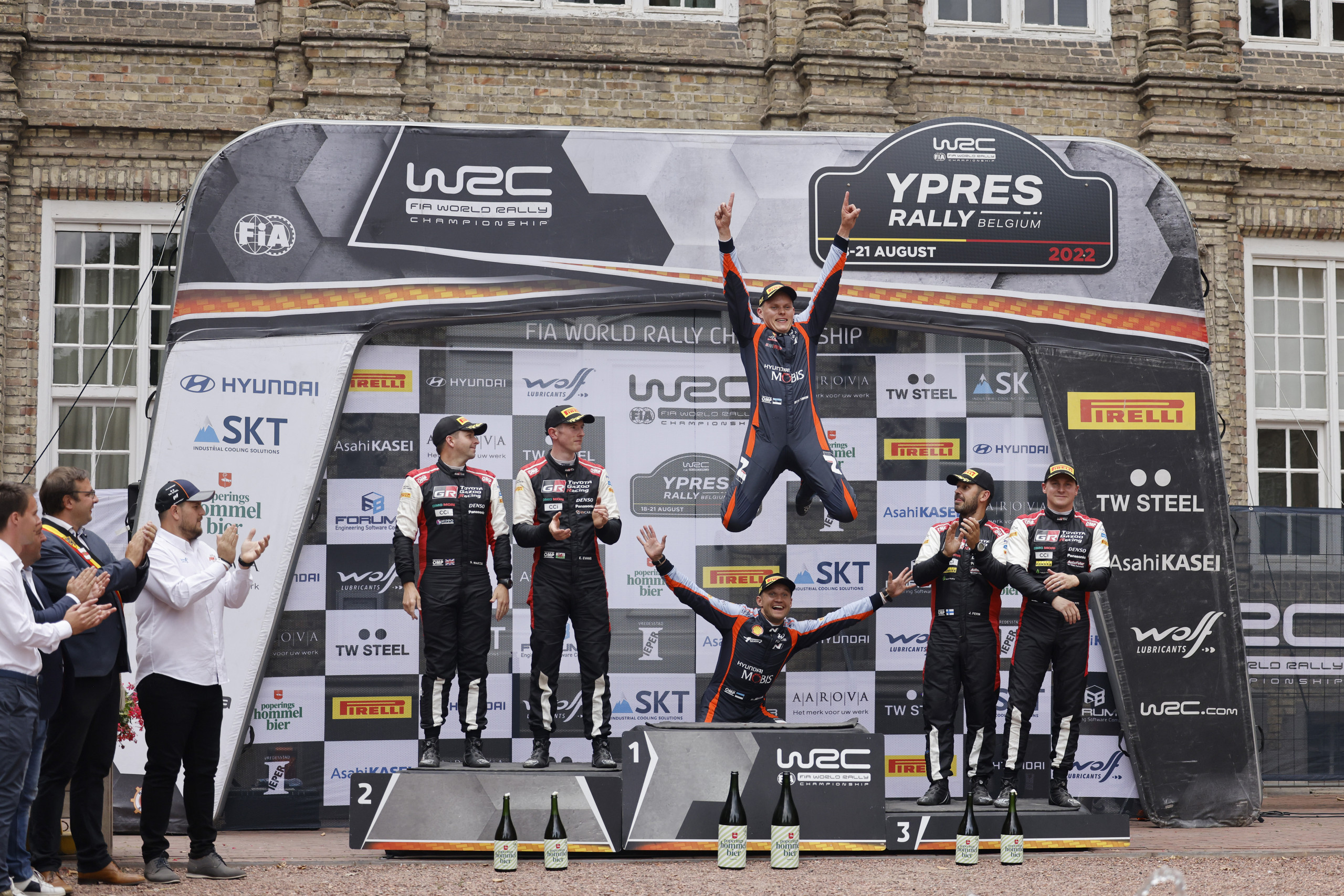 Hyundai Motorsport
Ott Tänak (1st)
"To win in Ypres is a big surprise for us, just as it was in Finland. We were not expecting to come here and take the victory, but it is great to see such strong results coming. We were somehow able to pull things together during the rally, even if I didn't feel completely comfortable all the time. We know we can still improve even more and be stronger, so we will carry on working hard. The speed was enough to maintain our position today and to keep a good rhythm right to the end; I'm very happy with what we've achieved."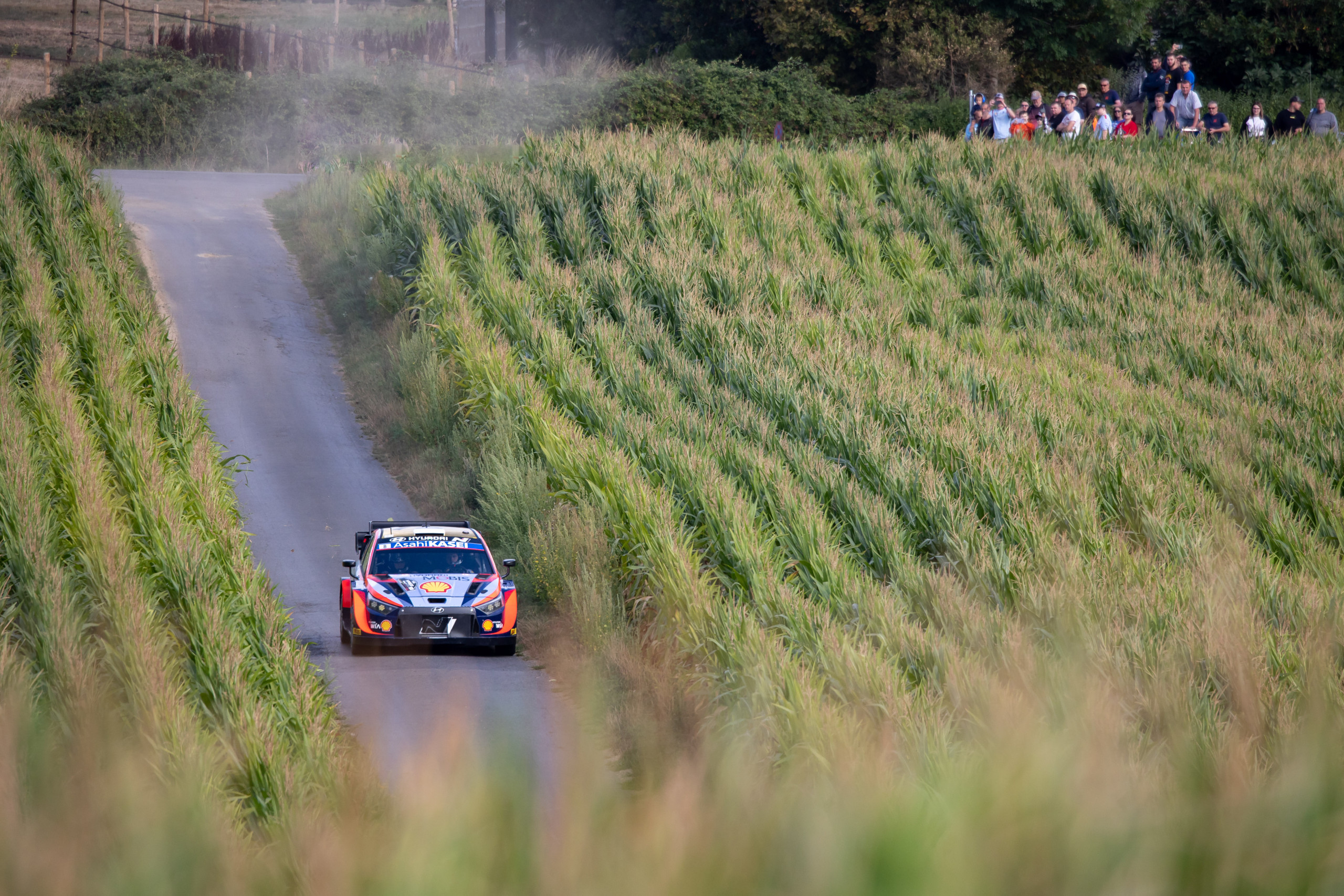 Oliver Solberg (4th)
"It is fantastic to have such a great result finally. We have come close many times, but it is nice to get the whole package working so strongly together. It has not been easy at all, a challenging rally on difficult roads. I didn't have a good tarmac rally last time in Croatia and coming off the back of a frustrating time in Finland, it has definitely been a hard couple of weeks. The team has been incredibly supportive, we've had great teamwork to get where we are now. It's nice to get to the finish of the rally."
Thierry Neuville (SuperRally)
"A disappointing weekend for us and the fans. Congratulations to Ott for bringing home the victory after we lost our first place on Saturday. The team has done an incredible job, and this result will be a great motivational boost. From my side, the most positive thing to take away from this event is the reliability and performance of the car. We have had three rallies in a row without any major issues. I would also like to express my thanks to the very many spectators who have been cheering us on – it's been amazing support. Unfortunately, we couldn't get the win, but at least we were able to have some fun, and we hope the fans did as well."
Toyota Gazoo Racing WRT
Elfyn Evans (2nd)
"You can never be completely happy to finish second but it's been a strong weekend overall. There were just a few unfortunate things that cost us some time here and there, but that's rallying and it's part of the game. The car has been good and it was nice to be in the fight from the beginning of the rally. We made some good steps for the final day with the setup and I feel really comfortable with where we've ended up at the end of the rally. Today we tried to keep the pressure on Ott, and we knew it was a bit of a tall order with the limited kilometres we had left but we clawed back some time; as we expected it just wasn't quite enough."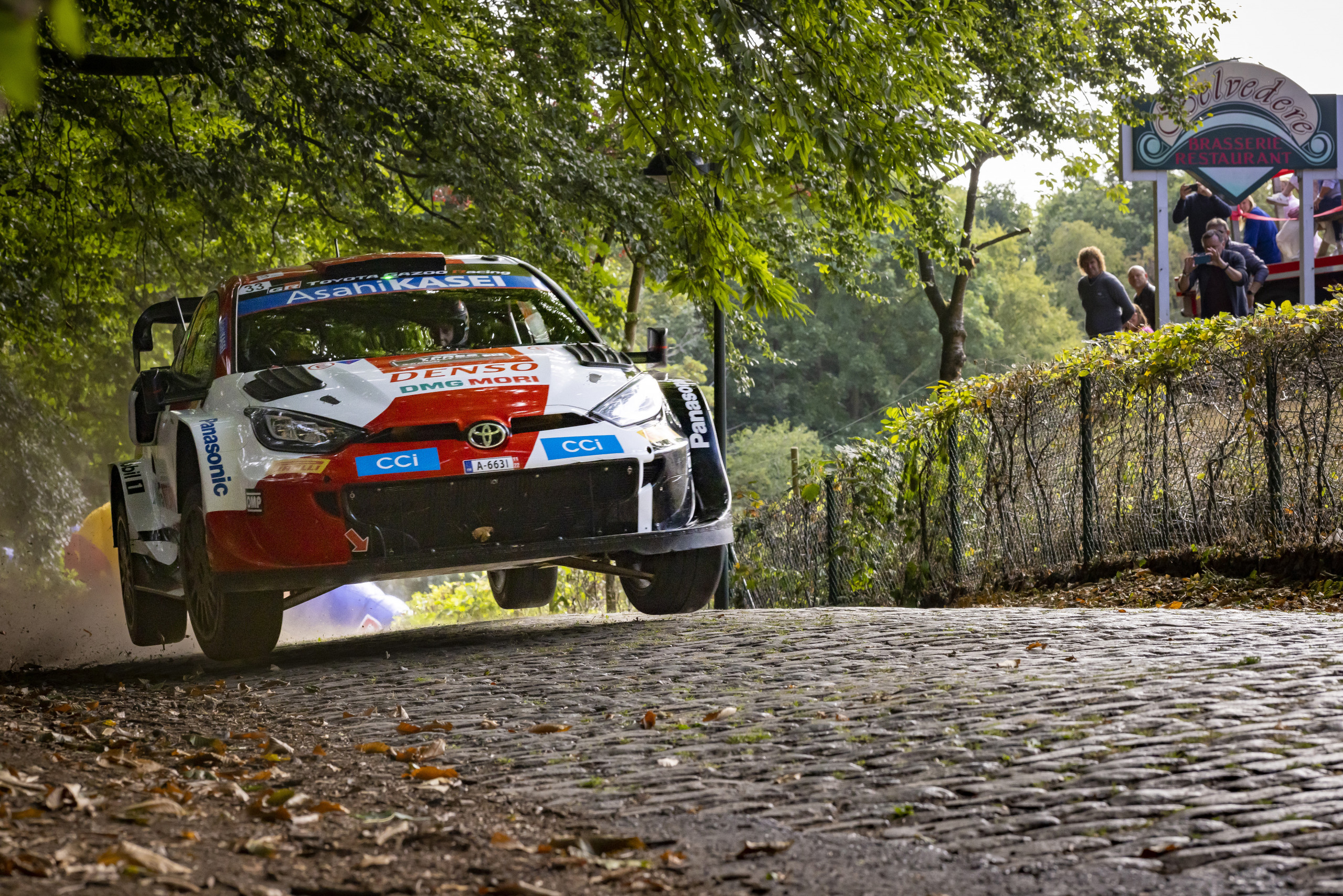 Esapekka Lappi (3rd)
"I'm very satisfied with the job we did this weekend. Third position on this rally is a very good result for us and it's good for the team as well. I wasn't really expecting this kind of result before the rally, having not been here for eight years. We were not the fastest but other drivers were making mistakes and we didn't really do any and this paid off in the end. A final day like today is always tricky when you're in a good position and you want to finish the rally but we managed to get through it."
Takamoto Katsuta (5th)
"I have to be happy to have got through this rally. Unfortunately, on day one we had some issues and I almost had to stop completely but thankfully we were able to continue, and thank you to the team for fixing the problem. After that, to finish where we did is really good. Saturday was a really positive day for me. I tried to improve my pace and when everything was working well. I felt quite confident with the car and the driving. These last three rallies were really difficult for me last year so it's nice to get through them and to finish them in the points. After this weekend I feel I'm getting better and more comfortable on asphalt in this car which is really good for the rallies to come later this season and I hope I can push a bit more in Spain."
Kalle Rovanperä (SuperRally)
"Of course, it has not been the best weekend, but the season has been good until this point and sometimes mistakes happen. After the crash on Friday, I think we did everything we could as a team to bounce back which was important, and it was a nice way to thank the mechanics for the great work they did repairing the car. In the Power Stage it was not easy to step up the pace after driving quite safely before that, but it was good to get the maximum five points and it means that the gap in the championship hasn't closed too much. We just need to keep getting good results, starting in Greece."
2022 FIA World Rally Championship for Drivers'
After Round Nine
| | | |
| --- | --- | --- |
| 1 | K. Rovanperä | 203 |
| 2 | O. Tänak | 131 |
| 3 | E. Evans | 116 |
| 4 | T. Neuville | 106 |
| 5 | T. Katsuta | 92 |
| 6 | C. Breen | 64 |
| 7 | E. Lappi | 57 |
| 8 | S. Loeb | 35 |
| 9 | S. Ogier | 34 |
| 10 | D. Sordo | 34 |
| 11 | G. Greensmith | 34 |
| 12 | A. Mikkelsen | 25 |
| 13 | O. Solberg | 21 |
2022 FIA World Rally Championship for Manufacturers'
After Round Nine
| | | |
| --- | --- | --- |
| 1 | Toyota Gazoo Racing World Rally Team | 381 |
| 2 | Hyundai Shell Mobis World Rally Team | 293 |
| 3 | M-Sport Ford World Rally Team | 188 |
| 4 | Toyota Gazoo Racing World Rally Team NG | 100 |
Summary
Well, what an incredible rally we were treated to! Here's my thoughts about each team and the crews.
M-Sport Ford WRT
Malcolm's team had big hopes, but unfortunately, they really missed out on a good result as their crews' suffered incidents with running wide and damaging their cars. Craig was setting good pace before their off that meant they did not finish the stage and were out for the rest of the day. Gus also went wide on the same stage and damaged the rear suspension, meaning that he had to crawl through the remaining stages in the morning so that he could get his Puma fixed at lunchtime service. Adrien was holding a good position on Sunday, but again had a crash that put him out. A big shame, but I'm sure that all will bounce back at the next rally.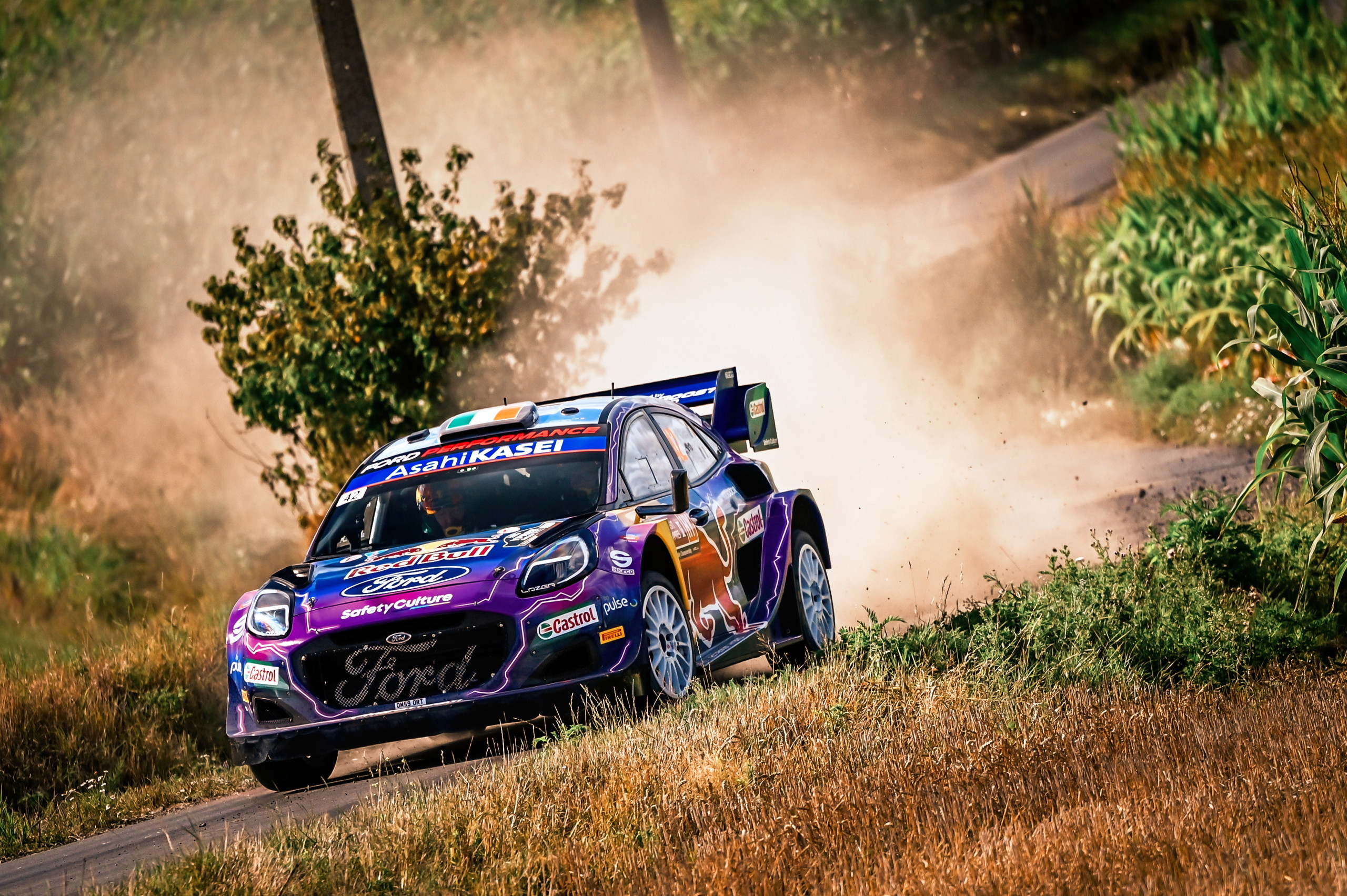 Toyota Gazoo Racing WRT
Apart from Kalle crashing out on Friday morning, Toyota had a great rally, even though they missed out on the win. Elfyn led the team with a brilliant drive to second place, with Esapekka backing him up with third place and giving good points to the team. Takamoto also brushed off technical problems with his hybrid unit and having the wrong tyres when he gambled on heavy rain during Friday's stages to come home with fifth place. Kalle remains at the top of the championship though and still in a very strong position.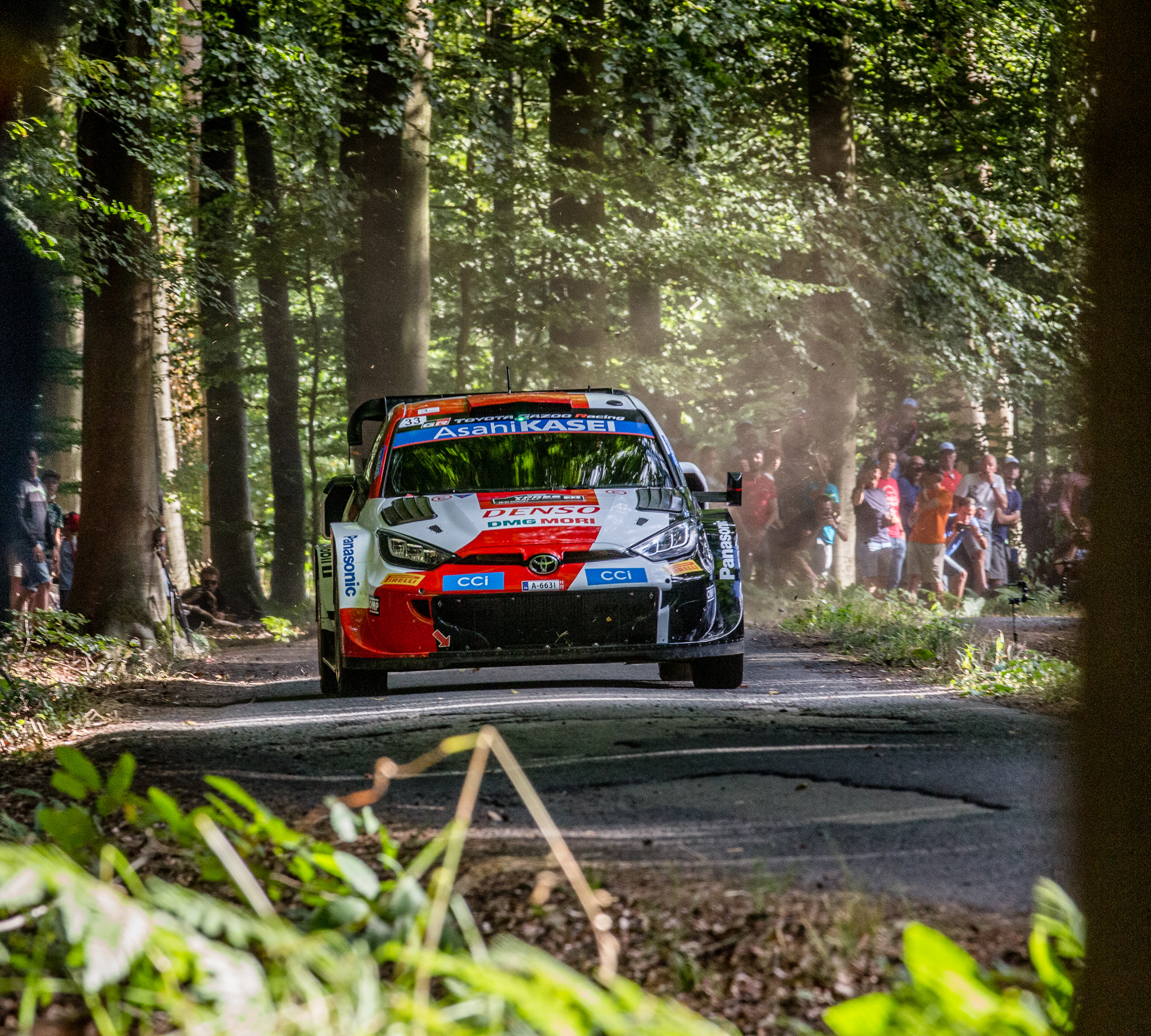 Hyundai Motorsport
It would appear that this team have got on top of their problems with their car. Three wins now for Ott shows that they are now extracting some performance potential. Thierry was going really well, before his off on Saturday afternoon. He won the most stages as well. Ott did have some technical problems with his car's transmission, but once they were solved, he was able to close the gap to his teammate and be in a position to take the lead. Oliver had a brilliant run to his best ever result of fourth place. It's great to see the young driver bounce back after his off in Finland.