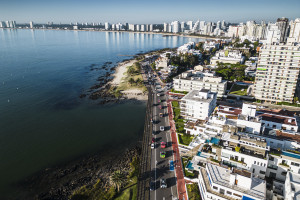 Rosberg X Racing (RXR) will be trying to win their second team's title in as many seasons at this weekend's Extreme E finale in Uruguay.
The German team, who won the first ever Extreme E championship title last year, go into the final round with a 17 point lead over second placed X44.
There are four teams still in with a chance of claiming the championship (RXR, X44, Acciona Sainz, and Chip Ganassi), showing just how tight this season has been.
To win regardless of where their rivals finish, RXR need to achieve either 3rd or higher with no bonus points for the fastest time through the Continental Traction Challenge, or at least 5th if they do get the bonus points.
X44 need to outscore RXR by 18 points to win the title, whilst Acciona Sainz need 24 more points than RXR, and six more than X44. Chip Ganassi face the toughest challenge, needing to outscore RXR by 29 points, X44 by 12, and Acciona Sainz by 6.
Championship Standings:
RXR 83 Points
X44 66 Points
Acciona Sainz 60 Points
Chip Ganassi 55 Points
McLaren 34 Points
Andretti United 33 Points
Xite Energy 29 Points
JBXE 25 Points
ABT Cupra 21 Points
Veloce 8 Points
In the midst of the championship battle, we will see some new driver line-ups for this weekend. Veloce decided they wanted two new drivers, bringing in last season's champion Molly Taylor, and former JBXE driver Kevin Hansen. They replace Christine GZ, and Lance Woolridge. GZ is one of the championship reserve drivers for this weekend.
Filling in for Kevin Hansen at JBXE will be Jamaican racer Fraser McConnell. McConnell had previously been a reserve driver for the championship.
Timo Scheider, formerly of Xite Energy will take McConnell's spot on the side lines as he is replaced by Extreme E newcomer Ezequiel Perez Companc.
Another new face to the grid will be RJ Anderson, who is replacing Kyle Leduc at Chip Ganassi. Klara Andersson, who filled in for an injured Jutta Kleinschmidt at ABT Cupra in the last round, will take the seat permanently.
But Extreme E is not just about the racing. Every race weekend they have a new climate-related focus, and a legacy programme, that aims to leave a positive impact on their race locations.
This week, that focus will be on marine conservation, ecotourism, and renewable energy awareness.
Uruguay are a world leader in wind energy production, alongside Denmark, Ireland, and Portugal. Renewable energy generation is at the heart of their energy sector, with 98% of electricity in Uruguay coming from renewable sources.
Extreme E's legacy programme for this weekend will see them team up with the Organisation for Cetacean Conservation (OCC) to help educate children about marine life. They will also help fund improvements to the OCC's whale photo-ID catalogue.
In a press release, Extreme E founder and CEO Alejandro Agag said of the finale: "It has been an extremely competitive second season of Extreme E, with new winners and so many new teams securing podiums it just goes to show the strength of our field out on course.
"It is fitting that we are completing the season in Uruguay a country which shares so many of our beliefs around environmental progress, sustainability focuses, and raising awareness of the climate crisis."