Josef Newgarden beat teammate Scott McLaughlin to the line in a drag race at Texas Motor Speedway to get Team Penske's 600th win for The Captain in the XPEL 375. Scott McLaughlin was stuck behind lap traffic on the final lap allowing Newgarden to set up a run to the line coming off turn four. McLaughlin led over 170 laps of the race, Newgarden led just three but beat McLaughlin by 0.67 of a second. Talking to NBC post-race, Newgarden said he had been "sliding off turn three and four every lap."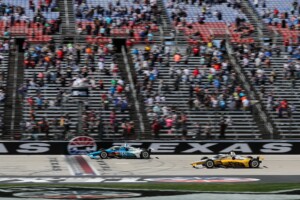 Jimmie Johnson charged through the field like Superman coming from 18th to finish sixth. On lap 185 he got ahead of five-time Texas winner Scott Dixon before dueling with Indy 500 champion Simon Pagenaud with ten to go to take fifth place. Talking to NBC post-race, Johnson said "What a special day, this was a lot of fun."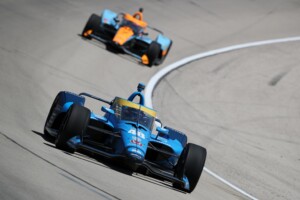 From the start McLaughlin was fast, taking the lead away from Felix Rosenqvist going into turn one on lap two. By lap 75, McLaughlin had built up a 12 second lead over now second place Newgarden but the gap was halved due to lap traffic.
A big crash on lap 131 brought out the caution after rookie Devlin DeFrancesco tried to make it three wide going into turn three after getting a run on Graham Rahal and Hélio Castroneves, and had dipped his left side wheels onto the apron before losing grip and washing up into Rahal sending him flying into Castroneves. All three were wrecked. Rahal had started dead last but had worked his way up to 11th before the incident.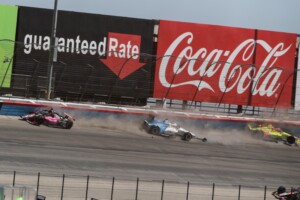 On the restart it was a Penske one, two, three, in McLaughlin, Newgarden, and Will Power, followed by Chip Ganassi's Dixon and Marcus Ericsson. With 100 laps to go, thing began to get wild. On a restart on lap 151, Newgarden took the lead away from McLaughlin before taking it back two laps later. Rinus VeeKay sent his Ed Carpenter Racing Chevrolet around the outside of everyone going from sixth to the lead by lap 159.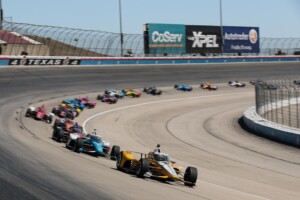 With one scheduled pit stop left to go it became a 220mph chess match with some drivers racing to the front before slowing the pace down while others backed off to make sure they hit their fuel number. On lap 161, Power did a power move by getting two for one in turn one to take the lead, only to have it taken off him by Ericsson a few laps later.
The final 40 laps saw McLaughlin leading with Newgarden following closely in his tracks, with both pulling a tiny gap to Ericsson, VeeKay and Power. With 19 laps to go, McLaughlin was let loose but could not create a large gap to Newgarden. With two laps to go, lap traffic was waiting ahead for McLaughlin, and a Newgarden storm was coming. Newgarden closed the gap. On the final lap going into turn three, McLaughlin was stuck behind lap traffic and chose not to send it but Newgarden in cleaner air got a huge run and sent it round the outside of McLaughlin in turns three and four and out dragged him to the line.
Newgarden was presented with six 100 dollar bills by Roger Penske in victory lane as a reward for earning him his 600th win. Ericsson would finish third, with Power, Dixon, and Johnson making up fourth, fifth and sixth.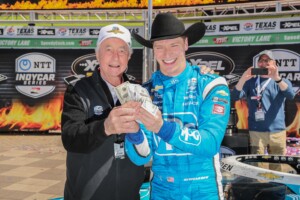 While it was a stellar day for Team Penske and Chip Ganassi Racing overall, it was a disaster of a day for Andretti Autosport and Arrow McLaren SP. Alexander Rossi brought out the first caution of the day on lap 12 for being slow on the apron and had to retire the car due to a technical issue. Just over a 100 laps into the race, Romain Grosjean would retire after his engine began puffing smoke. DeFrancesco before crashing out of the race, had also pushed up into Takuma Sato in turns one and two, with Sato making contact with the outside wall. Colton Herta had been running in the top half of the field but had a slow final pit stop after the team had issues with the front left tyre. Herta would fight on and earn a 12th place finish.
For McLaren SP's Rosenqvist, after losing the lead, he fell back to fourth before falling further down the field in the first half of the race after overshooting his pit box on a stop. On lap 140, Rosenqvist came down pit road after experiencing mechanical issues with the car and had to retire. On the same pit stop where Rosenqvist overshot his pit box, Pato O'Ward hit one of his crew members as he pulled into his pit box and did some front wing damage as a result. O'Ward had been running as high as third but would come home 15th.
It was a tough day day for the rookies in the race. Just past the 110 lap mark, Kyle Kirkwood lost grip coming out of turn four racing on the outside of fellow rookie DeFrancesco and went backwards into the outside wall. Earlier in the race, Kirkwood had gone from 23rd to 9th on a fresh set of Firestone tyres. With 17 to go, Christian Lundgaard, with leader McLaughlin close behind, pushed up into the outside wall coming off turn four and damaged his front wing. Callum Ilott was at the end of the lap traffic on the final lap. David Malukas was the highest finishing rookie in 11th place.
Full finishing order: Josef Newgarden (1st), Scott McLaughlin (2nd), Marcus Ericsson (3rd), Will Power (4th), Scott Dixon (5th), Jimmie Johnson (6th), Álex Palou (7th), Simon Pagenaud (8th), Santino Ferrucci (9th), Rinus VeeKay (10th), David Malukas (11th), Colton Herta (12th), Ed Carpenter (13th), JR Hildebrand (14th), Pato O'Ward (15th), Callum Ilott (16th), Dalton Kellett (17th), Conor Daly (18th), Christian Lundgaard (19th), Takuma Sato (20th), Felix Rosenqvist (21st), Graham Rahal (22nd), Hélio Castroneves (23rd), Devlin DeFrancesco (24th), Kyle Kirkwood (25th), Romain Grosjean (26th), Alexander Rossi (27th).
Top 10 in points standings: 1st Scott McLaughlin (97), 2nd Will Power (69), 3rd Álex Palou (67), 4th Josef Newgarden (65), 5th Marcus Ericsson (58), 6th Scott Dixon (55), 7th Rinus VeeKay (50), 8th Colton Herta (50), 9th Simon Pagenaud (39), 10th Romain Grosjean (35).
Featured Image: Josef Newgarden celebrating in victory lane with six-shooters (Photo by Joe Skibinski/Penske Entertainment)