The final day then of this incredible event! Kalle had a huge lead coming into the last day. With just under 70km over three stages, there was still plenty of opportunities for things to happen!
The startlist looked like this – Loubet, Serderidis, Neuville, Evans, Greensmith, Fourmaux, Sordo, Ogier, Tänak, Rovanperä.
Into the first stage of the day then, SS13 Tarzan 1 – 23.37 km. There was drama for Adrien as he suffered a problem on the road section, meaning that he'd had to stop to change the spark plugs. He was 18 minutes late to the time control and picked up 3 minutes of time penalties as a result. This meant that his teammate picked up fifth overall, and also Elfyn moved up a place to sixth as well at the expense of Adrien. Kalle won the stage by a huge 14 seconds from Ott, with Seb a further 13.9 seconds back from Ott. In the WRC2 battle, Andreas got ahead of Marco once again and the gap was up to 6.8 seconds! The WRC3 top three was Yohan, Kajeten and Chris.
The following stage, SS14 Pyrgos – 33.20 km, again just a single run stage as well, and Ott denied Adrien and M-Sport a stage win, whilst Seb was third in the stage. With his pace, the Estonian now held a lead over the Toyota driver of 32.4 seconds. Adrien's pace in the stage actually meant that he's passed Elfyn who was sixth fastest, but the gap was just eight tenths of a second. Thierry passed Marco for ninth place, and was now just five seconds behind Andreas, the WRC2 leader.
To the final stage then, SS15 Tarzan 2 [Power Stage] – 12.68 km, a shortened version of the mornings first stage. The startlist was updated to this – Gryazin (WRC2), Bulacia (WRC2), Mikkelsen (WRC2), Serderidis, Neuville, Evans, Fourmaux, Greensmith, Sordo, Ogier, Tänak, Rovanperä.
Thierry was the first to go under nine minutes, and then his time was beaten by Elfyn. It was looking good for the Welshman to take the stage win, as the following drivers could not beat his time. Ott had drama on the start line as his car nearly didn't fire up, and when it did there was blue smoke at first. Adrien had a spin in the stage, losing 12 seconds to Elfyn and he dropped behind into seventh. Kalle completed the stage, 1.2 seconds up on Elfyn, meaning that he took the stage win and maximum points in the powerstage with Elfyn second, Seb third. Ott and Dani rounded out the top five. Andreas took the WRC2 victory from Marco, and Nicolay on his first outing for M-Sport. Yohan took WRC3 honours from Kajeten and Chris third.
Well, there you have it. Kalle and Jonne have taken their second WRC victory from Ott and Seb. This has lifted them into fourth place in the championship, just one point behind Thierry and Martjin who are a now six points behind Elfyn. Seb now has a 44-point advantage over his Welsh teammate in the championship, with just three rounds left.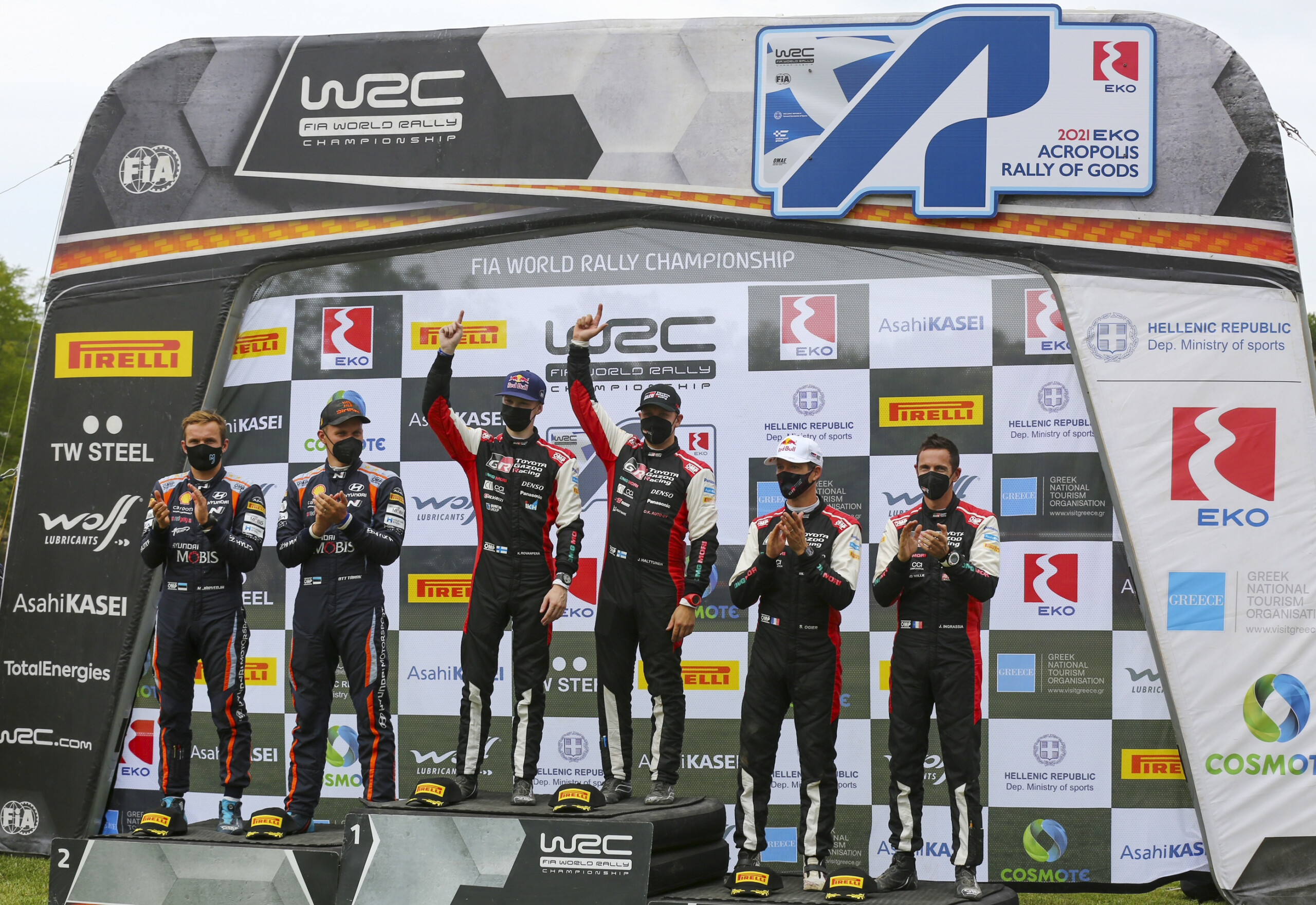 Final Overall Classification – Acropolis Rally
| | | | | |
| --- | --- | --- | --- | --- |
| 1 | K. Rovanperä | J. Halttunen | Toyota Yaris WRC | 3:28:24.6 |
| 2 | O. Tänak | M. Järveoja | Hyundai i20 Coupe WRC | +42.1 |
| 3 | S. Ogier | J. Ingrassia | Toyota Yaris WRC | +1:11.3 |
| 4 | D. Sordo | C. Carrera | Hyundai i20 Coupe WRC | +3:01.0 |
| 5 | G. Greensmith | C. Patterson | Ford Fiesta WRC | +5:45.0 |
| 6 | E. Evans | S. Martin | Toyota Yaris WRC | +6:42.7 |
| 7 | A. Fourmaux | R. Jamoul | Ford Fiesta WRC | +6:54.4 |
| 8 | T. Neuville | M. Wydaeghe | Hyundai i20 Coupe WRC | +8:41.1 |
| 9 | A. Mikkelsen | E. Edmondson | Škoda Fabia Evo | +9:02.5 |
| 10 | M. Bulacia | M. Der Ohannesian | Škoda Fabia Evo | +9:19.2 |
Let's hear from the drivers then.
Toyota Gazoo Racing WRT
Kalle Rovanperä (1st)
"I'm feeling really good to win here in Greece. It was a really tough rally to be honest, a long week with a lot of stages to recce and long nights watching the videos, so I feel really happy to be at the finish with this result. I felt good on Friday already, and then we did some setup changes to the car because the stages on Saturday were different, and I felt even better with the car. It came quite nicely; I could enjoy the driving a lot. A big thank you to the team, everybody did a great job and the car was running without issues. Hopefully we can take the same speed to Finland."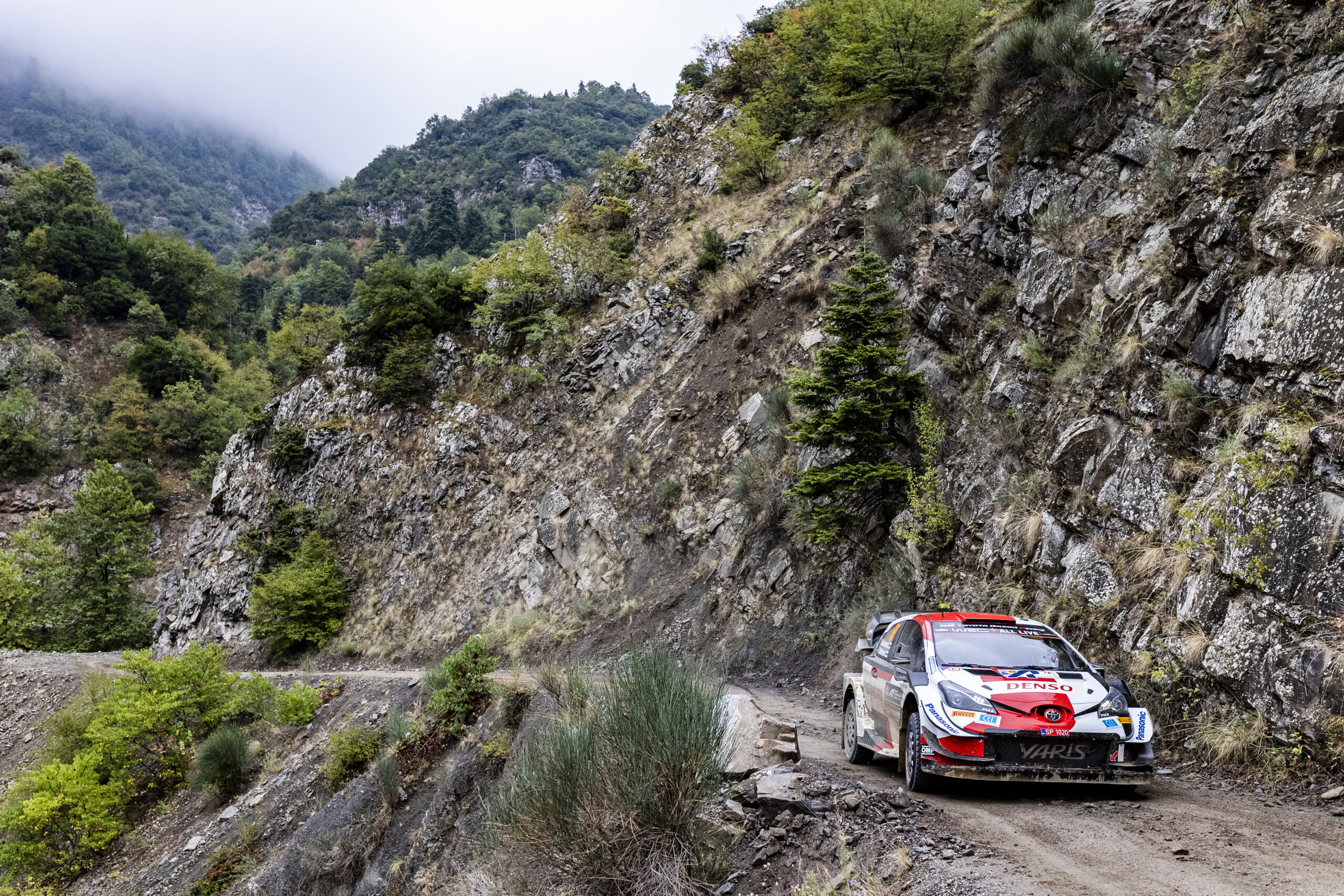 Sébastien Ogier (3rd)
"This is a very good result for us. The target this weekend was to maintain the lead we had in the championship and we actually increased it, which is very positive. I think we did a very clever rally. The conditions were challenging all the time. Obviously, I was not in the same pace as Kalle, he was really flying and on the next level compared to everybody, so congratulations to him for a well-deserved win. In the position I was in in the championship after Friday, my mindset was not to risk everything to win the rally, so I'm very happy with my third place."
Elfyn Evans (6th)
"This was not our weekend but these things happen in rallying and it's been very rare at this team to have an issue like we had on Friday. The feeling in the car was generally quite good. Getting sixth place in the end today was a bit of a gift with an issue that somebody else had this morning. Maybe it was not a perfect run on the Power Stage for us, but four bonus points is still a good addition and at least we managed to salvage something from the weekend."
Hyundai Motorsport
Ott Tänak (2nd)
"At the end of a challenging weekend, it is good to come away with second place and another podium. We haven't had the easiest rally, but we have worked hard to find improvements to get a better feeling from the car, and there have been some positive signs. Kalle has been on top form since the very start, so we have had to focus on confirming second place. We have made some bold decisions on tyres, which has only been possible because of the work of our weather crew. I'd like to say thanks to them for a great job. We know there is more work we need to do, but I think we've achieved all that was possible in Acropolis with second place."
Dani Sordo (4th)
"This has been a tough weekend. The days on which we had to make our pace notes were difficult and as a result we didn't have the confidence we needed. The conditions today were really nice, and I liked the stages, but it was difficult to follow the road at times. Fourth place was about the best we could manage, so we concentrated on securing the result, nothing more. This was the first WRC event with Cándido, and he has done a good job, but we will try to do better on the next one."
Thierry Neuville (8th)
"We have given everything this weekend and we have fought hard from the start to the finish. Unfortunately, there is no compensation for all that work. Our rally was over with the power steering issues on Friday. Since then, our focus has been on recovering positions to try and salvage whatever we could from the rally. To be honest, I think we deserve more than this. We have put absolutely everything into it and haven't got out of it what we should."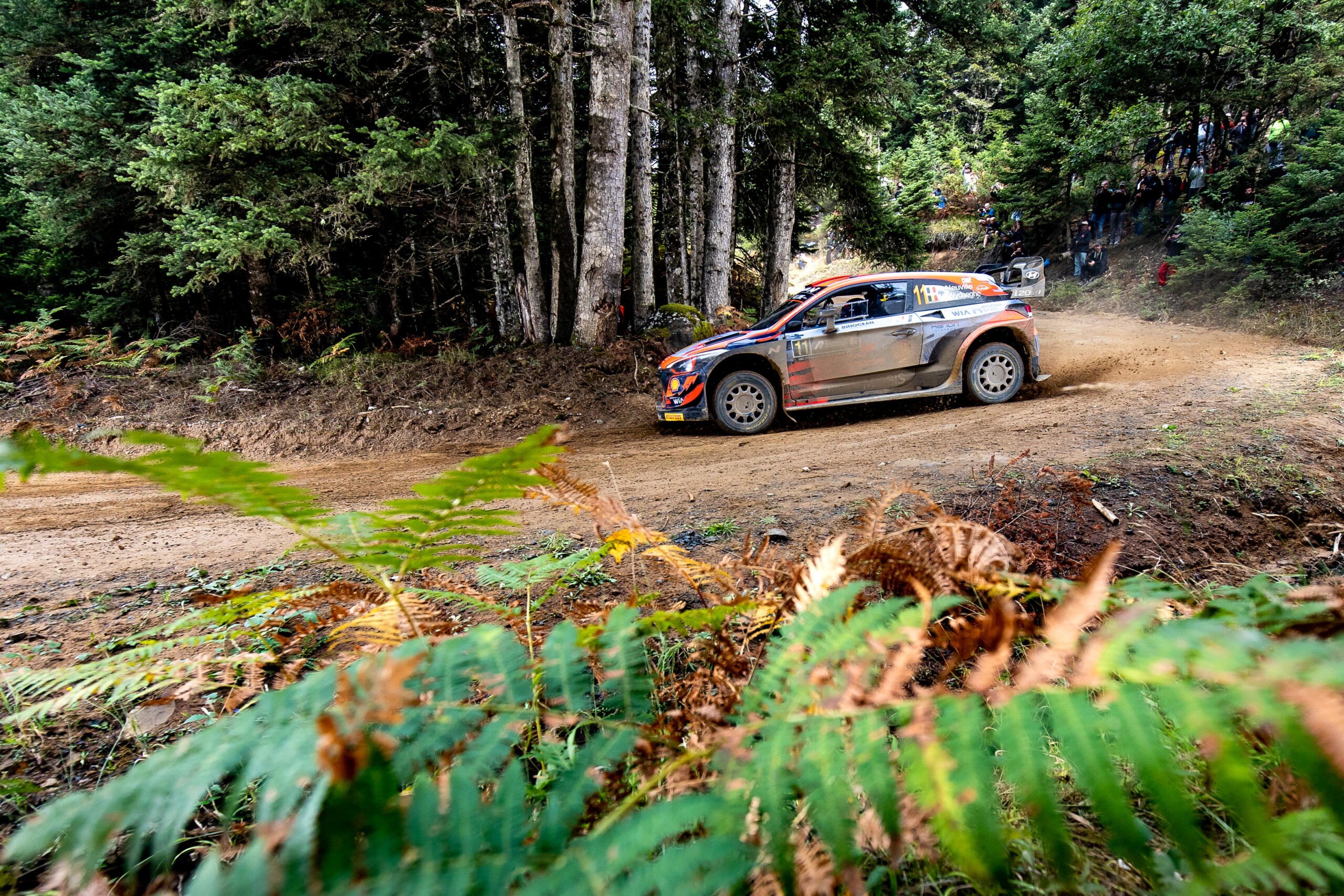 M-Sport Ford WRT
Gus Greensmith (5th)
"The team have lived-up to the form that we have shown on rougher rallies this year and, although probably I could have hoped for more in terms of my finishing position, a top-five finish is a good thing for sure. I gave it everything I could.
Adrien hit problems early on this morning which you never like to see. We were having a great battle until that point, and he was at least able to continue and score good points."
Adrien Fourmaux (7th)
"A mixed day for us really, after picking up penalties for being late this morning because of an engine issue. We were able to set second-fastest time on one stage, but that early problem allowed Gus to pull ahead of us and I was left to fight to hold my position.
"On the Power Stage, we made a mistake: unfortunately, I spun and had to reverse but I tried, I had a big push, but unfortunately we ended the rally in seventh place. It has been an amazing event to experience and I'm delighted for the team that we have shown our pace and got the cars home, I just am sorry to them not to be higher at the end."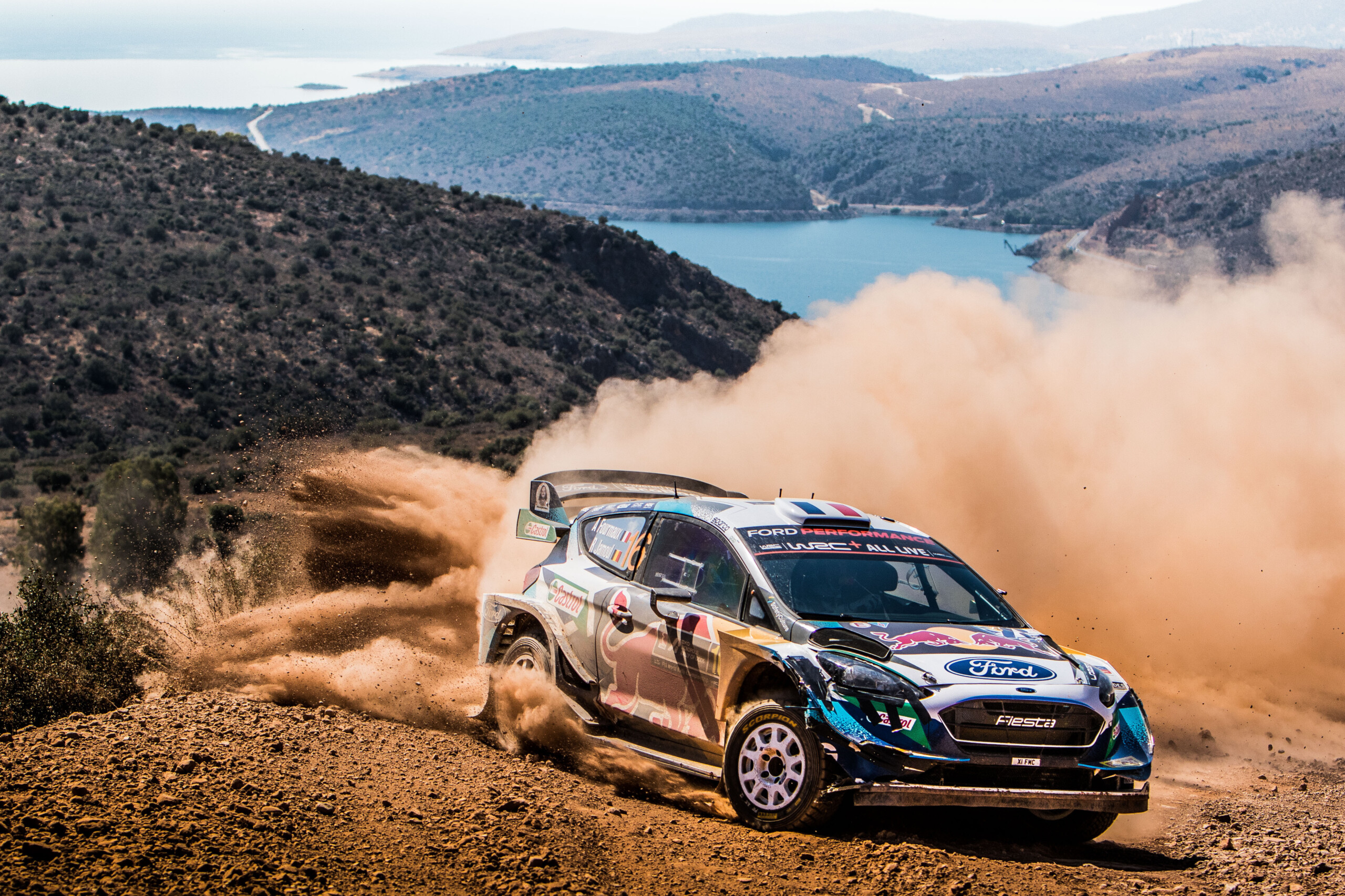 Jourdan Serderidis (10th)
"It was fun, so many people, so many fans from Greece and it was nice to come and the stages have been fantastic. It was great to be here and to get the car safely to the finish in the top 10 of the rally. The team has built a fantastic car, I want to thank them for an unforgettable event."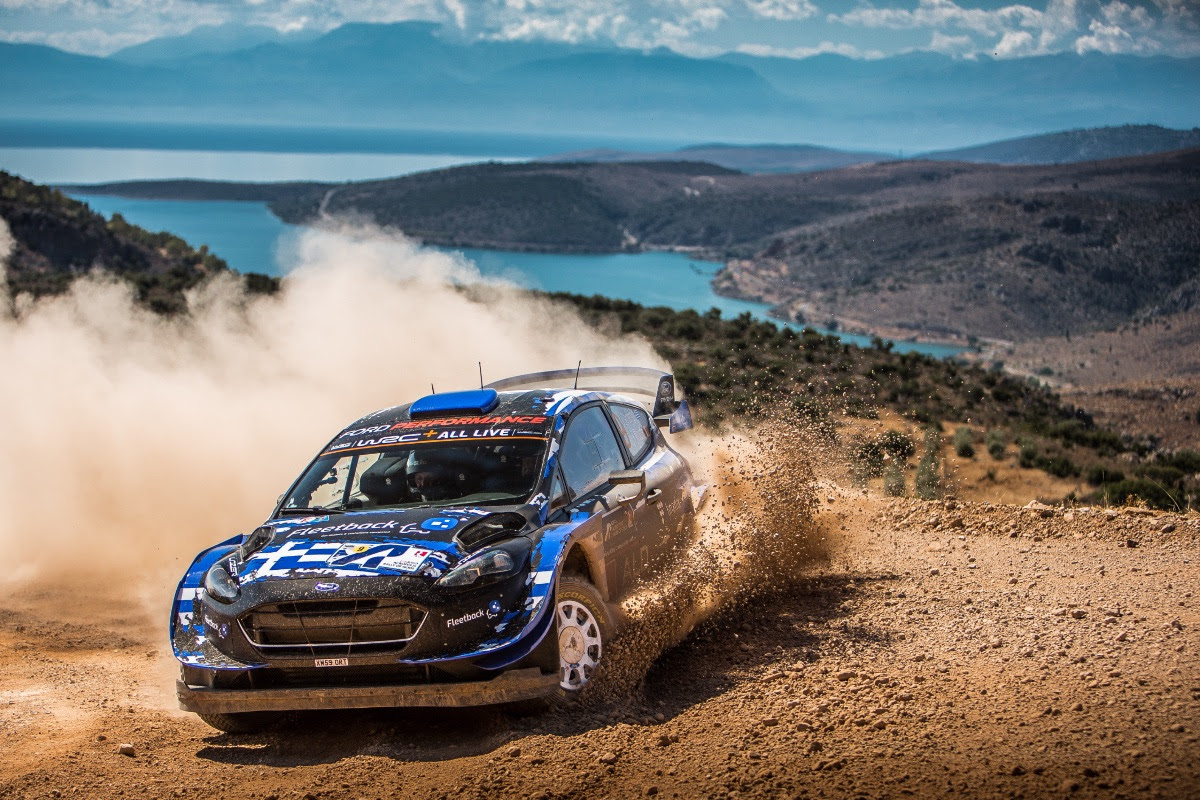 Nikolay Gryazin (3rd, WRC2)
"It's been okay, a lot of things to work with but at least we are on the finish. We have a lot to learn about the car and the team but a podium finish at our first attempt is certainly something to take away from our first Acropolis."
2021 FIA World Rally Championship for Drivers' Standings
After round nine
| | | |
| --- | --- | --- |
| 1 | S. Ogier | 180 |
| 2 | E. Evans | 136 |
| 3 | T. Neuville | 130 |
| 4 | K. Rovanperä | 129 |
| 5 | O. Tänak | 106 |
| 6 | T. Katsuta | 66 |
| 7 | C. Breen | 60 |
| 8 | G. Greensmith | 44 |
| 9 | D. Sordo | 43 |
| 10 | A. Fourmaux | 36 |
2021 FIA World Rally Championship for Manufacturers' Standings
After round nine
| | | |
| --- | --- | --- |
| 1 | Toyota Gazoo Racing World Rally Team | 397 |
| 2 | Hyundai Shell Mobis World Rally Team | 340 |
| 3 | M-Sport Ford World Rally Team | 153 |
| 4 | Hyundai 2C Competition | 44 |
Next up is Rally Finland which takes place from the 1st to the 4th of October. Look out for my preview in the days before.