Jack Doohan took his fourth win of the season in the Sochi feature race and helped Trident to snatch the Formula 3 teams' championship away from Prema, albeit by ignoring team orders in his battle with Clement Novalak.
Doohan and Novalak started alongside each other on the front row, and although Novalak got a quick launch to challenge Doohan into Turn 2, Doohan was able to hold his lead from pole position. Behind them Jonathan Hoggard kept third place while Frederik Vesti dropped from fourth to sixth behind Juan Manuel Correa and Lorenzo Colombo.
Vesti soon took those places back however, repassing Colombo by the end of the first lap and Correa on lap 3. On lap 5 he then caught and passed Hoggard's Jenzer to bring himself up into the podium positions with just over three seconds separating him from the Tridents out front.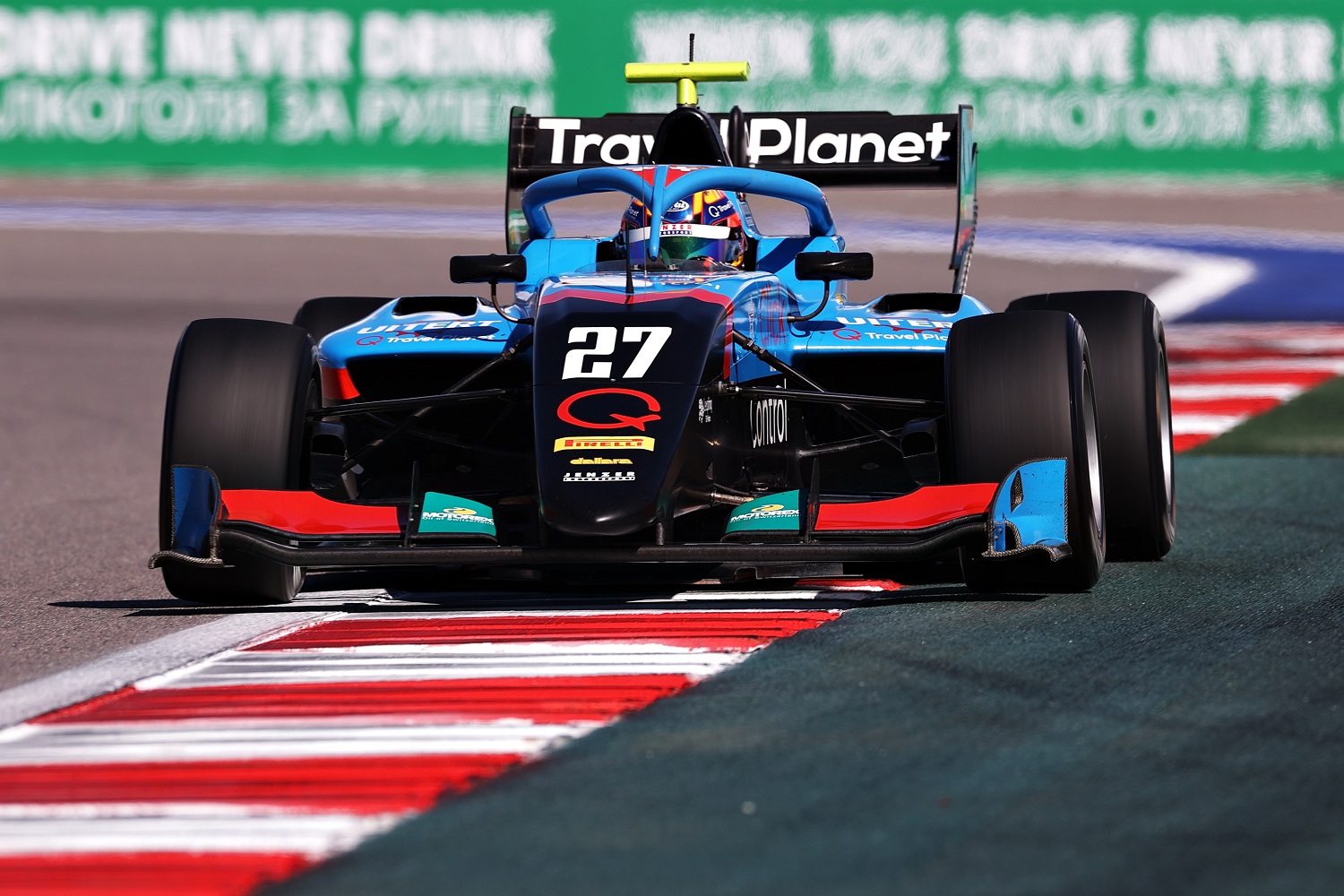 Colombo and Correa continued to fall back through the field after those opening laps. Colombo dropped to ninth place after running wide while being passed by Vesti, and was then bumped out of the points altogether by Oliver Rasmussen by the end of lap 1. Meanwhile Correa lost fifth and sixth to Logan Sargeant and Jak Crawford, although he managed to hold seventh by seeing off the new F3 champion Dennis Hauger.
Hauger continued to pressure Correa for seventh, closely pursued himself by Victor Martins. Their battle came to a head on lap 7 as the three of them ran side by side through Turn 7. Correa came out ahead as Martins ran wide, but Hauger was spun around by Rasmussen who tried to take advantage of the melee.
Hauger dropped to the back of the field while Rasmussen and Martins both ended up outside the points. Arthur Leclerc benefited from the incident to sneak through and take seventh from Correa, while Ayumu Iwasa and Alex Smolyar were promoted into the points.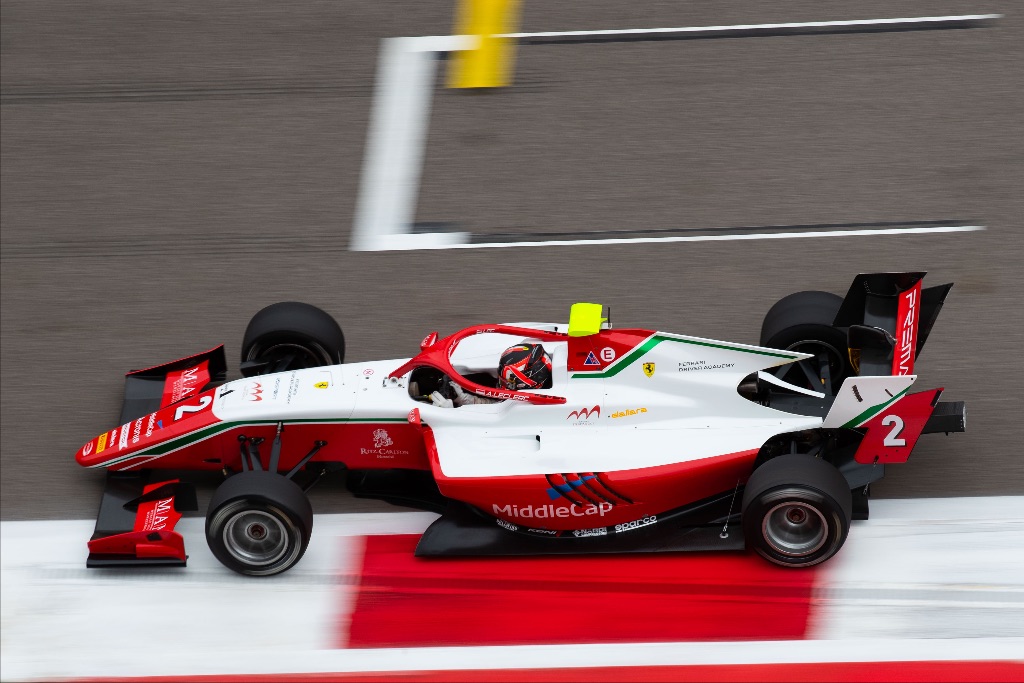 At the front of the field Doohan and Novalak were separated by just a few tenths of a second as they fought for the lead. Novalak set the pace early on with the fastest lap and ran just two tenths behind Doohan by lap 7. On lap 9 Novalak tried a move around the outside of Turn 2 for the lead, but he ran deep into the corner and was forced to slot back into second.
While Doohan and Novalak battled, Vesti was closing in fast on the pair of them. By lap 10 he'd halved his gap to 1.5 seconds behind the Tridents, while Novalak was being visibly held up by Doohan who was sliding through the hard right-handers.
With Vesti coming up fast behind them and the team needing to protect the win to take the teams' title, Trident instructed Doohan to let Novalak through as he appeared to be the faster driver. But unsurprisingly with a win on the line Doohan didn't let his teammate past, even though that allowed Vesti to close to just half a second by lap 15.
Trident were spared some anxiety a lap later when Vesti ran wide and dropped out of DRS range of Novalak. But Doohan also ran wide on the same lap which gave Novalak a run on his teammate down the straight at the start of lap 17. Novalak initially got ahead through Turn 2, but Doohan used the corner to set up the inside line into Turn 3 and retake the lead.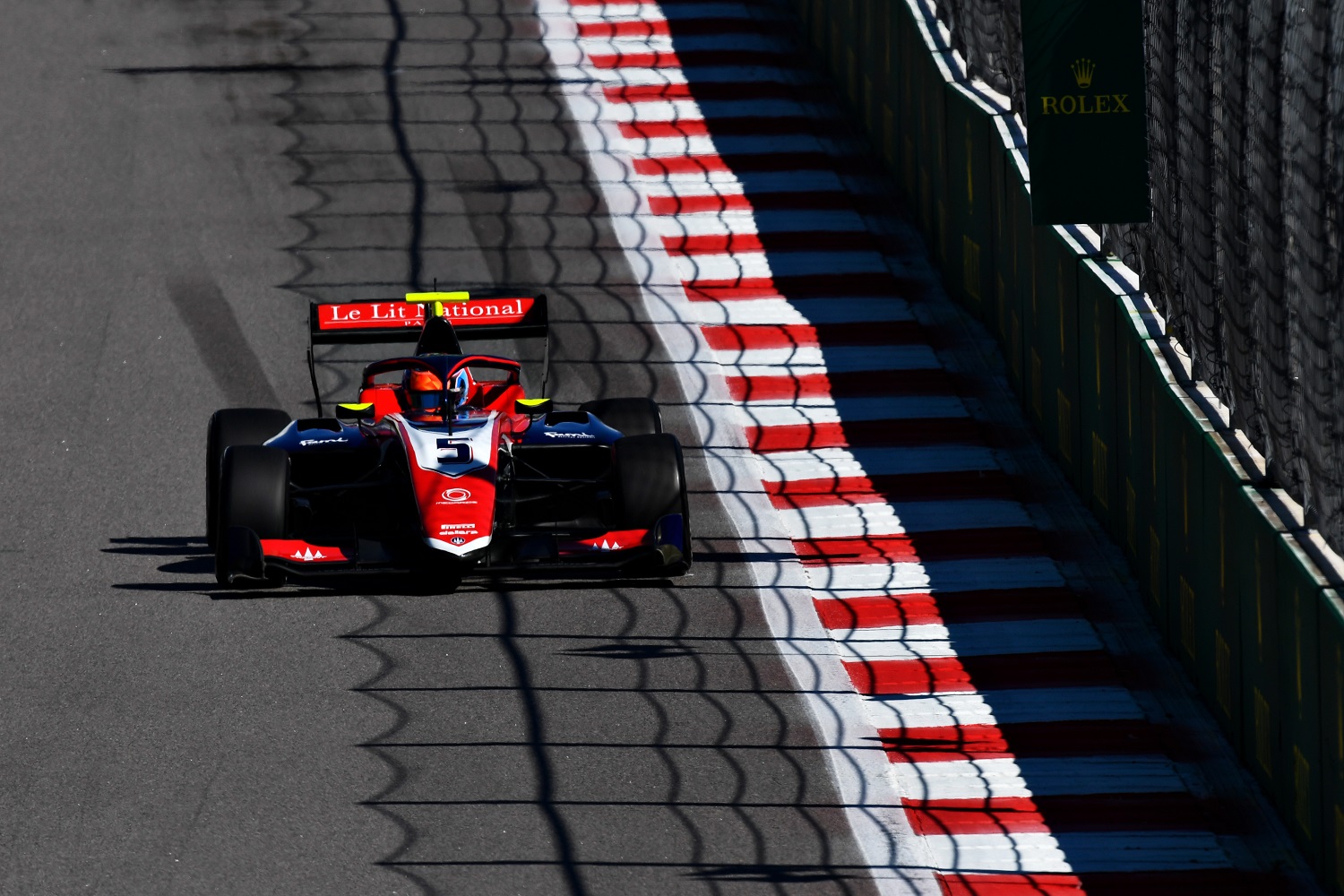 To make matters worse for Novalak he then lost grip in Doohan's wake and not only dropped out of DRS range of Doohan, but into Vesti's clutches. Vesti was just a tenth behind Novalak heading through the middle sector while Novalak was warned about weaving in his defence.
When they got to the DRS straight out of Turn 10 Vesti had little trouble pulling alongside and passing Novalak for second. But despite his earlier speed, Vesti's brief but close battle with Novalak had given Doohan the opportunity to open up a slight lead with two laps remaining, and he ended up crossing the line with two seconds in hand.
Vesti held onto second while Novalak completed the podium in third, but despite losing the 1–2 Trident were still able to take the teams' title by six points from Prema. Sargeant completed a quiet race in fourth ahead of Crawford and Hoggard, while Leclerc finished seventh and Martins, Iwasa and Olli Caldwell rounded out the points.
Winning the race meant that Doohan keeps his second place in the championship, while Novalak finishes the season in third place ahead of Vesti and Martins.