Qualifying
Qualifying for the first race in the Gen 3 era of Formula E in Saudi Arabia got off to a less-than-ideal start for Maserati as Maximilian Guenther crashed early on in the Group A session.  He was uninjured after the collision with the barrier.
Ticktum and Rowland went head to head in the first quarter final with Ticktum taking the victory.
Di Grassi and Hughes went head to head for the second quarter final and Hughes taking  the victory in that one.
It was Evans against Buemi in the third quarter final and Buemi took the victory.
Rast and Bird went head to head for the final quarter final with Rast losing out to Bird by 2 tenths.
In the first semi final, Hughes took victory over Ticktum which saw Hughes go through to the final.
The second semi final saw Buemi take victory over Bird by less than a tenth.
The final saw an epic battle from Buemi and Hughes. Buemi just took pole over Hughes.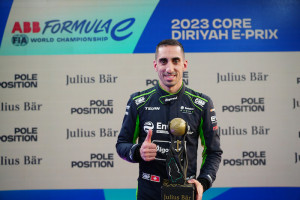 Race
Before the race began, it was announced that Sergio Sette Camara would have a 3 place penalty for impeding Pascal Wehrlein in qualifying.
Maximilian Guenther's crash in qualifying resulted in him not starting the race.
The 39 lap event  started with contact between Rowland and Da Costa which resulted in them both pitting early on. This led to the safety car being brought out for less than a lap. Evans hit Rene Rast on lap 1 turn 1 as well. It was a calm safety car restart but then Sam Bird got Jake Hughes who started in P2. However, Bird was not done yet. He then started to hunt Buemi down and he eventually got him.
Fast track to Lap 7 where Bird took the lead over from Buemi after his hunt. Onto lap 11, Evans tried to get past Rast but locked up and lost a few places as a result. Lap 15 saw Muller pit and eventually retire from the EPrix.
Lap 25 saw an epic battle between Pascal Wehrlein and Sam Bird. Wehrlein had more energy and an extra attack more compared to Bird. He managed to stay with him but going into turn 18, he locked up and lost the place he gained for a few seconds. Further down, Cassidy was trying to get past the Andretti of Jake Dennis but instead, Dennis and Cassidy got the McLaren of Jake Hughes when Hughes had to get his attack mode.
Enter the final stages of the race and Wehrlein was still on Sam Bird's tail. Onto lap 30 and turn 18, Wehrlein gets past Bird and maintains it.  Buemi had to get his last attack mode which put Dennis up into 3rd place after starting 11th.
Lap 33 comes around and Dennis was on a charge. Dennis takes Bird on lap 34 just as Wehrlein gets his second attack mode. Wehrlein came out just ahead of Dennis but it saw a battle to the end which saw Wehrlein take his second victory in Formula E.
Further down the field, Maserati's last remaining car of Eduardo Mortara had to retire on lap 33. He joined Muller as the second retirement of the race.  Muller's teammate Kevin Van Der Linde only managed P16 on his debut for the injured Robin Frijns.  Da Costa and Rowland also managed to make it to the end of the race but finishing in the bottom 2 positions due to their collisions on lap 1. Despite obtaining P4 in qualifying, Dan Ticktum dropped down to P14 by the end of the race with his teammate Sergio Sette Camara behind him in 15th.
Di Grassi, Nato and Vandoorne finished off the non points scorers with Evans Lotterer, Hughes, Vergne and Cassidy making up from P10 top 6 respectfully. Rene Rast for McLaren managed P5 with the fastest lap and Buemi finishing P4 to round off the non podium positions.
Wehrlein took the win ahead of Dennis in P2 and Bird in P3.