The first race weekend of the IndyCar season gets underway at the Grand Prix of St. Petersburg with a 26 driver entry list for the NTT IndyCar Series race and a record 14 driver entry list for the Indy Lights race this Sunday.
The 14-turn, 1.8-mile temporary street circuit is rather unique in that it uses a runway of Albert Whitted Airport for its front straightaway before entering downtown St. Petersburg. What follows are several tight corners before two 90 degree right handers that lead onto a fast flowing final sector that runs down to a hairpin, taking drivers back round onto the airport runway.
Turn 1 has been a spot for drivers to get their elbows out and makes passes before entering the downtown section. Before the hairpin, there is a heavy breaking zone that drivers use to their advantage to get runs on the leading car down the main straightaway. Due to the narrow twisty corners that the track possesses, overtaking is a challenge so varying strategies are implemented in an attempt to get to the front by leapfrogging the field; in the pits or finding clean air out on track. This year will be no different.
The NTT IndyCar Series drivers will complete 100 laps (180 miles) for their race on Sunday while the Indy Lights drivers will complete a 60 minute timed race. This will be the 19th running of the race that first began in 2003 under the CART series. Paul Tracy won the inaugural event.
Recently, there has been a trend of back to back winners of the event. Juan Pablo Montoya in 2015 and 2016, Sebastien Bourdais in 2017 and 2018 and Josef Newgarden in 2019 and 2020. Therefore, Colton Herta, the 2021 winner, hopes to keep this streak alive this weekend. Surprisingly, Scott Dixon, the six-time champion has yet to win here but has four runner-up finishes, most recently in 2019. If Dixon wins the race this weekend, he will tie Mario Andretti for second for all-time wins with 51.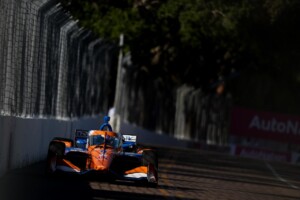 The NTT IndyCar Series practice gets underway on Friday at 3:40pm ET. Saturday is comprised of another practice session at 9am ET, followed by qualifying starting at 12:30pm ET. Warmup on Sunday is at 8:45am ET, engines are fired at 12:23pm ET and The Firestone Grand Prix of St. Petersburg presented by RP Funding race goes green at 12:30pm ET.
The Indy Lights practice gets underway on Friday at 10:05am ET followed by qualifying at 1:40pm ET with a final practice session starting at 5:40pm ET to wrap up Friday. The 60 minute race starts at 9:30am ET on Sunday.
Featured Image: Taking the green flag at the 2021 Grand Prix of St. Petersburg (Photo by Chris Jones/IndyCar Media)