Well, what an amazing return this event has made to the world championship. We were treated to a spectacular rally on the Northern Island of New Zealand.
Friday's action.
The first full day of the rally would see almost 160km's of stages and with just a tyre fitting zone in the middle of the day, it would be an important day to make it to the end with no problems. We already had a top ten after the stage run on the Thursday and Ott Tanak held the early lead for Hyundai, with Craig Breen second and Thierry Neuville holding third.
The startlist looked like this – Rovanperä, Tänak, Neuville, Evans, Katsuta, Breen, Greensmith, Ogier, Solberg, Bertelli.
The first proper stage then, SS2 Whaanga Coast 1 – 29.27 km, and after opening the stage, championship leader Kalle was only sixth fastest, 6.5 slower than Gus Greensmith who was fastest from Seb and Craig. These good times from the M-Sport Ford crews meant that they leapt up the overall leaderboard into the top two spots, whilst overnight leader Ott dropped down three spots to fourth. The top placed Toyota was Seb holding third place behind the two Puma crews.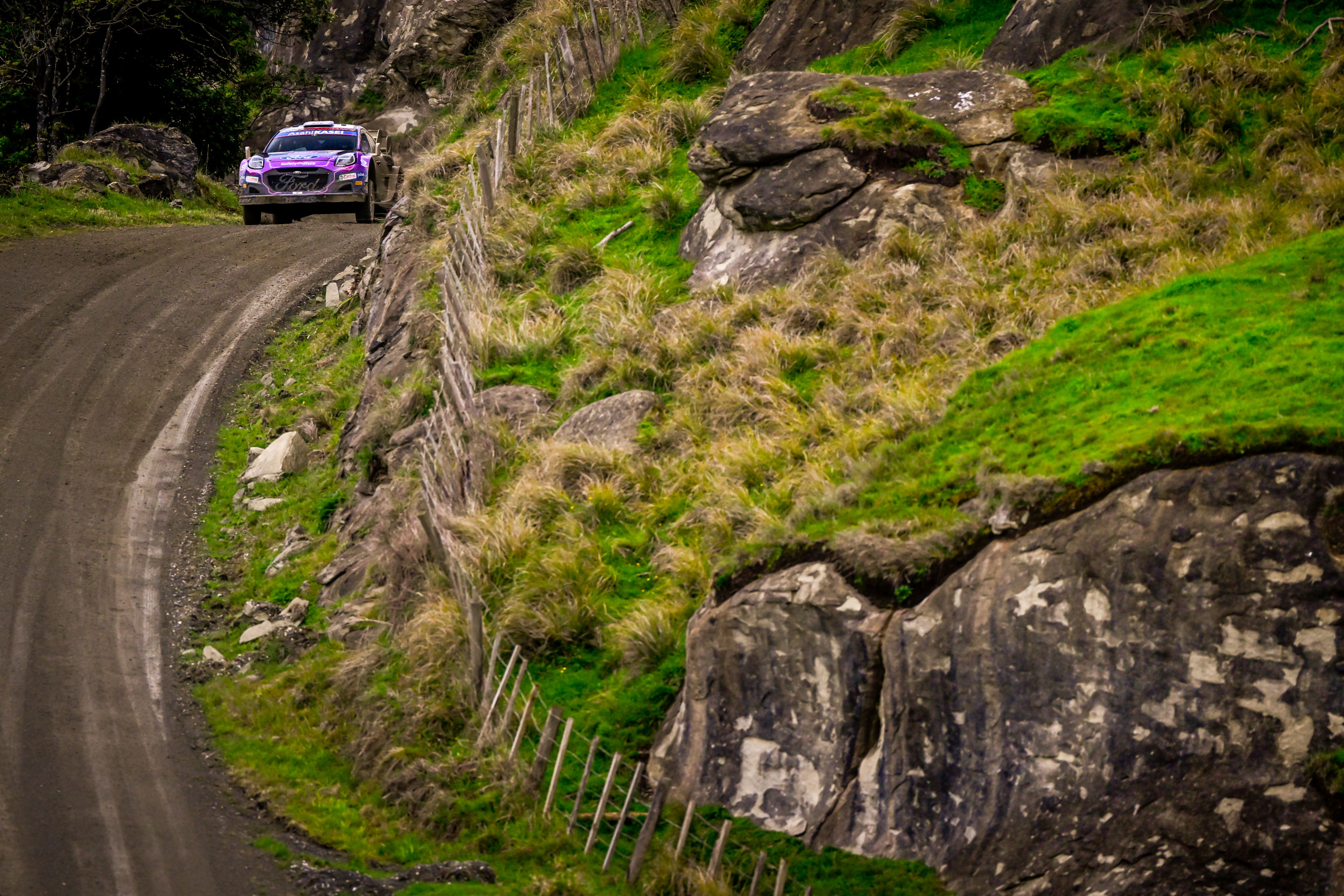 The little bit longer stage, SS3 Te Akau South 1 – 31.48 km followed of course and there were a few crews on the move. Elfyn won the stage from Ott and Craig who set the same time!! Craig remained in the lead, whilst Ott and Elfyn moved up into the top three at the expense of Gus and Seb. Meanwhile, Hayden held ten overall and also the WRC2 lead by 34 seconds from Kajetan. It was going well for the Kiwi driver and his longstanding co-driver John. Keeping things very interesting was the rain that had so far affected both stages so far, and there were a few drivers that spun in the same spot, including Thierry, Takamoto and Harry Bates, who was another driver competing in the WRC2 category.
The shortest stage of the day, SS4 Te Akau North 1 – 18.53 km was a quick one as well, and Ott was fastest from Kalle and Elfyn. The Welshman's pace lifted him up into second overall, but he and Craig were on the same overall time. The battle between Kajetan and Hayden was on, with the Pole driver winning the WRC2 category, but the gap between the local favourite and the second placed driver was over 30 seconds.
After the tyre fitting zone, the second run of SS5 Whaanga Coast 2 – 29.27 km was won by Seb from Elfyn and Gus. Kalle was only sixth fastest, but gained one place, moving into fifth overall pushing Thierry down one place. Meanwhile, Seb's pace lifted him four positions and into the overall lead, whilst Ott dropped two into third. The top placed M-Sport driver was Gus holding fourth, but there was huge disappointment for his teammate Craig, who slid off the road at the so called Mcrae corner, the same corner the Scottish driver slid off twenty years ago.
SS6 Te Akau South 2 – 31.48 km was next and Kalle hit the top of the timesheets with Ott second and Seb third. Seb remained in the lead from Elfyn, whilst Kalle's pace had brought him up into fourth overall. Meanwhile Hayden continued his great run in the WRC2 category, holding the lead by over a minute from Kajetan and was also ahead of Lorenzo Bertelli.
The final stage of the day then, SS7 Te Akau North 2 – 18.53 km and Ott was fastest from Elfyn and Kalle, and this pace lifted the Estonian into the lead, with Elfyn holding second and Seb dropping down to third. Kajetan set the pace in the WRC2 category, four seconds faster than Hayden and Shane van Gisbergen was third. The super car V8 and GT racer was going really well with his co-driver Glen Weston and having a lot of fun out there.
Let's take a look at the standings and hear from the drivers.
Classification after Day One
| | | | | |
| --- | --- | --- | --- | --- |
| 1 | O. Tänak | M. Järveoja | Hyundai i20 N Rally1 | 1:36:48.6 |
| 2 | E. Evans | S. Martin | Toyota GR Yaris Rally1 | +0.2 |
| 3 | S. Ogier | B. Veillas | Toyota GR Yaris Rally1 | +6.7 |
| 4 | K. Rovanperä | J. Halttunen | Toyota GR Yaris Rally1 | +7.2 |
| 5 | G. Greensmith | J. Andersson | Ford Puma Rally1 | +43.8 |
| 6 | T. Neuville | M. Wydaeghe | Hyundai i20 N Rally1 | +45.6 |
| 7 | O. Solberg | E. Edmondson | Hyundai i20 N Rally1 | +1:28.3 |
| 8 | T. Katsuta | A. Johnston | Toyota GR Yaris Rally1 | +1:42.0 |
Hyundai Motorsport
Ott Tänak (1st)
"It's been a very long day with an early morning and a late evening finish. In a way, it's been quite a consistent day; the conditions were not so bad for us, although some stages were worse than others. This afternoon, we had some heavy rain but aside from that it's been OK. The roads here are really fun to drive, but it is just difficult to get into the right rhythm. You need confidence in the car to get into a good flow, and we definitely need to look for more to improve in this area. It seems that the weather is coming in quite strong tomorrow, so these tenths-of-a-second lead don't really mean anything – we'll have to see what happens."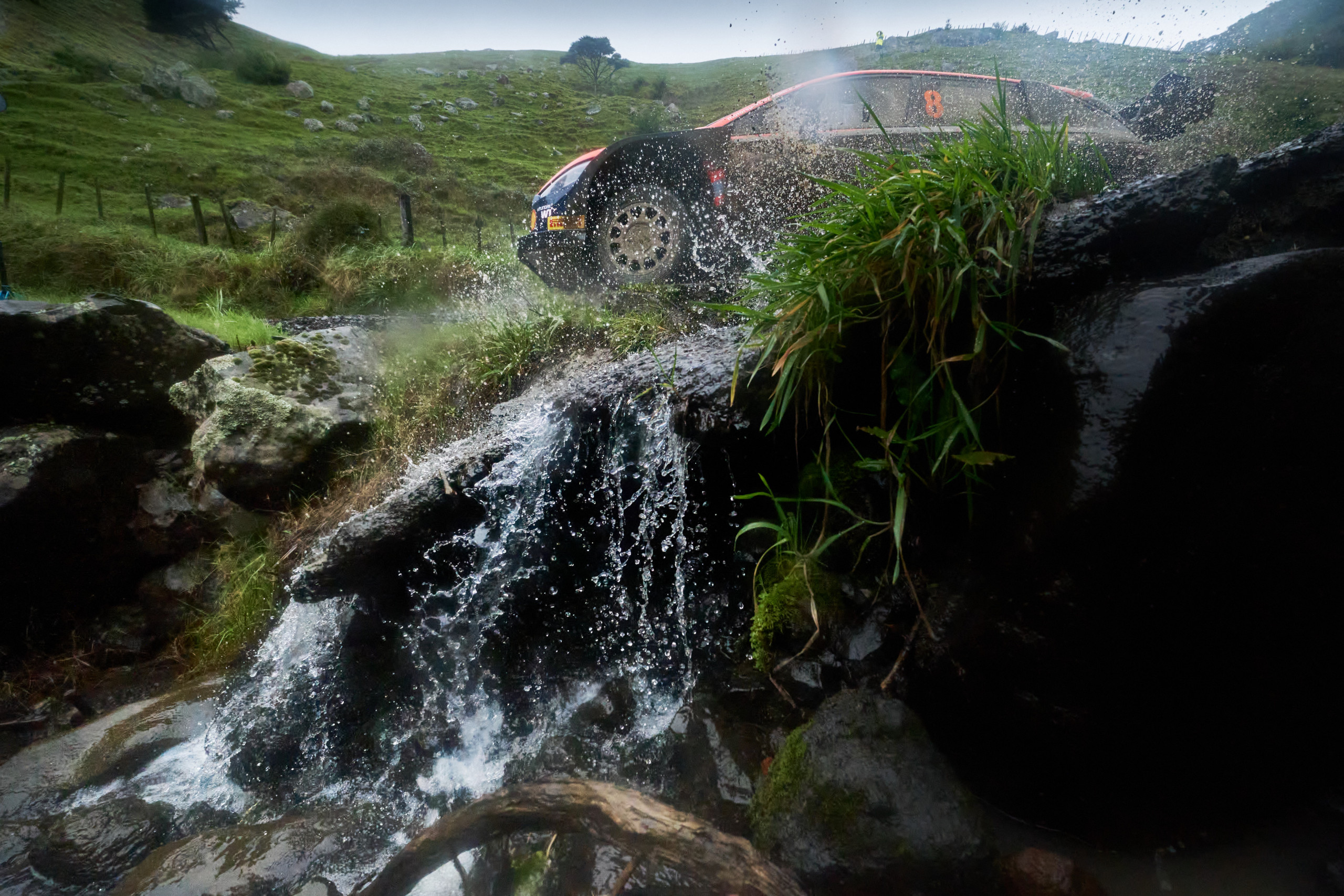 Thierry Neuville (6th)
"The day kicked off with a bit of a struggle in the first three stages, which were tough. We set some good split times but were fighting with the rear of the car and got spun around a couple of times. We were able to react at the midday tyre fitting zone; we worked on the diffs to find a better feeling. We just went too stiff on the settings immediately this morning and were then too careful during the day to make bigger changes to get more grip. With the weather conditions, somehow, I see a chance for us to get more into the fight tomorrow. Anything can happen and we've not got much to lose so we going to try and gain some positions."
Oliver Solberg (7th)
"It has been fantastic to drive these roads and it is great experience. It has been a tough and tricky day out there, but we have been improving with the car and building our speed. We worked hard in the morning but struggled to get the proper feeling, along with some power and transmission issues. We had only a short regroup and tyre fitting zone to refresh and refocus ourselves for the afternoon. We were very unlucky with the weather, it seemed to start raining every time I was on the stage, but with our road order for tomorrow I'll be hoping for more of that! We're just taking it steady and building step by step."
Toyota Gazoo Racing
Elfyn Evans (2nd)
"I'm fairly happy overall with our day. It's been a full-on day with a lot of long stages but also a lot of fun. The conditions have been challenging in some places but in others it's felt like we've had quite a lot of grip, so it's been changing quite a lot. It's been a bit up-and-down with the conditions favouring different positions on the road and we got caught in the rain ourselves at one point but to finish the day right in the fight is positive. We're expecting heavy rain tonight and tomorrow, and those stages are usually a bit faster, so it should be a challenging day but I'm looking forward to it."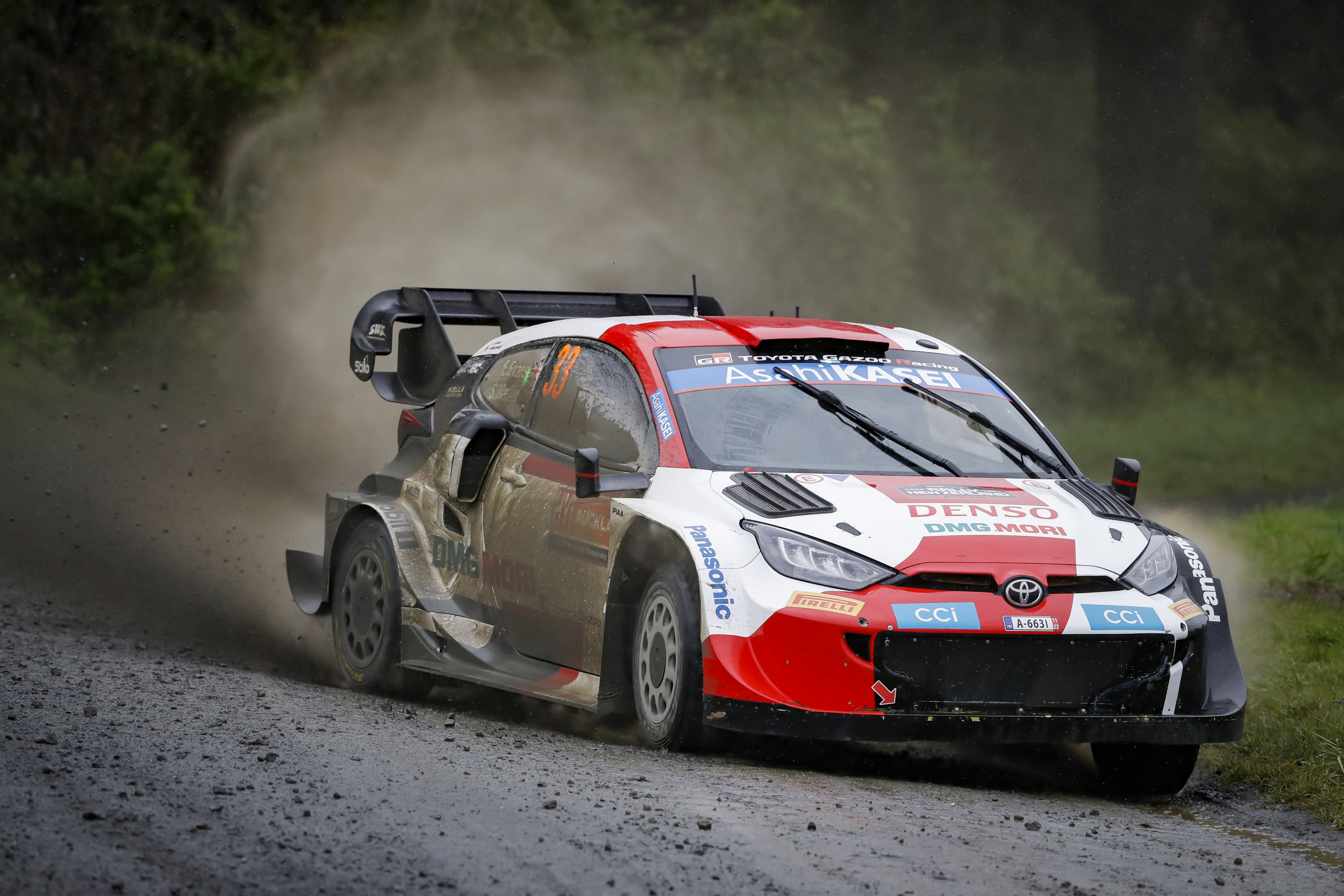 Sébastien Ogier (3rd)
"Overall, it's been a good day. It's been fun to drive and I think we've had decent pace returning on such a fast rally where you need the commitment and the confidence. I had quite a good rhythm already on the first stage this morning, and the afternoon started really well in Whaanga Coast. In the next stage we got the rain quite heavily, I knew we had to take risks to not lose too much compared to the others and we went a bit wide. Unfortunately, we damaged the rear wing on some branches, and the last stage without that was quite difficult. But I'm happy to still be in the fight for the win."
Kalle Rovanperä (4th)
"It's been a long day and it's nice to get through it in quite a good position tonight. It was good to get some rain this morning but there was still a bit of loose gravel in the first stage especially. Then on the other two we had a bit more grip and could enjoy the driving more. In the afternoon, Whaanga Coast was drying up so there was plenty of cleaning for us even on the second pass. On the next one there was a lot of rain and mud, I tried to push in the tricky conditions and we managed to get some time back. We're still fairly close to the lead so we have to be happy. The weather was helping us a bit and hopefully we can enjoy it again tomorrow."
Saturday's action
The second full day then of this rally and the startlist looked like this – Breen, Bertelli, Katsuta, Solberg, Neuville, Greensmith, Rovanperä, Ogier, Evans, Tänak.
There were penalties for some of the crews due to hybrid over boost. Ott, Thierry and Kalle all received 5 second penalties, and this meant Elfyn would now be the leader at the end of the next stage. The rain had been really heavy overnight and was continuing to fall on the stages. It was a lot heavier than Friday, and would have a big impact on the day's results.
First up was SS8 Kaipara Hills 1 – 15.83 km and showing great pace and also that the conditions in the stage were getting worse, Craig was fastest from Kalle and Ott. Kalle moved up one place into third at the expense of Seb. Elfyn held the lead from Ott, but the gap was just 2.9 seconds. Hayden continued to increase his lead over Kajetan, that gap now over I minute and 20 seconds.
Elfyn's lead was sadly short lived as the Toyota driver lost control of his car in SS9 Puhoi 1 – 22.50 km spinning into a bank on the inside of a right-hander at high speed and causing a high-speed roll. The car landed on its wheels and the Welshman finished the stage. He and Scott drove away in electric mode, and were hoping to make some repairs to the radiators on the front of their car, so that they could stop the leaking and stop any overheating. The car had lost its rear tailgate as well. We had a new leader with Kalle winning the stage from Craig and Seb. Meanwhile Thierry was suffering with gearbox problems, having lost third gear.
Into SS10 Komokoriki 1 – 5.81 km and there was only one car that completed the stage, Craig. Gus and Jonas slid wide on a left hander into a ditch and rolled their Puma. The car ended up on the road and the stage was then red flagged after Kalle had been released into the stage. The Finn stopped alongside the stricken Puma as per the rules to check that Gus and Jonas were okay and got the thumbs up from Gus. The cars headed back to the service park for mid-day service. Sadly, once Elfyn and Scott got their car back, it was discovered that elements of the roll cage were damaged and the pair were now out of the rally.
The re-run of SS11 Kaipara Hills 2 – 15.83 km and Kalle was fastest from Seb and Thierry whose car now had a new gearbox and the Belgian could enjoy a full set of gears. However, things were not good in the Hyundai camp as all three of their drivers gained 10 second penalties due to more hybrid over boost. Ott was now in third behind Kalle and Seb. The loss of Elfyn meant that everyone moved up one place, and Hayden was now in seventh overall and a full two minutes ahead of Kajetan, whilst Harry Bates had set the best time in the WRC2 category.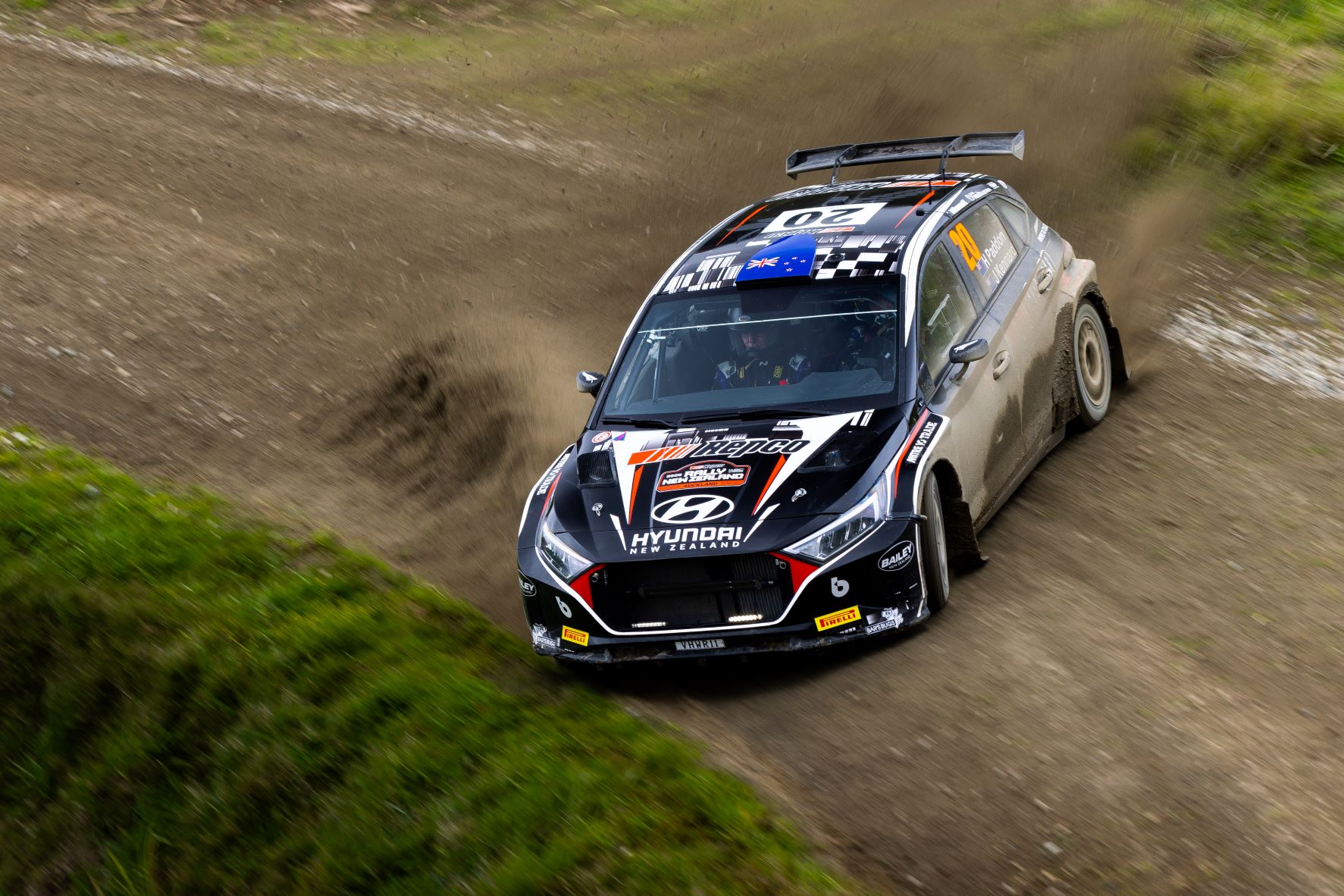 Next up was SS12 Puhoi 2 – 22.50 km and Kalle was fastest, showing great pace in the very tricky conditions. Seb and Ott were second and third, and continued to hold these two positions on the overall leaderboard. Sadly, we lost Takamoto in this one, as the Japanese driver slid off the road. Meanwhile Oliver was suffering his own technical problem, with his engine lapsing sometimes onto three cylinders, but he was finding that if he revved it more, then the problem would clear.
The final stage then of the day, SS13 Komokoriki 2 – 5.81 km and Craig was fastest from Kalle and Thierry. The gaps between the top cars remained high, with Kalle holding a 29 second lead over Seb and Ott a further 17.4 seconds behind. With the demise of Takamoto, Hayden was now into sixth overall.
Let's look at the standings and hear from the drivers.
Classification after Day Two
| | | | | |
| --- | --- | --- | --- | --- |
| 1 | K. Rovanperä | J. Halttunen | Toyota GR Yaris Rally1 | 2:28:26.3 |
| 2 | S. Ogier | B. Veillas | Toyota GR Yaris Rally1 | +29.0 |
| 3 | O. Tänak | M. Järveoja | Hyundai i20 N Rally1 | +46.4 |
| 4 | T. Neuville | M. Wydaeghe | Hyundai i20 N Rally1 | +1:41.4 |
| 5 | O. Solberg | E. Edmondson | Hyundai i20 N Rally1 | +3:34.9 |
Toyota Gazoo Racing WRT
Kalle Rovanperä (1st)
"It has been a really tricky day but it was actually quite enjoyable in the car and I think we managed the conditions really well. It was a big challenge but I saw that as an opportunity more than anything and I think we took that opportunity and used it quite well. I was happy with the car and I was pushing really hard to gain some time. Now we are leading and can be pleased with the gap we have built. We will try to prepare for tomorrow like any other day. It's not a long day but there's still four stages to go and they could be tricky ones, so we just need to try and do a good job and see where we are at the end."
Sébastien Ogier (2nd)
"We had really challenging conditions today and I'm happy that we could bring the car to the end of the day because there were some very tricky places. But it was still a lot of fun in the car. This afternoon when there was even more heavy rain and more water on the road, Kalle did an amazing job. Hats off to him, because doing this speed in these conditions was again very impressive. After what unfortunately happened to Elfyn this morning I knew it was important to be there for the team. Nothing is decided yet but I would be very happy if we can secure this result tomorrow."
Elfyn Evans (DNF)
"All went OK in the first stage this morning but then in the second stage in a downhill braking we were a bit too fast and lost control of the rear of the car. There was no chance to recover it with the throttle and we touched the bank on the inside and rolled the car. Thankfully we landed on our wheels and were able to carry on. Cosmetically the car didn't look so good but it was still driving remarkably well. There was a small leak which we managed to plug so that we could bring the car back to service, but unfortunately there was some rollcage damage detected and we had to retire."
Hyundai Motorsport
Ott Tänak (3rd)
"Certainly not one of the best days we've had this season, and in fact it's been very demanding at times. We have picked up some time penalties, as well as having other trouble, but we've made it to the end of the day. We're still here in third place, so it's not all so bad. We lack a bit in the package to find any confidence in these conditions. If it's good, consistent grip then we can drive OK, but this afternoon when we've had stages full of water and mud, it's much more difficult."
Thierry Neuville (4th)
"It has been a challenging day but there's not been much more we could do. We have been driving on our rhythm and trying to make it through. We are in a bit of no man's land. We tried to do well this morning, but we had a problem with third gear. Conditions this afternoon were a bit more like we expected, but we couldn't match the pace of the guys in front, so we have to be satisfied with fourth place. With two spins on Friday, and losing 15 seconds through time penalties, when you start a rally in that way, you can't fight for victory. Tomorrow is one of the shortest days we've had for a while, so we're going to try and end it in a good position."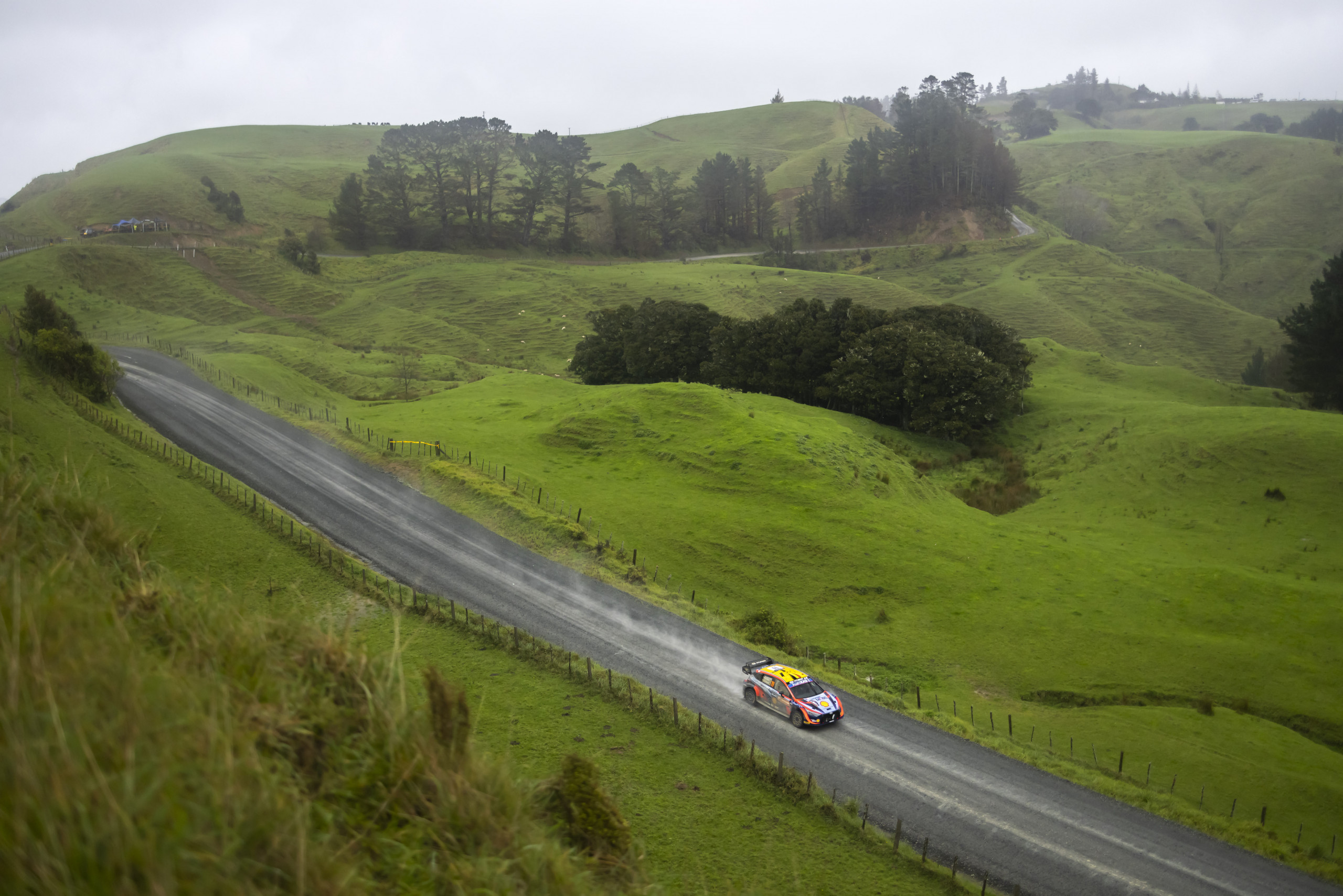 Oliver Solberg (5th)
"We started this morning's opening stage not so badly but on the second one I struggled with the car in a few areas, which knocked my confidence, so I backed off to avoid making any mistakes. We wanted to try and improve in the afternoon loop but we had an engine misfire and only had three cylinders. It's a shame because we had quite a good feeling and the stages are fun in these tough conditions. I have enjoyed myself and it's been a really cool experience. I've not made any mistakes, so hopefully we can find something overnight to have clean final day and to secure our fifth place."
Sunday's action
The final day then and with just 31km's of action over two stages run twice, what would happen? The startlist looked like this – Breen, Bertelli, Solberg, Neuville, Tänak, Ogier, Rovanperä. The day dawned dry on the stages, but rain would arrive after the first two were run.
The first stage then, SS14 Whitford Forest – Te Maraunga Waiho 1 – 8.82 km and the top three was the same as the overall top three. Ott reported that he nearly crashed in this one, whilst Kalle was just stroking it home and was very comfortable.
Onwards to SS15 Jacks Ridge 1 – 6.77 km, the stage built with a nod to some famous stages around the world. This was taken by Ott, with Kalle second fastest and Seb third. Oliver was really spectacular over one of the jumps in this one landing so hard that his visor in his helmet came down! Hayden and Kajetan continued to fight it out for stage wins in the WRC2 category, with the Kiwi just pipping the Pole by 1 tenth of a second.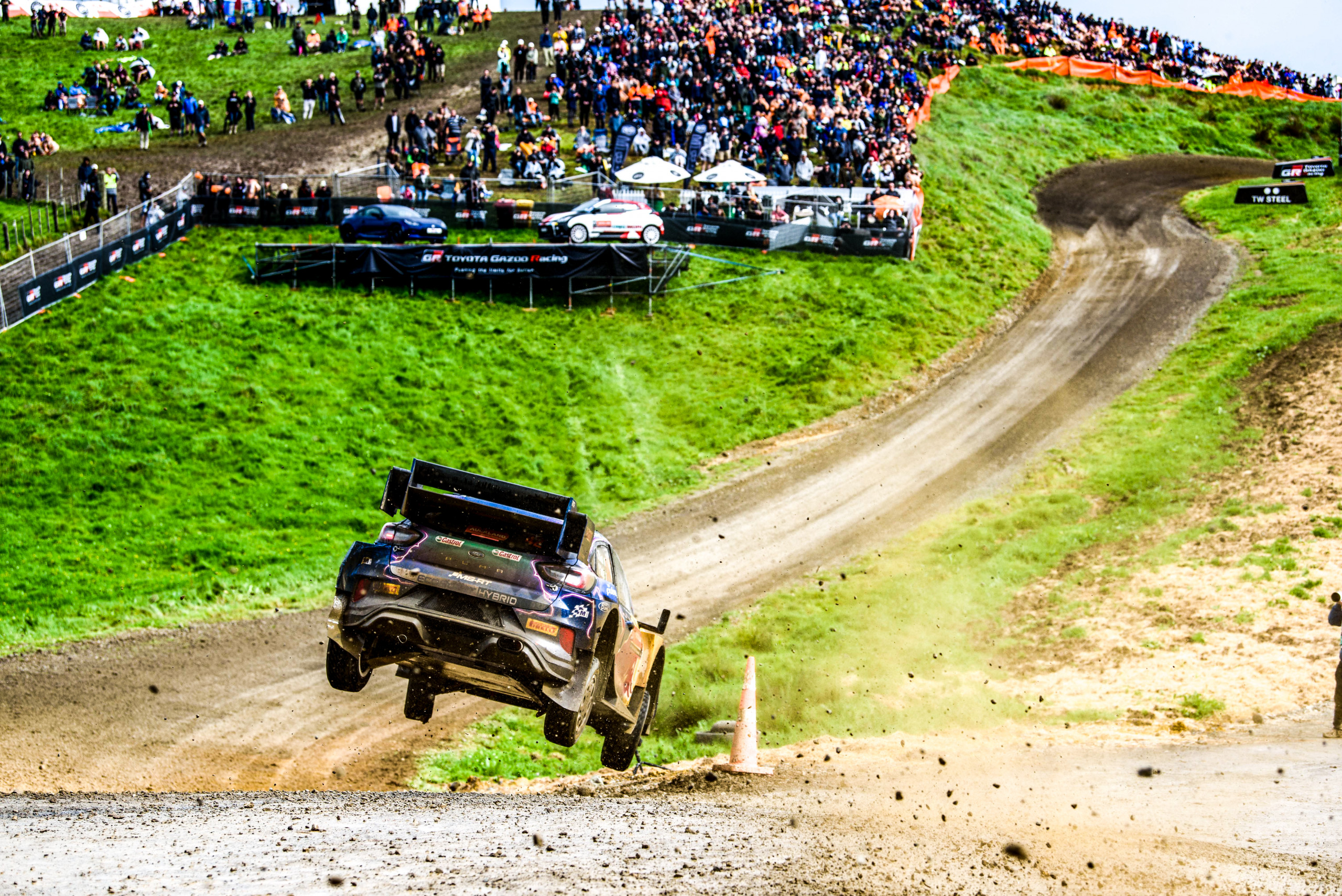 The afternoon stages began with the second run of SS16 Whitford Forest – Te Maraunga Waiho 2 – 8.82 km and Seb was fastest from Kalle and Ott third fastest. Harry Bates set the fastest time in the WRC2 category by 1 tenth of a second over Hayden.
To the final stage then, SS17 Jacks Ridge 2 [Power Stage] – 6.77 km and Hayden set the early pace in his Hyundai before the top cars came through. Ott set the best time, but then Kalle came through a full 6 tenths quicker than the Estonian and that was it. The young Finns, Kalle and Jonne had won their first world championship, with their sixth victory of the season and with it became the youngest ever world champions, taking the honour from Colin Mcrae who won it aged 27 in 1995.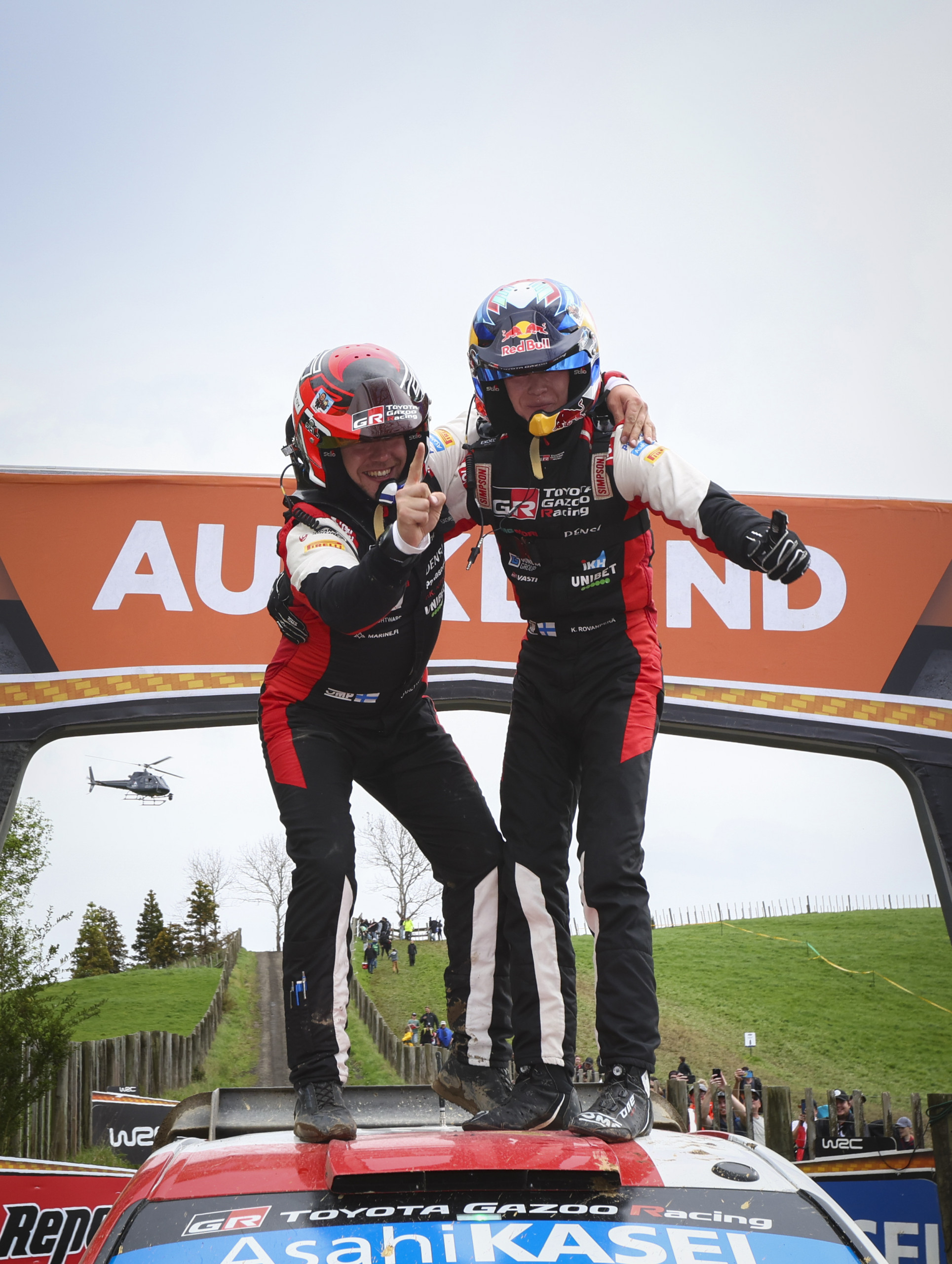 Let's take a look at the final result and hear from the drivers.
Final Overall Classification –Rally New Zealand
| | | | | |
| --- | --- | --- | --- | --- |
| 1 | K. Rovanperä | J. Halttunen | Toyota GR Yaris Rally1 | 2:48:01.4 |
| 2 | S. Ogier | B. Veillas | Toyota GR Yaris Rally1 | +34.6 |
| 3 | O. Tänak | M. Järveoja | Hyundai i20 N Rally1 | +48.5 |
| 4 | T. Neuville | M. Wydaeghe | Hyundai i20 N Rally1 | +1:58.8 |
| 5 | O. Solberg | E. Edmondson | Hyundai i20 N Rally1 | +3:55.3 |
| 6 | H. Paddon | J. Kennard | Hyundai i20 N Rally2 | +10:03.7 |
| 7 | L. Bertelli | L. Granai | Ford Puma Rally1 | +10:39.0 |
| 8 | K. Kajetanowicz | M. Szczepaniak | Škoda Fabia Evo | +12:36.8 |
| 9 | S. Van Gisbergen | G. Weston | Škoda Fabia Evo | +13:28.8 |
| 10 | H. Bates | J. McCarthy | Škoda Fabia Evo | +16:51.6 |
Toyota Gazoo Racing WRT
Kalle Rovanperä (1st)
"The biggest feeling right now is that it's quite a big relief. We have had such a good season, then a few difficult rallies and now finally we could do it. I want to say a big thanks to the team who made such a fast and reliable car for this season which meant we could just enjoy the driving. Also, in the more difficult moments they were always believing in us and supporting us. I don't think about the age too much but it's still special to know we could achieve this. It means a lot, to become champion is the only goal we ever had in this sport. I was actually a bit more nervous on Friday than I was today: Then we needed to push hard to stay in the fight, but today we could just enjoy it."
Sébastien Ogier (2nd)
"Today we have witnessed history. It's fantastic for Kalle, Jonne and for the whole team. It's been an amazing season from him and it was only a matter of time. He did it in style this weekend and I think that's the mark of a great champion. I can take a lot of satisfaction from this weekend. It was a nice comeback after three months away, on a challenging rally with faster roads than those I've driven this season and with really tricky conditions. Kalle was untouchable in those difficult conditions like he has been many times this season. I realised it was not the moment to take crazy risks as I'm here to help the team, and we are also getting very close to the manufacturers' championship."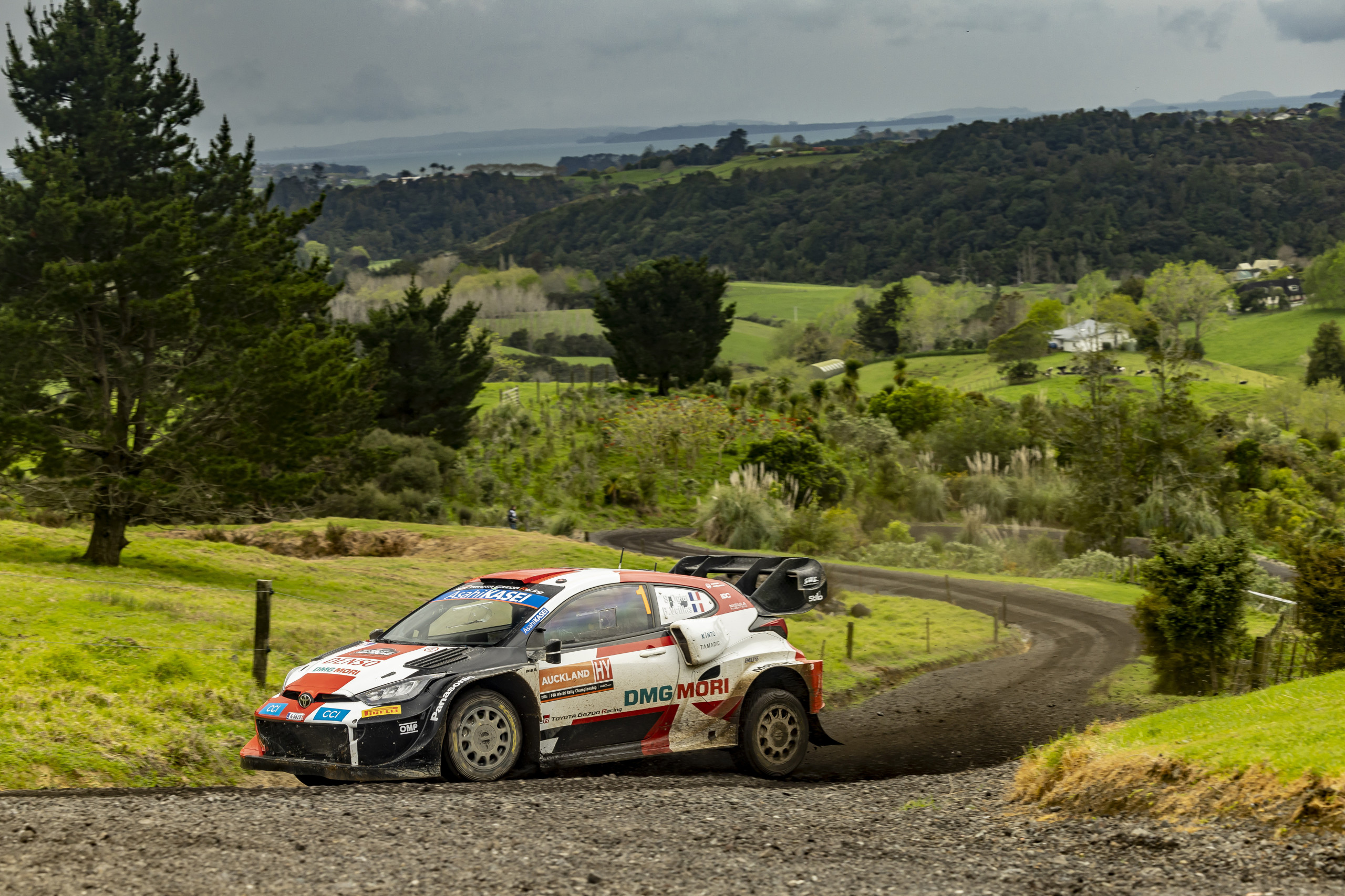 Takamoto Katsuta (DNF)
"This was my first time here in New Zealand and it was a big challenge but one that I enjoyed quite a lot. The conditions were difficult but the roads were nice and fun to drive. On Friday the rain was affecting the grip level and when the grip was consistent, I was quite comfortable and confident, but when it was inconsistent, I was not committed enough. On Saturday there was more rain and more mud, and the stages were also more technical. I was still missing a bit of pace but it was getting better in the afternoon. I felt very good in the first stage of the loop and then I tried to push in the second one. Unfortunately, in a high-speed right-hand corner I went too fast and couldn't slow down for the tight left-hander that came straight afterwards and we rolled. It was not good to end our rally early, but I was still able to learn a lot about how to improve for the future."
Hyundai Motorsport
Ott Tänak (3rd)
"Altogether, Rally New Zealand has been a difficult weekend for us, but it's been a great place to be, on amazing roads and fun to drive. We have not been up to the pace to fight for the win but we're still on the podium with a good finish to add points onto the board. Since the beginning of the year, we've not been in the drivers' championship fight, even if something was coming back in the middle of the season. Fair play to Toyota, and especially to Kalle, who has beaten everyone fair and square. Congratulations to them."
Thierry Neuville (4th)
"Fourth place was about the maximum we could do this weekend with all the time penalties and the two spins we had on Friday. It was a bit of a harsh start to the event, so we really couldn't do much more. We were just in a waiting position today, with our only chance to gain positions dependent on those in front of us. We need to work on the car in these conditions; I just don't feel comfortable, and it's been a bit of a struggle for me to drive and go fast. We're getting there slowly but we're going to carry on working on it. It has been nice to come back to this rally, which is a very special event, far from home, even if it didn't go as we wanted."
Oliver Solberg (5th)
"It has not been a perfect weekend for sure, so to come away with a fifth-place finish is a real positive. We've had a lot of small things occurring that prevented us from getting into a good rhythm. I tried to push a bit in the Power Stage but, again, it wasn't great. At least we gave it a go. We have gained a whole lot of experience and learnings, for both us and for the car in the future. Thanks to the team for all their preparations for this long-haul event, and to the mechanics for sorting the car after all our issues this weekend."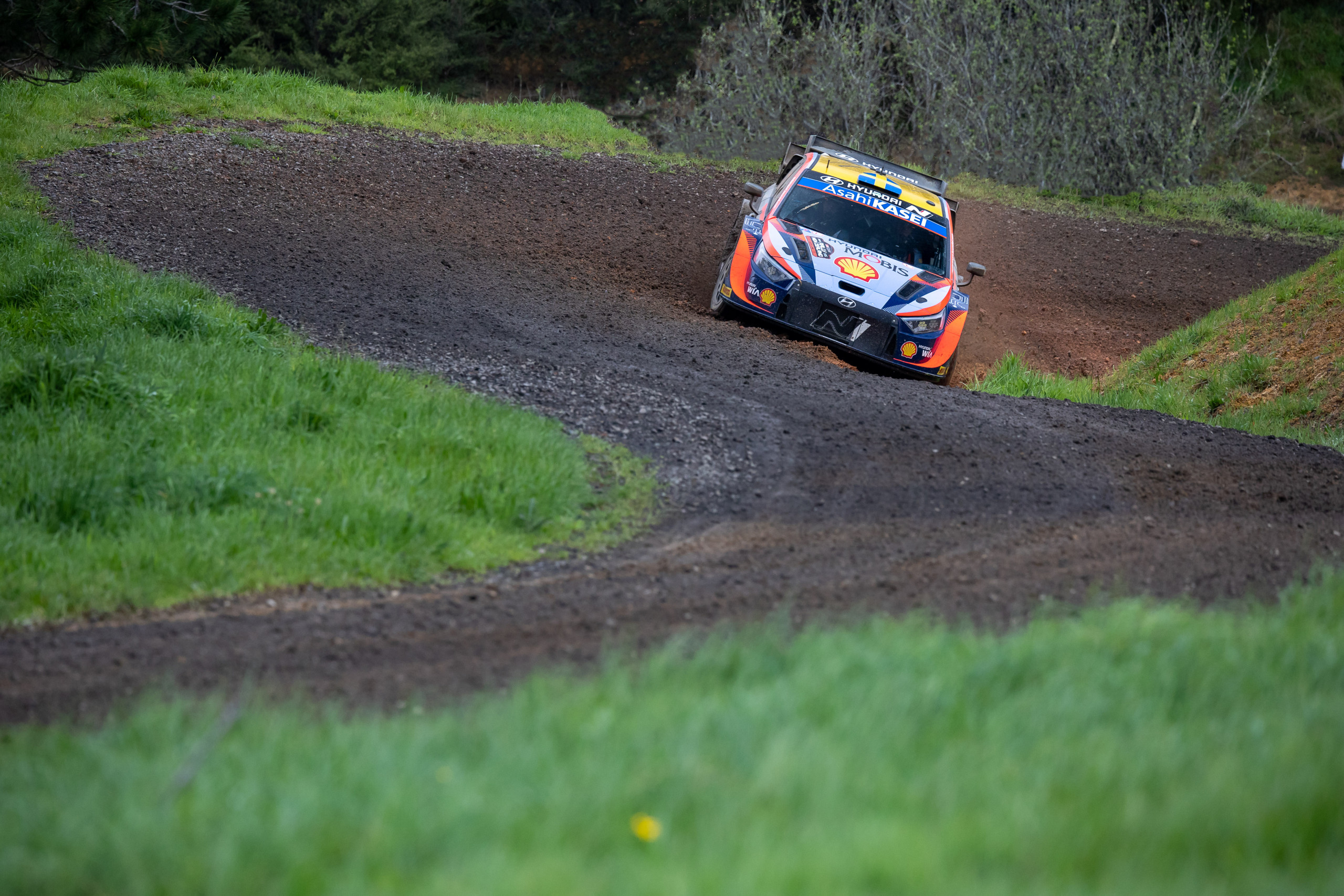 Hyundai New Zealand
Hayden Paddon (6th Overall, 1st WRC2)
"We ticked all the boxes with this event, thanks to a big team effort, to win WRC2 and the NZRC titles. Having built up a lead on Friday morning, from then on there's a huge amount of pressure to make no mistakes until the end. I'm pleased that part of it is over, to be honest, as I don't really enjoy that kind of pressure when you've got everything to lose.
"The conditions were tricky throughout the weekend which is quite typical of Rally New Zealand and gives it a bit of character.
"The result does lead into our goal of putting together a full campaign for next year in WRC2. We don't yet have the budget so that's the first thing to work on. We'd love to not only do the full WRC2 season next year but also aim to do some one-off rallies in a Rally1 car.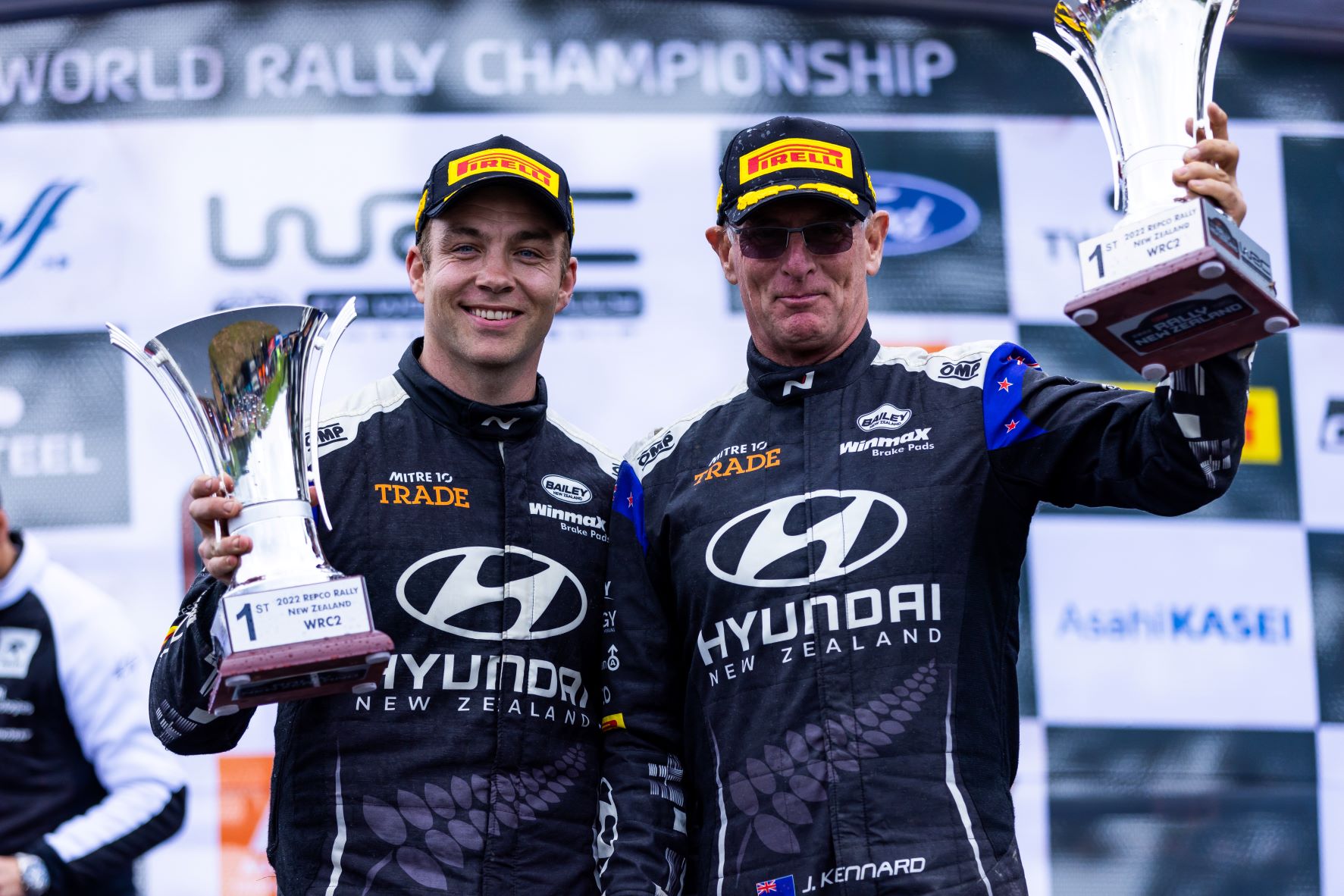 "It's a massive achievement to secure the NZRC manufacturers and team's championships this weekend as well. It truly reflects all the work that everyone's put in all year. I'm really proud to represent Hyundai New Zealand."
2022 FIA World Rally Championship for Drivers'
After Round Eleven
| | | |
| --- | --- | --- |
| 1 | K. Rovanperä | 237 |
| 2 | O. Tänak | 173 |
| 3 | T. Neuville | 144 |
| 4 | E. Evans | 116 |
| 5 | T. Katsuta | 100 |
| 6 | C. Breen | 77 |
| 7 | E. Lappi | 58 |
| 8 | S. Ogier | 55 |
| 9 | D. Sordo | 49 |
| 10 | G. Greensmith | 36 |
| 11 | S. Loeb | 35 |
| 12 | O. Solberg | 33 |
2022 FIA World Rally Championship for Manufacturers'
After Round Eleven
| | | |
| --- | --- | --- |
| 1 | Toyota Gazoo Racing World Rally Team | 455 |
| 2 | Hyundai Shell Mobis World Rally Team | 374 |
| 3 | M-Sport Ford World Rally Team | 224 |
| 4 | Toyota Gazoo Racing World Rally Team NG | 112 |
Well, next up is Rally Spain in around 17 days' time.  The teams will have a very busy time, travelling back from New Zealand and then preparing their cars to then go back out into Europe. Look out for my preview in the days before.