Alexander Rossi led the second half of the Gallagher Grand Prix on the Indianapolis Motor Speedway Road Course, after race leader and teammate Colton Herta had to retire the car on lap 42 after losing power, to go on to end his 49 race winless streak and win the Gallagher Grand Prix.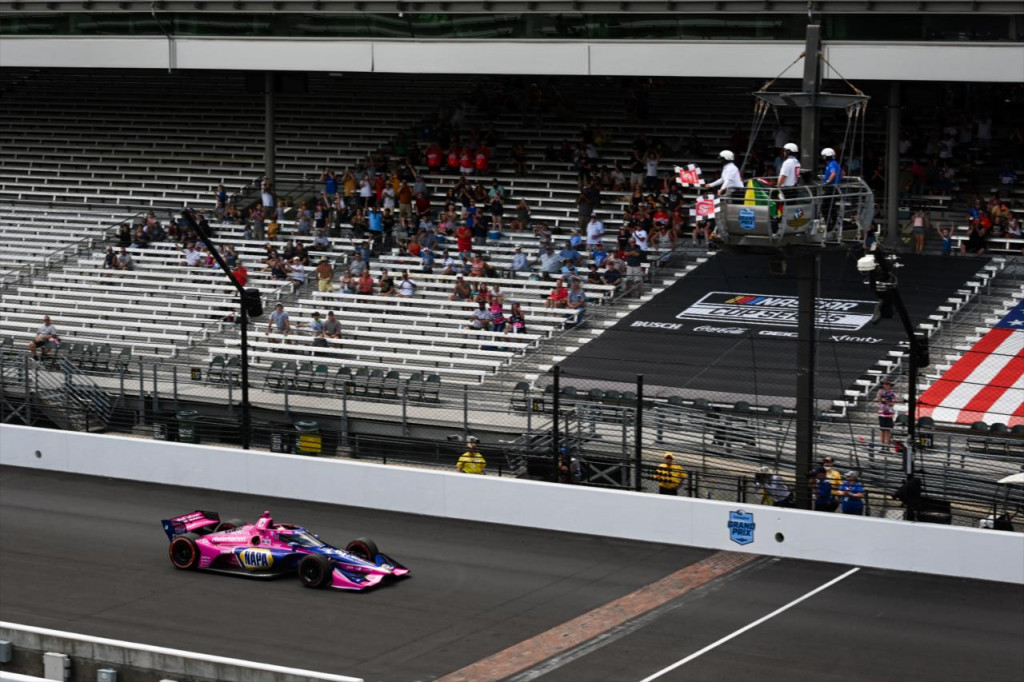 Rossi started the race on the front row alongside polesitter Felix Rosenqvist but just eight laps into the grand prix saw Herta move up from ninth place to take the lead away from Rosenqvist. Rossi would keep Herta honest for the first half of the race keeping the gap hovering around the two second mark.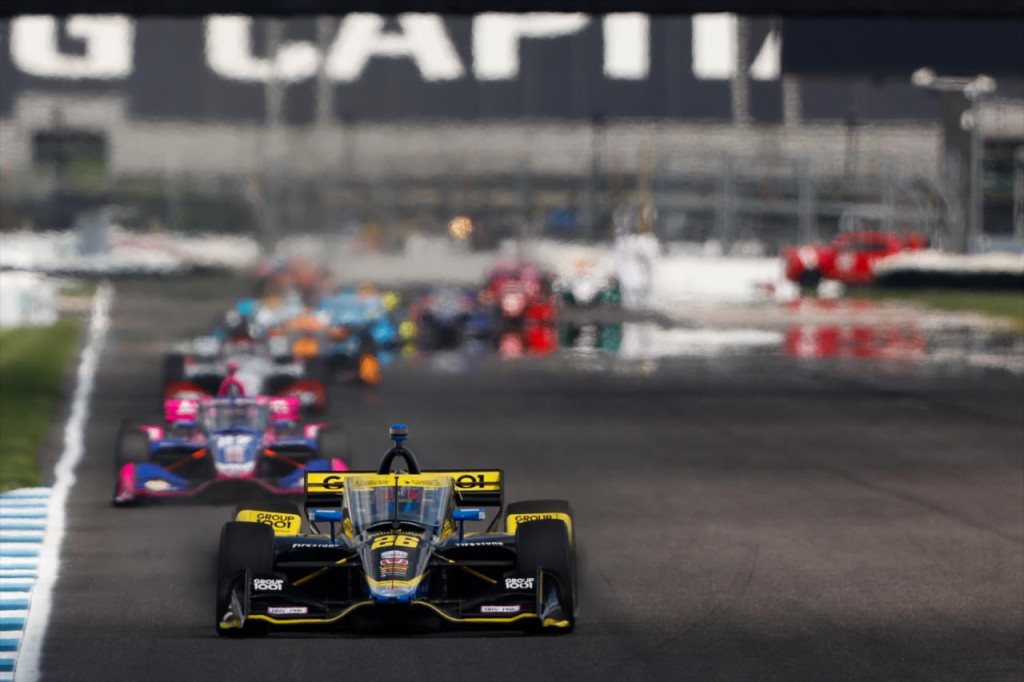 Once Rossi inherited the lead he never looked back, maintaining a healthy four second gap to second place rookie Christian Lundgaard for most of the remainder of the race.
Rossi, who is joining Arrow McLaren SP in 2023 after seven seasons with Andretti Autosport, said in victory lane to NBC's Dillon Welch, "It's a relief man, I do feel for Colton, but I'm happy. There's been so much belief for so long, it's nice to finally accomplish it. It was the 27's turn."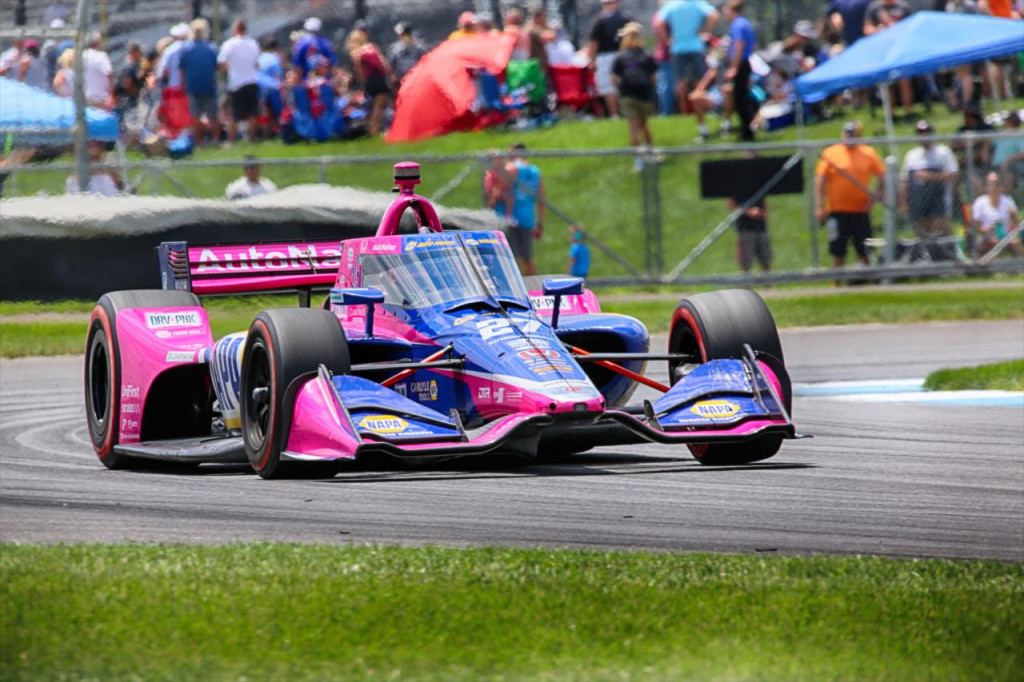 Rossi led 44 of the 85 laps to claim his eighth win, last winning at Road America in June 2019. Rossi's first win also came at the IMS when he won the 2016 Indy 500 in his rookie and first season with Andretti Autosport.
Rahal Letterman Lanigan Racing rookie Christian Lundgaard had a career breakout race coming home second after qualifying sixth. After the first stint thirty laps in, Lundgaard had worked his way up to third behind Rossi where he would remain after Herta's retirement, securing him the runner-up spot and his first ever podium finish.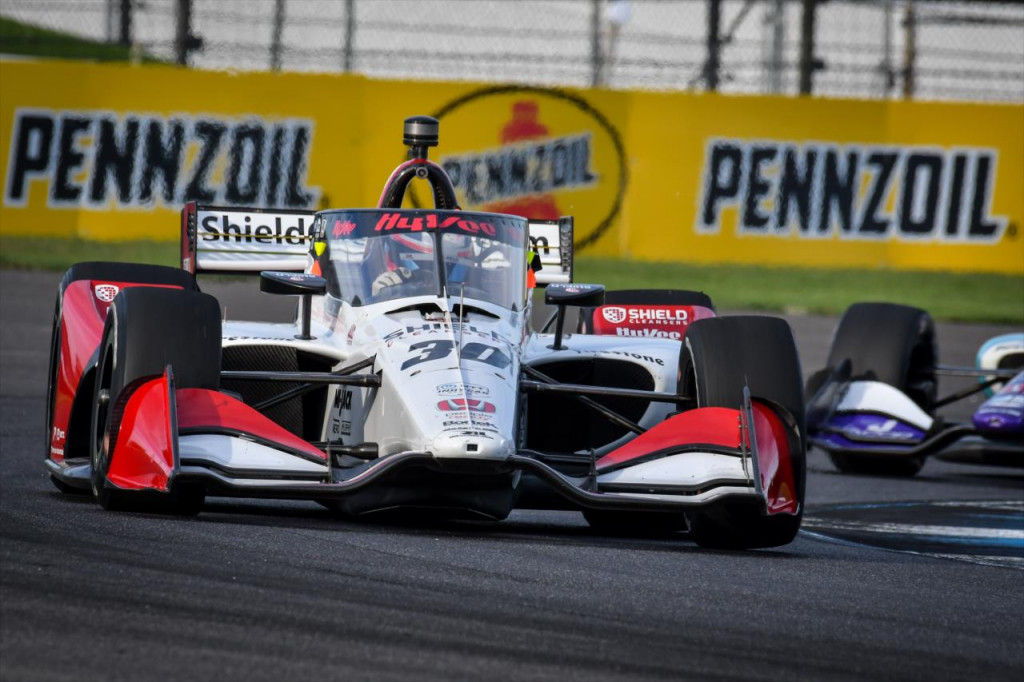 Lundgaard's best finish in IndyCar was eighth place in the Toronto GP last month and better's his debut race which came at the IMS Road Course last year where he finished ninth after qualifying fourth. Lundgaard leads the rookie points battle and is also the highest finishing rookie this season.
After a wild and bumpy start, Will Power came home third and has taken over the championship lead from Marcus Ericsson by nine points. In turn two on the opening lap, Power got pushed into Pato O'Ward by Herta, sending O'Ward spinning in front of Power, forcing him to lose a bunch of places before a few laps later Castroneves would send it ambitiously down the middle of a sandwich in turn eight with Power on the outside and made contact with Power.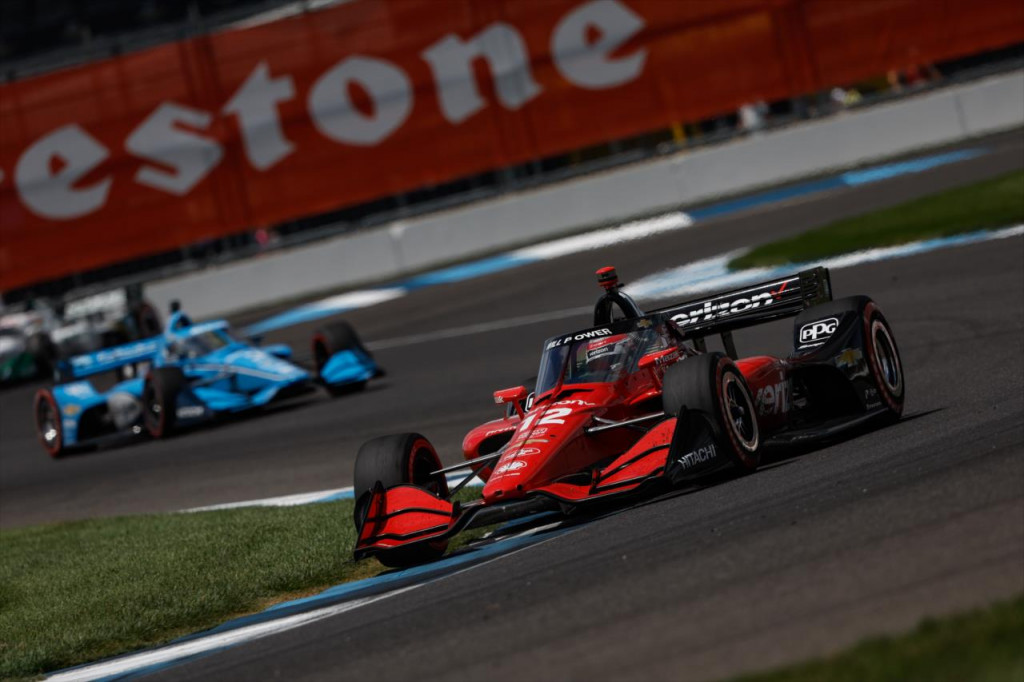 After plummeting down the order, Power would pit on lap five after a yellow had come out a for a stalled Dalton Kellett in turn seven where Power would get a fresh set of alternate red tyres and then would go long on them giving him the lead while others pitted until Power just pitted prior to another caution coming out on lap 35 for a stopped Pagenaud who ran out of fuel that saw him cycle through to fourth place.
Power would remain in third for the rest of the race following Herta's retirement. Speaking to NBC, Power said: "You can never expect a normal day in IndyCar."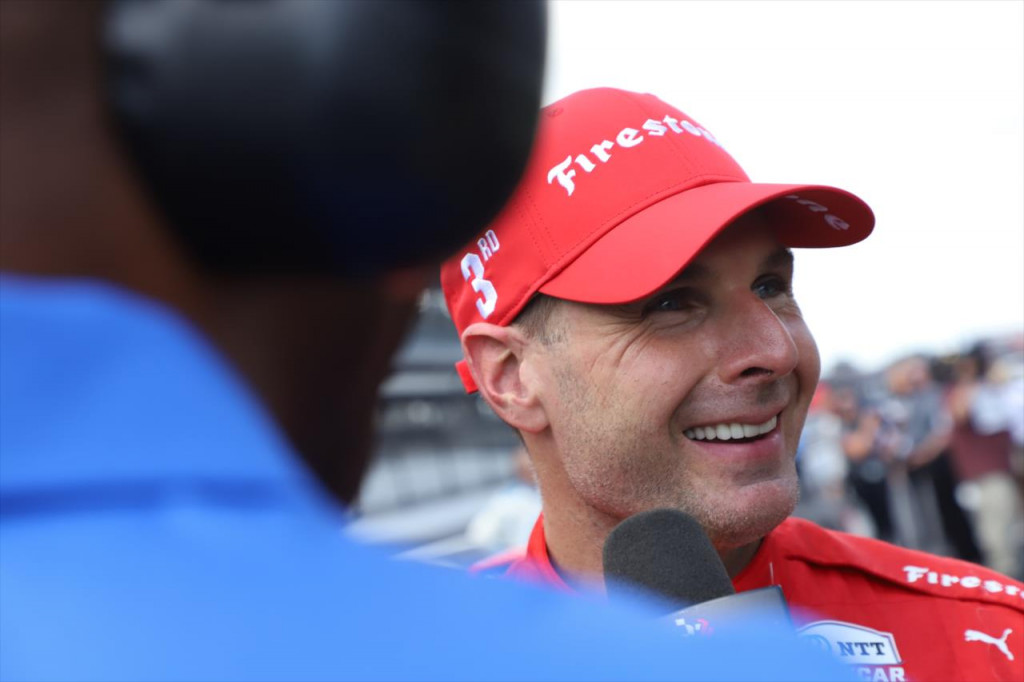 Marcus Ericsson had been the championship leader going into the weekend but due to an engine issue in qualifying, Ericsson would start in 25th place. Ericsson's race pace was strong enough to see him work his way through the field to come home to finish in a respectable ninth place.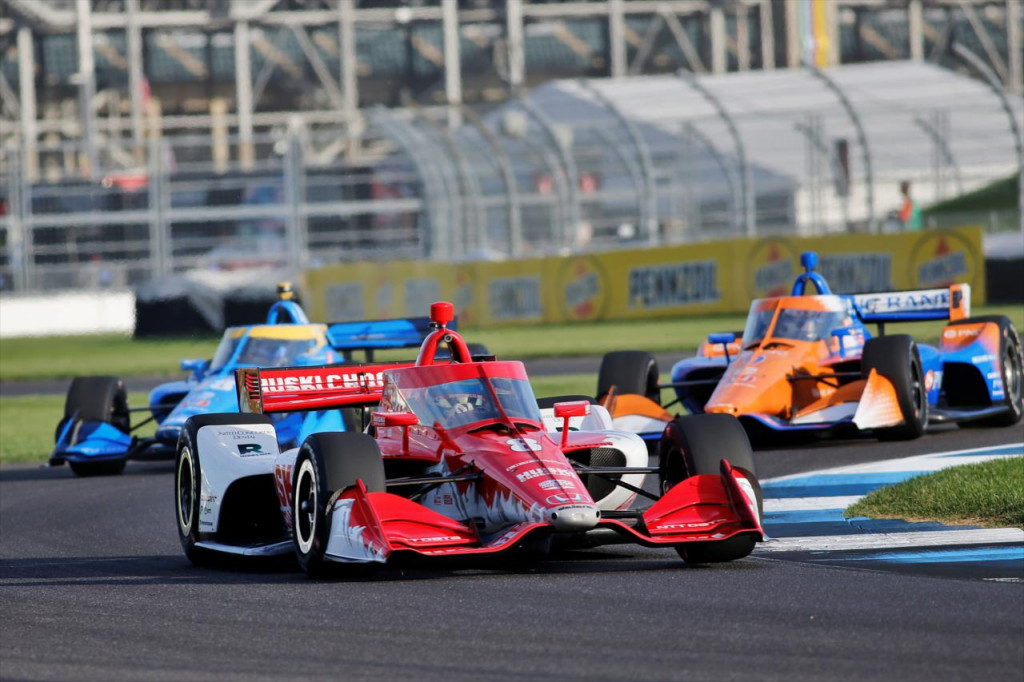 The race itself saw the red alternate tyre be both the quicker and more durable tyre with all drivers ending up opting for the three stop strategy, and all using the primary black tyre for the shortest stint.
The rest of Team Penske would also have a strong day at the boss's own race facility, with Scott McLaughlin and Josef Newgarden coming home fourth and fifth after putting pressure on Power in the closing laps.
Ed Carpenter Racing's Conor Daly had a strong start to the race running inside the top 10, but a stall and lengthy delay on pit road after the first stint saw Daly go to the back where he would only recover to a 17th place. His teammate Rinus VeeKay had good race pace and would finish 6th.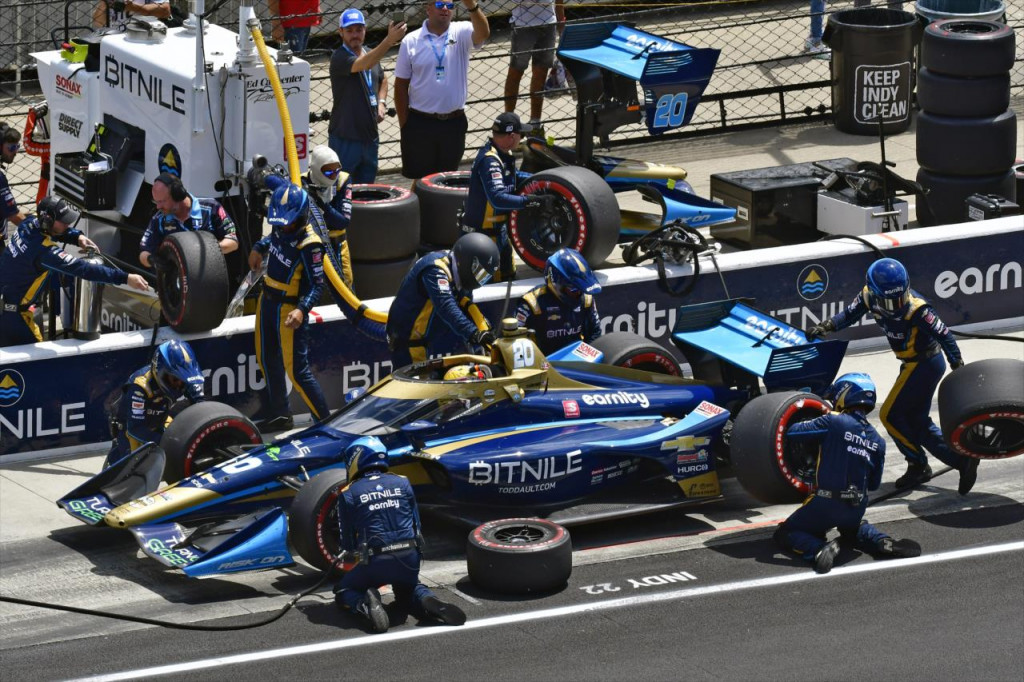 Castroneves would have more contact during the race and got sent to the back of the field for avoidable contact on lap 49 after spinning Kyle Kirkwood out when he got into his rear.
Race 14 of the NTT IndyCar Series is the Big Machine Music Grand Prix on the Nashville Street Course on 7th August. The green flag flies at 3pm ET.
UPDATE: Alexander Rossi was docked 20 points after it was found that the team had used the weight of a water bottle to make the car meet minimum weight in post-race inspection. Rossi would still hold onto the win.
Full race results: 1st Alexander Rossi, 2nd Christian Lundgaard, 3rd Will Power, 4th Scott McLaughlin, 5th Josef Newgarden, 6th Rinus VeeKay, 7th Graham Rahal, 8th Scott Dixon, 9th Felix Rosenqvist, 10th Álex Palou, 11th Marcus Ericsson, 12th Pato O'Ward, 13th David Malukas, 14th Callum Ilott, 15th Takuma Sato, 16th Romain Grosjean, 17th Conor Daly, 18th Devlin DeFrancesco, 19th Hélio Castroneves, 20th Jack Harvey, 21st Dalton Kellett, 22nd Jimmie Johnson, 23rd Kyle Kirkwood, 24th Colton Herta, 25th Simon Pagenaud.
Top 10 in points standings: 1st Will Power (431), 2nd Marcus Ericsson (422), 3rd Josef Newgarden (399), 4th Scott Dixon (393), 5th Pato O'Ward (385), 6th Álex Palou (379), 7th Scott McLaughlin (350), 8th Felix Rosenqvist (299), 9th Alexander Rossi (298), 10th Colton Herta (285).
Featured Image: Alexander Rossi celebrating Gallagher GP win in victory lane (Photo by Joe Skibinski/Penske Entertainment)