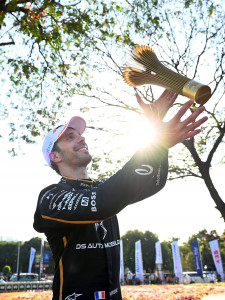 After starting P2, the two time world champion turned a front row start to his first victory in over 2 years.
Qualifying:
Qualifying saw Hughes, Evans, Fenestraz and Buemi get through from Group A and Rast, Vergen, Bird and Mortara through from group B.
However, Hughes had his times from the group stage deleted due to the minimum pit stop time not being abided by and missed out in the duels.
Buemi, Evans, Bird and Mortara all won their finals. However, all was not as it seemed as bird and Mortara both had their lap times deleted due to track limits. This seemed to have promoted Vergne to the semi finals as well as Rast. While Vergne did go to the semi finals, Rene Rast also had his lap time deleted so Vergene had to do 1 lap by himself around the track to go through to the final.
Evans went head to head with the double world champion for pole but Evans managed to just take it away from Vergne.
Race:
The lights went out for the debut race at Hyderabad and Evans managed to hold onto the lead from Vergne. A few moves were also made on the opening lap including Hughes. Further on into the race, Nick Cassidy managed to make a move up to P6. On lap 2, Mortara hit Cassidy and ended up losing his front wing. The lead changed hands on lap 7 as Buemi made a move at the same time that Evans decided to take attack mode.
Lap 9 and 10 saw Buemi and Vergne respectfully take attack mode and both stayed ahead of Evans. Bird saw a gap to try and overtake his teammate, Evans but he misjudged it and ended up colliding with him. Fenestraz and Genther ended up being passengers in that collision and dropped down the order. Both Bird and Evans had to eventually retire from the race while Fenestraz and Gunther continued to the chequered flag.
Vergne managed to take the lead on lap 15 with Nick Cassidy in P2 and Jake Dennis in P3. Laps 17 to 22 saw Dennis and Cassidy swapping positions from P2 and P3 with Dennis almost hitting Cassidy at one point.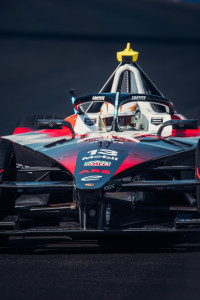 The Safety Car made a surprise appearance on lap 23 as Neom McLaren driver Jake Hughes crashed into the wall due to a mirror being stuck under his steering wheel.
At the start of lap 26, the safety car went into the pits and racing resumed yet again. Neom McLaren's other driver Rene Rast, however, misjudged a move on Jake Dennis and ended up colliding with the Andretti driver. This resulted in Dennis being at the back of the pack and Rast having to retire.
The last stage of the race saw Cassidy and Vergne enter a battle for the win. Cassidy had 4% more energy for the entire final stage of the race but Vergne managed to hold him  off  to take the win.
Cassidy finished P2 with Da Costa taking the finish podium spot after Buemi received a post race penalty for a use of overpower which dropped him down the classification. Wehrlein managed to get up to P4 with Sette Camara, Rowland and Nato finishing P5,P6 and P7 respectfully. Vandoorne , Lotterer and Mortara concluded the points paying positions after post race penalties for Vandoorne, Rowland and Buemi occurred.